Ascending the 3000m Peaks of the Sierra Nevada
The main summits of the Sierra Nevada can be ascended by either 1 or 2 day trips. Why not tailor make your own activity holiday and include the ascent of some of the finest peaks in Spain? Below are some examples.
All prices include transport, guiding, camping gear and any other specialised equipment when necessary.
Seasonal note
In winter the ability to use crampons and ice axe is essential. Rope may be required for some ascents.
Learn the basics on a winter skills mountaineering course.
When we stay at the Poqueira Hut there will be a 15 euro supplement to cover the accommodation cost.
You may combine any of these trips into a week or 2 weeks walking.
Some ascents will require overnight bivvy in unguarded mountain refuges.
We had a perfect day of hiking with our guide! It was all we could have possibly wanted - fine weather, gorgeous landscapes, detailed knowledge of flora and fauna, and excellent company. We even got to see wild goats and processionary caterpillars. We hope to return!
Kathleen111454, Massachusetts, via Trip AdvisorMore Reviews
Winter Gallery
View Full Screen Imagesopens in a new window
Mountain Ascents in the Sierra Nevada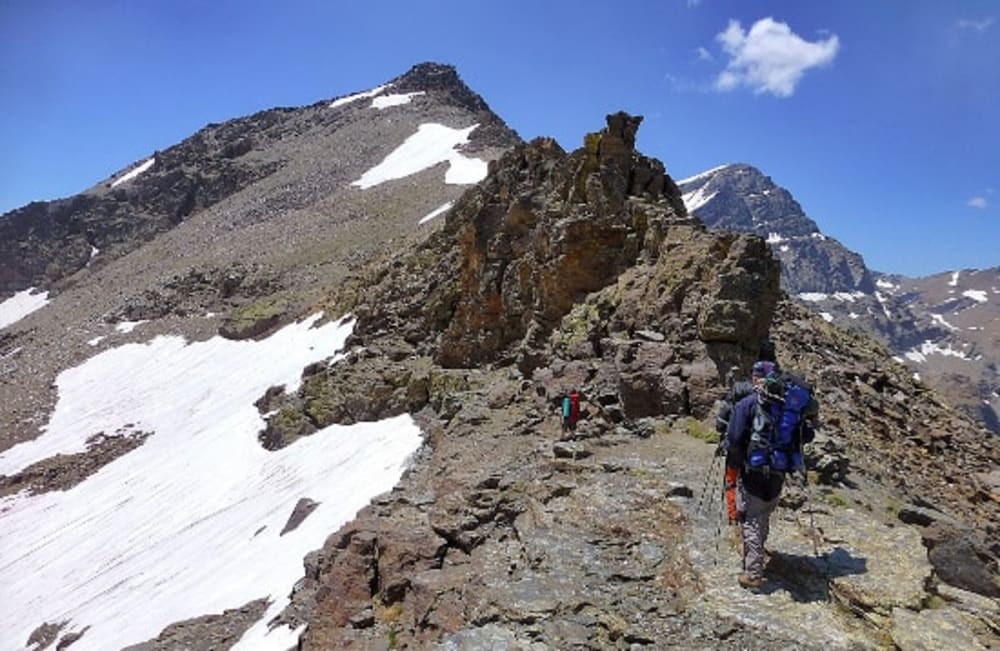 Popular Mountain Ascents
Mulhacen (3483 m) from the south
1 day - 8 to10hrs and 1300 metres ascent. From the Hoya de Portillo to the mirador de Trevelez. Up the south ridge. Return via the west flank and mirador. A long but rewarding day.
Mulhacen (3483 m) via Siete Lagunas
2 days. This takes us to the best camping site in the range, Siete Lagunas. A tough ascent up to Siete Lagunas followed by the gentler eastern ridge walk up to the summit. The return is made down the south ridge to Alto del Chorrillo. Camping at Siete Lagunas, is one of the delights of camping here is the morning sunrise over Laguna Hondera, with the line of the Sierra Nevada mountains stretching away to the east towards the distant hills of Almeria. scrambling-sierra-nevada-spain.html Mulhacen (3483 m) via Poqueira Hut
2 days. Travelling light we traverse Mulhacen utilising the Poqueira Hut overnight. The hut is guarded with beds, blankets, meals etc
Veleta (3394 m) from the north
1 day - 5 to 6hrs and 900 metres ascent. Straightforward walking from a high start point. We first ascend Los Machos from the Corral de Veleta and then Veleta itself, returning down the north ridge.
Tajos de la Virgen Traverse including Pico de Cartujo
1 day - 5 to 6 hrs and 500 metres ascent. An interesting day with some simple scrambling.
We just completed a 2 day trek to the highest point in Spains mainland with Spanish Highs. This was such an amazing experience and to make it even better the guides were the best and our entire group summited. We felt in safe hands the whole time and the view from the top was worth the slog. Highly recommend them!
Cameron MMore Reviews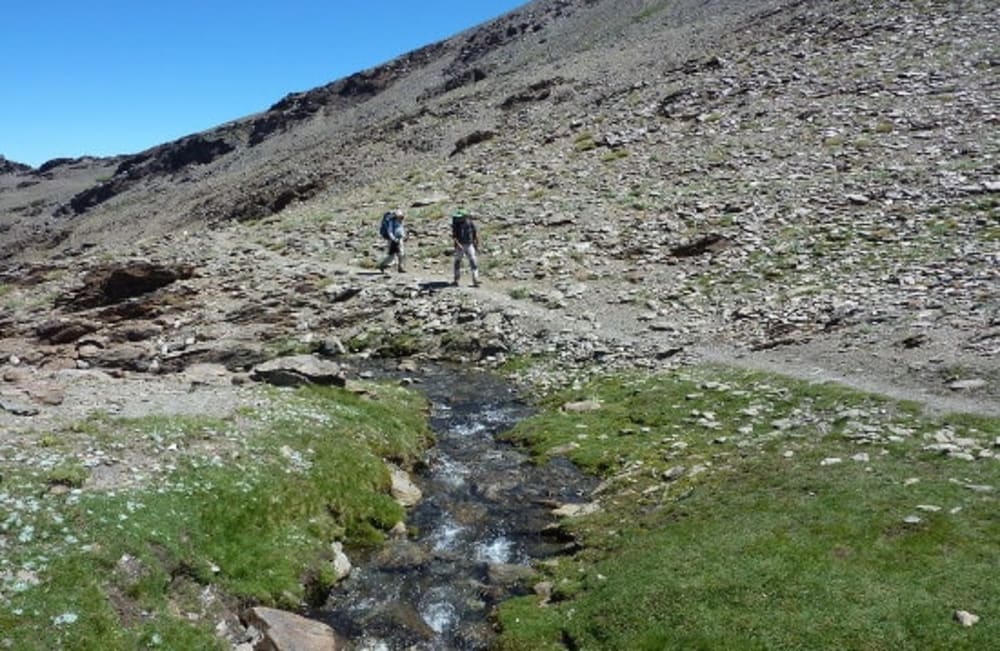 Remote Unfrequented Summits
Alcazaba (3371 m) from Trevelez
2 days. Alcazaba is the most difficult peak to ascend because of its remoteness. We stay overnight at Siete Lagunas. This makes an interesting 2 day trip in which other peaks may be ascended en route.
Puntal de la Caldera (3225 m) via Poqueira Hut
2 days. A fine ridge scramble which may be combined with Mulhacen if required.
Cerrillo Redondo (2909 m) & Tajos de los Machos from Puente Palo
1 day - 6 to 8hrs and 1400 metres ascent. A long day doing a round of the peaks surrounding Puente Palo. For those who like their mountains rough, rugged, wild and unfrequented, this is a 'must-do' outing. A circular route full of interest, challenges and glorious scenery culminating in the ascent of a rarely visited 3000m peak. N.B In winter this route could take two days, giving an opportunity to spend a night in the old Refugio Cebollar.
Cerro de Caballo (3009 m) from Lanjaron
1 day - 5 to 7 hrs and 1000 metres ascent. The most southerly 3000m peak in the range gives fine viewpoints. A long ascent of Europe's most southerly 3000m peak, ascending high above the Lanjaron valley and then descending with extensive views towards the western mountains and plains.
Summer Gallery
View Full Screen Imagesopens in a new window
Dates & Prices
When?
Prices
Group size (per booking):
(prices are per person per day)
1 person - cost €130
2 persons - cost €85
3 persons - cost €75
4 persons - cost €65
Definition of "Group" - if you are booking a trip for 2 persons the 2 person rate applies, 3 persons - 3 person rate etc (not dependent on eventual total group size!).
Price includes:
Guiding
Backup vehicles
We have a limited number of walking poles for the use of guests if required
Gear hire in winter conditions ie ice axe, crampons, helmet. Also stove if required.
Larger groups - discounts apply. Enquire via email or contact form
Transport (effective for all bookings after 1st July 2022)
The guiding price above does not include transport. Due to rising energy and fuel prices we do not want to be constantly changing guiding prices to reflect transport costs. We want to be honest and open about our price structure.
Clients have two options:
NO COST OPTION - Pick up/drop off our guide in Lanjaron or a venue to be agreed. Use your own transport to and from the start/end of activity.
COST OF FUEL OPTION - Our guide will drive you to/from start/end of activity in one our own vehicles. Applicable costs are:
Capileira, White Villages, Taha del Pitres €15
Hoya del Portillo €20
Sierra Nevada ski area €25
Granada area, Cumbres Verdes €15
Peñon de la Mata €20
Lecrin Valley €10
Jerez de Marquesado, Eastern Sierra Nevada €35
N.B For destinations not listed above we can easily work out a fuel cost
You may also be interested in?
Guided Trekking Tours in the Sierra Nevada, Spain
Sierra Nevada trekking holidays and tours inc Mulhacen, Veleta, ridge traverse, Siete Lagunas and high peaks. Day or multi day treks from Lanjaron, Capileira or Granada
Tres Miles 5 day trek Sierra Nevada Spain, 3000m mountains
A stunning high altitude guided trek, wild camping, traversing the main 3000m peaks of the Sierra Nevada in quiet and remote mountains. This is Los Tres Miles!
Climb Mulhacen, Sierra Nevada, highest mountain in mainland Spain
Guided day or multi day ascents year round of Mulhacen in Spains Sierra Nevada. Climb it, trek it, scramble it, ski it or even sleep on it!
Guided Trek Sulayr GR240 Long Distance Path, Sierra Nevada
Week long guided trek along the northern section of the Sulayr long distance path that encircles the Sierra Nevada mountain range in southern Spain
Guided Trekking in Los Glaciares National Park, Patagonia
Tours around Cerro Torre, Fitzroy and Paso Viento. Day and multi-day trekking and hiking from El Chalten, Patagonia