Mulhacen - Climb it, trek it, scramble it, ski it or even sleep on it!
Climb Mulhacen, the highest peak in western europe outside the Alps. We offer year round ascents in both winter and summer condition on demand. Also available are winter ascents on skis or snowshoes (when conditions permit) or summer night ascents to see the sunrise.
Mulhacen rises to 3482m making it the highest peak in the Iberian Peninsula and continental Spain. It is part of the Sierra Nevada range in the Cordillera Penibetica and also the highest peak in Europe outside the Alps and the Caucasus Mountains, and the third most topographically prominent peak in Western Europe, after Mont Blanc and Mount Etna. Its name comes from the Spanish transciption of Muley Abul Hassan, the penultimate Muslim King of Granada in the 15th century.
N.B We use the most experienced english speaking guides around ..... and our guides have completed over 700 ascents of the mountain! (September 2023)
Ascents Available for Winter 2024
When the snow arrives (Nov/Dec?) until the Refugio Poqueira re-opens for accommodation after restoration work (likely late Spring 2024?) we can only offer the following Winter 2024 ascent.
Day 1:
Start point at the Hoya del Portillo, 2150m (or lower if snowed in!).
Ascent to camp site at 3000m - 9km, 900m ascent, 40m descent. Camp
Day 2:
Leave weight of tent, camp etc at 3000m
Ascend to Mulhacen summit (3482m) and return to camp/car - 15km, 450m ascent, 1350m descent.
Notes:
Cooker and gas to be carried by guide. Tent weight shared between guide/participants

IF the west flank route is in condition then an alternative route via the unguarded Refugio Caldera can be offerred thus saving the weight of the tent. We shall only know this just prior to any ascent.

OPTIONAL - hire of porter to carry up to 10kg of tents, food, gear etc. €100 per day shared between participants.

We provide all technical requirements such as ice axe, crampons and sometimes even snowshoes. We shall advise you beforehand of the clothing and equipment requirements. Minimum number 2 persons.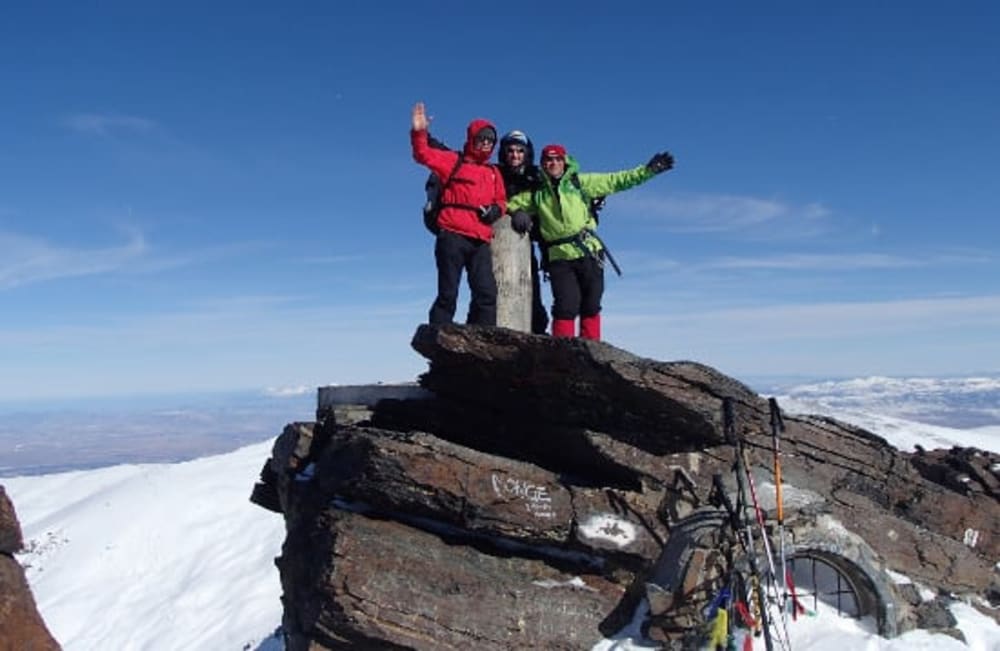 Year Round Ascents
We only use the best qualified and experienced professional guides. All have lived and worked in the Sierra Nevada since 2002. They speak english and spanish. We restrict numbers in winter to a maximum of 4 clients to a guide. Over 4 persons - Group discounts apply.
Summer Ascents
Summer ascents - Between mid May and mid October, scheduled day ascents on demand (using National Park bus)
Pick up/drop off available in Lanjaron, Orgiva or Capileira Alpujarras
Spring, Autumn & Winter Ascents
Did you know that you can now Climb Mulhacen and Mt Toubkal (highest in North Africa) in the same week or that it can be climbed as part of a tough 3 peaks challenge "Los Tres Picos"?
Gallery - Mulhacén
View Full Screen Imagesopens in a new window
Ways to Climb Mulhacen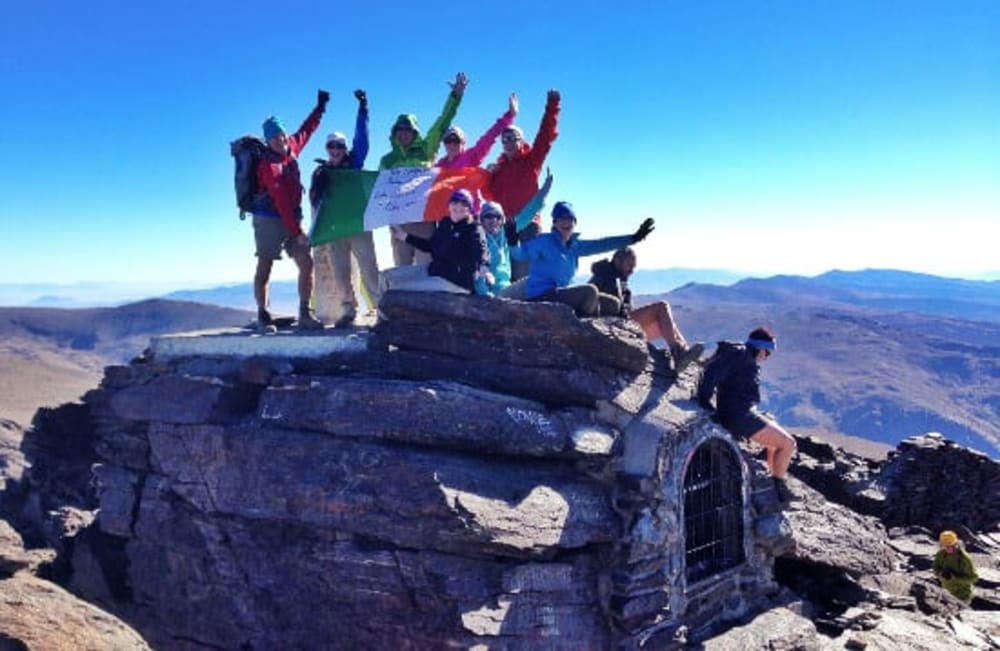 Summer Guided Ascents
1 Day Ascent Itinerary
When - between mid May and mid October, scheduled day ascents on demand (using National Park bus)
Meet in Lanjaron or Capileira and catch the National Park bus (€14.50 extra) to Mirador de Trevelez. A 6 hour walk taking in the west ridge of the mountain and either descending the south ridge or (if time allows) we can visit the lakes at Siete Lagunas.
A superb day trip which gains not only the highest peak in mainland Spain (3482m) but also the most beautiful lakeside location in the range at Siete Lagunas. Spectacular views of the N faces!
Mulhacen 1 Day
Challenging Circular walk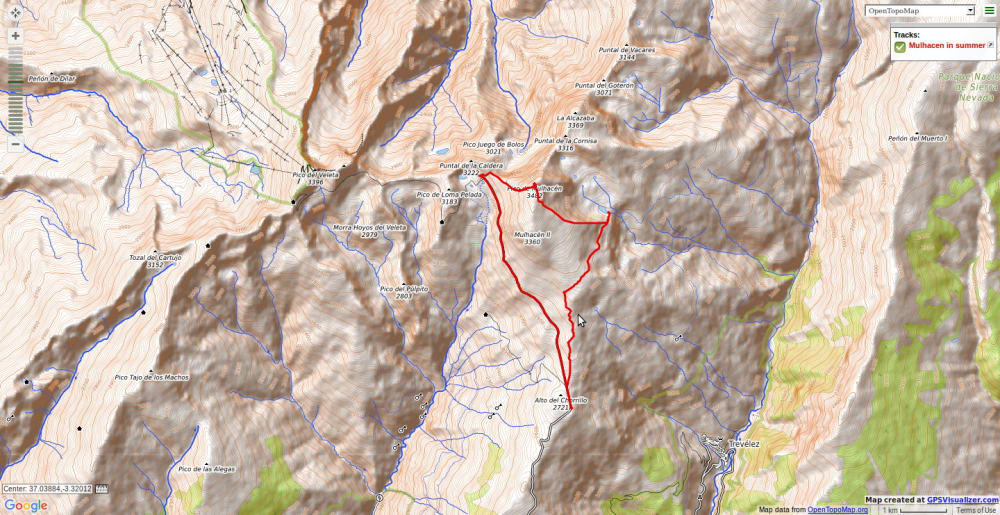 ---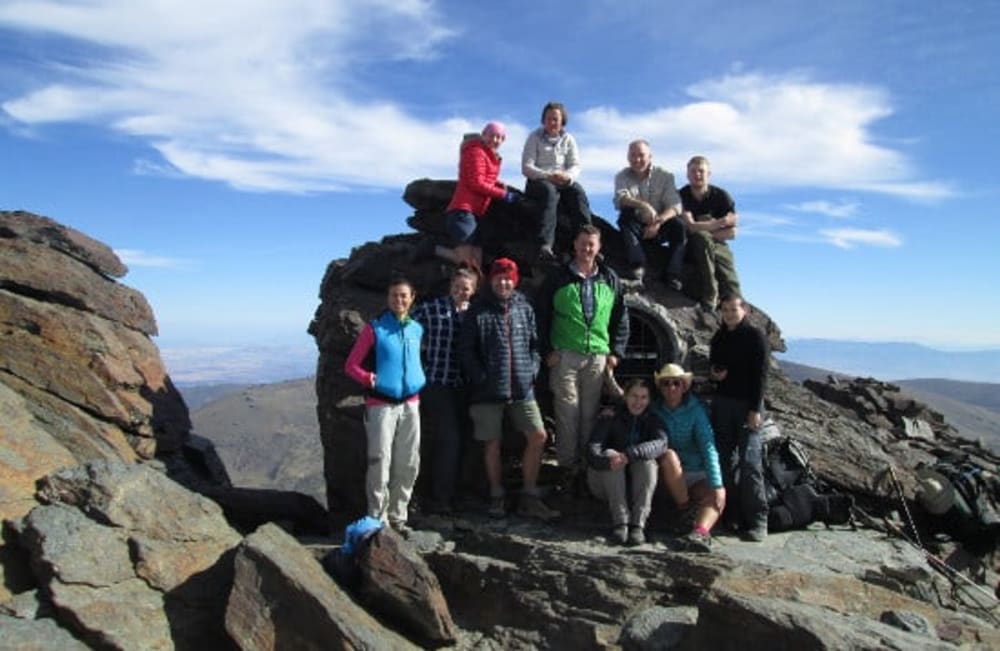 Spring and Autumn Ascents
2 Day Ascent
When - May, June, October & November
Day 1 - am. Meet at Lanjaron or the trailhead at Capileira (1600m).
Ascend to Refugio Poqueira (2500m) 4 hours via the Barranco de Poqueira (900m ascent). Stay the night at the hut. The Poqueira Hut is a guarded refuge and has beds, blankets, meals and wine. A great place to spend the night before ascending the peak.
Day 2 - via the Rio Mulhacen to the Col del Ciervo and a superb view over the magnificent north face. West flank to the summit. Return via south ridge to refugio. Continue back to waiting transport. 1000m ascent and 4 hours from hut to summit. Return to transport 5hrs.
The Refugio Poqueira is a superb guarded hut sleeping 84 situated on a shelf at 2500m above the Poquiera gorge. It is more of a hostel providing food and drink and beds and blankets in dormitory accommodation. More details about the refugio
Just wanted to say thanks for a brilliant holiday experience climbing Mulhacen. Fantastic guides and we really enjoyed the company and felt very safe at all times whilst doing the climb. It was lovely to meet you all as well
Lawrence and Sam BradleyMore Reviews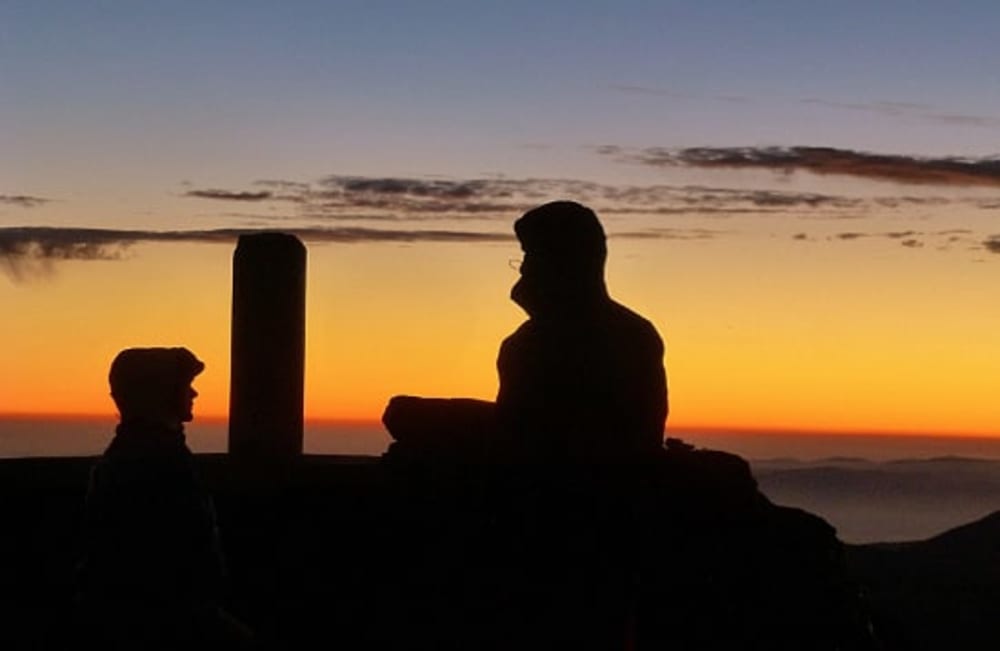 Spend a night out on the summit!
2 Day Wild Camping, sleeping on the summit
When - May to October inclusive
We are the first and only company to offer the unique experience of a night ascent of the peak, arriving at the summit as dawn breaks. A truly wonderful experience that can be enjoyed during the summer months, weather permitting.
To see what we mean read the following reports
I will cherish my time in Sierra Nevada for many years to come. In terms of money, probably this is the best value for money I ever got. Some views were priceless. Thanks again, hopefully will meet again.
Wasim HaqueMore Reviews
---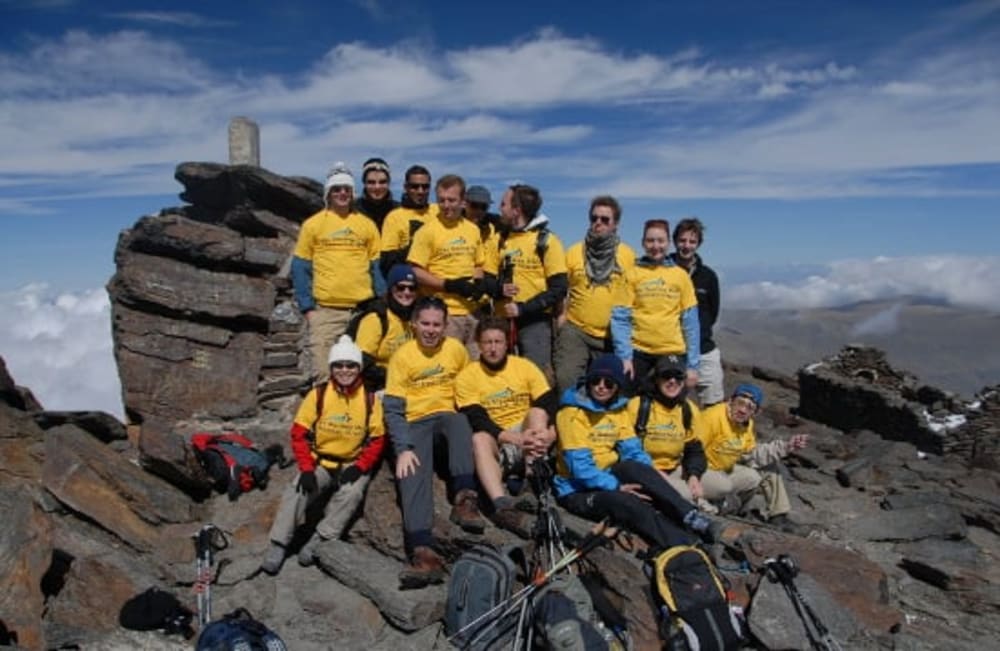 Charity Challenges for good causes
Looking for a charity fundraising challenge? Something different? Is climbing the biggest peak in Spain tough enough?
2 days year round staying overnight at the Refugio Poqueira. Group discounts and Charity discounts available.
Read more about Charity Challenges in the Sierra Nevada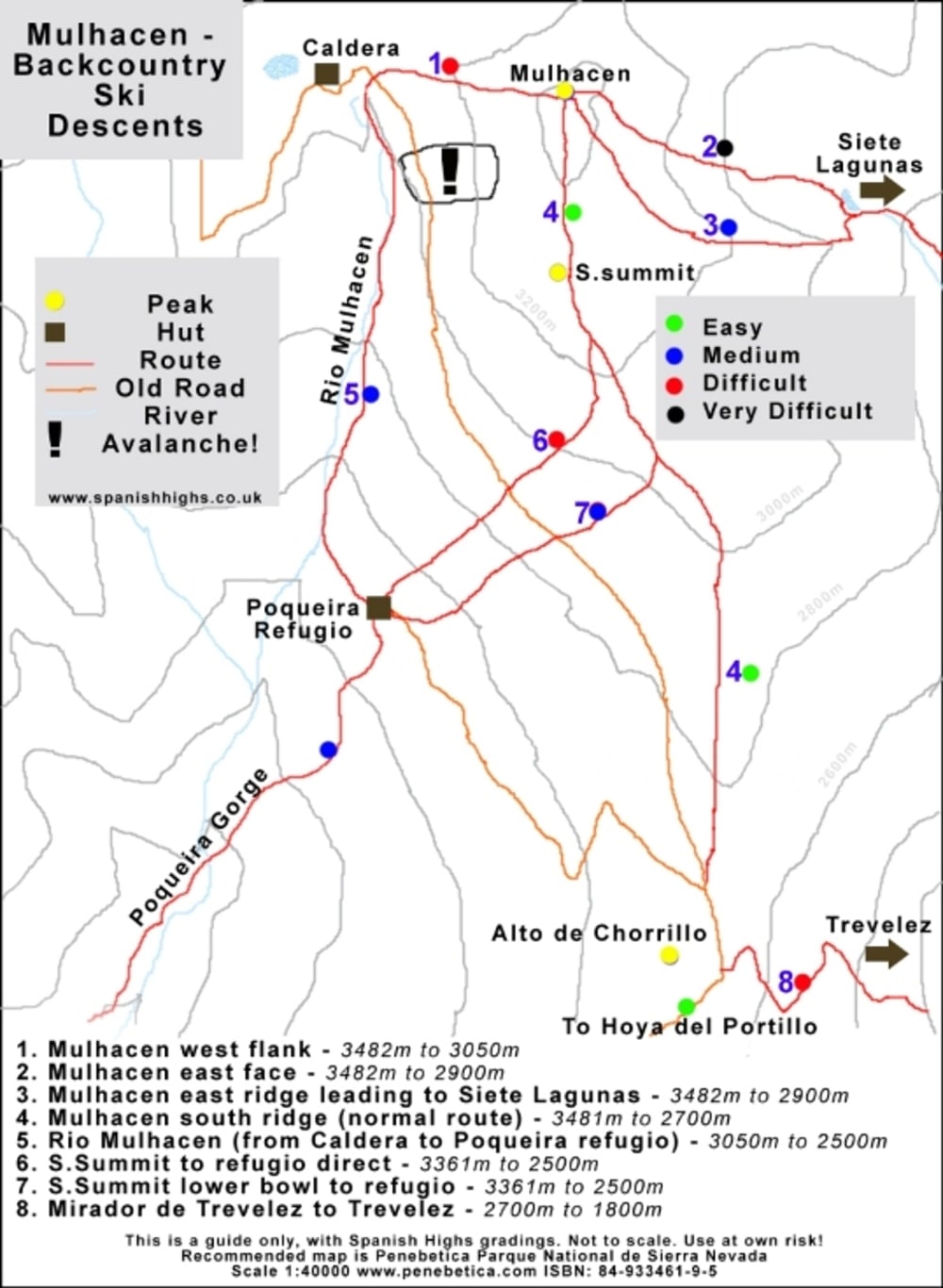 Want to Ski it?
Mulhacen at 3482m is a magnificent ski touring peak in good snow conditions. From December to May inclusive we can offer ski descents of the peak. But, what descents are available and which are the best for backcountry skiing enthusiasts?
As can be seen from our trail map on the right, there are options for all grades of skier. Easier ways for the beginner or for marginal snow conditions, and tougher runs for the more experienced on good days. Most 2 day ski tours will overnight either at the Refugio de Poqueira (guarded), or the Caldera refugio (unguarded), or even wild camp at Siete Lagunas.
Descents are the interesting part of any ski tour. Will it be a headlong, exhilarating dash down the mountainside on perfect snow or will we be getting exasperated with the changing crud, ice, breakable crust and slush? Will we be back at the hut in 20 minutes or in 90? Mulhacen has the ability to deliver all of these and more.
Read detailed descriptions about the Backcountry Skiing Descents
How to ascend Mulhacen in a day in summer without touching the same ground twice!
From the Alpujarras to the south the ascent of Mulhacen, highest peak in mainland Spain can be done in a long day in the summer. But how can you make the round trip more interesting by traversing the mountain and not covering the same ground twice?
Access
Through the town of Lanjaron to Orgiva. Turn left before Orgiva towards Capileira and Trevelez. After 20 mins you will enter a big gorge with 3 white villages high above the end of the valley. These villages are Pampaneira, Bubion and Capileira. Head round and up the gorge following the main road, passing through Pampaneira. Just 5 mins more and just before a petrol station turn left to Capileira.
Keep following the road through Capileira and on up the hillside. In 5 mins you will pass horse riding stables. Immediately after take the right when the road forks. Follow this rough track for 15 mins. Park at the Forestry Station barrier and car park (1hr from Lanjaron).
Ascent
There is a well signposted track going up left of the forestry station. Head straight uphill through the forest on a marked and good track. This zig-zags uphill. When you leave the top end of the forest the path nearly meets a forest break (with a signpost beyond signalling the way to the Poqueira Hut) before zig zagging back right and upwards to reach the old road. Follow this.
2hrs after starting you will arrive at the Mirador de Trevelez (a nice place for a breakfast stop will be found 30m to the right by some rocks overlooking the town of Trevelez). Continuing on the old road for 400m, a faint track leaves the road heading rightwards. This is the main south ridge access track. Follow to the south summit and hence to the main summit (2.5 to 3hrs from Mirador de Trevelez).
Descent
From the summit drop 50m south to a point where 2 adjacent cairns mark the start of the west flank path. Follow the track west. This steepens until the full extent of the west flank is seen below. Great views to the Caldera and Veleta areas. This is an unrelenting descent of 500m in a series of steep zig-zags. But it is quick! You should be down at the old road in 40 minutes.
Turn left (south) on the old road which passes over the "Paso de los Franceses" and eventually nears the Alto de Chorillo and the ascent route. Some 400m before the Alto de Chorrillo bear right down over pathless terrain to meet the road that goes from the Poqueira hut to the Alto de Chorrillo. Then, at the first left hand bend in the track take the traverse path south. Follow this along the mountainside. It passes through a forested area before arriving at the forest break above the Hoya del Portillo.
Follow the firebreak down. It is a bit rough, but no rougher than the slopes tackled previously. After 10 minutes you will see a small cairn on the left (looking down) that signifies a small path that enters the forest. Take this path. It is very faint in places but if you generally head a a descending traverse you are bound to reach the forest road or visitor car parks at the Hoya del Portillo.
And that's it! A 24km walk up and down without ever having crossed the same tracks twice. It will take you between 7 and 9 hours with nearly 1200m of ascent. We have a Map and Google Earth Tour on our original blog article which will show you the route to be taken. There are links to altitude profiles and more mapping data.
Dates & Prices
When?
Prices
Group size (per booking):
(prices are per person per day)
1 person - cost €130
2 persons - cost €85
3 persons - cost €75
4 persons - cost €65
Definition of "Group" - if you are booking a trip for 2 persons the 2 person rate applies, 3 persons - 3 person rate etc (not dependent on eventual total group size!).
Price includes:
Guiding
Backup vehicles
We have a limited number of walking poles for the use of guests if required
Gear hire in winter conditions ie ice axe, crampons, helmet
Price excludes (if used): summer bus (€15/person), night in Refugio Poqueira, food (buy at refuge or self-cook in refuge kitchen). NOTE It is the norm throughout Spain that clients also pay for the guides bus fares and/or refuge fees.
Larger groups - discounts apply. Enquire via email or contact form
Transport (effective for all bookings after 1st July 2022)
The guiding price above does not include transport. Due to rising energy and fuel prices we do not want to be constantly changing guiding prices to reflect transport costs. We want to be honest and open about our price structure.
Clients have two options:
NO COST OPTION - Pick up/drop off our guide in Lanjaron or a venue to be agreed. Use your own transport to and from the start/end of activity.
COST OF FUEL OPTION - Our guide will drive you to/from start/end of activity in one our own vehicles. Applicable costs are:
Capileira, White Villages, Taha del Pitres €15
Hoya del Portillo €20
Sierra Nevada ski area €25
Granada area, Cumbres Verdes €15
Peñon de la Mata €20
Lecrin Valley €10
Jerez de Marquesado, Eastern Sierra Nevada €35
N.B For destinations not listed above we can easily work out a fuel cost
You may also be interested in?
Guided Trekking Tours in the Sierra Nevada, Spain
Sierra Nevada trekking holidays and tours inc Mulhacen, Veleta, ridge traverse, Siete Lagunas and high peaks. Day or multi day treks from Lanjaron, Capileira or Granada
Tres Miles 5 day trek Sierra Nevada Spain, 3000m mountains
A stunning high altitude guided trek, wild camping, traversing the main 3000m peaks of the Sierra Nevada in quiet and remote mountains. This is Los Tres Miles!
Climb Mulhacen, Sierra Nevada, highest mountain in mainland Spain
Guided day or multi day ascents year round of Mulhacen in Spains Sierra Nevada. Climb it, trek it, scramble it, ski it or even sleep on it!
Guided Trek Sulayr GR240 Long Distance Path, Sierra Nevada
Week long guided trek along the northern section of the Sulayr long distance path that encircles the Sierra Nevada mountain range in southern Spain
Guided Trekking in Los Glaciares National Park, Patagonia
Tours around Cerro Torre, Fitzroy and Paso Viento. Day and multi-day trekking and hiking from El Chalten, Patagonia