About the Snowshoeing in the Sierra Nevada
During the winter months snow is in abundance; and with great trails offering wonderful scenery, snowshoers will find this a wonderful destination. Moreover, snowshoers of every level of skill and experience will find plenty of trails to meet their desires and needs.
If you've never tried it....you should! Its good fun and very easy to learn. We take you to some gentle locations for your first steps. After a brief learning curve we can progress to longer and harder tours.
Snowshoeing.... Why do it?
A fun and active way to visit the outdoors
Inexpensive
Simple to learn
Great cardiovascular exercise
Another fun winter activity to add to your list
Good for your spirit
An entertaining social activity
Everyone is doing it!
Can you really go snowshoeing in southern Spain?
Yes, of course. Snow from December until May. Don't tell everybody though as we don't want crowded hills! The area provides some superb, reliable snowshoe tours.
Gallery - Snowshoe Tours
View Full Screen Imagesopens in a new window
Had a great time exploring the Sierra Nevada mountains on snowshoes with my guide. He was very attuned to our needs, fitness, and skill level, and our ability to deal with the wind and blowing snow. He took lots of high quality photos for us. A great experience overall.
Erin Y, via Trip AdvisorMore Reviews
Our Snowshoeing Tours
Where, When & for who?
Where?
There are many great places to try out your snowshoes. Email Spanish Highs Mountain Guides for suggestions in the Sierra Nevada. Once you feel comfortable, you might like to try out a new hiking trail.
When?
Any time you want during December to May (if there are at least 4 inches snow on the ground)! Snowshoeing is a great activity by itself or combined with other outdoor pursuits like winter camping, backcountry snowboarding and skiing, sledding, or running. When you have a pair of snowshoes, there are no more excuses for not getting out and enjoying winter.
For Who?
The good news is that anyone who can walk can go snowshoeing. From young kids to senior citizens. Depending on your age and weight range there will be a shoe that will fit your specific needs.
We have snowshoes available from well know makes such as Tubbs, Salomen and Camp. Hire costs are included in the tour guided prices.
Just to say very many thanks. We really had a marvellous time with you & everyone was SO helpful to me. I really appreciate it & sincerely hope we can go again next year
Lucille Rodriguez, AlgecirasMore Reviews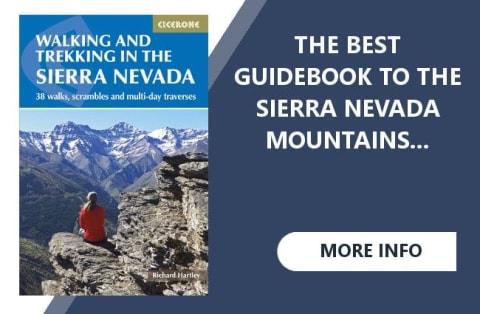 Day Tours frequently used
Puente Palo - easy access from Lanjaron. Forests and some open hillsides. Some peaks can be ascended on snowshoes from here.
Hoya del Portillo - above the high white village of Capileira. Various excursions possible here.
Hoya de la Mora and Barranco de San Juan - high snowbowls in a quiet valley
Sierra de Huetor - we have worked out some marvellous round trip tours through the pine forests of this magnificent Natural Park. We also offer Canicross here.
Puerta de la Ragua - A 2000m high road pass through the eastern Sierra Nevada. Forests, open hillsides and simple peaks available.
Casa Forestal La Pluca and Las Alegas - a high dirt track allows access to forests and hillsides up to 2700m, with superb views to Mulhacen, Veleta and the other main Sierra Nevada peaks.
Cumbres Verdes - when the snow is low and access to our 4WD vehicles is possible the Cumbres Verdes gives entertaining and variable snowshoeing in dry ravines and green valleys.
Valley of the Rio Lanjaron - not many venture here to snowshoe in winter but we have obtained quick access from the SE. The valley is normally snowsure until end May giving late season snowshoeing.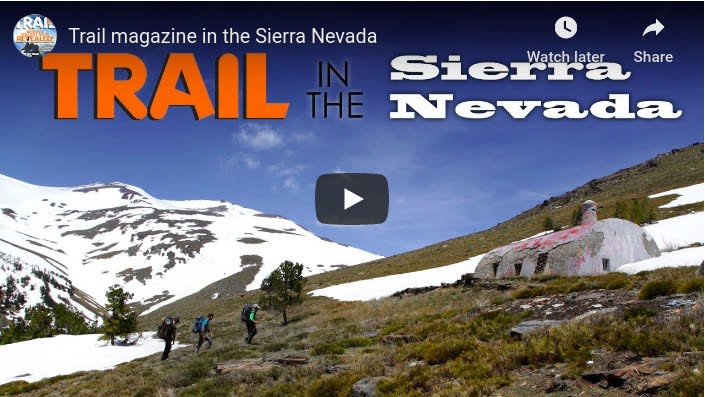 Snowshoeing Articles from our Blog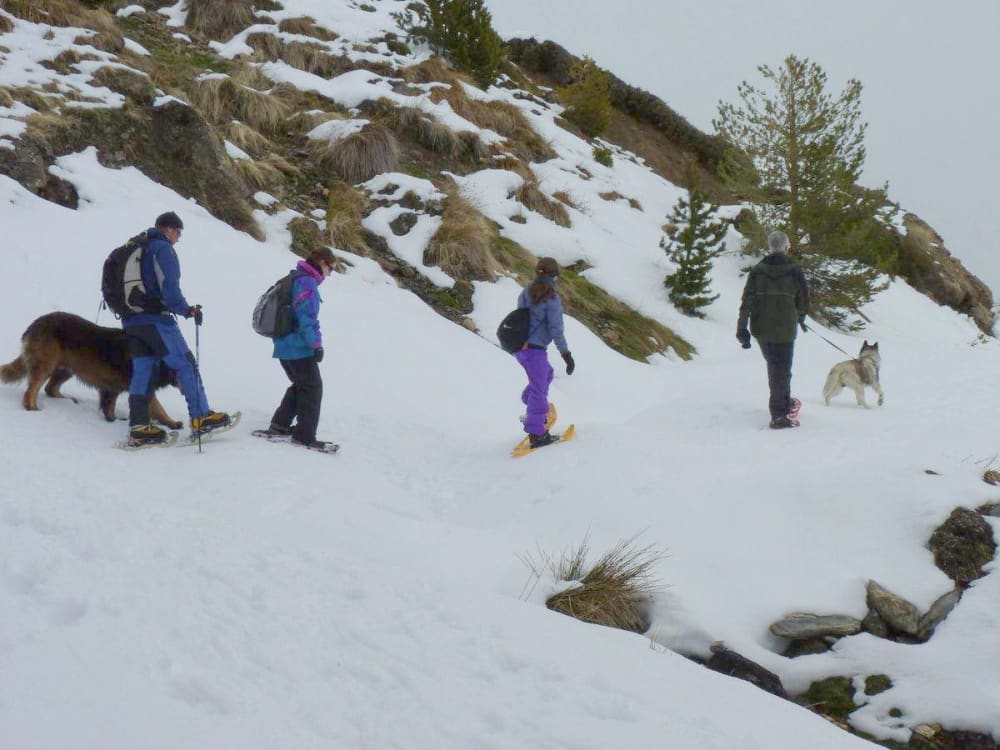 There is no finer place to enjoy a day's snowshoeing after recent snowfall than above Puente Palo in the pine forests of the Alpujarras. Last week we were privileged to enjoy the company of a family from the USA, as we guided them on a days snowshoeing...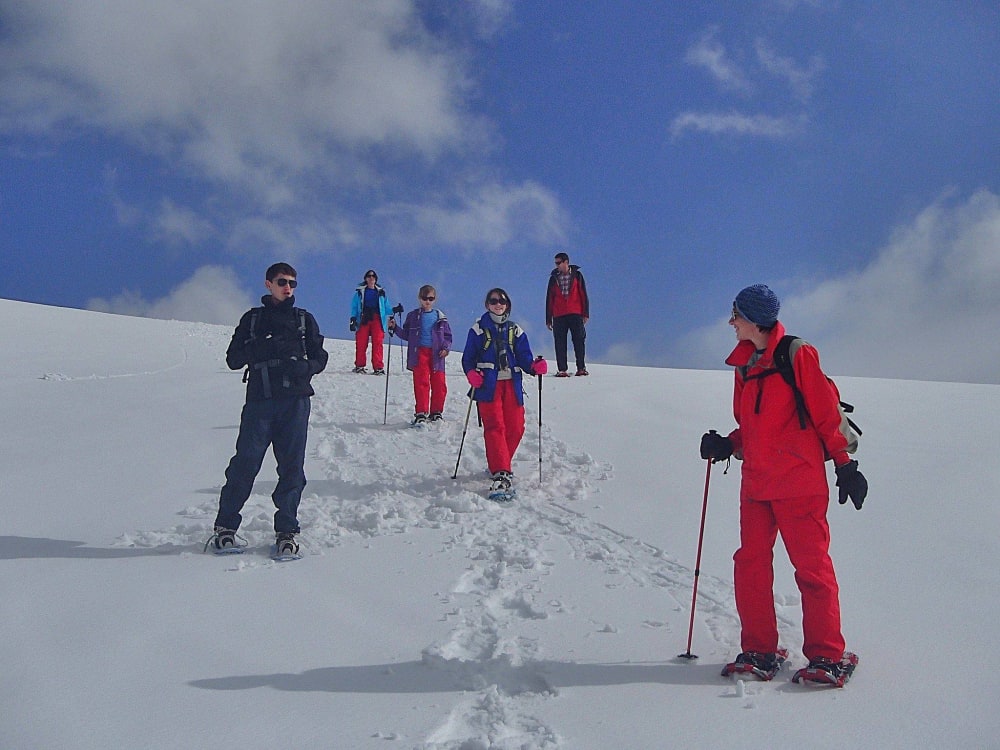 For winter we have some new locations, far away from anybody else including some new forests accessible only by 4WD vehicles. These should give superb snowshoeing from mid-December until end of May. We tried them out last year and it's now time to launch!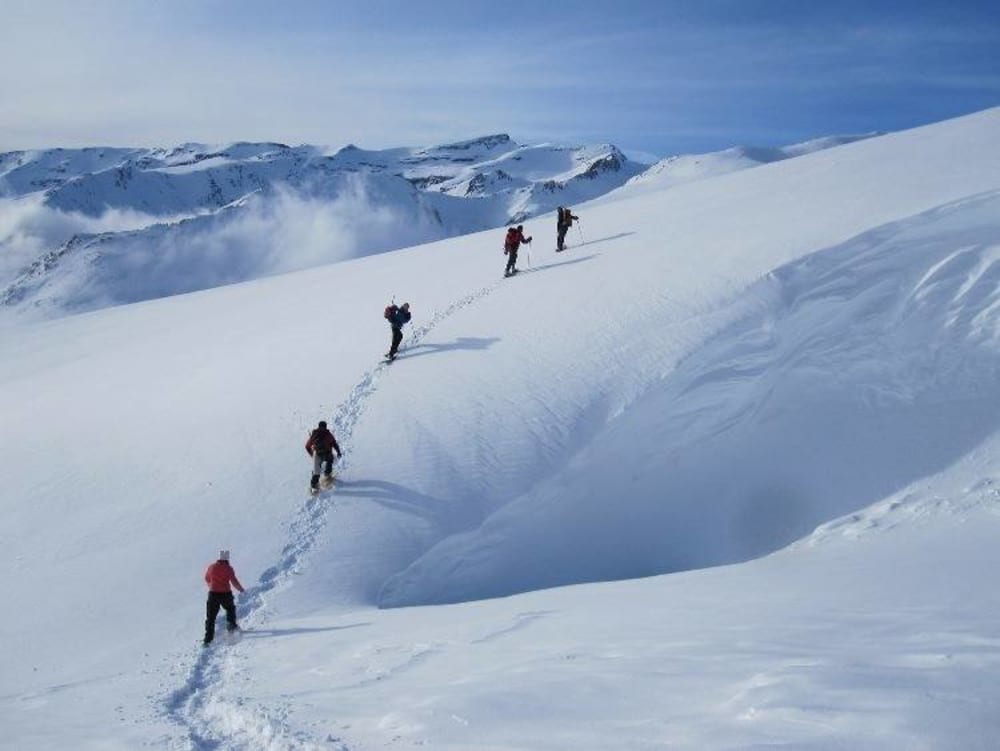 Recollections of a hard snowshoeing trek to and from the Poqueira hut in Spain's Sierra Nevada mountains in difficult snow conditions. At times we had blizzard conditions which made it an epic and, at times, very testing journey.
Dates & Prices
When?
Prices
Group size (per booking):
(prices are per person per day)
1 person - cost €130
2 persons - cost €85
3 persons - cost €75
4 persons - cost €65
Definition of "Group" - if you are booking a trip for 2 persons the 2 person rate applies, 3 persons - 3 person rate etc (not dependent on eventual total group size!).
Price includes:
Guiding
Backup vehicles
Gear hire - snowshoes
We have a limited number of trekking poles for the use of guests if required
Larger groups - discounts apply. Enquire via email or contact form
Transport (effective for all bookings after 1st July 2022)
The guiding price above does not include transport. Due to rising energy and fuel prices we do not want to be constantly changing guiding prices to reflect transport costs. We want to be honest and open about our price structure.
Clients have two options:
NO COST OPTION - Pick up/drop off our guide in Lanjaron or a venue to be agreed. Use your own transport to and from the start/end of activity.
COST OF FUEL OPTION - Our guide will drive you to/from start/end of activity in one our own vehicles. Applicable costs are:
Capileira, White Villages, Taha del Pitres €15
Hoya del Portillo €20
Sierra Nevada ski area €25
Granada area, Cumbres Verdes €15
Peñon de la Mata €20
Lecrin Valley €10
Jerez de Marquesado, Eastern Sierra Nevada €35
N.B For destinations not listed above we can easily work out a fuel cost