Just amazing that after many years of living here we are still discovering new locations to run our Snowshoeing Tours in the Sierra Nevada. Sun and fun guaranteed!
About our Winter Sierra Nevada Snowshoeing Tours
For winter we have some new locations, far away from anybody else including some new forests accessible only by 4WD vehicles. These should give superb snowshoeing from mid-December until end of May. We tried them out last year and it's now time to launch!
For those new to snowshoeing, we shall take you to some suitable forested slopes for your first steps. After a brief learning curve we can progress to longer and harder tours. We provide the snowshoes if you don't have your own.
Read our Guide to Snowshoeing
And snowshoeing is for everybody. Last year we introduced many newcomers to the sport including families from Northern Australia who had never seen snow before. Every year we see returning customers, including a lady (now good friend) of over 75 years of age!
You also have an option to be accompanied by some of our four legged friends should you wish. We have 3 dogs who love the deep snows of the Sierras and provide much entertainment for guests (siberian husky, leonberger, podenco - see photos below)
Some great day tours!
Puente Palo - easy access from Lanjaron. Forests and some open hillsides. Some peaks can be ascended on snowshoes from here.

Hoya del Portillo - above the high white village of Capileira. Various excursions possible here.

Hoya de la Mora and Barranco de San Juan - high snow bowls in a quiet valley.

Sierra de Huetor - we have worked out some marvellous round trip tours through the pine forests of this magnificent Natural Park.

Puerta de la Ragua - A 2000m high road pass through the eastern Sierra Nevada. Forests, open hillsides and simple peaks available.

Casa Forestal La Piuca and Las Alegas - a high dirt track allows access to forests and hillsides up to 2700m, with superb views to Mulhacen, Veleta and the other main Sierra Nevada peaks.

Valley of the Rio Lanjaron - not many venture here to snowshoe in winter but we have obtained quick access from the SE. The valley is normally snowsure until end May giving late season snowshoeing.
We have snowshoes available from well know makes such as Tubbs, Salomen and Camp. Hire costs are included in the tour guided prices.
More information about our 2015 Sierra Nevada Snowshoeing Tours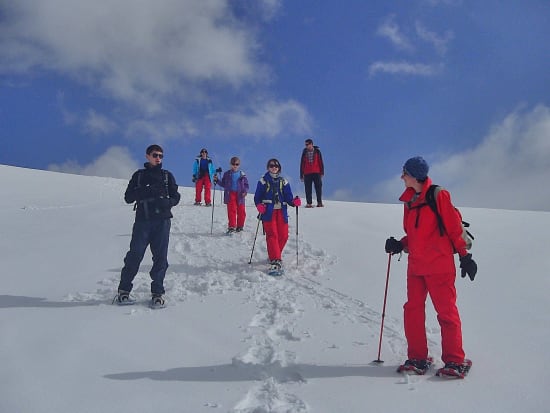 Snowshoeing - fun for all the family
}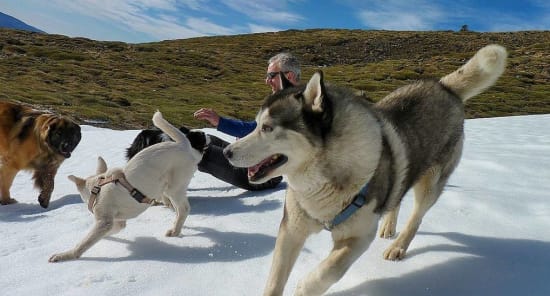 Tails from the Pack
}
What goes up must come down!
}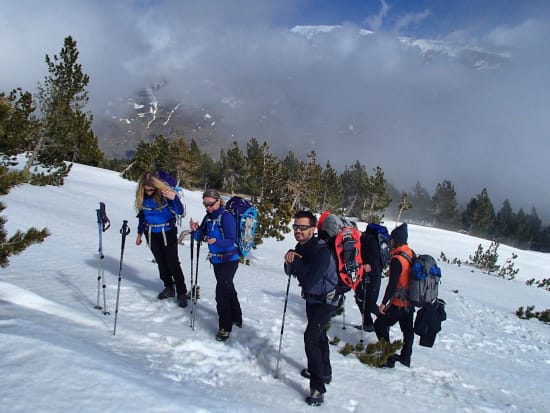 Snowshoeing in the High Forests of the Alpujarras
}