What Trekking Tours do we operate?
The high Sierra Nevada provide wonderful opportunities for mountain trekking of the highest quality. The traverse of the main ridge takes 5 days and covers all the major peaks. Mulhacen, highest mountain in mainland Spain is always a challenge. In addition we have many fine day and multi day tours in the range, especially in the northern Sierras.
Quick links to our trekking tours
How can I calculate the Trekking Times?
Use our walking time calculator which is based on distance, amount of ascent, intended pace, rucksack weight and terrain surface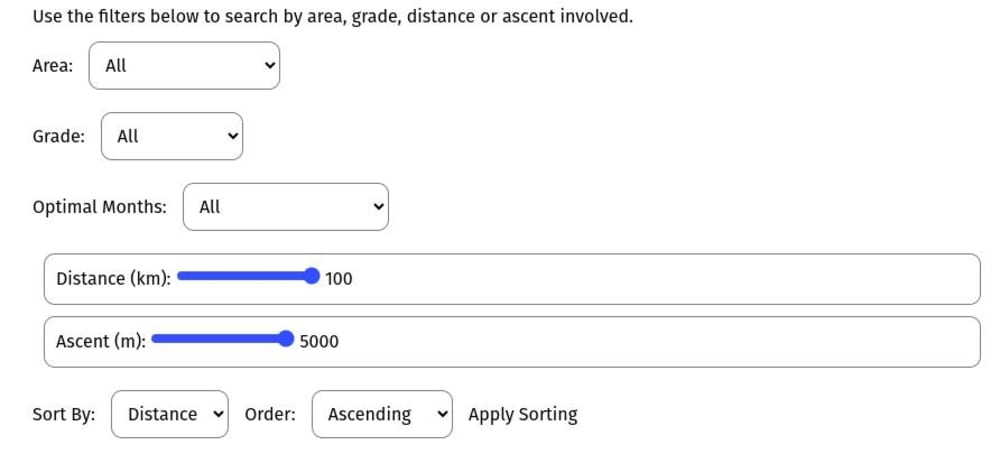 Gallery - Trekking Tours
View Full Screen Imagesopens in a new window
What are the best treks in the Sierra Nevada?
The Sierra Nevada has so many trekking opportunities but Mulhacen, Los Tres Picos, Los Tres Miles are the most popular with clients. For those that love wild places, the Northern Sierra Nevada offer some wonderfully remote and rough treks, with few others around. With 25 peaks over 3000m there is plenty to go at!
Our Trekking Tours in the Sierra Nevada & beyond!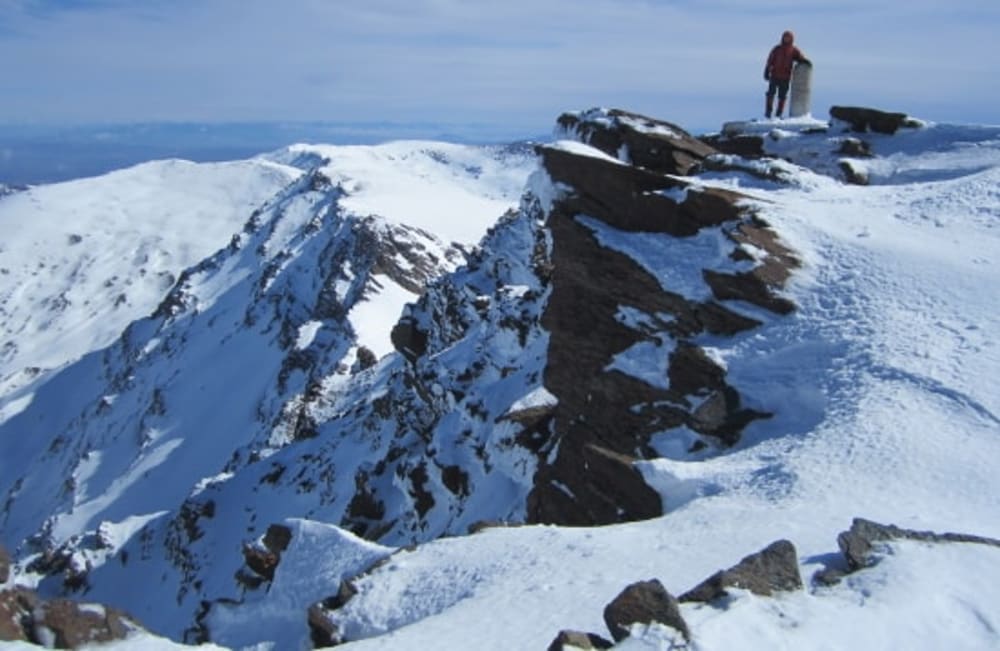 Climb Mulhacen
Ascend the peak of Mulhacen, the highest peak in western europe outside the Alps
Grade: Challenging, duration: 1 or 2 days, year round ascents
We offer year round ascents in both winter and summer condition on demand. Also available are winter ascents on skis or snowshoes (when conditions permit) or summer night ascents to see the sunrise.
We climb Mulhacen in either a 2 day ascent staying in the Poqueira Hut or a 1 day (summer only ascent). We also ski it, snowshoe it, scramble it or even climb it at night!
We offer the following guided climbs throughout the year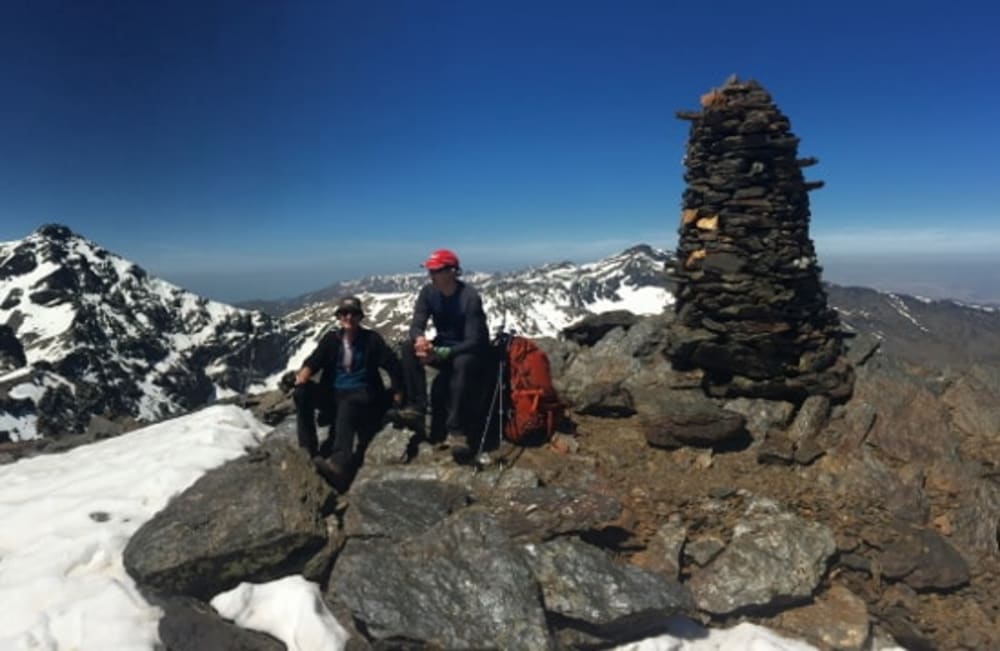 "Los Tres Miles" 3000m peaks
Los Tres Miles - 4-5 day wild camping trek climbing 23 3000m+ peaks
Grade: Very tough, duration: 4 or 5 days, mid-May through to mid-November
The classic multi day trek of the Sierra Nevada that covers all the major 3000m peaks in the range. We start at Trevelez, ascend to the head of the Rio Trevelez where we join the main ridge. Then we walk the whole range all the way back to Lanjaron. In total over 4000m ascent, 5000m descent, 70km and over 23 major 3000m summits.
The trek is usually doable from mid-May until mid-November but this does depend on late or early season snowfall. The trek will take between 4 and 5 days in high summer with some delectable overnight camping places by mountain streams or lakes.
Transport support is provided to ensure we are able to traverse the main sections of the range. The walking is quiet and unspoilt but a certain amount of resilience is required as it is remote and rough.
This tour is quite strenuous and should be undertaken by strong hill walkers. Accommodation is either in secluded lakeside campsites in the mountains or in unguarded mountain huts.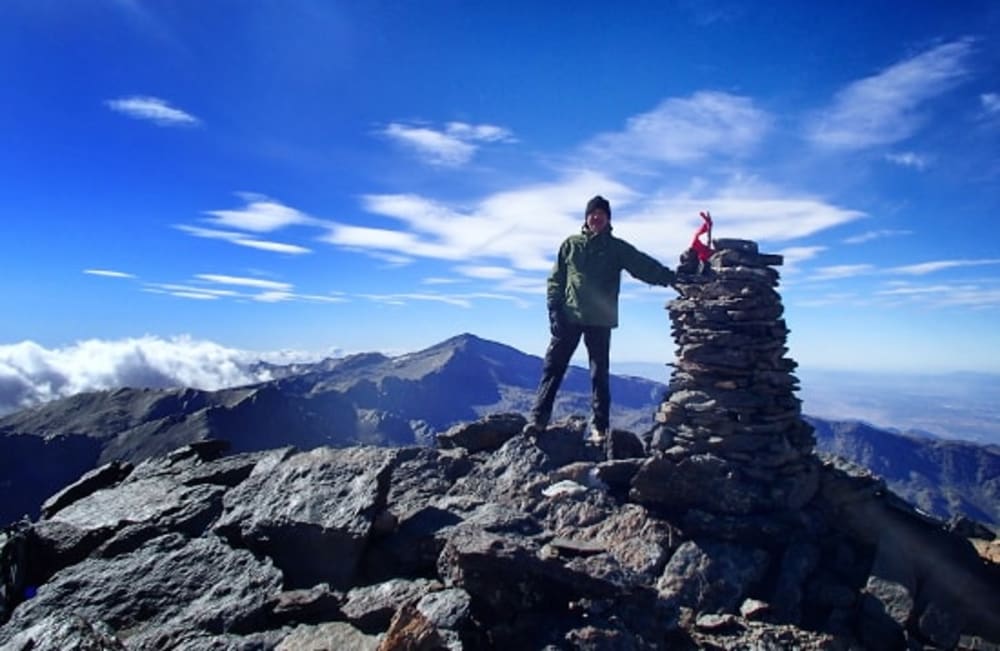 "Los Tres Picos" Challenge
The 3 Highest Peaks in 3 days (guarded refuge or wild camping)
Grade: Tough, duration: 3 days, mid-May through to mid-November
Get your trekking boots ready... we are off to conquer 3 of Spain's highest peaks in one long weekend! A great challenge especially for Fund Raising Charities! This is a tough challenge but the view across Spain's mainland from its highest peaks will reward your efforts.
This Spanish 3 peak challenge consists of summiting Alcazaba (3371m), Veleta (3394m) and finally mainland Spain's highest - Mulhacen (3482m). The mountain range is the second highest in Europe after the Alps and includes 15 peaks higher than 3,000m.
Beware though, this is a toughie! The effects of altitude will be felt and the peak of Alcazaba is remote. We have many options available including staying in guarded refuges or wild camping so that you can "tailor" your challenge to fit.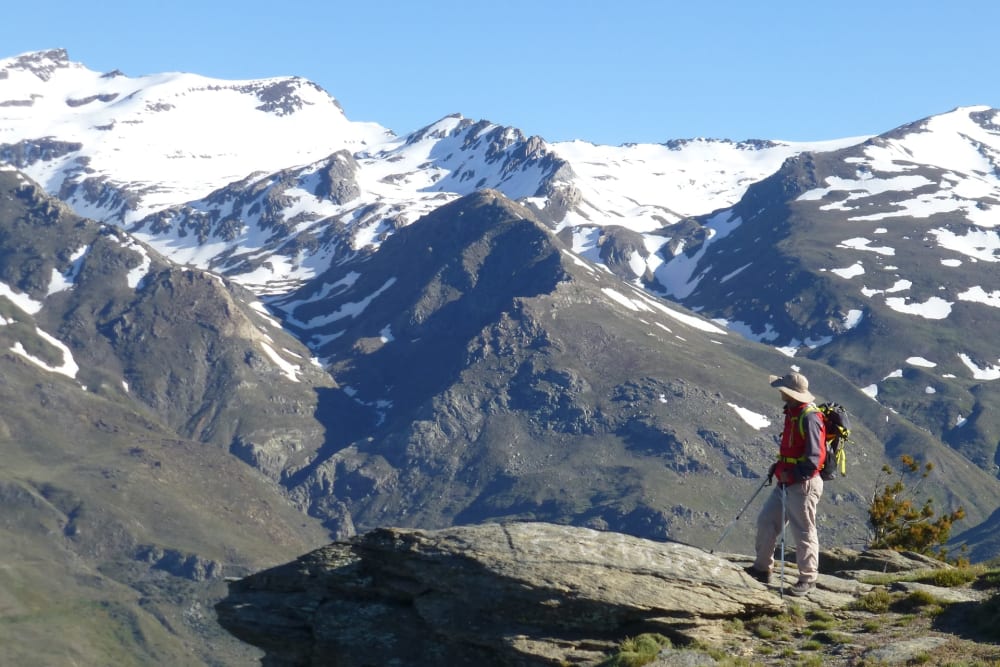 Sierra Nevada Mountain Ascents
Climb the peaks of the Sierra Nevada
Grade: Tough, duration: 1 or 2 days, year round
The more remote 3000m+ peaks away from easy access can be ascended by either 1 or 2 day trips. Overnight we can stay in guarded, unguarded refuges or wild camp by lakes and rivers. You may combine trips into a weeks walking. Some suggestions:
Tajos de la Virgen traverse including Pico de Cartujo
Alcazaba (3371 m) from Trevelez
Puntal de la Caldera (3225 m)
Cerrillo Redondo (2909 m) & Tajos de los Machos (3085m) from Puente Palo
Cerro de Caballo (3009 m) from near Lanjaron
Seasonal note: In winter conditions ice axe and crampons and the ability to use them will be essential.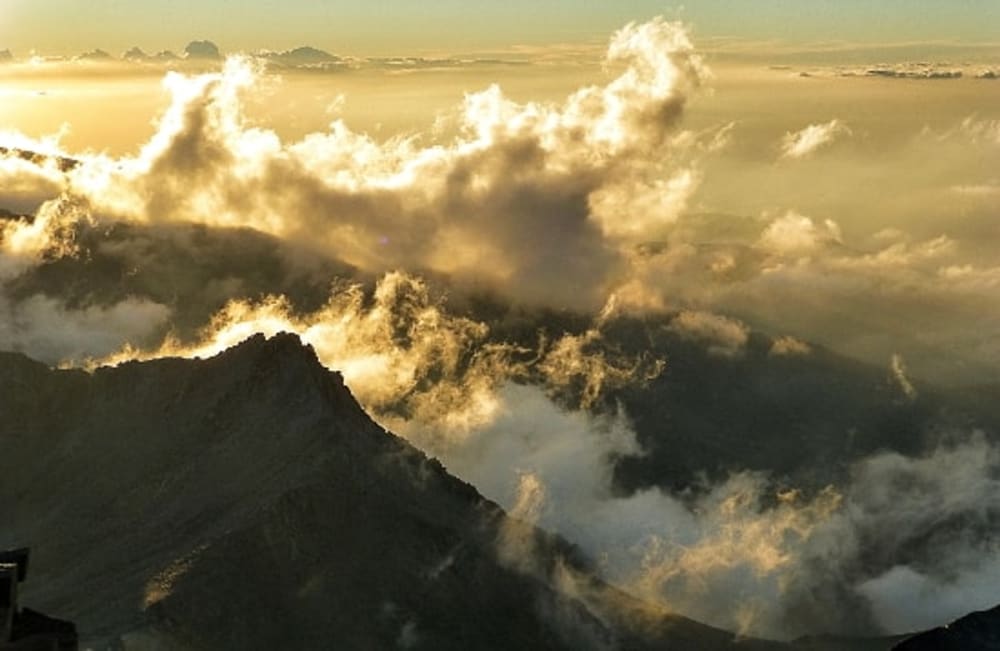 Summer Sunsets & Sunrises
Summer trek sleeping on top of Mulhacen &/or Alcazaba
Grade: Challenging, duration: 2 or 3 days, 1st June through to 31st October
Join us on top of Mulhacen and Alcazaba this summer for a 2 night trek enjoying the wonderful sunsets, sunrises and stars over the Sierra Nevada
Unique and Spectacular! Available July, August and September. Escape the heat with 2 nights sleeping out on the summits of two of the highest and best mountains in Spain. "An unbelievable and unforgettable experience".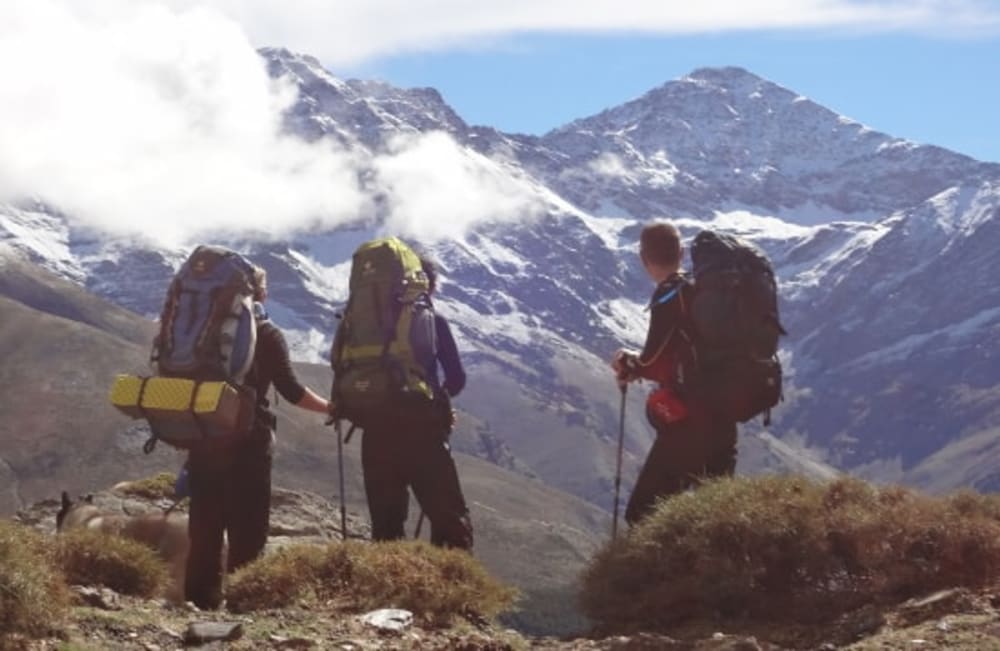 Trek the remote North
3 days trekking in the remote Northern Sierra Nevada
Grade: Tough, duration: 3 days, mid-May through to mid-November
Escape the crowds and trek the Sierra Nevada remote northern 3000m mountains in a 3 day hikes. The northern Sierra Nevada provide year round high, wild and remote trekking. These 3 day treks make use of unmanned refuges with optional wild camps.
For those who like remote, quiet, dramatic mountain scenery, rough tracks and are willing to put up with basic shelter and facilities for a few nights.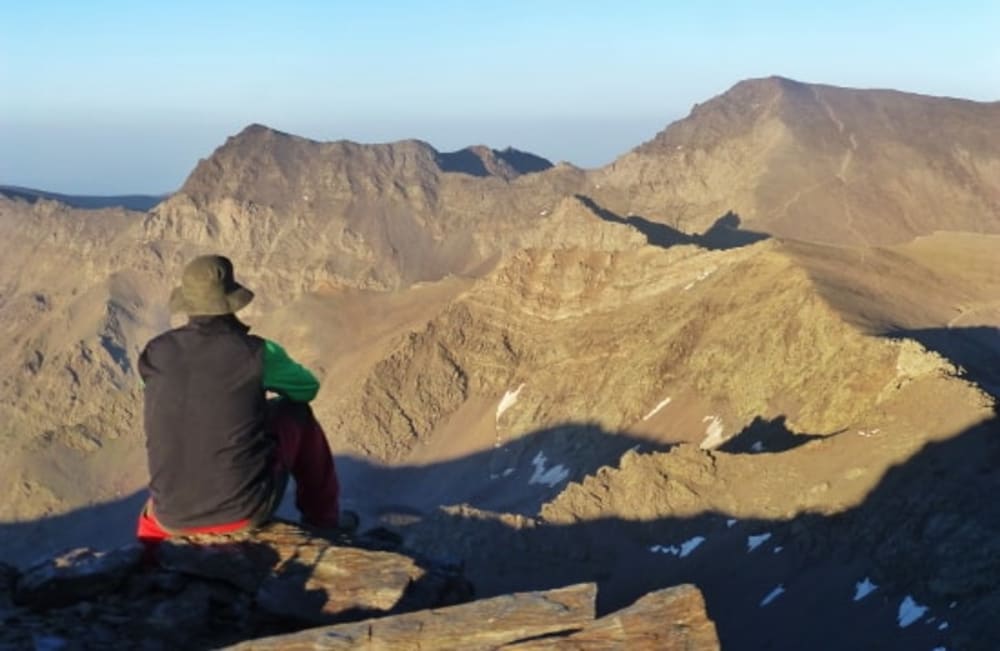 Crossing the Sierra Nevada
Multi day adventures, climbing mountains & wild camping whilst crossing the range
Grade: Challenging/Tough, duration: 2 or 3 days, 1st June through to 31st October
The mountains lend themselves to 2 or 3 day mountain trekking. There are high start points available that give access to magnificent mountain scenery, in the highest mountain range outside the alps in western europe.
For those with limited time available in Spain, these crossings of the range allow you to experience the mountains at their best. We run these multi day treks on demand throughout the year, conditions permitting.
We have tried and tested some of the best traverses around. The following are offered:
Ski Centre, Elorietta, Tajos los Machos to Puente Palo (2 day)
Ski Centre, Cartujo, Caballo to Lanjaron (2 day)
Ski Centre, Cerro los Machos to Capileira (2 day)
Ventura Trailhead, Caballo, Cartujo to Ski Centre (2 day)
Alcazaba and Puntal de Vacares (3 day)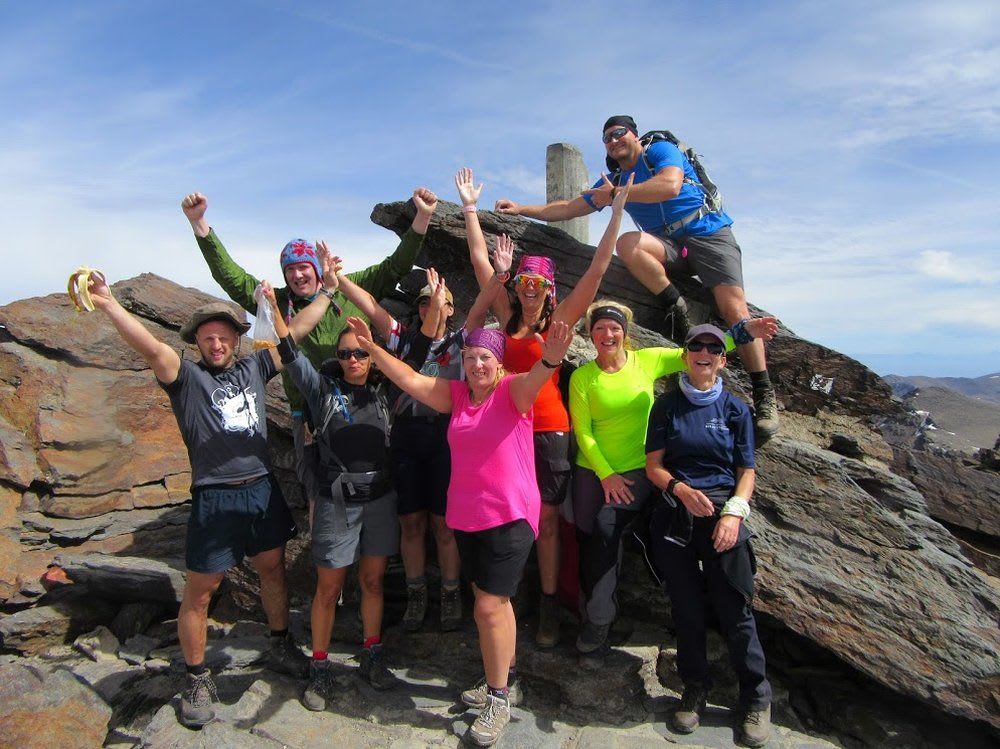 Sea to Summit 3 day Challenge
From the Sea at La Rabita to Mulhacen, highest point in mainland Spain
This is a serious trek. A tough personal or charity challenge and a certain mental resilience will be required.
The trek takes 3 days. With 56km and over 5000m ascent involved this will challenge even the seasoned hillwalker.
The route is mainly on good hill and mountain tracks.
Some are rough at times with some rough sections especially above 3000m. There is a short amount of road walking necessary to cross the Sierra de Contraviesa but our route has been designed to avoid as much of this as possible.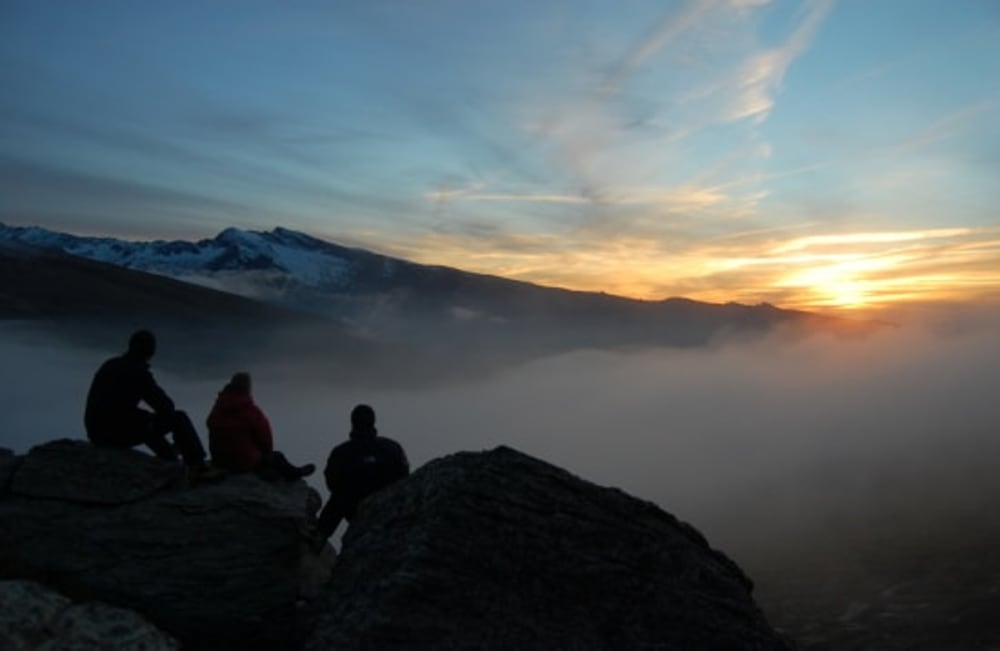 Something a Little Different?
Mule Supported Treks, Biking the Sierras, Morrocco & Patagonia
Sierra Nevada
Spain & Morocco
Picos de Europa
A challenging 5 day circular trek in the Picos de Europa crossing the Central Massif. A perfect way to enjoy the steep peaks, alpine meadows and stunning scenery of the region.
You may also be interested in?
Guided Trekking Tours in the Sierra Nevada, Spain
Sierra Nevada trekking holidays and tours inc Mulhacen, Veleta, ridge traverse, Siete Lagunas and high peaks. Day or multi day treks from Lanjaron, Capileira or Granada
Tres Miles 5 day trek Sierra Nevada Spain, 3000m mountains
A stunning high altitude guided trek, wild camping, traversing the main 3000m peaks of the Sierra Nevada in quiet and remote mountains. This is Los Tres Miles!
Climb Mulhacen, Sierra Nevada, highest mountain in mainland Spain
Guided day or multi day ascents year round of Mulhacen in Spains Sierra Nevada. Climb it, trek it, scramble it, ski it or even sleep on it!
Guided Trek Sulayr GR240 Long Distance Path, Sierra Nevada
Week long guided trek along the northern section of the Sulayr long distance path that encircles the Sierra Nevada mountain range in southern Spain
Guided Trekking in Los Glaciares National Park, Patagonia
Tours around Cerro Torre, Fitzroy and Paso Viento. Day and multi-day trekking and hiking from El Chalten, Patagonia