Year-round Scrambling Adventures in Andalucia
Andalucia province has a wealth of untapped scrambling potential. We shall show you some of the best there is. Many of the routes have been developed by ourselves over the years.
We can show you some of the best scrambles in the Sierra Nevada mountains including the five high mountain scrambles as detailed in Richard Hartley's Cicerone Guide to the Sierra Nevada. In all, three amazing high mountain adventures on ridges and two up buttresses.
Route philosophy - we are looking for free movement on steep and rocky terrain, involving exposure and constant risk assessment of when/if to utilise a rope for security.
Low Mountain <2500m - Year round except July and August
High Mountain >2500m - June, July, August, September, October
Guests should have a good head for heights and have good experience of hillwalking. Instruction will be given where necessary in the basic use of rope and gear for protection and safety.
Grade 1 No specialist mountaineering skills. Technically easy. Done without a rope.
Grade 2 More serious. Maybe need simple technical skills and rope.
Grade 3 Like grade 2, with simple pitches of easy rock climbing. More technical ropework and protection required.
3(S) serious 3s. Some sections of mod/diff rock climbing
From our first contact everyone we dealt with was friendly, professional and efficient. I can't say enough about our guides, their competency, safety awareness and attentiveness. They led us up the NW arete of the Tozal de Cartujo. Exactly the type of experience we wanted. I would highly recommend Spanish Highs to anyone looking for a great day in Sierra Nevada!
AnonymousMore Reviews
Where can you go Scrambling in the Sierra Nevada?
There are both high and low mountain scrambling routes in the Sierra Nevada. Summer is perfect for the high mountain routes, and in Winter the lower hills surrounding Granada provide perfect winter scrambles.
Scrambles in Southern Spain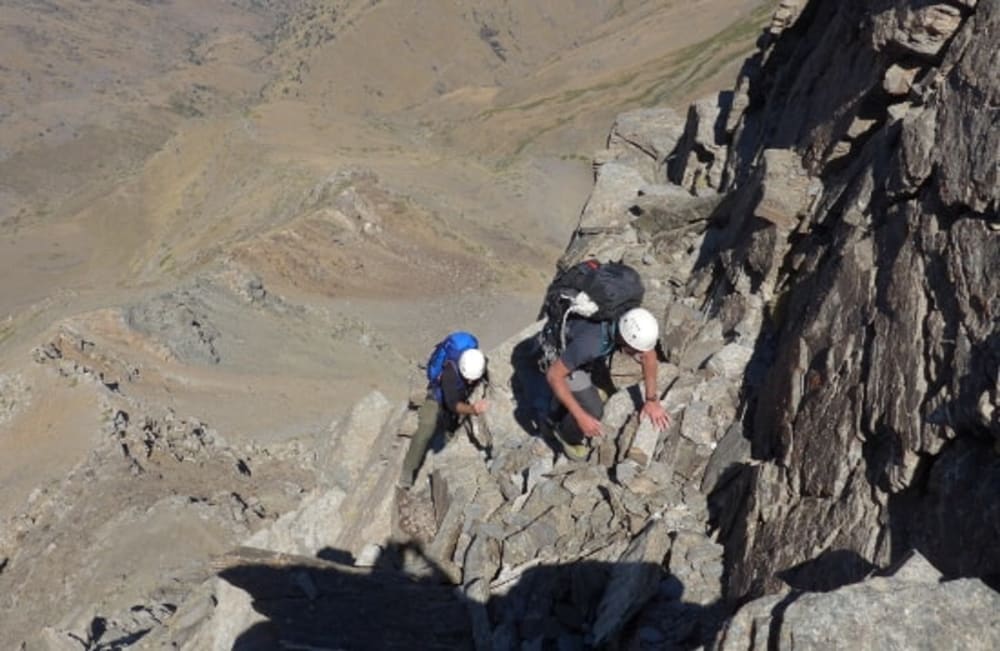 High Mountain Scrambles
Alcazaba, Cartujo, Las Campanitas, La Caldera, Raspones.
June, July, August, September, October
Tajos de la Virgen ridge - Grade 1 with a couple of exposed sections. Long "alpine" type ridge with extensive views. We have harder options available on this route (June to Oct incl).
Tozal del Cartujo - NW ridge - Great situations and not far from the Sierra Nevada ski station - Grade 3S depending on options taken (possible abseil) Great way to the summit of a magnificent peak (June to Oct incl). Read More
Ridge traverse from Los Machos to Veleta via Salon and Fidel Fierro - tough, exposed "Cuillin" like ridge followed by Diff rock climb to the summit of Veleta.
Alcazaba - "the Fortress - Requires a 2 day day trip but the NW Espolon makes a fantastic alpine ascent (Grade 3S). Also easier routes exist on the Gran Vasar and the northern crags of this majestic peak, including a very sneaky shortcut through cliffs on the northern side that saves about 2 hrs on "Los Tres Miles Ruta Integral" (June to Oct incl) Read more
Raspones de Rio Seco ridge traverse - Probably the best ridge traverse in Spain. We were the first foreigners to exploit this magnificent ridge. A superb route! Read More
Puntal de la Caldera - We have two routes on Puntal de la Caldera. The full east to west traverse is Grade 1 . Our latest addition is the NW ridge. Incredible high altitude mountain route leading to this fine and neglected summit (June to Oct incl). Grade 3S Read more
Had a great time in the Sierra Nevada and Sierra de Cogollos. All the scenery and landscapes are brilliant and definitely worth visiting with multiple scrambles and hikes to choose from. All three of us found it to be a great experience.
Anthony Dean, UKMore Reviews
Gallery - High Mountain
View Full Screen Imagesopens in a new window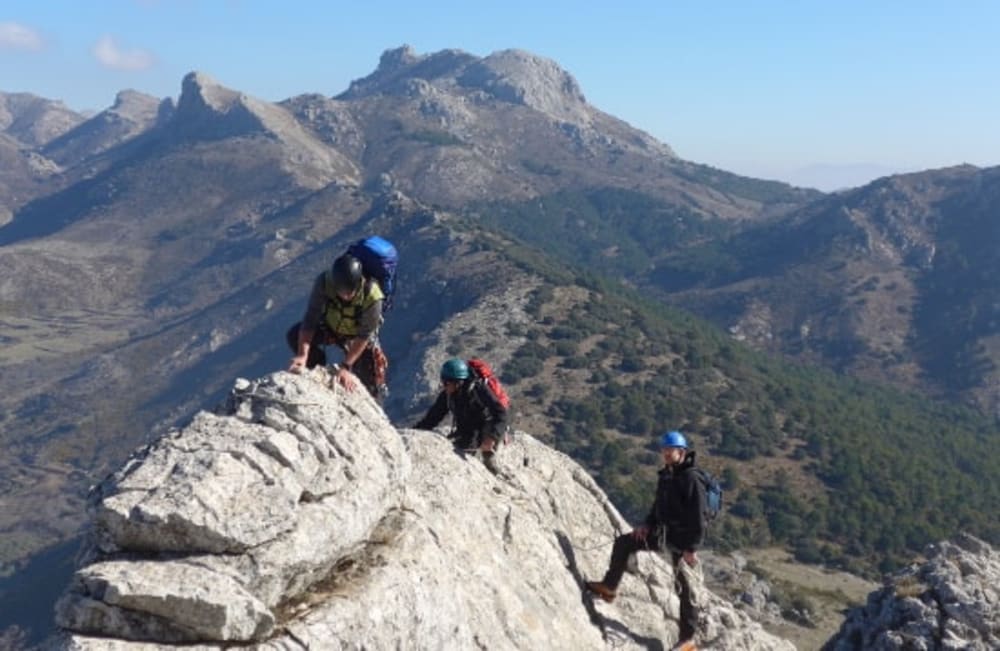 Low Mountain Scrambles
Sierra de Huetor, Penon de la Mata, Sierra Arana.
Year round except July and August
Penon de la Mata - Grade 2-3 (S) depending on route taken. Easy approach gives maximum time scrambling on perfect limestone. We have found and developed some long routes (200-300m) on this quiet peak with excellent views south to the Sierra Nevada. Excellent rock. Read our report and photos of new routes we discovered here
Penon de la Mata - Sierra de Hueto. Since 2002 we have been instrumental in developing a series of rocky scrambles on perfect limestone in this overlooked area (Sept to June incl). Grades range from 1 to 3.
Sierra Arana ridge - Long ridge route on Penon Grande (3S) or more relaxed opportunities on Penon Asno (1-2).
Lecrin Valle- Low peaks but there are a couple that offer fantastic scrambling opportunities on perfect rock. Great instructional areas exist here for all (Sept to June incl). Grades 1 to 3S
Big thanks for a great couple of days in the hills. We really enjoyed it and learnt a lot. We'll no doubt be back in the area again some time soon.
Karl & Hayley, UKMore Reviews
Gallery - Low Mountain
View Full Screen Imagesopens in a new window
Sierra Nevada Mega Tour
A week at high altitude doing the best ridge and buttresses routes. June, July, August, September, October
Highlights
A weeks high altitude scrambling
5 days scrambling, 4 nights bivouac by lakes and streams
Covers 5 of the Sierra Nevada High Mountain Routes (listed above) in one push, camping by lakes and streams
We try to carry as little as possible during the day by utilising base camps
Two trips monthly during June, July, August and September (Monday to Friday)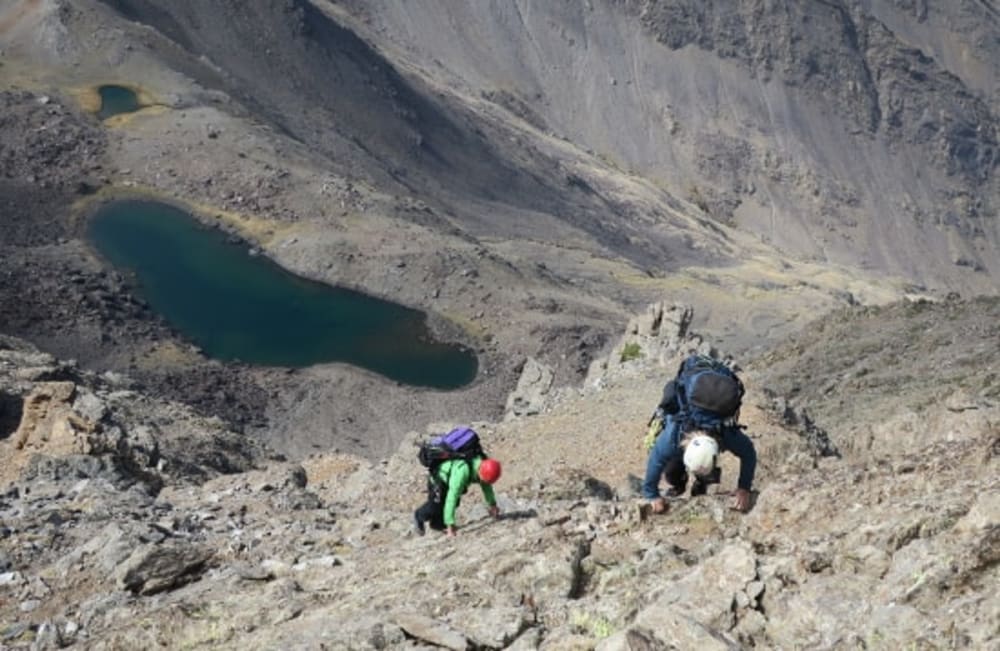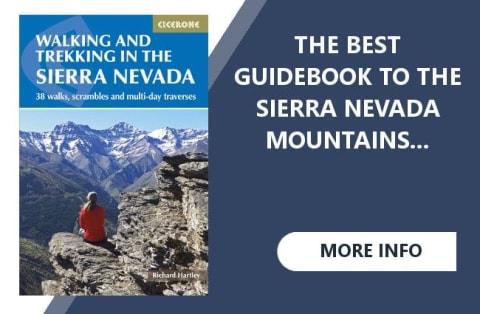 Dates & Prices
When?
Nov to May incl = low mountain routes open
Jun to Aug incl = high mountain routes open
Sep & Oct = both low & high mountain routes open
Prices
Group size (per booking):
(prices are per person per day)
1 person - cost €150
2 persons - cost €95
Guiding ratio is normally 1 guide:2 clients. Please enquire for prices if the group is larger than 2 persons
Price includes:
Guiding
Backup vehicles
Gear hire - helmet and harness
Enquire via email or contact form
Transport (effective for all bookings after 1st July 2022)
The guiding price above does not include transport. Due to rising energy and fuel prices we do not want to be constantly changing guiding prices to reflect transport costs. We want to be honest and open about our price structure.
Clients have two options:
NO COST OPTION - Pick up/drop off our guide in Lanjaron or a venue to be agreed. Use your own transport to and from the start/end of activity.
COST OF FUEL OPTION - Our guide will drive you to/from start/end of activity in one our own vehicles. Applicable costs are:
Capileira, White Villages, Taha del Pitres €15
Hoya del Portillo €20
Sierra Nevada ski area €25
Granada area, Cumbres Verdes €15
Peñon de la Mata €20
Lecrin Valley €10
Jerez de Marquesado, Eastern Sierra Nevada €35
N.B For destinations not listed above we can easily work out a fuel cost
Scrambling Articles & Video from our Blog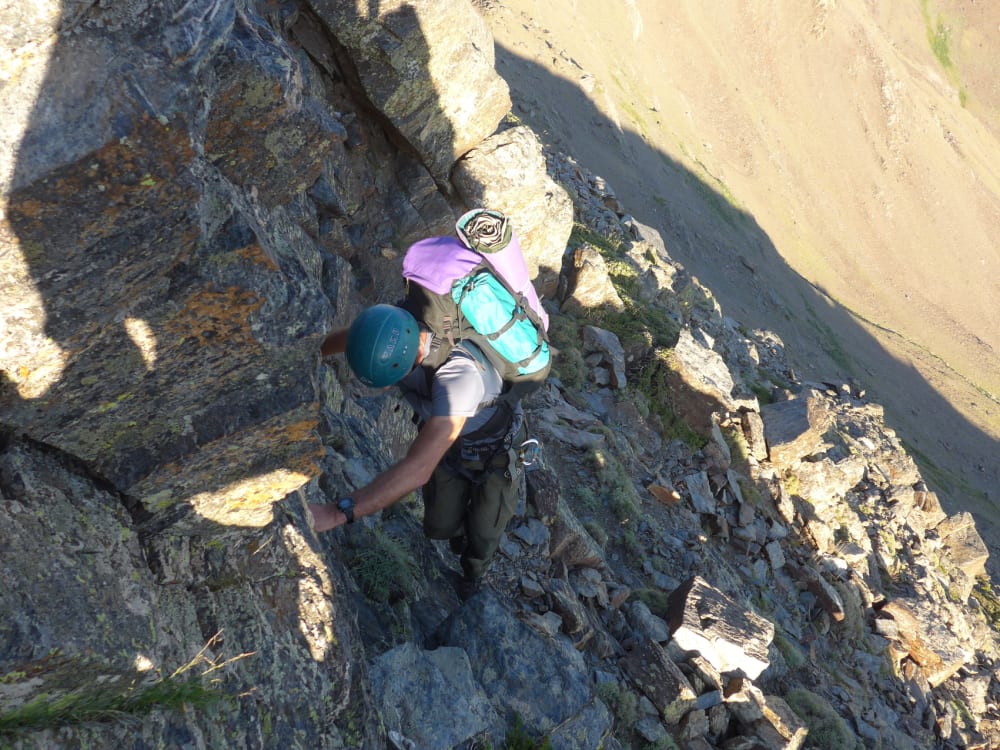 The Espolón de la Caldera is in fact the NW ridge of the Puntal de la Caldera, found just to the west of Mulhacén's, Collado de Ciervo, in Spain's Sierra Nevada mountains.
It gives a rough and sometimes loose scramble with many possibilities for making the ascent easier or tougher to suit...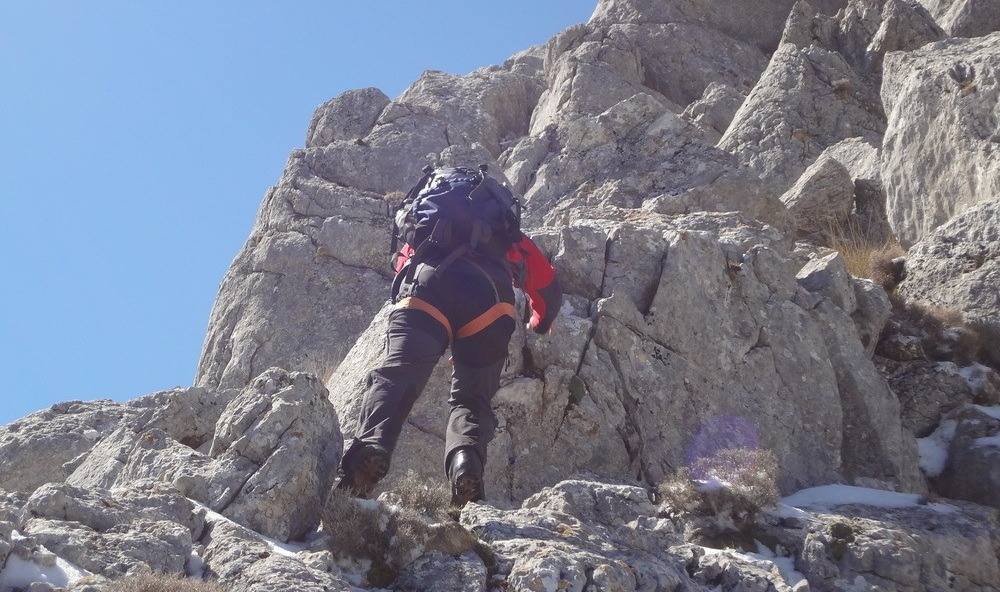 Describes an wonderful mountain day scrambling and climbing on the west ridge of the Peñón de la Mata in the Sierra de Huetor, N of Granada and the more popular Sierra Nevada.
We had seen this ridge on our last visit to the Peñón de la Mata when we did a scramble on the north eastern flanks...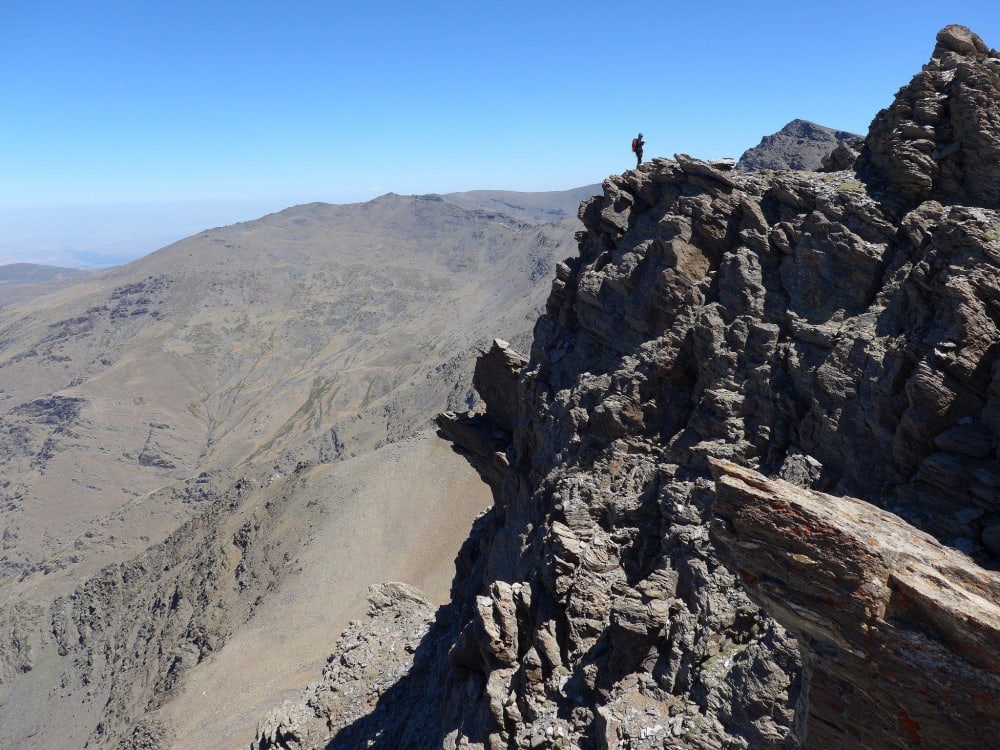 The west to east traverse of the Puntal de la Caldera gives fine high altitude Sierra Nevada Scrambling opportunities.
Here is a route description of how to do it. Arriving at 2900m we made swift progress on the old road over the Col de Carihuela...