The "Classic" Los Tres Miles Traverse of the Sierra Nevada
Guided trekking in the Sierra Nevada covering all the main 3000m summits including mainland Spain's highest summit, Mulhacen. Spend a glorious five days climbing these mountains!
The Sierra Nevada allows us to recapture the solitude and sense of adventure sadly lacking among the more popular ranges of the Alps. The striking thing about the high Sierras is the sense of space and the impression of vast scale. Although lacking the spectacular peaks of the Alps, there are wonderful mountain corries filled with sparkling lakes and jagged and pinnacled ridges.
The Trek Itinerary
We have a superb itinerary that we have been running since 2002. The only difference from the "Classic Integral" route from Jerez de Marsquedaso, is that we find an approach to the first 3000m peaks, "Cerro Pelao" and the "Picon de Jerez" is aesthetically nicer by starting from Trevelez in the south and following the valley of the Rio Trevelez. This puts us into position below just the main ridgeline at the end of the first day.
The main ridge is then followed over all the main 3000m+ summits of the range to the Cerro de Caballo, just before the long drop down to finish in the spa town of Lanjaron. In total you will climb 23 3000m+ peaks and be over 3000m for the majority of the trek.
The trek will take trekkers 4 or 5 days to complete. Our advice? Don't rush it and you will be left with memories of a lifetime!
Thank you for your kindness, generosity & hard work in enabling us not to make too much the fool of ourselves on the hill. The whole thing was unforgettable & although puffing & panting & the agonised moaning of all my muscles I was thinking.....right, this is the last time I put myself through this stuff. I hadn't been down more than 4 hrs when I started thinking how wonderful it would be to be back up there. Funny isn't it?
Chris Stewart, Author, Driving Over LemonsMore Reviews
Trekking guide, map and Itinerary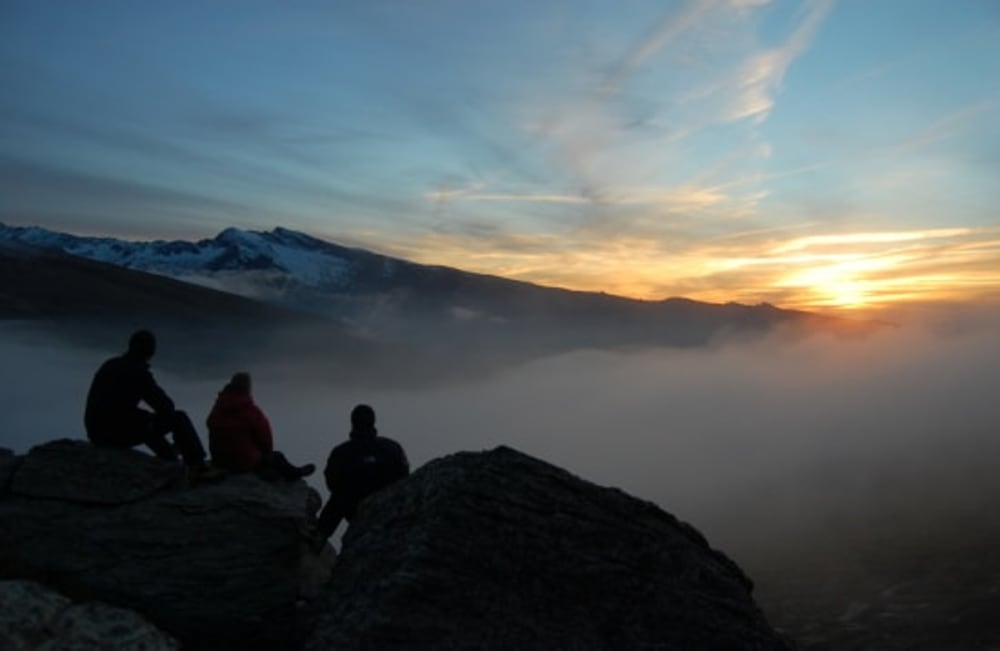 Guide to Los Tres Miles Integral
Late spring, summer and autumn are ideal times to visit. Generally settled weather and pleasant temperatures. Normally we can run these trips after the snow melt in June until the end of October. We aim to cover all the main 3,000 metre peaks of the Sierra Nevada in one week.
Transport support is provided to ensure we are able to traverse the main sections of the range. The walking is quiet and unspoilt but a certain amount of resilience is required as it is remote and rough. This tour is quite strenuous and should be undertaken by strong hill walkers. Accommodation is either in secluded lakeside campsites in the mountains or in unguarded mountain huts.
There are very expansive and dramatic views, but in general no great head for heights is necessary. A gradual rise to the 3,000-metre level ensures altitude does not become a major problem. We traverse the range in 5 days and take in the highest peaks and most dramatic scenery in mainland Spain.
Tres Miles
Tough Linear walk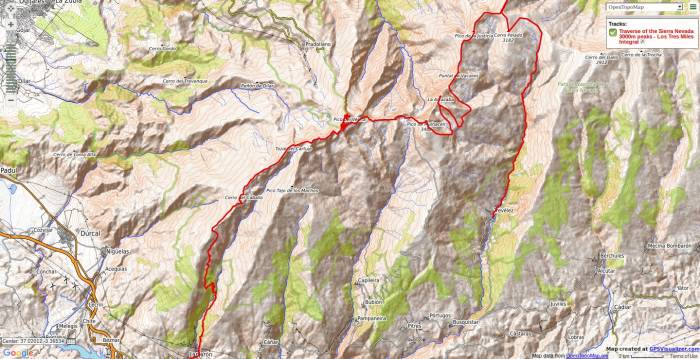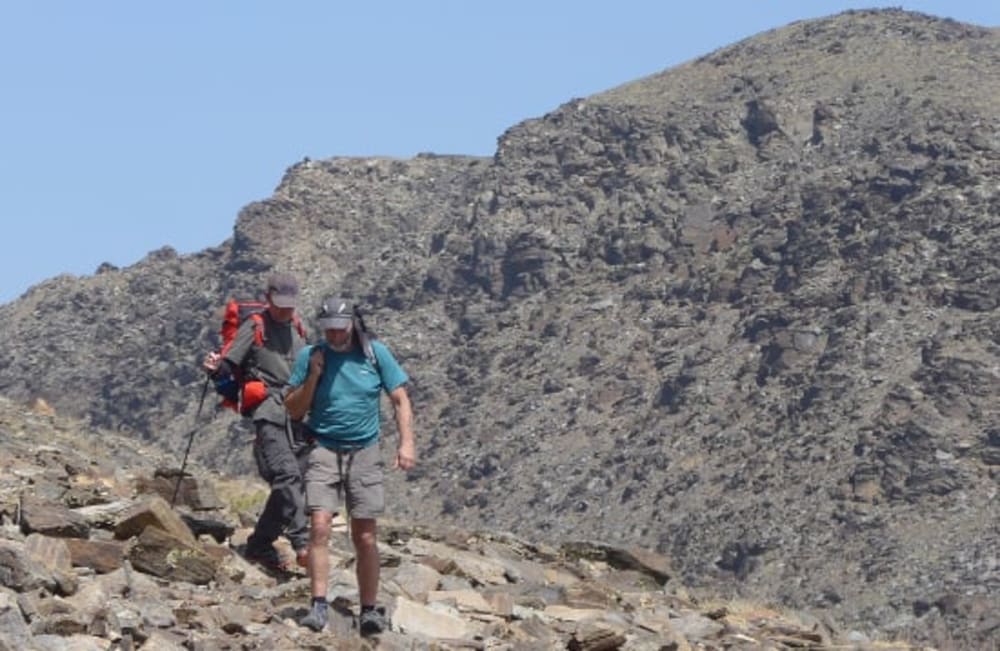 Day by Day Itinerary
Day 1 - Start at Trevelez and go up alongside the Rio Trevelez, past the Refugio Horcajo and up towards the Puerto de Trevelez. There are reliable water sources and places to camp before reaching the Puerto de Trevelez (6hrs)
Day 2 - Ascend all the northern peaks including Pico de Jerez (3090m), Puntal de Juntillas (3139m), Puntal de los Cuartos (3158m), Atalaya (3135m) and Puntal de Vacares (3136). Camp by lakes at Lagunillas de Calderetas (8 hours)
Day 3 - Ascent of Alcazaba (3371m) then drop down to Siete Lagunas. We camp by the higher lake of Laguna Altera (6 hours)
Day 4 - Ascent of highest peak in Spain, Mulhacen (3481m), walk over Loma Pelada (3178m), ascend Veleta (3398m) and then traverse Tajos de la Virgen ridge. Camp at Elorrieta or Laguna de Lanjaron (8 hours)
Day 5 - High level trek to Cerro de Caballo (3009m) via Pico del Cartujo (3152m) and Tajos Altos (3105). Descend ridge of Tres Mojones to waiting 4WD transport (5hrs)
Optional Extension
If you prefer a more leisurely traverse and more time to "chill out" after a days trekking, we can add an extra day to the itinerary taking 3 days to complete days 4 and 5 (above).
The short (3 min) video below gives a good indication of what to expect from this trek. We do normally try to keep groups small and have a maximum of 4 to a guide. That way you can better experience the solitude and remoteness of these wonderful mountains. The trek can be tailored somewhat to the wishes of the group. Scrambling sections may be included or omitted as required.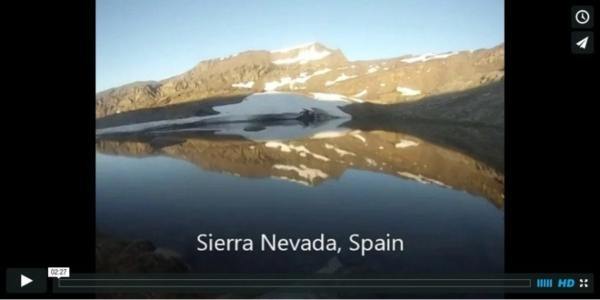 Dates & Prices
When?
Prices
ie "Los Tres Miles" and "Los Tres Picos" treks
Group size (per booking):
(prices are per person per day)
1 person - cost €145
2 persons - cost €95
3 persons - cost €85
4 persons - cost €75
Definition of "Group" - if you are booking a trip for 2 persons the 2 person rate applies, 3 persons - 3 person rate etc (not dependent on eventual total group size!).
Price includes:
Guiding
Backup vehicles
We have a limited number of walking poles for the use of guests if required
Gear hire in winter conditions ie ice axe, crampons, helmet. Also stove if required.
Larger groups - discounts apply. Enquire via email or contact form
Transport (effective for all bookings after 1st July 2022)
The guiding price above does not include transport. Due to rising energy and fuel prices we do not want to be constantly changing guiding prices to reflect transport costs. We want to be honest and open about our price structure.
Clients have two options:
NO COST OPTION - Pick up/drop off our guide in Lanjaron or a venue to be agreed. Use your own transport to and from the start/end of activity.
COST OF FUEL OPTION - Our guide will drive you to/from start/end of activity in one our own vehicles. Applicable costs are:
Capileira, White Villages, Taha del Pitres €15
Hoya del Portillo €20
Sierra Nevada ski area €25
Granada area, Cumbres Verdes €15
Peñon de la Mata €20
Lecrin Valley €10
Jerez de Marquesado, Eastern Sierra Nevada €35
N.B For destinations not listed above we can easily work out a fuel cost
You may also be interested in?
Guided Trekking Tours in the Sierra Nevada, Spain
Sierra Nevada trekking holidays and tours inc Mulhacen, Veleta, ridge traverse, Siete Lagunas and high peaks. Day or multi day treks from Lanjaron, Capileira or Granada
Tres Miles 5 day trek Sierra Nevada Spain, 3000m mountains
A stunning high altitude guided trek, wild camping, traversing the main 3000m peaks of the Sierra Nevada in quiet and remote mountains. This is Los Tres Miles!
Climb Mulhacen, Sierra Nevada, highest mountain in mainland Spain
Guided day or multi day ascents year round of Mulhacen in Spains Sierra Nevada. Climb it, trek it, scramble it, ski it or even sleep on it!
Guided Trek Sulayr GR240 Long Distance Path, Sierra Nevada
Week long guided trek along the northern section of the Sulayr long distance path that encircles the Sierra Nevada mountain range in southern Spain
Guided Trekking in Los Glaciares National Park, Patagonia
Tours around Cerro Torre, Fitzroy and Paso Viento. Day and multi-day trekking and hiking from El Chalten, Patagonia