Sierra Nevada "Big 3" Challenge!
Located in the stunning Sierra Nevada National Park, our Spanish 3 peak challenge will consist of summiting Alcazaba at 3,371m, Veleta at 3,394m and finally Spain's highest - Mulhacen at 3,482m. The mountain range is the second highest in Europe after the Alps and includes 15 peaks higher than 3,000m.
Be part of something amazing - Trek the Tres Picos and support your local charity!
The Sierra Nevada contains the highest peaks in Western Europe outside the Alps. This is the ultimate "big one" for all charity fundraising in the Sierra Nevada. Other companies use the highest peak of Mulhacen as a goal. We prefer to up the ante! Our aim is to cover the 3 highest peaks in 3 day challenge!
Beware though, this is a toughie!
The effects of altitude will be felt and the peak of Alcazaba is remote. We have many options available in order that you can "tailor" your challenge to fit. Contact us for further details and to obtain a full itinerary.andalucia-first-aid-course.htmlt? Is climbing 3 of the biggest peaks in Spain in 3 days tough enough? Try Los Tres Picos charity challenges in Spain's Sierra Nevada mountains. Mulhacen (3482m), Veleta (3394m) and Alcazaba (3371m).
Get your trekking boots ready... we are off to conquer 3 of Spain's highest peaks in one long weekend! All for a good cause. Crossing the Sierra Nevada is going to be a tough challenge, but the view across Spain's mainland from its highest peaks will reward our tough efforts.
In 2009, working in conjunction with a large charity, we came up with the concept of "los Tres Picos". Since then it has become become a regular feature on our trekking calendar year.
Guarded Mountain Hut or Wild Camping or All Inclusive?
The Guarded Refuge gives you the options of travelling with less weight and staying in a mountain hostel with beds, blankets, meal service, WiFi, showers etc. After each days peak you return to the refuge. We have both basic and all inclusive options for this trek.
The Wild Camping option means you will have to share the weight of tent, stove and gas (we can supply foc) in additton to your food and sleeping bag. Not only cheaper, but allows you to wild camp by mountain lakes and rivers and experience the spectacular sunsets and sunrises that abound here
The All Inclusive option is a set itinerary for groups of 5 or more persons who prefer to let us do all the organisation. These tours make use of the guarded refuge.
Los Tres Picos Challenge - Itineraries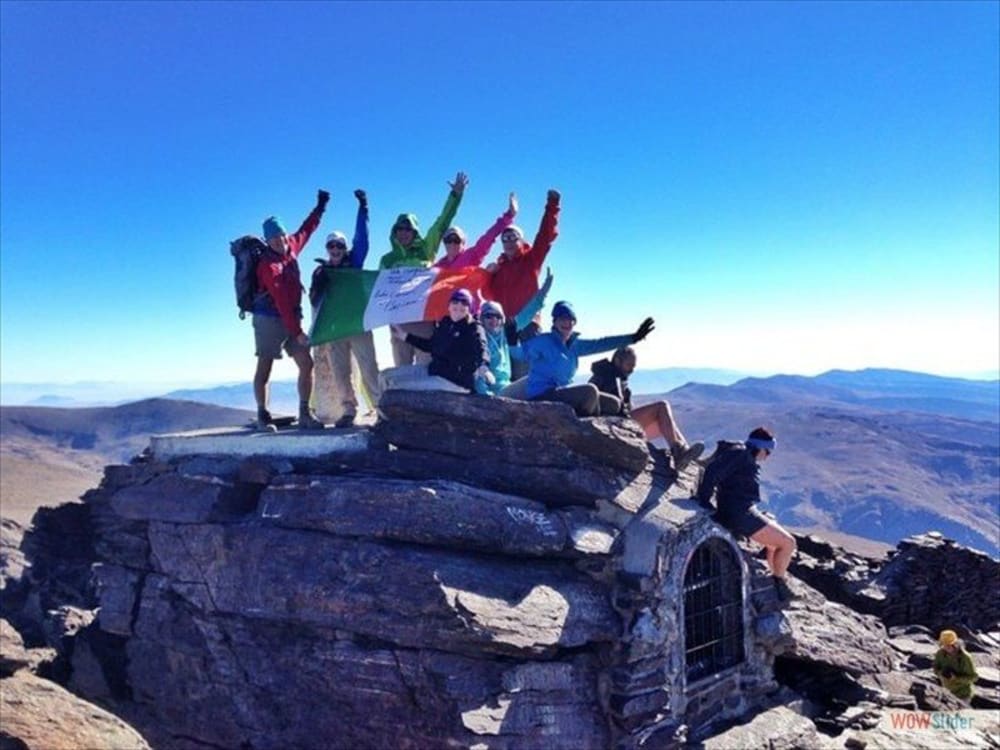 Guarded Refuge Itinerary
Day 1 Veleta (3,394m)
Travel to Hoya de la Mora (2500m). Ascend the north ridge of Veleta (3,398m), the third highest peak in mainland Spain. The going is rough and rocky but the summit is reached after approx a 3 hour trek. There are outstanding views in all directions - especially southwards over the Mediterranean Sea towards Morocco.
Heading south from the summit we reach the Col de Cariguela and follow good tracks past the Paso de los Machos until we reach the head of the Rio Seco Valley. We drop down and descend trackless slopes before contouring round a headland and reaching our overnight stay at the Refugio Poqueira with dinner.
Trekking information - 900m ascent, 16km trek taking approx. 8 hours
Day 2 Mulhacen (3,482m)
Traverse into the Rio Mulhacen Valley and up to the Laguna de Caldera, set amid a cirque of peaks. We ascend the steep, relentless west flank of Mulhacen (3,482m, the highest peak in mainland Spain). Although steep no hands are necessary but we take it slow and steady as the altitude may have a small effect here.
The summit is reached in about 4hrs. It is a great viewpoint and the whole 50km chain of peaks can be seen. We return down the long and gentle south ridge before dropping steeply south west directly down to the Poqueira Refugio.
Trekking information - 1,000m ascent, 11km trek taking approx. 7 hours
Day 3 Alcazaba (3,364m)
Early start from the hut. Toughest day today! - Alcazaba is located far to the north of Mulhacen. Easily to the Alta del Chorrillo then up the south ridge of Mulhacen. At 3100m we traverse eastern slopes to Siete Lagunas, a beautiful, tranquil spot consisting of 7 lakes in a dramatic mountain setting. Water available here.
We climb to the valley head and take a steep scree gully between impossible looking cliffs. In reality it is just a steep walk and there is very little simple scrambling involved. We arrive at the summit plateau and hence to the summit of Alcazaba (The Fortress). We return down the SE flank and through a small pass to Siete Lagunas for onward decent to Trevelez. Our waiting transport takes us back through the Alpujarras to the hotel in Lanjaron.
Trekking information - 1,100m ascent, 21km trek taking approx. 10 hours
The above is the suggested itinerary. We reserve the right to change this as necessary should weather, snow or local conditions dictate
On a recent trip to southern Spain, I was determined to fit in a hike. A quick Google search showed the impressive Sierra Nevada mountains were right near my destination of Granada. Perfect. My research also led me to a company named Spanish Highs, which offers guided expeditions here. One is the Tres Picos Challenge, where you climb the three highest peaks in the Sierra Nevada in three days. Head to Spain's Sierra Nevada! You won't regret it. I'm sold on guided hikes, especially in foreign countries. But always make sure to do your research and pick a reputable company.
Melanie McManus - Outdoor Adventure Writer, Speaker, Blogger, USAMore Reviews
Cost
You can put together your own package for this trip from the prices below.
Guiding cost from €75 per person per day (group of 4). See full Price range
Refuge costs - €17 per person per night (€9 with Alpine Club Cards)
Valley accommodation - €30 per person per night in 3* hotel in Lanjaron (2 sharing)
Airport transfers - for a car with up to 4 passengers (each way), Malaga airport €100 (1.5hrs), Granada airport €70 (50 mins), Almeria airport €125 (2hrs)
Tres Picos Refuge
Tough Linear walk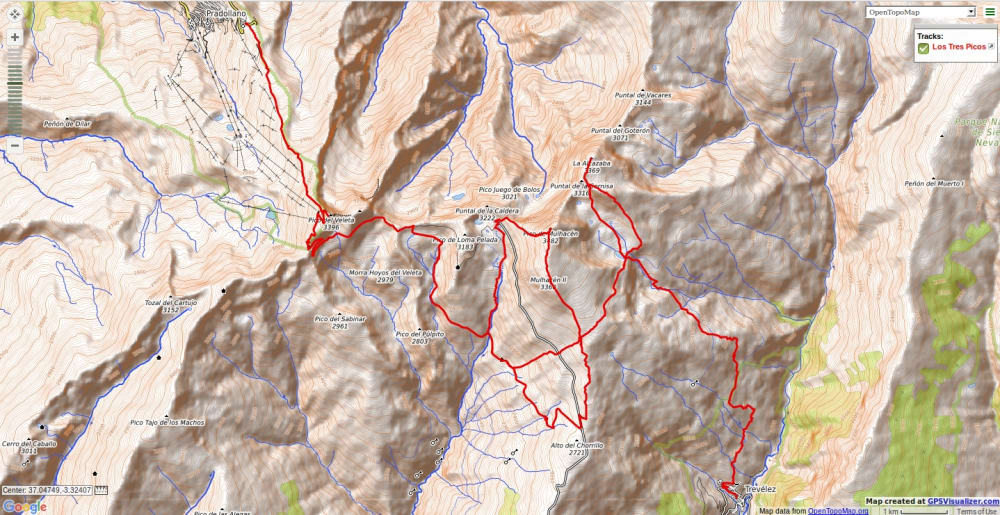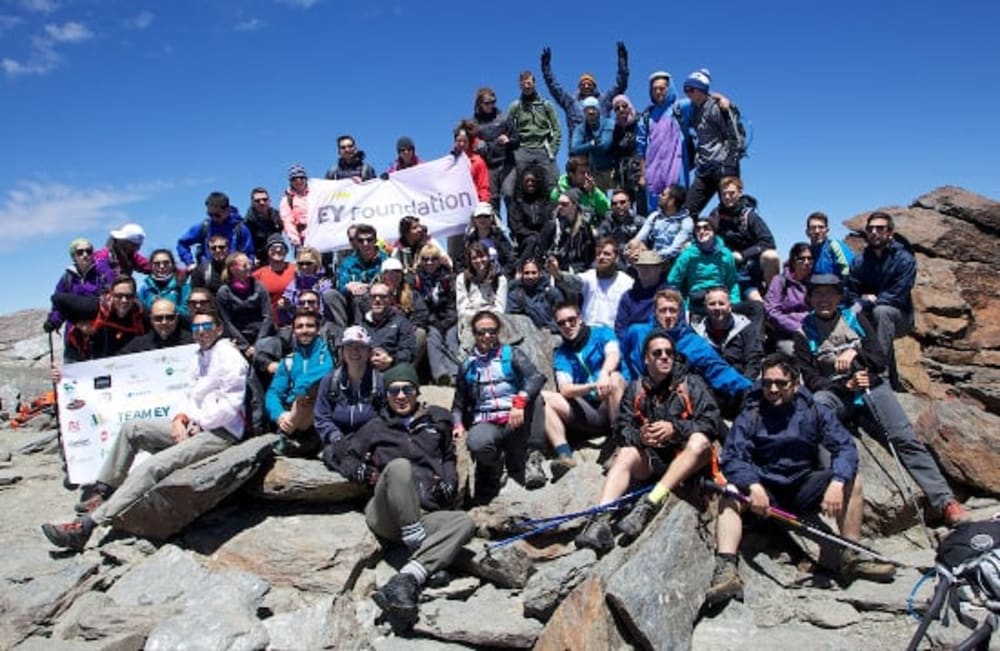 Wild Camping Itinerary
A superb challenge. 36km of high mountain terrain with 2275m ascent over 3 days, taking in not only the three the highest peaks but staying overnight in incredibly wild and natural mountain lakeside locations. Ideal trek for hikers and trekkers wanting to "get away from it all"!
We introduced the concept of the "Los Tres Picos" trek to foreign visitors way back in 2007. The original idea was to utilise the Refugio Poqueira as a comfortable base from which to cover the 3 highest peaks in 3 days. Since then others have copied the idea and "Los Tres Picos" has become much more well known.
So now let's take that concept further and wild camp in these high mountains, thus enjoying the magnificence of the natural surroundings that they offer to the full. We utilise lightweight camping methods to ensure that weight is kept to a bare minimum. This trek can be done from May to November inclusive, but the summer months of June, July, August and September offer stable weather and lightest backpacking weights.
Day 1 - Siete Lagunas
We ascend from a high trailhead abobve the Alpujarras village of Capileira. Through pine forests and onto open country above. The challenge for the forthcoming days in obvious as we get great views to Mulhacen and Veleta.
At the 3000m level we take a traverse path round the eastern flanks of Mulhacen to arrive at the delightful valley of Siete Lagunas. Filled with cold clear mountain lakes and streams this is an idilliac location for the first nights stay.
Day 2 - Alcazaba and Mulhacen
We ascend a steep rocky couloir that brings us to the summit of Alcazaba. The magnificence of the north faces of the "big 3" are well seen from this point.
Then its a return to the SE to the base of Mulhacen's E ridge which we use to ascend to the highest point in mainland Spain, and the highest peak outside the Alps in western europe. From here we drop down to camp by the tranquil lakes of the upper Rio Seco valley.
Day 3 - To Veleta and back!
Today we have an easy start to climb the last of "Los Tres Picos", Veleta. Then it's a hard afternoon downhill walk over Loma Pua and Pico de Sabinar to the village at Capileira.
The above is the suggested itinerary. We reserve the right to change this as necessary should weather, snow or local conditions dictate
I was recommended Spanish Highs and can pass on the recommendation. Richard & his crew of guides have vast knowledge of hiking, the mountains, surroundings, animal life and are well equipped so you feel safe no matter the weather conditions present. They were fast to respond, helped us change and stove gear, and order gas cans (which were all out in Granada!) A plus for them taking photos for us too the whole trip, much appreciated afterwards. Our guide was super!
Jesmyn via Trip Advisor Stockholm, SwedenMore Reviews
Cost
You can put together your own package for this trip from the prices below.
Guiding cost from €75 per person per day (group of 4). See full Price range
Refuge costs - €17 per person per night (€9 with Alpine Club Cards)
Valley accommodation - €25 per person per night in 3* hotel in Lanjaron (2 sharing)
Airport transfers - for a car with up to 4 passengers (each way), Malaga airport €95 (1.5hrs), Granada airport €60 (50 mins), Almeria airport €125 (2hrs)
Food - we can also supply your lightweight mountain food requirement. Further details
Tres Picos Camping
Tough Linear walk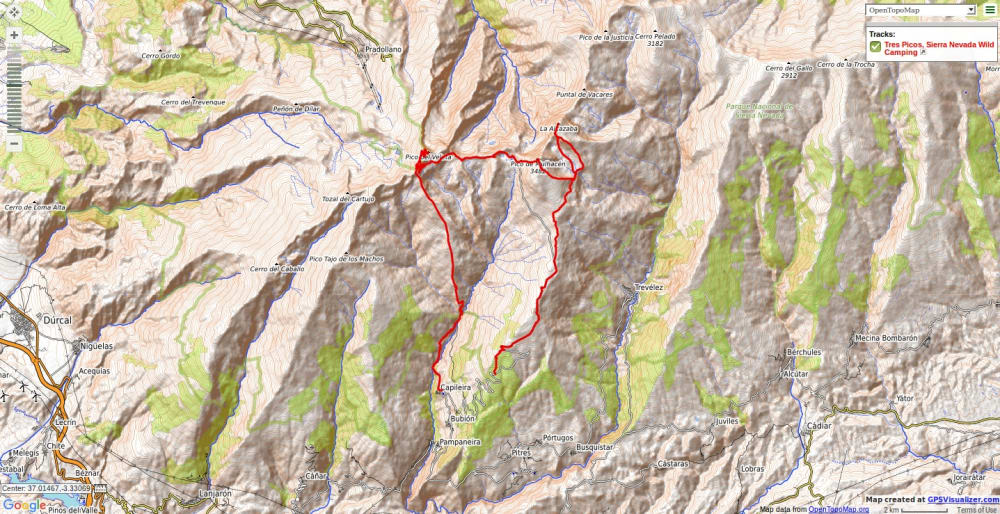 Your Questions Answered
Is this trip for me?
ABSOLUTELY!! This trek is suitable for people of all ages (minimum 18 years old). The one thing everyone will have in common is a sense of adventure and the desire to help their local Charity. Most people will sign up as individuals meaning you will all be in the same situation!
How fit do I need to be?
This trek has been designed to be challenging, but achievable by anyone as long as you train and prepare accordingly. Remember, you are trekking for three consecutive days and in hot temperatures - the fitter you are the more you will enjoy this Challenge.
Where will we stay?
The first and last night we will stay in a 3 star Hotel; twin share with en-suite washing facilities. Whilst on trek, we will be staying in a mountain refuge, dormitory style rooms with food and vino a plenty! Participants are expected to bring their own sleeping bags.
Do I need specialist kit?
We will supply you with a suggested kit list of what to take once you register to take part. Apart from some broken in trekking boots and sleeping bag, and maybe some trekking poles, you do not need any specialist kit.
What happens if I get tired?
There will be regular rest stops where we can drink and eat some snacks - there is no problem if you need to take more rest stops. A guide will be bringing up the rear of the group ensuring no-one is left alone - remember though, this is not a race!
Do I have to carry my own luggage?
You will need to carry your overnight clothing for 2 nights up to the refuge - remember to pack light! We'll send you a kit list of what to take with you once you register for the challenge. You will wear your trekking clothes each day so items required to take with you to the refuge will be minimal.
Can I stay in Spain after the Challenge?
All extensions are strictly limited, subject to availability and are given on a first come first served basis. Those wanting to request an extension should contact Spanish Highs as soon as possible.
What sort of back-up is there?
There will be a strong support Team with a professional Spanish Highs Challenges Leaders. Full, comprehensive medical kits will be taken and satellite communicators.
Thank you for looking after our 10 volunteers last week and returning them to us safely. It was a really tough challenge and we know that they all feel very proud of themselves that they were able to complete it. They have raised a lot of much needed funds for our charity. Thank you so much for helping them
L.I.P.S GroupMore Reviews
Fundraising Efforts we are proud to have supported
One 4 Kids 3 Peak Challengebuy-guide-book-sierra-nevada.html
Cancer Research UK
Islamic Relief
Yorkshire Cancer Research
British Heart Foundation Charity Run
Moving Mountains
North Bristol NHS Trust Charitable Funds
Breast Cancer Campaign
Brain Tumour Research Campaign - Way Ahead
Motor Neurone Disease Association
Rowcroft Hospice
EDM Sierra Nevada Charity Challenge - The Shooting Star Children's Hospice
Mulhacen Challenge for Motor Neurone Disease
"Los Tres Picos" for YCR
"Los Tres Picos" for Brain Tumour Research"
"Los Tres Picos" for Childrens Hospice
"Los Tres Picos" for Vision4Kids
"Los Tres Picos" for EY Foundation
Dates & Prices
When?
Prices
ie "Los Tres Miles" and "Los Tres Picos" treks
Group size (per booking):
(prices are per person per day)
1 person - cost €145
2 persons - cost €95
3 persons - cost €85
4 persons - cost €75
Definition of "Group" - if you are booking a trip for 2 persons the 2 person rate applies, 3 persons - 3 person rate etc (not dependent on eventual total group size!).
Price includes:
Guiding
Backup vehicles
We have a limited number of walking poles for the use of guests if required
Gear hire in winter conditions ie ice axe, crampons, helmet. Also stove if required.
Larger groups - discounts apply. Enquire via email or contact form
Transport (effective for all bookings after 1st July 2022)
The guiding price above does not include transport. Due to rising energy and fuel prices we do not want to be constantly changing guiding prices to reflect transport costs. We want to be honest and open about our price structure.
Clients have two options:
NO COST OPTION - Pick up/drop off our guide in Lanjaron or a venue to be agreed. Use your own transport to and from the start/end of activity.
COST OF FUEL OPTION - Our guide will drive you to/from start/end of activity in one our own vehicles. Applicable costs are:
Capileira, White Villages, Taha del Pitres €15
Hoya del Portillo €20
Sierra Nevada ski area €25
Granada area, Cumbres Verdes €15
Peñon de la Mata €20
Lecrin Valley €10
Jerez de Marquesado, Eastern Sierra Nevada €35
N.B For destinations not listed above we can easily work out a fuel cost
You may also be interested in?
Guided Trekking Tours in the Sierra Nevada, Spain
Sierra Nevada trekking holidays and tours inc Mulhacen, Veleta, ridge traverse, Siete Lagunas and high peaks. Day or multi day treks from Lanjaron, Capileira or Granada
Tres Miles 5 day trek Sierra Nevada Spain, 3000m mountains
A stunning high altitude guided trek, wild camping, traversing the main 3000m peaks of the Sierra Nevada in quiet and remote mountains. This is Los Tres Miles!
Climb Mulhacen, Sierra Nevada, highest mountain in mainland Spain
Guided day or multi day ascents year round of Mulhacen in Spains Sierra Nevada. Climb it, trek it, scramble it, ski it or even sleep on it!
Guided Trek Sulayr GR240 Long Distance Path, Sierra Nevada
Week long guided trek along the northern section of the Sulayr long distance path that encircles the Sierra Nevada mountain range in southern Spain
Guided Trekking in Los Glaciares National Park, Patagonia
Tours around Cerro Torre, Fitzroy and Paso Viento. Day and multi-day trekking and hiking from El Chalten, Patagonia