"Alpujarras Escape" Walking Holiday based in Lanjaron
5 days of the best walking and hiking tours in the Alpujarras!
Any dates between September and June (inclusive)
7 nights in 2* or 3* hotel accommodation in Lanjarón
Chooose between 2 fine hotels
Experienced local mountain and walking guides
Most days can be extended or shortened as necessary to suit the group
Shorter breaks available on request.
Optional (May to Oct) is an ascent of Mulhacen, the highest mountain in mainland Spain (3482m)
Level of difficulty
Expect altitude gains of about 400m to 850m ascent and between 5 and 7 hours of walking per day. Bring sensible clothing and good hiking boots. Hiking poles are useful. Sun hats, sun glasses, sun block and a water bottle are essential.
The Alpujarras area offers walks of great variety and suits both relaxed ramblers and the more adventurous hiker. Our itineraries can normally be shortened or extended as preferred. The contrasting views, the rich heritage as well as the open friendliness of the people makes this an ideal location for a walking holiday.
Where are Las Alpujarras
Las Alpujarras is an area south of Granada on the southern slopes of the Sierra Nevada. Famous for its pretty white villages, varied walking routes and the clear waters that come down from the mountains.
Itinerary
Day 1 - Transfer from airport to your hotel
Day 2 - Guided walk - White Villages of the Poqueira
Day 3 - Guided walk - Ancient Waterways and Gorges of Lanjaron
Day 4 - Guided walk - Medieval Way - Villages of La Taha del Pitres
Day 5 - Rest day
Day 6 - Guided walk - Soportujar to Lanjaron along the GR7
Day 7 - Guided walk - GR240 High forests of the Alpujarras
Day 8 - Transfer hotel to airport
Leave the rat race far behind and enjoy quiet, remote walking and hiking with just the right amount of luxury thrown in for good measure!
GROUPS!
Offer for next Spring! €787 per person for group of 5 or more! 7 nights full board in 2* hotel (3* available) & 5 days guided walking (daily choice of Leisurely, Moderate or Challenging walks. See our Group Walking Page
Your Hotel Accommodation
Hotel Alcadima and Hotel Espana
Choose between two quality hotels in Lanjaron that offers the opportunity to stay in natural surroundings and with everything you need to make your stay unforgettable. Quality centre located hotels with great facilities. Warm and inviting rooms that allow you to make your stay as comfortable and convenient as possible.
All rooms are equipped with safe, cable television, clock radio, coffee kit, hair dryer, refrigerator and phone. The hotels have a wide variety of facilities such as restaurant, library, TV lounge, meeting room. WiFi throughout.
Hotel Espana
Hotel Alcadima
The Walking Itineraries
Walk 1 - White Villages of the Poqueira
The three white hill villages of Capileira, Bubion and Pampaneira sit on hillsides above the dramatic Poqueira gorge. Mulhacen, at 3482m rises above the towns. This walk links all three of these villages and crosses the gorge twice.
A start is made from the highest of the villages, Capileira. The trail drops down to cross the Rio Poqueira via a small bridge. Then its an undulating traverse on the west side of the river before dropping down, recrossing the river and climbing up to the village of Capileira.
After a brief stop (maybe to visit a bodega!), we head steeply uphill through the village, exiting at the top before continuing the journey to Bubion. From Bubion it is then another 30 mins to reach the end at Capileira.
Interactive Map & Route Data
White Villages
Challenging Circular walk
Interactive map below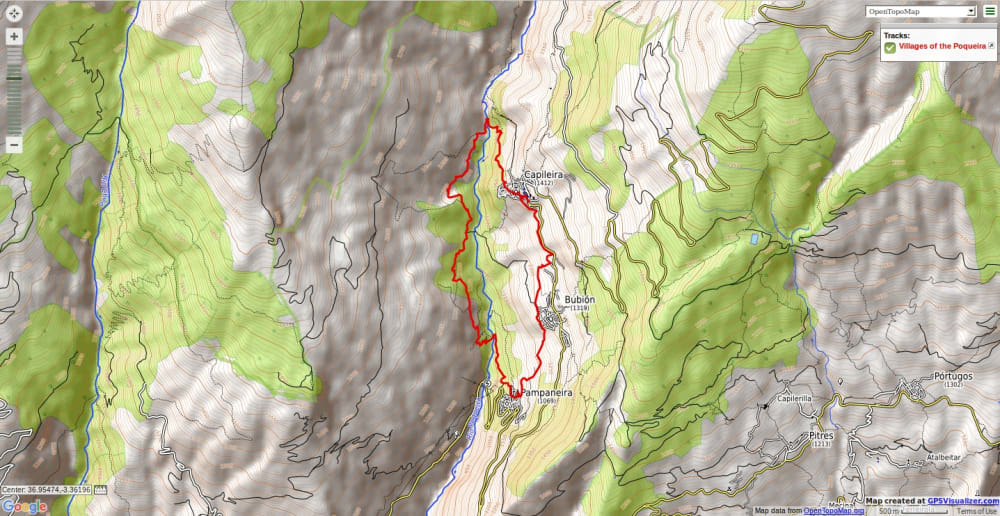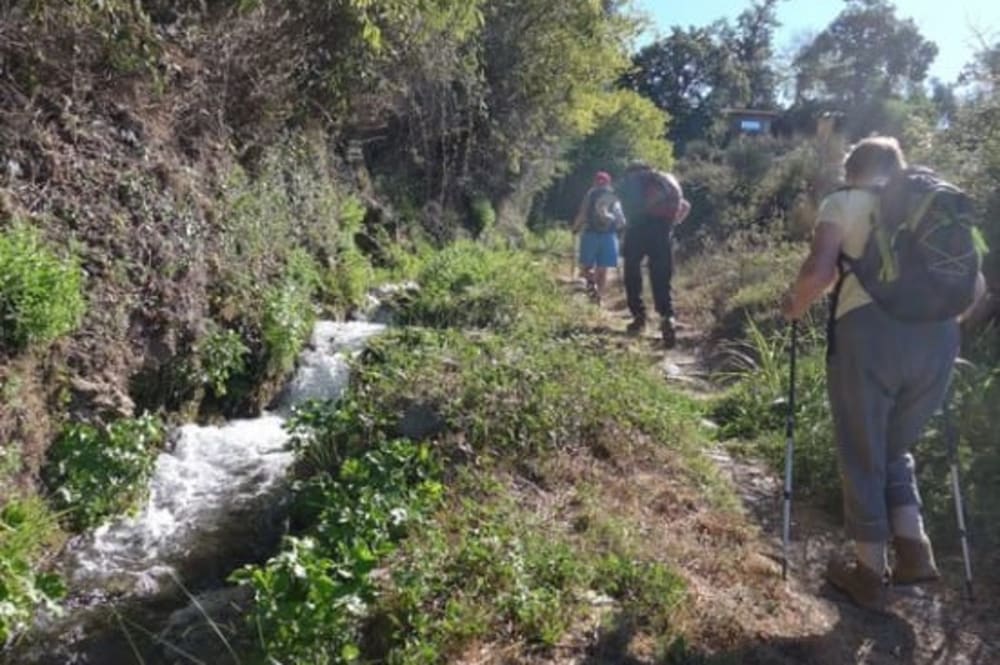 Walk 2 - Ancient Waterways and Gorges of Lanjaron
No need for transport today! The walk starts and ends from your hotel. It is very varied circular walk that has proved to be very popular with clients. We first visit the Arab Castle and walk along the cliff tops of the Tajos de Colorao opposite.
A short climb and we reach the Ermita of the Tajos de la Crux. This is a magniificent mirador which overlooks the town. We traverse land northwards and reach the "Camino de las Sierras" an old drove trail to the mountains. This will follow until we can take a faint track which traverse down to cross the Rio Lanjaron by an old bridge.
A superb section follows consisting of a series of beautiful irrigation channels and chestnut woods before we drop steeply back down to the hotel in Lanjaron.
Interactive Map & Route Data
Lanjaron Circular
Challenging Circular walk
Interactive map below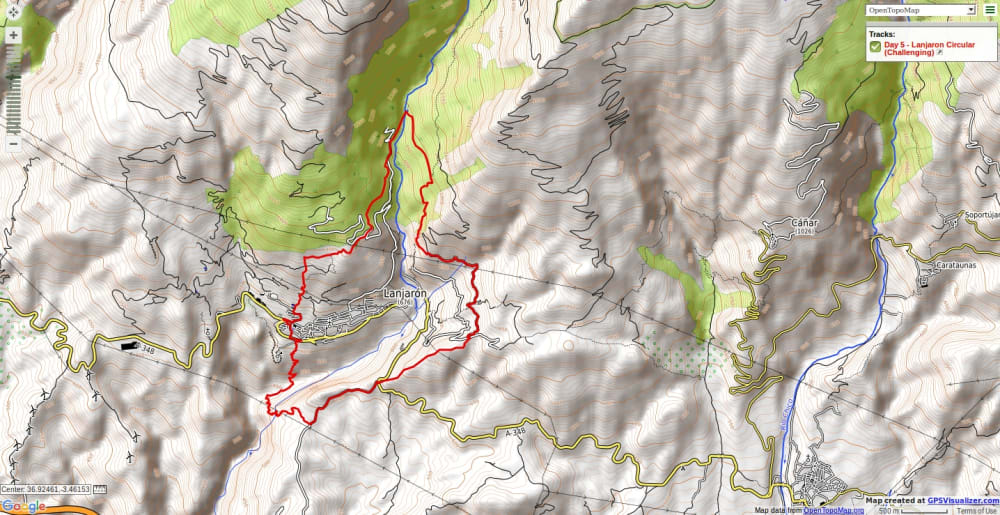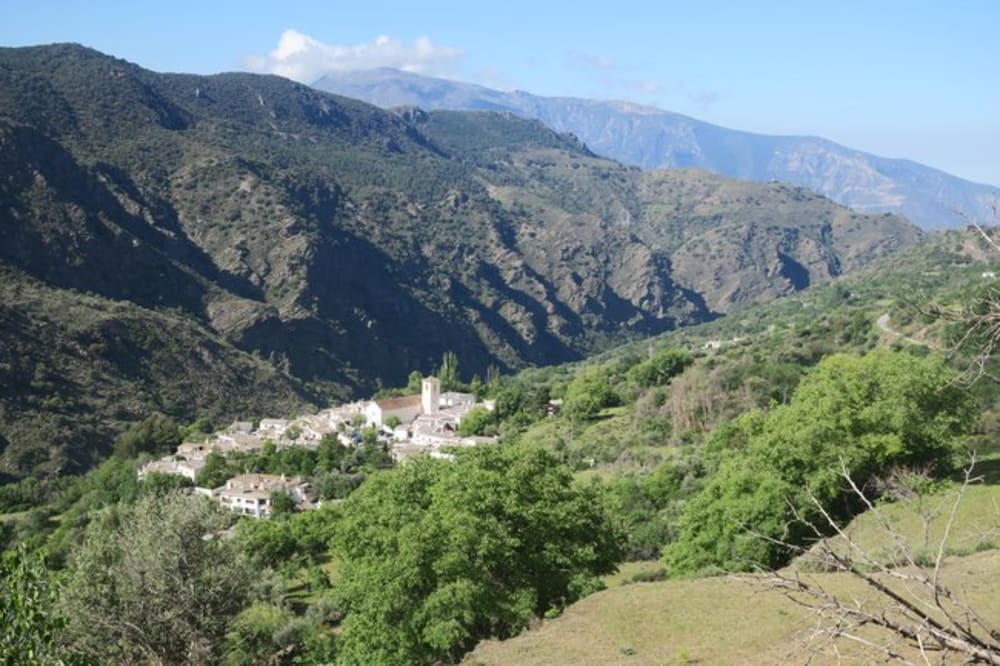 Walk 3 - Medieval Way - Taha del Pitres Villages
A lovely drive through the Alpujarras brings us to the Taha de Pitres region. This is an area characterised by small white villages, steep sided gorges and abundant flora and fauna.
Most of this walk we are follow old medieval trails through the hills and villages. We start in Mecina Fondales and drop down to the enchanting village of Fondales. Here we turn east and head for Ferrierola, perched high above the Trevelez gorge.
Then it's uphill to visit the very quaint, Atalbeitar before rising to reach the road that leads us to the town of Portugos. We take quiet back tracks to Pitres before dropping steeply back down to the start point at Mecina.
This walk is partly covered in our trip report "My Favourite Walk in The Alpujarras" which you would enjoy reading
Interactive Map & Route Data
Taha del Pitres
Moderate Circular walk
Interactive map below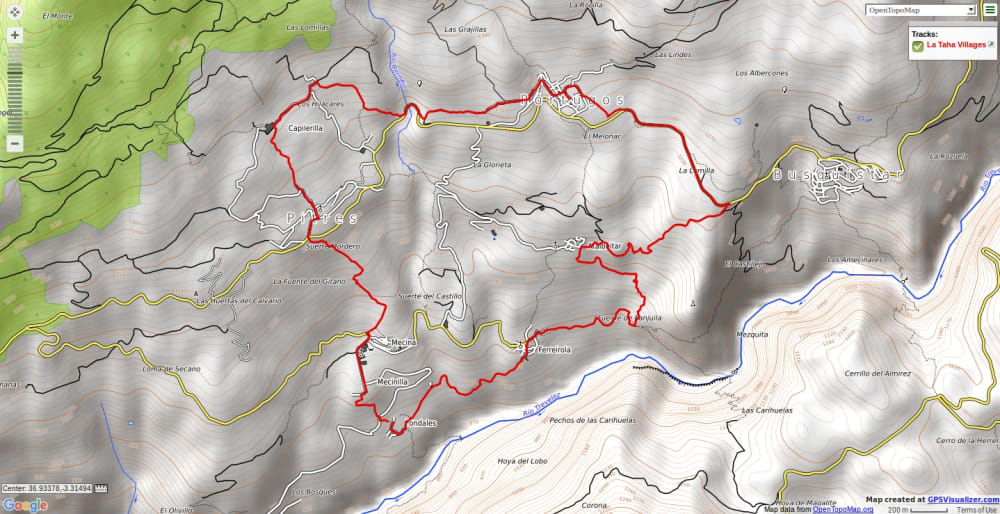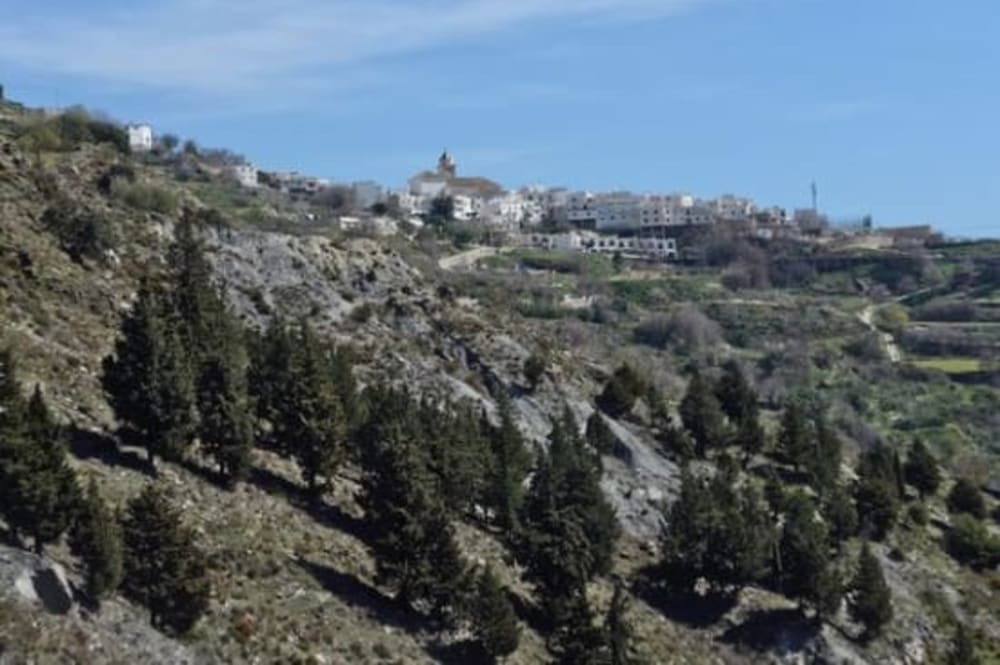 Walk 4 - GR7 Soportujar to Lanjaron
The Alpujarra boast stunning scenery, normally sunny weather and is a wonderful area for enjoying the delights of this uniquely andalucian spanish walking tour. During the spring and autumn months the surroundings are particularly beautiful; in spring the land is carpeted with a vast array of wild flowers and blossom adorns the fruit trees which are dotted around the slopes.
A walk along the long distance GR7, traversing hillsides and gorges, through the quiet non-tourist white villages of Soportujar and Cañar, before finally dropping down to the spa town of Lanjaron.
Forest, cultivated land, gorges, streams and irregation channels, compete with sleepy white villages. The walk is, for the most part easy gradients. A very varied day walk and a good introduction to the area.
See also our trip report "A walk along the GR7 long distance path in the Alpujarras"
Interactive Map & Route Data
GR7
Moderate Linear walk
Interactive map below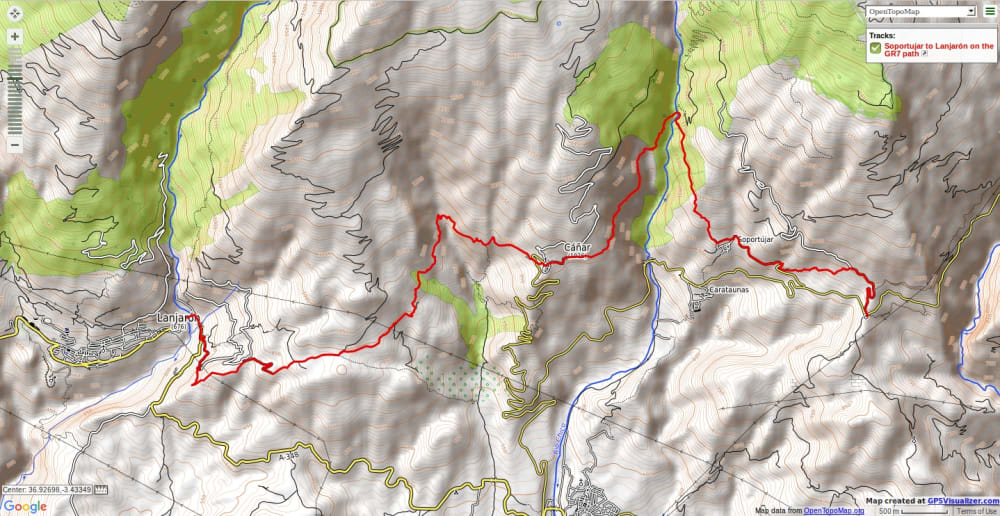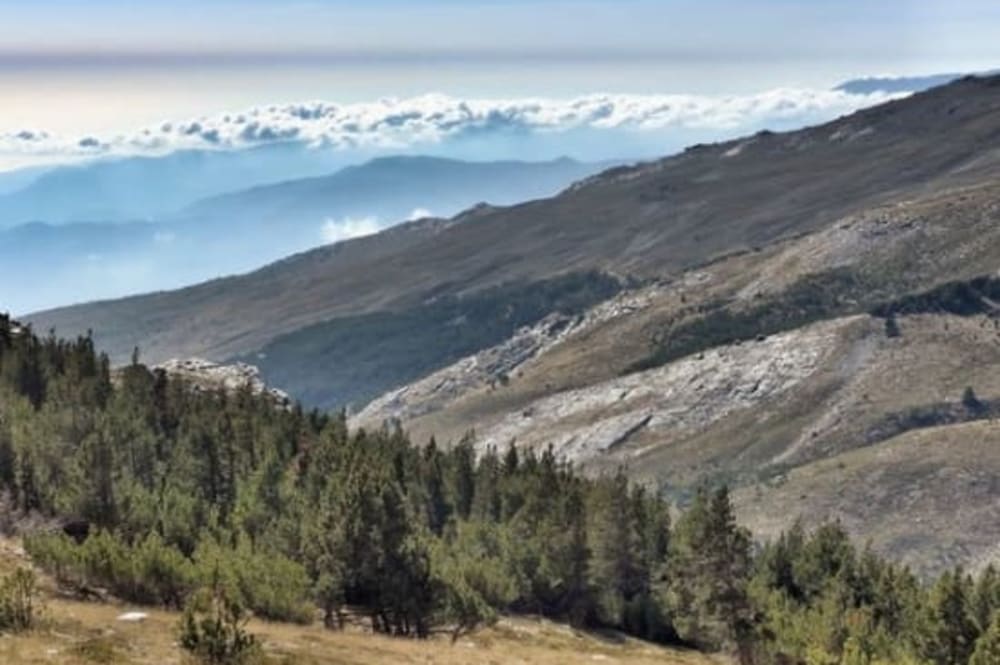 Walk 5 - GR240 High forests of the Alpujarras
We drop you off at the Forest Station at Hoya del Portillo. Then it's up through the pine forests to break out onto open hillside and arrive at the Puerta del Molina. This is a superb viewpoint of the Sierra Nevada and all the main peaks cam be seen.
We drop back down on a dirt track before joining up with the long distance path, the "Sulayr",GR240. We drop down through gorgeous forested hillsides and all the way back for a cold celebration cold drink in the village of Capileira
A totally enjoyable, different and engaging day!
Interactive Map & Route Data
High Forests of the Alpujarras
Moderate Linear walk
Interactive map below
Walking Articles from our Blog
Dates & Prices
Prices
Hotel Espana 2* €1019 per person
Hotel Alcadima 3* €1195 per person
7 nights accommodation in either the Hotel Alcadima or Hotel España
All transport to and from walks
Breakfast and evening meals at hotel (packed lunches can be arranged)
5 Guided Walks
Services of local, english speaking local guides
Not including flights, transfers, insurance, airport transfers, packed lunch and drinks
One rest day (maybe visit Alhambra, beach or chill by the pool?)
Single person supplement €25 a day
We have a limited number of walking poles for the use of guests if required
N.B airport transfers (Malaga) can be arranged for only €25 per person each way (4 in car sharing) or by mini bus or coach
You may also be interested in?