Some of the best hiking close to Granada city
The Cumbres Verdes (Green Peaks) are well known to the local spanish Granadinos as they are very close to the Granada ring road (20 mins), so access is easy. In spite of this the walking is quiet and unspoilt and has a certain attraction missing in the higher and wilder Sierra Nevada.
Lush green valleys fight with arid badlands for possession of the land and this gives varied and interesting scenery and views.
A perfect day out for those visiting Granada itself!
The Peak of Trevenque
Las Arenales and the Dilar Valley
The Cerro Huenes Group
Remote Ridges of Los Alayos de Dilar
The Peak of Trevenque
The isolated peak of Trevenque (2079m) may not be the highest around, but without a doubt it is one of the finest summits. It's classic mountain shape offers superb routes to a sharp summit with superlative views. A mountain ascent that should be on every visitors tick list!
Las Arenales and Dilar Valley
A circular walk of contrast and delights, this is another of the 'not to be missed' walks in the Cumbres Verdes. The arid dryness of the rocky peak of Trevenque and Las Arenales contrast greatly with the green lushness of the upper Dilar valley and gorge.
The Cerro Huenes Group
The Cerro Huenes group is in the northern Cumbres Verdes and is separated from the Trevenque range by the deep valley of Arroyo de Huenes. The area provides pleasant hiking on generally good trails over numerous mountains, returning through forested hillsides.
2 Moderate Walks
2 Challenging Walks
Gallery - Cumbres Verdes
View Full Screen Imagesopens in a new window
Fantastic day out! An ascent of Trevenque which is a fantastic rocky peak. We then descended down through pine forests on meandering forest tracks and then completed a circuit back to where we started. Great guide that led us on a very varied route with stunning views. Would recommend Spanish Highs
Sezlowe, via Trip AdvisorMore Reviews
Where are the Cumbres Verdes mountains
The Cumbres Verdes hills are located within easy reach of the city of Granada. The main access at Collado Sevilla is a short 20 mins drive from Granada via La Zubia.
Articles on the Cumbres Verdes
Trevenque is located approximately 11 kms to the west north-west of Veleta and at 2,083m, it is significantly lower. It is however higher than the peaks which surround it and is an impressive looking lump of rock when approached from the west...
This article will make reference to our sketch map of the area below. We will try to suggest improvements to the normal routes taken on this peak. By short diversions, a better and more wonderful mountain day will be experienced...
Day Walks in the Cumbres Verdes, Granada
The Peak of Trevenque
This well known summit is one of the most spectacular and dramatic in the Sierra Nevada. The mountain is steep on all sides but there are numerous ways up to it's majestic summit of 2079m.
We ascend the peak from Collado Sevilla and the arid badlands in the valley of Las Arenales. Then it's a steep climb up to the summit by-passing incredible pinnacles and rock formations.
It is steep but on a simple path where the hands are not really required. The summit is on a steep sided pinnacle with views in all directions as the mountain is isolated. A return is made initially the same way and then by using an undulating ridge with views to the Cerro Huenes group.
Trevenque
Moderate Circular walk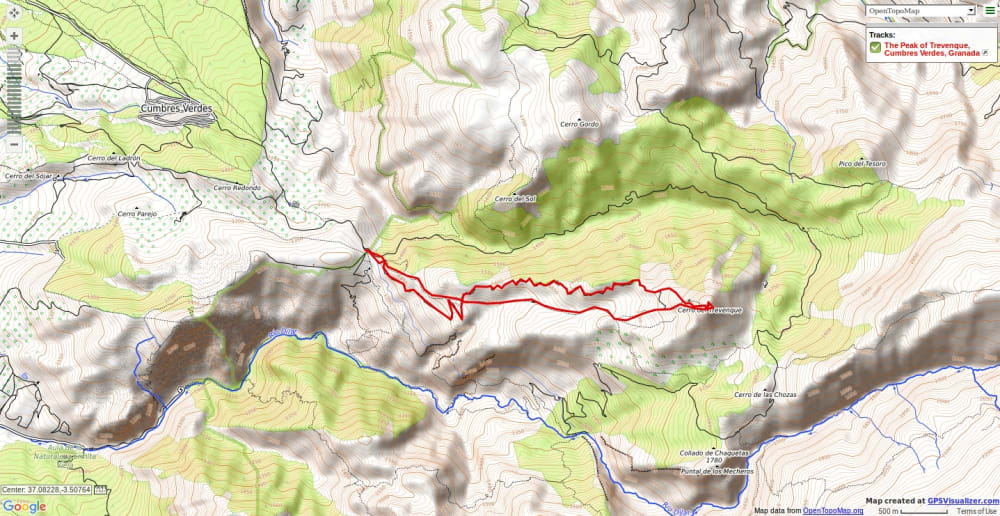 Las Arenales and Dilar Valley
A contasting and constantly interesting hike through very varied scenery.
From Collado Sevilla we take a rough trail through arid badlands into the Barranco de Buho and hence to Las Arenales dry river valley. We turn right through a small pass and the walk contrasts instantly. Gone are the dry badlands and we enter the green and lush Dilar valley.
Dropping through pine forests we encounter the delightful Cortijo Rosales with it's super views. A great place for lunch! Then further down through the forest before linking with a path contouring round a dramatic gorge high above the Dilar Valley. This leads back to the start point.
Dilar Valley
Moderate Circular walk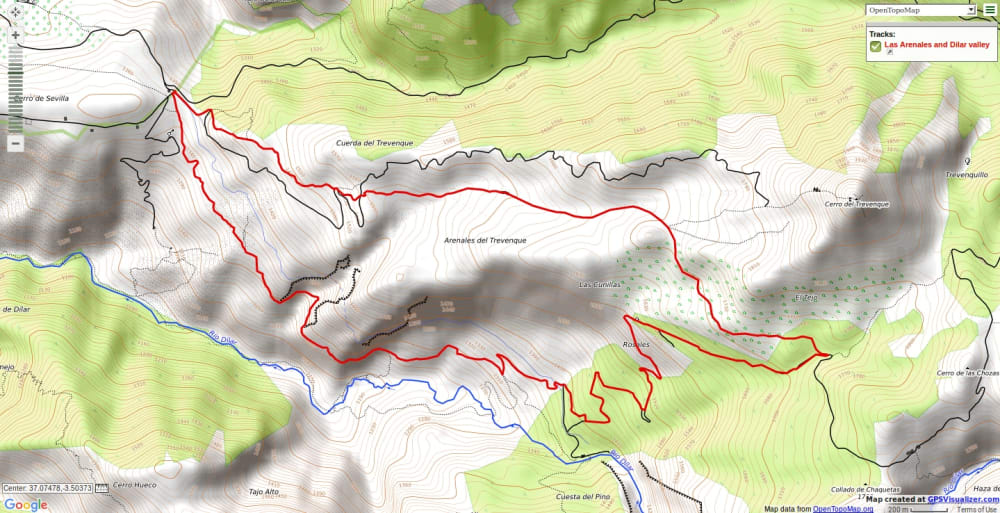 The Cerro Huenes Group
This lovely group of mountains lies in the north of the area and a great day walk of some 5 hours can link all the major summits, including, Pico de Carne (1809m), Cerro Gordo (1889m) and Cerro Huenes (1802m).
Return is made via Fuente Fria and forest and mountain side tracks back to the start point of the bridge at Siete Ojos. All this of course has the wonderful Sierra Nevada as a backdrop.
Cerro Huenes
Challenging Circular walk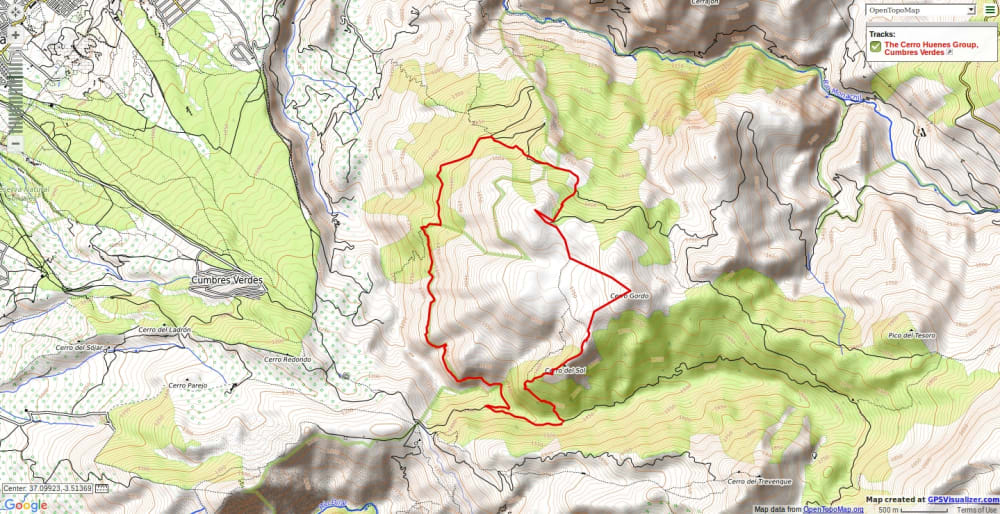 Remote Ridges Alayos de Dilar
This remote ridge can be accessed from the Dilar valley or indeed Collado Sevilla. Well worth a day trip
Both start points give exhilarating access to this long, arid ridge which can be followed in its entirety by those with a head for heights. But, following the ridge crest can get tedious due to the amount of vegetation and rough ground. A better alternative is the good path just below the ridge crest.
The ridge has many summit but by far the best is the Corazon de la Sandia ("Heart of the Watermelon"). This peak is 1877m high and the final rise to the summit is an exposed scramble. This walk alternates between rich, green forests and dry arid badlands and thus gives a really interesting day walk!
Alayos de Dilar
Challenging Circular walk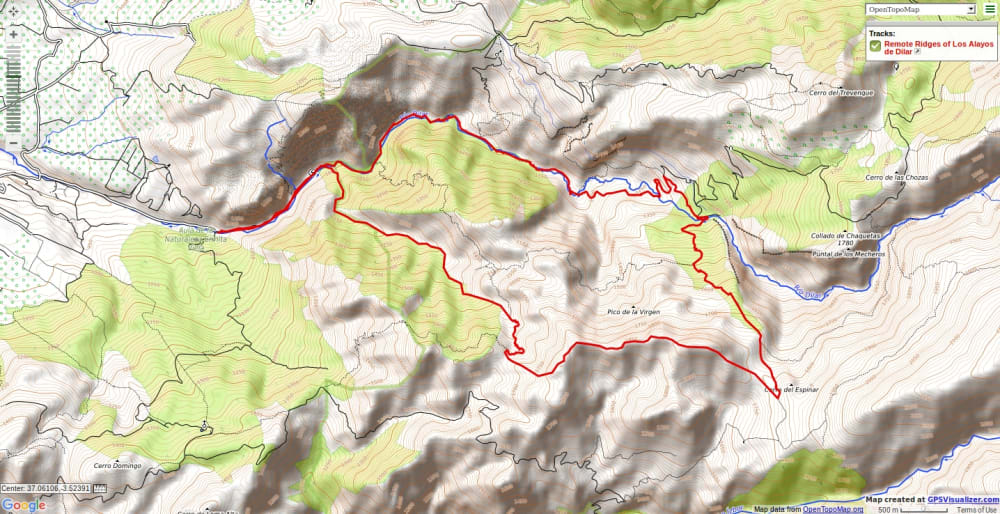 Dates & Prices
When?
Prices
Group size (per booking)
(prices are per person per day)
1 person - cost €110
2 persons - cost €75
3 persons - cost €65
4 persons - cost €55
Definition of "Group" - if you are booking a trip for 2 persons the 2 person rate applies, 3 persons - 3 person rate etc (not dependent on eventual total group size!).
Price includes:
Guiding (Alpujarras, Granada area, Lecrin Valley, Costa del Sol, Granada
We have a limited number of walking poles for the use of guests if required
N.B Meeting place to be agreed upon, normally Lanjaron or the start of the walk
Larger groups - discounts apply. Enquire via email or contact form
Transport (effective for all bookings after 1st July 2022)
The guiding price above does not include transport. Due to rising energy and fuel prices we do not want to be constantly changing guiding prices to reflect transport costs. We want to be honest and open about our price structure.
Clients have two options:
NO COST OPTION - Pick up/drop off our guide in Lanjaron or a venue to be agreed. Use your own transport to and from the start/end of activity.
COST OF FUEL OPTION - Our guide will drive you to/from start/end of activity in one our own vehicles. Applicable costs are:
Capileira, White Villages, Taha del Pitres €15
Hoya del Portillo €20
Sierra Nevada ski area €25
Granada area, Cumbres Verdes €15
Peñon de la Mata €20
Lecrin Valley €10
Jerez de Marquesado, Eastern Sierra Nevada €35
N.B For destinations not listed above we can easily work out a fuel cost