Trek the Northern Sierra - when and for whom?
For those who like remote, quiet, dramatic mountain scenery. Rough mountain tracks throughout but with some superb wild camping situations
This is a fine tour for lovers of solitude and wild places. The northern peaks may not hold the dramatic faces of the giants further south but there is a special quality to the walking here. This multi day trek visits the delightful Lavaderos de la Reina valley before ascending and traversing the ring of majestic 3000m peaks above. A return is made down the Loma del Calvario to the valleys.
This 3 day trek is described in detail in route 28 of the Cicerone Press guidebook, "Walking and Trekking in the Sierra Nevada"
Seasonal Notes
We run these treks year round, but from December to April inclusive the mountains will be in full winter condition. This means using ice axe, crampons, carrying more clothing and overnight gear. Subsequently they are tougher propositions than the treks in summer condition. Having said that, we give instruction in axe and crampon use and can tailor the trek somewhat to suit the group wishes.
The northern Sierra Nevada provide year round high, wild and remote trekking. We have a superb 3 day trek taking in the best peaks using wild camps overnight unless in winter conditions when we may use unmanned, unguarded refuges as well.
The huts are very basic but provide adequate shelter from the elements. Some are in remote locations with incredible situations (ie Refugio Peña Partida).
Want to escape civilisation, people, phones and busy jobs?
William and Jolanda wanted to escape civilisation, people, phones and busy jobs. With plenty of snow still remaining a 4 day trek exploring the remote and quiet northerly 3000m mountains in the northern Sierra Nevada seemed as good a way as any. They were in no rush. The requirement was for peace and quiet, spending time out relaxing in superb mountain scenery. We weren't out to break records! We had no fixed agenda and no pre planned camping places.
The Northern Sierra Nevada Trek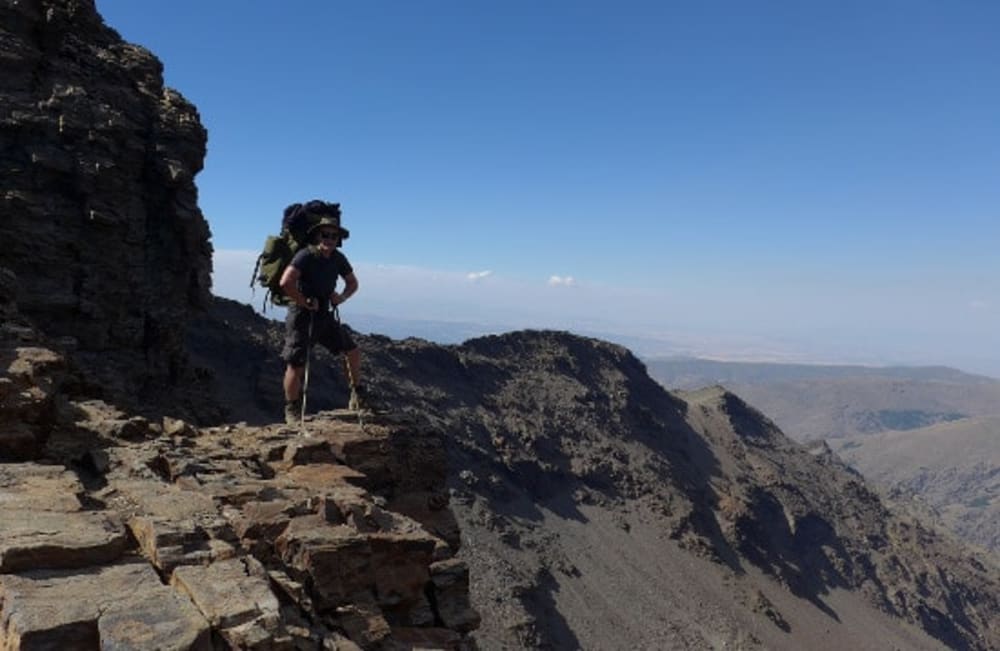 Remote Northern Peaks 3 day circuit
Vereda de Estrella trailhead to Pena Partida and Lavederos de la Reina valley. Wild camp. Ridge walk of the northern peaks to Laguna de Vacares and drop down to lake.
Wild camp at Laguna de Vacares. Return down Loma del Calvario to cross Rio Vadillo and return to trailhead.
Expect days of 7-8 hours duration plus stops
Major peaks covered: Picon de Jerez 3090m, Puntal de Juntillas 3139m, Puntal de los Cuartos 3158m, Atalaya 3135m, Pico del Cuervo 3144m, Puntal de Vacares 3136m
Notes: Great traverse of the northern peaks. The Pena Partida is one of the least visited huts in the Sierras. Great undulating ridge walking on day 2. Long descent on day 3.
Seasonal notes: Relatively straightforward, if long and tough winter expedition.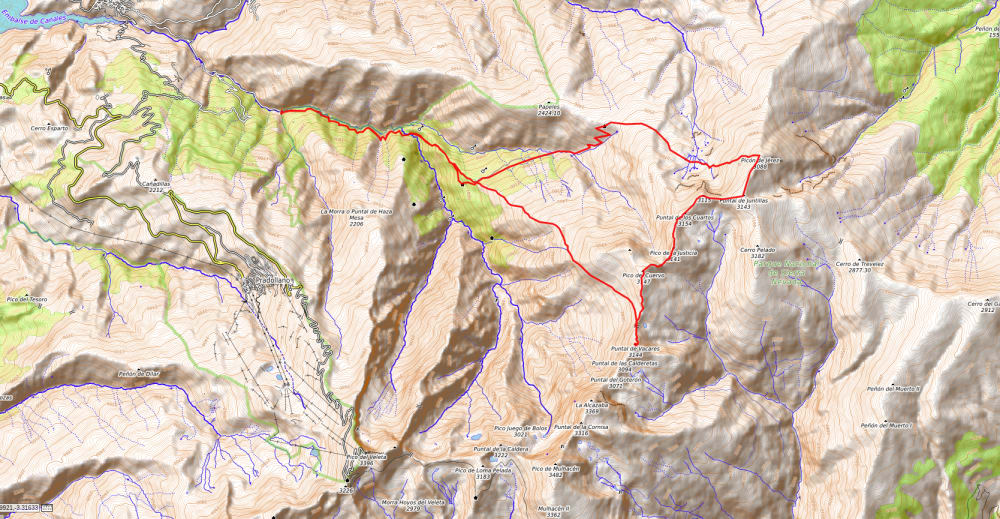 Wild Camping by Rivers and Lakes in the Sierra Nevada
Between June and October the Sierra Nevada provides some superb locations for high altitude trekking and for wild camping.
Water is plentiful thanks to the numerous rivers, streams and lakes. They are beautiful and peaceful situations to spend the night.
Locations: Lavaderos de la Reina, Laguna de Calderetas, upper Rio Lanjaron valley
Interactive Map & Route Data
Northern peaks
Challenging Circular walk
Interactive map below
Dates & Prices
Prices
Group size (per booking):
(prices are per person per day)
1 person - cost €130
2 persons - cost €85
3 persons - cost €75
4 persons - cost €65
Definition of "Group" - if you are booking a trip for 2 persons the 2 person rate applies, 3 persons - 3 person rate etc (not dependent on eventual total group size!).
Price includes:
Guiding
Backup vehicles
We have a limited number of walking poles for the use of guests if required
Gear hire in winter conditions ie ice axe, crampons, helmet. Also stove if required.
Larger groups - discounts apply. Enquire via email or contact form
Transport (effective for all bookings after 1st July 2022)
The guiding price above does not include transport. Due to rising energy and fuel prices we do not want to be constantly changing guiding prices to reflect transport costs. We want to be honest and open about our price structure.
Clients have two options:
NO COST OPTION - Pick up/drop off our guide in Lanjaron or a venue to be agreed. Use your own transport to and from the start/end of activity.
COST OF FUEL OPTION - Our guide will drive you to/from start/end of activity in one our own vehicles. Applicable costs are:
Capileira, White Villages, Taha del Pitres €15
Hoya del Portillo €20
Sierra Nevada ski area €25
Granada area, Cumbres Verdes €15
Peñon de la Mata €20
Lecrin Valley €10
Jerez de Marquesado, Eastern Sierra Nevada €35
N.B For destinations not listed above we can easily work out a fuel cost
You may also be interested in?