Summer Rock Climbing in the high Sierra Nevada mountains
Once we reach the end of June, it is far too hot on the lower hills to offer any rock climbing routes. So we have sourced some of the best high mountain rock climbing routes on Veleta to be allow us to offer climbing days year round.
Summer rock climbing routes on Veleta, Mainland Spains second highest peak. Rock climbing is very popular and with thousands of people enjoying this dramatic and popular sport, we have found some of the best routes in the high mountains for the Summer months. Both physically and technically challenging, there is something for everyone in a big wall atmosphere.
Suggested Climbs
"El Vuelo del Aguila", 310m (D+, V). 4 to 6 hours
"Paco Pepe", 220m (IV+). 3 to 5 hours
"Silvia", 170m (V). 3 to 5 hours
A mixed route taking in both "Paco Pepe" and "Silvia" ,200m (V). 3 to 5 hours
"Vía del Jota", 160m (V+, A1). 4 to 6 hours
Superb scrambling on the Campanitas ridge followed by an exit to the summit via "Via Trompeta", 250m 4. 5 hours
Enjoy the photos below which show some of the situations that will be met on this big wall!
Accommodation option
Refuge - Albergue Universitario de Granada €17 a night. Fully catered and guarded. 2 hour walk in (or bus option in July and August?) to the climbing area.
Tunnel de Veleta - a bivouac cave at the foot of the climbs. Free!
The Climbing!
Silvia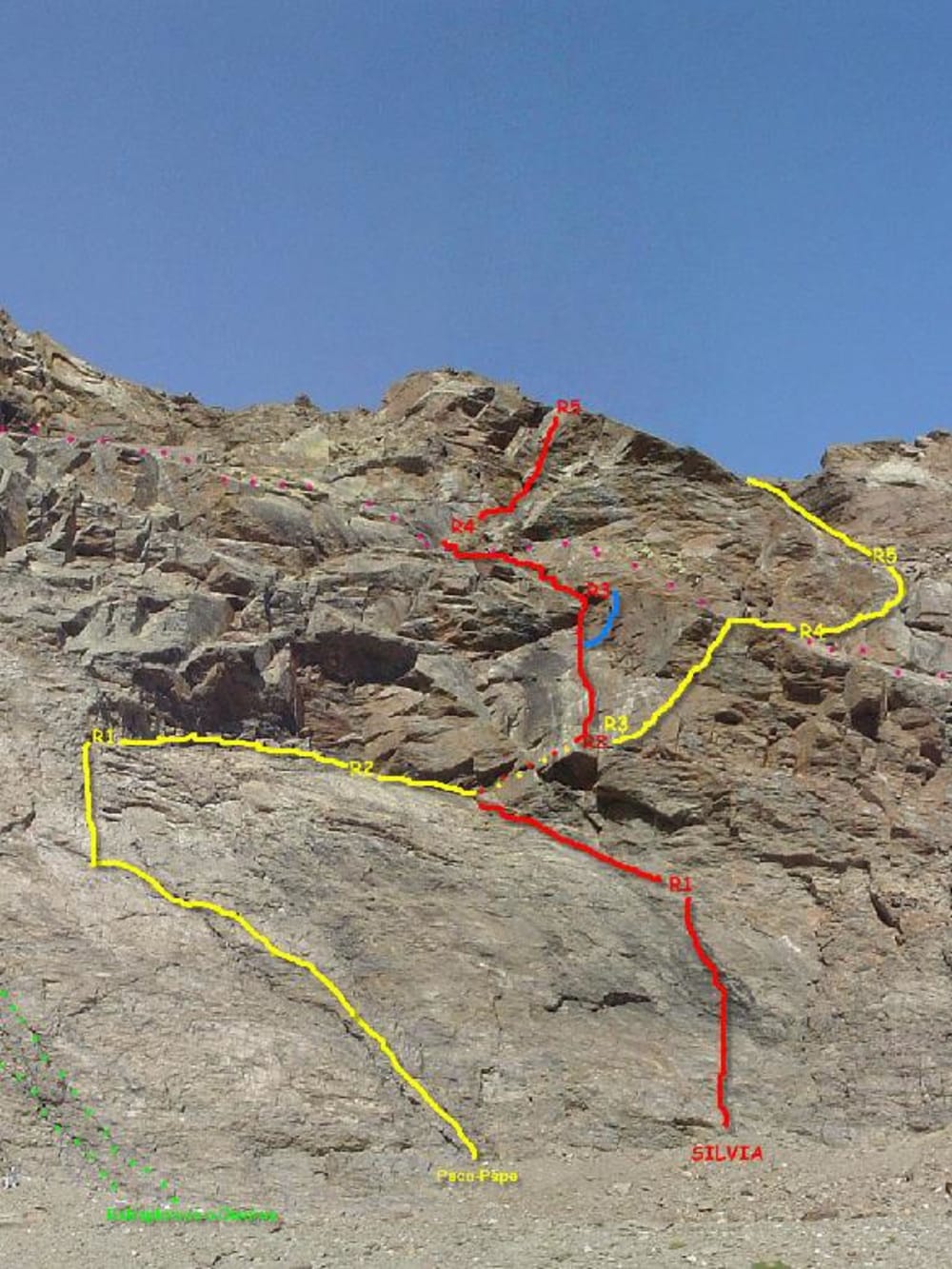 "Silvia", 170m (V). 3 to 5 hours
A. Muñoz, Cominio y R. Moleón 1970
Very interesting route that zigzags to avoid the upper roof and overhangs. Possibly it is the route on Veleta that is most repeated in summer. It has rock of very good quality and the route itself is of moderate difficulty. The beginning of the route is marked with a yellow arrow.
Paco Pepe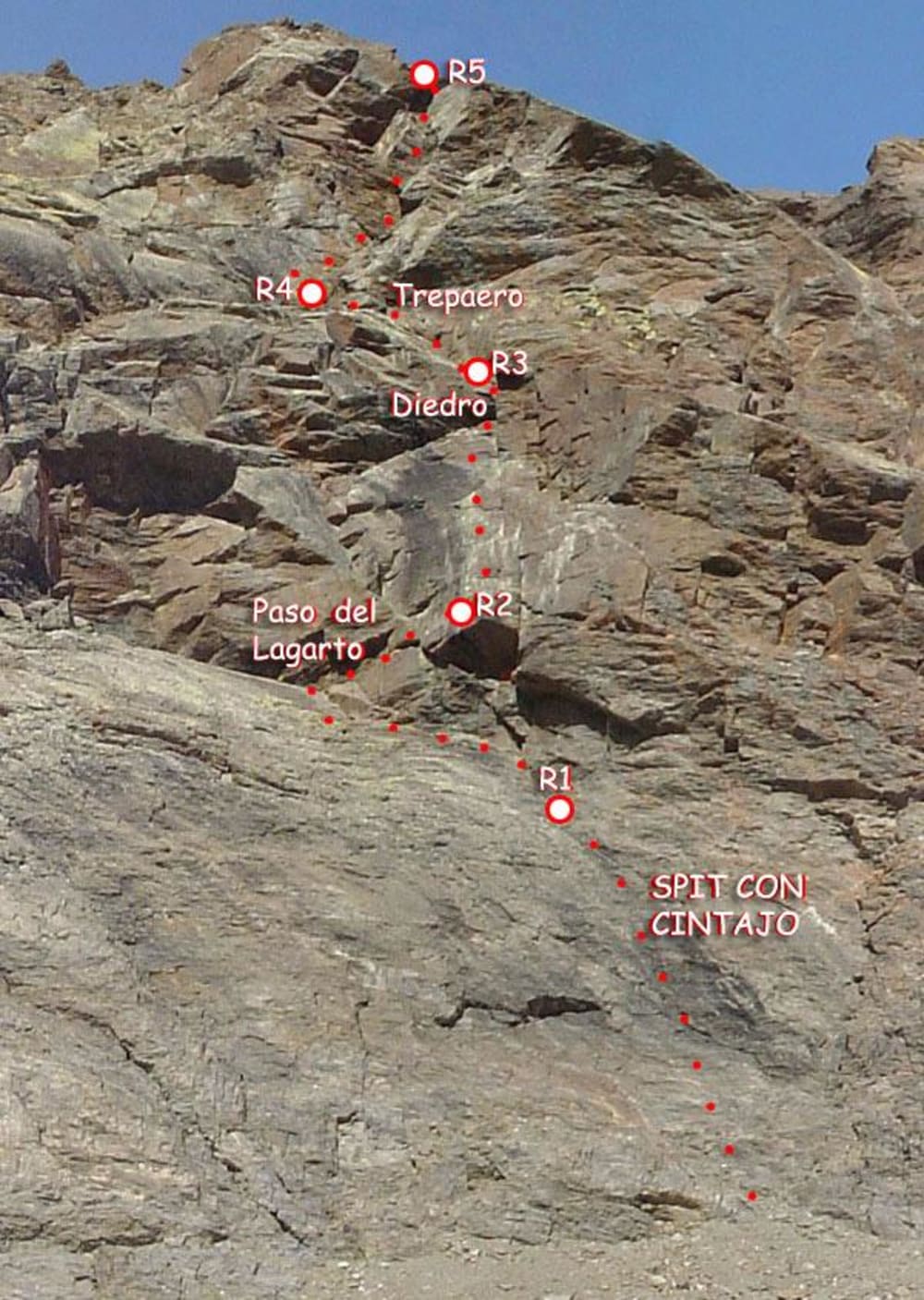 "Paco Pepe", 220m (IV+). 3 to 5 hours
F. Olmedo y J. Guardia in July 1972
One of the most beautiful and repeated routes in this area. All stances are fully equipped except the R1 (optional pitch). The second half of the route has less interest so could be combined with the upper part of the Jota route, or of Silvia.
Vuelo del Aguila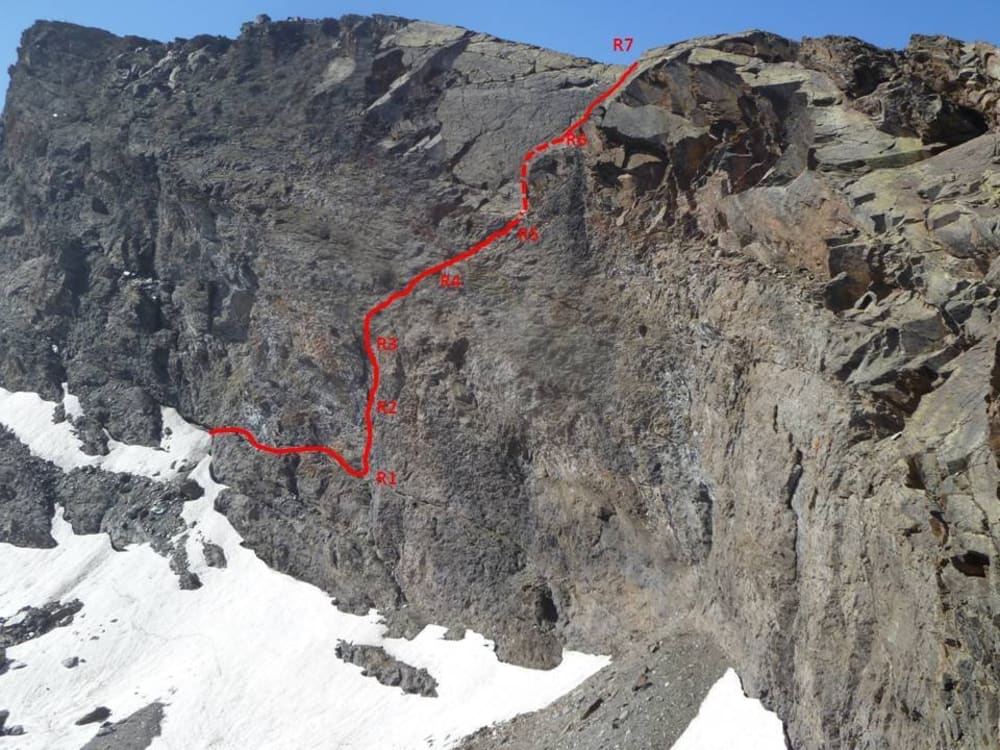 "El Vuelo del Aguila", 310m (D+, V). 4 to 6 hours
F. Olmedo, C. Vázquez, R. Pinilla, J. Ruiz, E. Ortiz, J. Baca y F. Perea in 1967
Long and beautiful route although along a somewhat convoluted path. The penultimate pitch, an aesthetic dihedral is amazing!
Dates & Prices
When?
Dates - June, July, August, September, October
Prices - 1 person €220 per person per day. 2 persons €140 per person per day.
N.B Max Guiding ratio 1:2
You may also be interested in?
High Altitude Expedition Preparation Sierra Nevada, Spain
Spains Sierra Nevada is a perfect location for preparation courses for expeditions to polar regions or the greater ranges with high altitude and remote mountains to use as a base
Mountaineering Alpine Ridges Sierra Nevada, Spain
Discover the year round mountaineering and scrambling potential of the Spanish Sierra Nevada alpine ridges. Big routes, big faces and incredible situations!
Winter Skills Mountaineering Courses, Sierra Nevada, Spain
Learn to travel safe in the winter mountains on one of our Winter Skills Mountaineering Courses based in Spains snowsure Sierra Nevada mountains
Alpine Introduction Mountaineering Course, Sierra Nevada, Spain
An Alpine Mountaineering Course based in Spains Sierra Nevada. For those looking for winter mountain ascents, alpine peaks, ice climbing, glacier travel and expeditions
Mountaineering Courses, Climbing and Via Ferrata Sierra Nevada, Spain
Guided mountaineering, winter skills and alpine introduction courses in Spains Sierra Nevada. Also Rock Climbing and Via Ferrata