Our Courses in the Sierra Nevada
Our winter mountaineering and winter skills courses are held in Spain's Sierra Nevada mountains during the months of December through to the end of May. These hills are ideal with good snow lasting well into June. They will teach you to travel and progress safely in the winter mountains.
Is it for me?
If you enjoy 3 season hillwaking, maybe even a bit of scrambling, and wish to progress to travelling safely in the winter mountains then this may be for you.
Be aware that that the winter mountains are tough and a certain amount of hardship will be endured. In our opinion real life experience is by far the best way to learn. walking-sierra-nevada-high-peaks.html You will be taught and coached by our professional guiding team backed by 40 years experience in the Alps, Patagonia and Kamchatka. If you also wish to include travelling safely on glaciers, alpine ascents or expeditions then you should try our 4 day "Alpine Introduction Course".
Gallery - Mountain Courses
View Full Screen Imagesopens in a new window
About our Mountaineering Courses
The Sierra Nevada Mountains
The 3000m mountains of the Sierra Nevada offer both beginner and the more experienced experienced mountaineer good long routes in a quiet environment. Few others will be seen. In addition the ample sunshine hours normally guarantee good weather. Our 4 wheel drive vehicles transport you to 2,500 metres in the Sierras. Here are excellent training areas with snowbowls, gullies and cliffs galore. No 3 to 4 hour walk-ins to the snows anymore!
Maximum time can be spent in learning the skills necessary to be in the hills in winter or to ascend Alpine peaks. After acquiring those new skills we take you into the hills, thus allowing you to put them into practice in a big mountain environment.
We are in the course of producing an online guidebook to this area. This great climbing venue is still relatively unknown and provides a fantastic alternative with much more chance of that magical combination of sun, snow and splendid isolation!
What you will learn
You'll gain a clear understanding of the principles and quickly attain the skills. You'll be able to choose the most appropriate technique for the terrain and conditions. With adequate time given over to practise, you'll finish the course proficient in both the technical winter skills and those essential winter navigation techniques. If you:
wish to extend your hillwalking into the winter season
need to know how to use an ice axe
want to know about emergency snow shelters
want to learn all the skills for safe movement across snow & ice - covered terrain: crampon techniques, evaluate avalanche risk, etc.)
want to know about step kicking and cutting
want to consolidate the skills to optimise future winter trips
and ..... plus a whole lot more ... then this will be the course for you!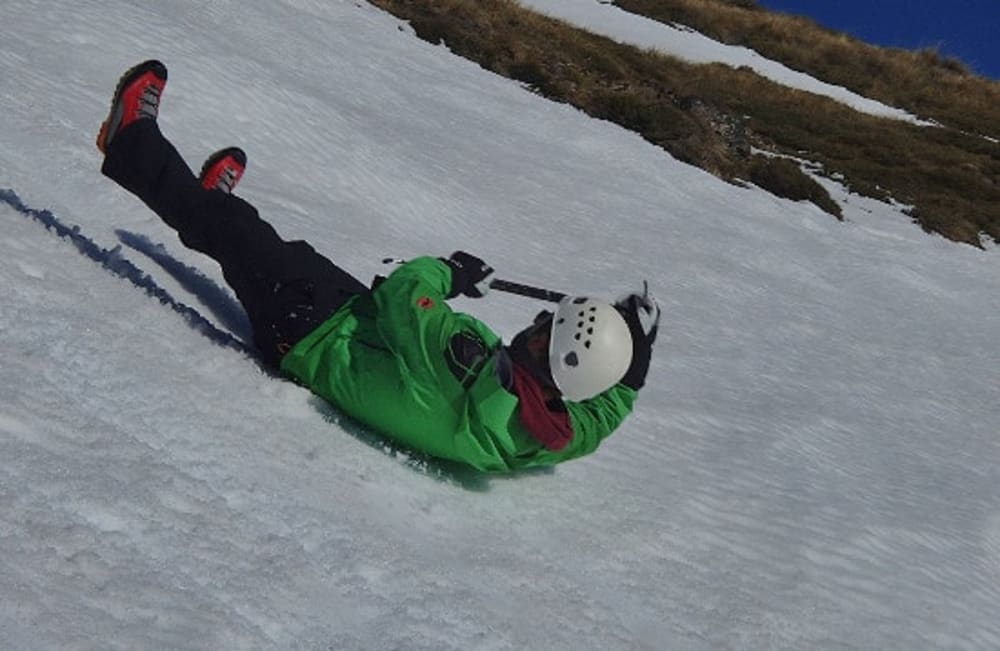 Winter Skills 2 Day Course
2 DAY COURSE Topics covered:
Kitting out for winter
Use of Ice Axe
Use of Crampons
Avalanche awareness
Roping up
Snow belays - use and suitability
Ice Axe braking (self arrest)
Snowshoeing
Expedition Training Course
For those going on Expeditions to Polar or Greater Ranges we run a short 2 day course which can be "bolted on" to our existing Winter Skills Mountaineering or Alpine Introduction Courses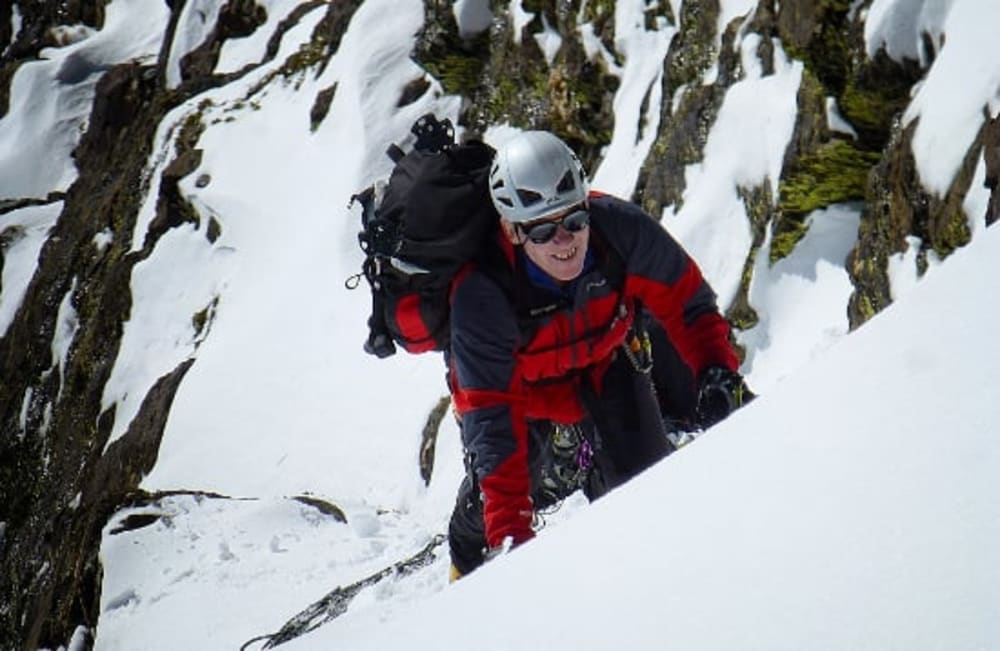 Winter Skills 4-6 Day Course
4-6 DAY COURSE - Additional to the 2 day course a combination of the following will be done depending on snow and weather conditions:
Ascent of Mulhacen (3479 metres)
Traverse of Puntal de la Caldera (3215 metres)
Ascent of Tajos de los Machos (3085 metres)
Ascent of Cerro de Caballo (3009 metres)
2/3 day crossing of the Sierra Nevada (staying in ruined refuges or bivouacs)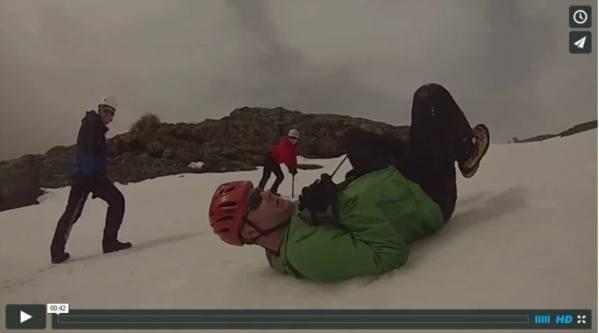 Dates & Prices
When?
Prices
Mountaineering Courses and PD routes
Group size (per booking):
(prices are per person per day)
1 person - cost €150
2 persons - cost €95
3 persons - cost €85
4 persons - cost €75
Classic Winter Mountaineering Routes (AD and above)
(1:2 ratio)
1 person - cost €220
2 persons - cost €140
Definition of "Group" - if you are booking a trip for 2 persons the 2 person rate applies, 3 persons - 3 person rate etc (not dependent on eventual total group size!).
Price includes:
Guiding
Backup vehicles
Gear hire - helmet, harness, crampons, ice axe
We have a limited number of boots and sizes available for guest use
N.B Guiding ratio for high mountain activities - no more than 4 to a guide.
Enquire via email or contact form
Transport (effective for all bookings after 1st July 2022)
The guiding price above does not include transport. Due to rising energy and fuel prices we do not want to be constantly changing guiding prices to reflect transport costs. We want to be honest and open about our price structure.
Clients have two options:
NO COST OPTION - Pick up/drop off our guide in Lanjaron or a venue to be agreed. Use your own transport to and from the start/end of activity.
COST OF FUEL OPTION - Our guide will drive you to/from start/end of activity in one our own vehicles. Applicable costs are:
Capileira, White Villages, Taha del Pitres €15
Hoya del Portillo €20
Sierra Nevada ski area €25
Granada area, Cumbres Verdes €15
Peñon de la Mata €20
Lecrin Valley €10
Jerez de Marquesado, Eastern Sierra Nevada €35
N.B For destinations not listed above we can easily work out a fuel cost
You may also be interested in?
High Altitude Expedition Preparation Sierra Nevada, Spain
Spains Sierra Nevada is a perfect location for preparation courses for expeditions to polar regions or the greater ranges with high altitude and remote mountains to use as a base
Mountaineering Alpine Ridges Sierra Nevada, Spain
Discover the year round mountaineering and scrambling potential of the Spanish Sierra Nevada alpine ridges. Big routes, big faces and incredible situations!
Winter Skills Mountaineering Courses, Sierra Nevada, Spain
Learn to travel safe in the winter mountains on one of our Winter Skills Mountaineering Courses based in Spains snowsure Sierra Nevada mountains
Alpine Introduction Mountaineering Course, Sierra Nevada, Spain
An Alpine Mountaineering Course based in Spains Sierra Nevada. For those looking for winter mountain ascents, alpine peaks, ice climbing, glacier travel and expeditions
Mountaineering Courses, Climbing and Via Ferrata Sierra Nevada, Spain
Guided mountaineering, winter skills and alpine introduction courses in Spains Sierra Nevada. Also Rock Climbing and Via Ferrata