About our Alpine Mountaineering Courses, Sierra Nevada
If you would like to become more independent in the mountains and develop your skills in preparation for future trips, our Alpine Introduction course will set you on the right track to acquiring the knowledge to venture out into the mountains under your own steam.
You will be taught and coached by our professional guiding team backed by 40 years experience in the Alps, Patagonia and Kamchatka. If you aspire to travel safely on glaciers, scale alpine peaks, climb snow gullies, or set out on mega expeditions then this course will give you a basic knowledge.
Is it for me?
Designed to pass on the essential skills needed to enable the independent-minded to attempt the simpler alpine summits and be ready for the greater ranges. Be aware though that winter mountaineering is tough and a certain amount of hardship will be endured.
Big thank you for the excellent training we had with you in February. It was an essential part of my ability to reach the highest peak in Sweden in challenging conditions. I can strongly recommend anyone who is interested in alpinism to go and train with Spanish Highs. You guys rock!
Fredrik Hjorth, SwedenMore Reviews
Gallery - Alpine
View Full Screen Imagesopens in a new window
The Alpine Courses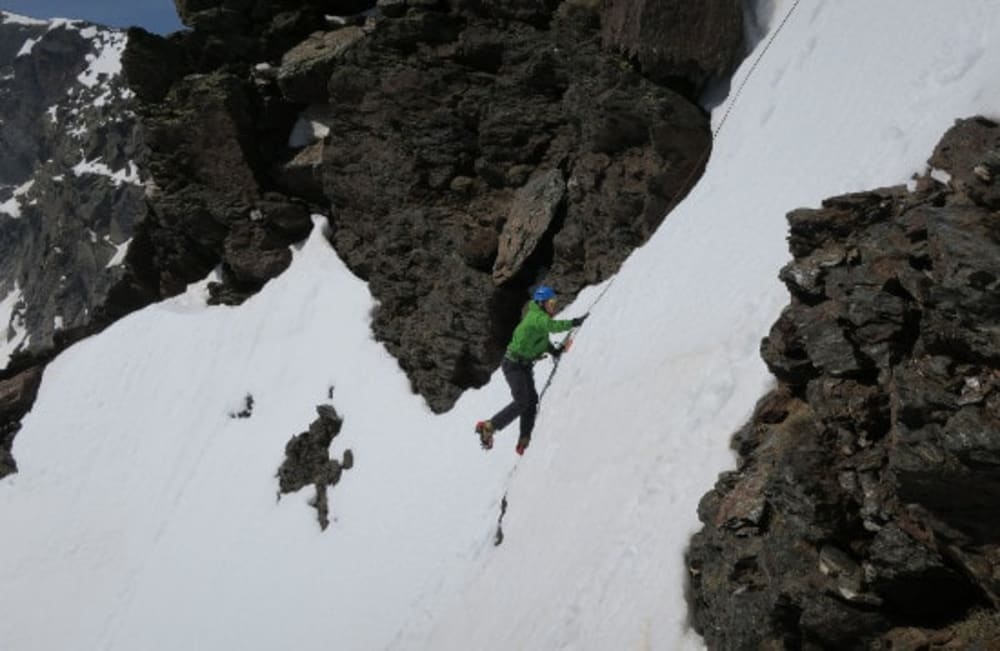 About the Alpine Introduction Course
These 4 day Alpine Introduction courses are held during the months of December through to the end of May. They are based in Spain's Sierra Nevada mountains. These hills are ideal with good snow lasting well into June. In addition the ample sunshine hours guarantee good climbing weather. We will cover the basics needed to enable you to venture out on less technical alpine peaks.
Throughout the course you will learn the essentials for safe travel on snow and glacial terrain including: crampon and ice axe techniques; glacier travel, including crevasse rescue; basic navigation. To tackle rocky ridges you will learn fixed belay and alpine style running belay techniques. Simple snow gullies and faces will climbed.
There will be 2 instructional days, one on snow and one on rock in which we cover all the topics contained in our basic winter skills course, but also tackle simple alpine climbs. Snow holing, winter and alpine bivouacing and camp skills are also covered. All in superb mountain settings!
The remaining 2 days will be an overnight trip into the mountains climbing peaks or doing suitable winter routes that are in condition.
N.B Clients will need to bring their own 4 season sleeping bag and mat for the 2 day trip
We are in the course of producing an online guidebook to this area. This great climbing venue is still relatively unknown in the UK. The area provides a fantastic alternative to Scotland with much more chance of that magical combination of snow and sun!
Day 1. Technical/Instructional day - snow and ice. Return to valley accommodation
Day 2. Technical/Instructional day - rock. Return to valley accommodation
Day 3 & 4 - Practical days - either a 2 day mountain ascent or 2-1 day mountain ascents or an additional rock day. This is normally discussed after the initial two days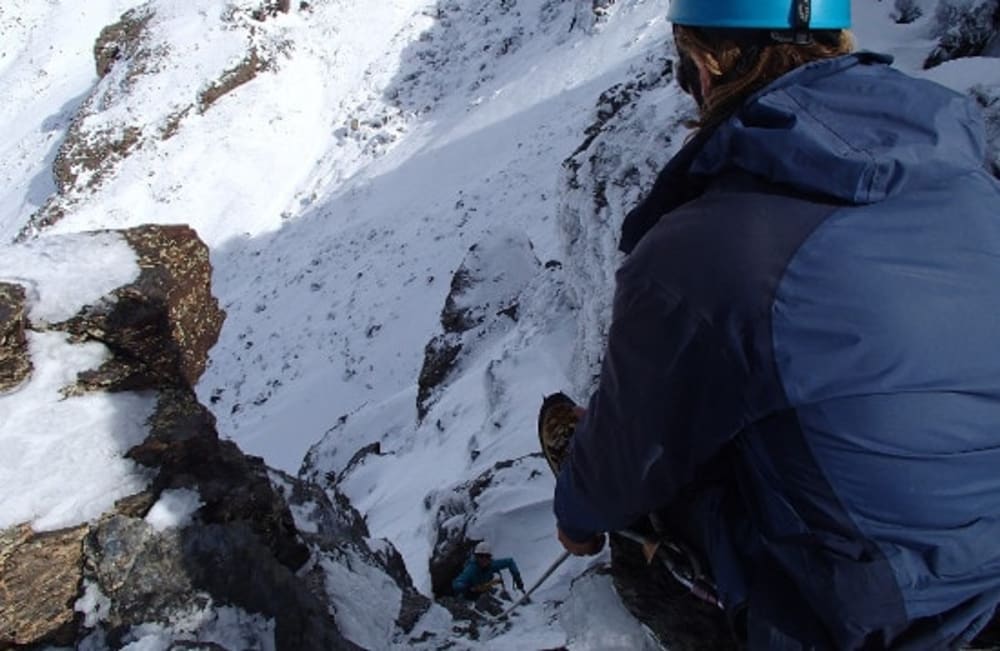 Typical course content
4 Day Course - topics covered:
Kitting out for winter
Use of Ice Axe
Use of Crampons
Avalanche awareness
Roping up
Snow belays - use and suitability
Self Arrest Ice Axe braking
Abseiling
Glacier Travel
Crevasse Rescue
Snow Climbing
Moving together on mixed ground
Bivouacing
Winter survival and camping techniques
Snow Holing
Climbing gullies and couloirs
Snowshoeing
Additional Days
Additional to the 4 day course a combination of the following will be done depending on snow and weather conditions and ability of the party:
Mixed climbing on Puntal de la Caldera (3,215 metres)
Traverse of Tajos de la Virgen ridge
Gully climbing near Cerro de Caballo
Raspones de Rio Seco ridge
Alpine ridges of the Sierra de Huetor
NW ridge of the Pico del Cartujo
Expedition Training Course
For those going on Expeditions to Polar or Greater Ranges we run a short 2 day course which can be "bolted on" to our existing Winter Skills Mountaineering or Alpine Introduction Courses
Dates & Prices
When?
Prices
Mountaineering Courses and PD routes
Group size (per booking):
(prices are per person per day)
1 person - cost €150
2 persons - cost €95
3 persons - cost €85
4 persons - cost €75
Classic Winter Mountaineering Routes (AD and above)
(1:2 ratio)
1 person - cost €220
2 persons - cost €140
Definition of "Group" - if you are booking a trip for 2 persons the 2 person rate applies, 3 persons - 3 person rate etc (not dependent on eventual total group size!).
Price includes:
Guiding
Backup vehicles
Gear hire - helmet, harness, crampons, ice axe
We have a limited number of boots and sizes available for guest use
N.B Guiding ratio for high mountain activities - no more than 4 to a guide.
Enquire via email or contact form
Transport (effective for all bookings after 1st July 2022)
The guiding price above does not include transport. Due to rising energy and fuel prices we do not want to be constantly changing guiding prices to reflect transport costs. We want to be honest and open about our price structure.
Clients have two options:
NO COST OPTION - Pick up/drop off our guide in Lanjaron or a venue to be agreed. Use your own transport to and from the start/end of activity.
COST OF FUEL OPTION - Our guide will drive you to/from start/end of activity in one our own vehicles. Applicable costs are:
Capileira, White Villages, Taha del Pitres €15
Hoya del Portillo €20
Sierra Nevada ski area €25
Granada area, Cumbres Verdes €15
Peñon de la Mata €20
Lecrin Valley €10
Jerez de Marquesado, Eastern Sierra Nevada €35
N.B For destinations not listed above we can easily work out a fuel cost
You may also be interested in?
High Altitude Expedition Preparation Sierra Nevada, Spain
Spains Sierra Nevada is a perfect location for preparation courses for expeditions to polar regions or the greater ranges with high altitude and remote mountains to use as a base
Mountaineering Alpine Ridges Sierra Nevada, Spain
Discover the year round mountaineering and scrambling potential of the Spanish Sierra Nevada alpine ridges. Big routes, big faces and incredible situations!
Winter Skills Mountaineering Courses, Sierra Nevada, Spain
Learn to travel safe in the winter mountains on one of our Winter Skills Mountaineering Courses based in Spains snowsure Sierra Nevada mountains
Alpine Introduction Mountaineering Course, Sierra Nevada, Spain
An Alpine Mountaineering Course based in Spains Sierra Nevada. For those looking for winter mountain ascents, alpine peaks, ice climbing, glacier travel and expeditions
Mountaineering Courses, Climbing and Via Ferrata Sierra Nevada, Spain
Guided mountaineering, winter skills and alpine introduction courses in Spains Sierra Nevada. Also Rock Climbing and Via Ferrata