Escape the heat and prepare yourself for something different!
There's only one place to be on a hot spanish summers day ... in a river!
We offer two half day walks that can be done individually on 2 days or together in one day
Rio Santos, Albuñuelas
Barranco de la Luna
N.B It is advisable to bring spare shoes to change into after the river section and for the walk back to town.
From €40 per person for a 3 hour half day walk (2 persons)
The Lecrin Valley is famous for its fields of oranges, tangerines, olive, almond and orange blossom. But also for its photogenic lakes and ravines suitable for all types. It's a beautiful region in the south of the province of Granada that borders La Vega to the north, Alpujarra to the south and Alhama to the west.
Why not combine both river walks into a full day with break for lunch? €70 per person (2 persons)
Photo Gallery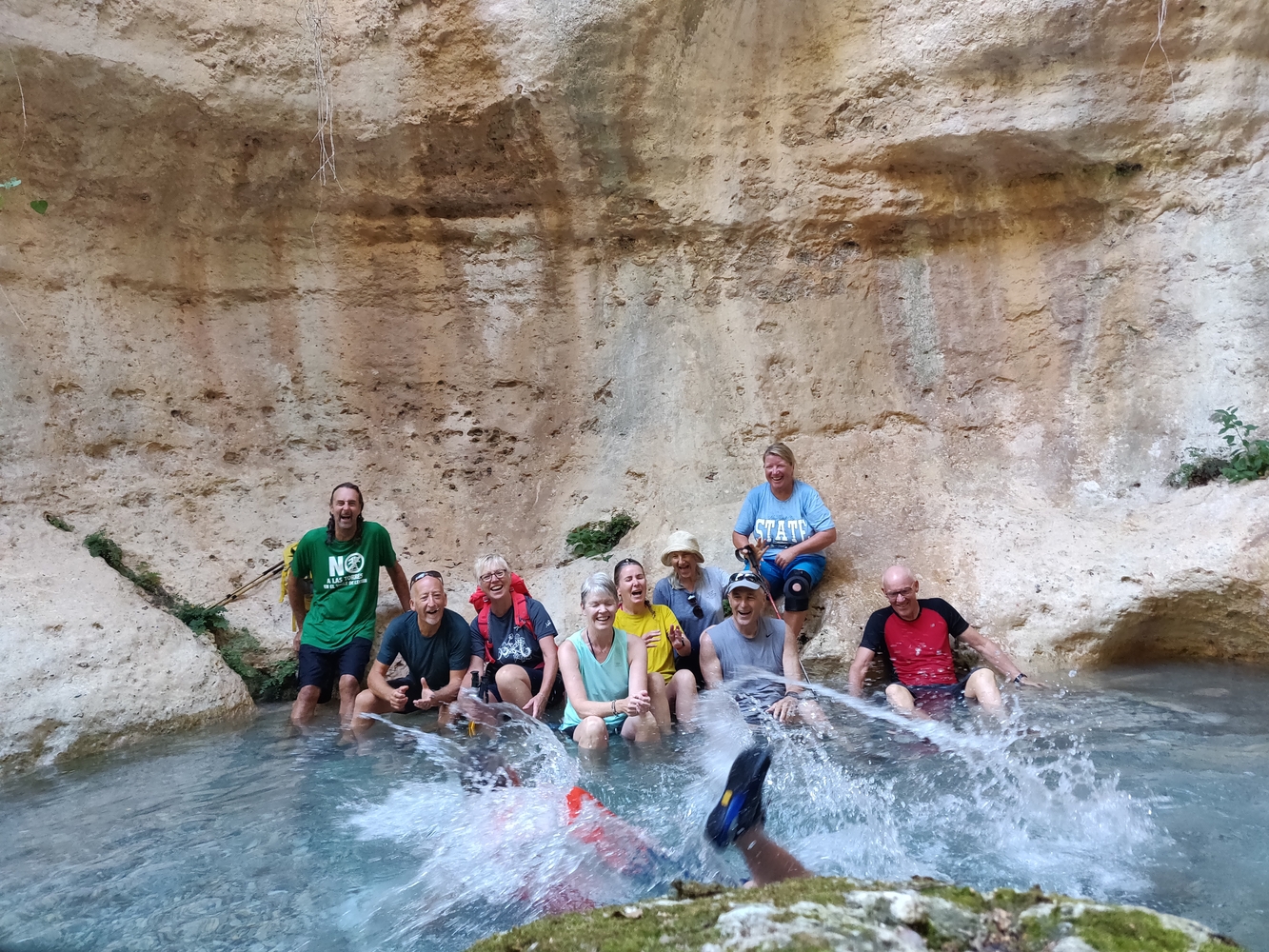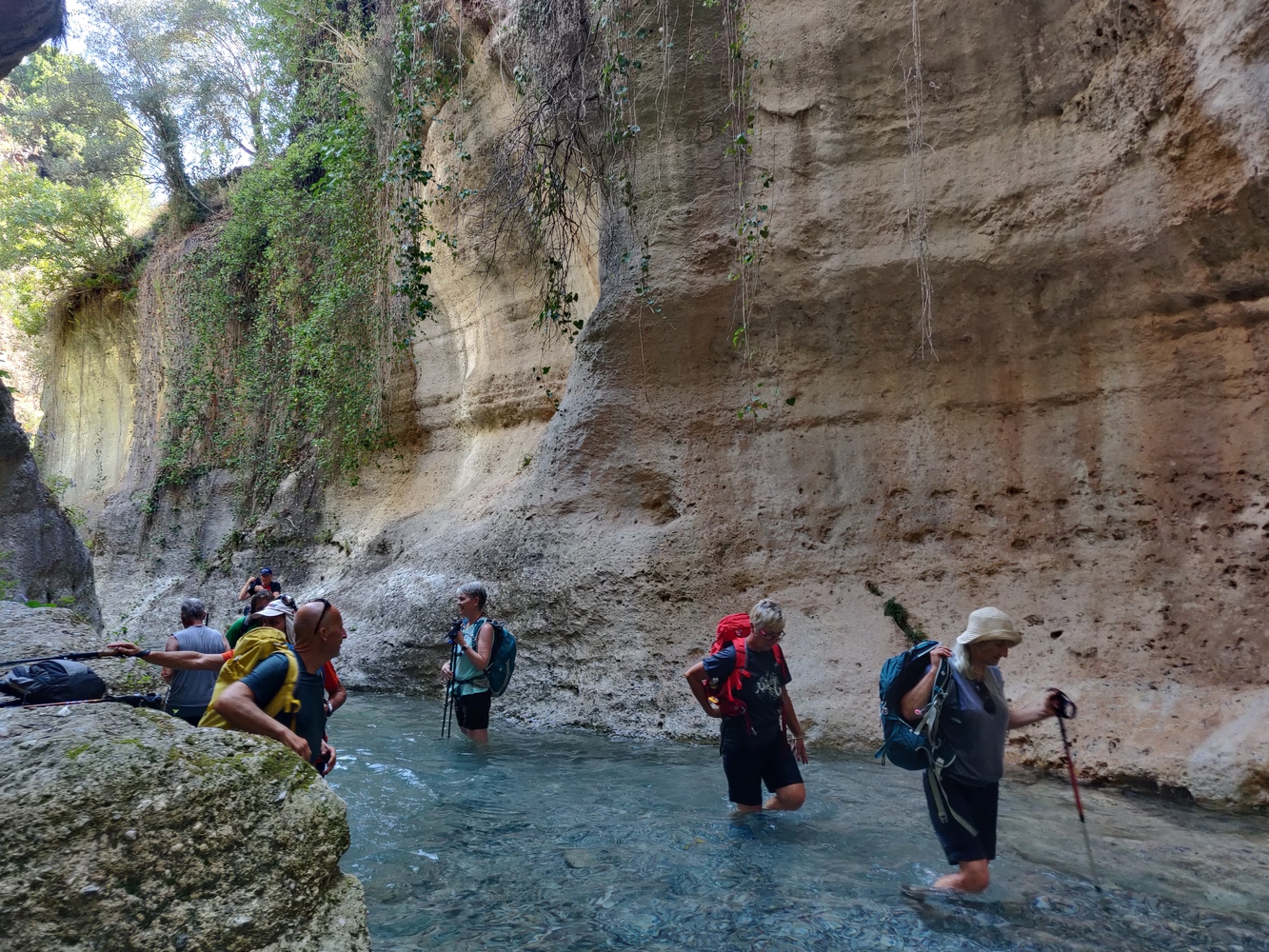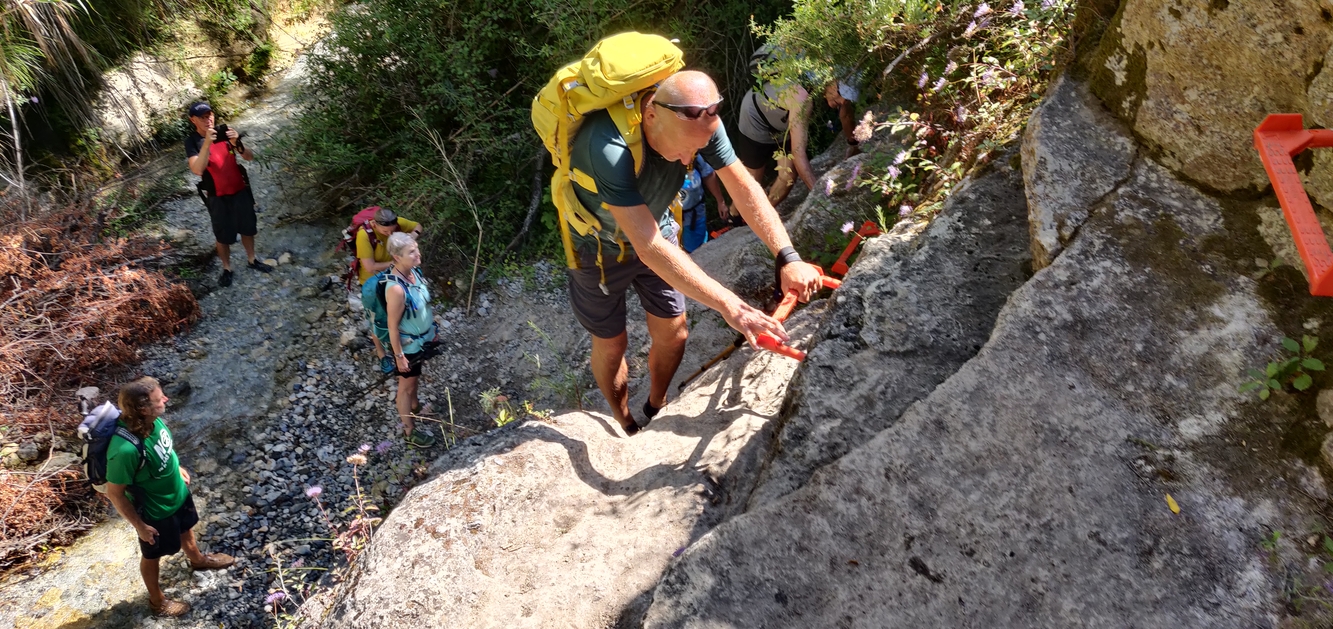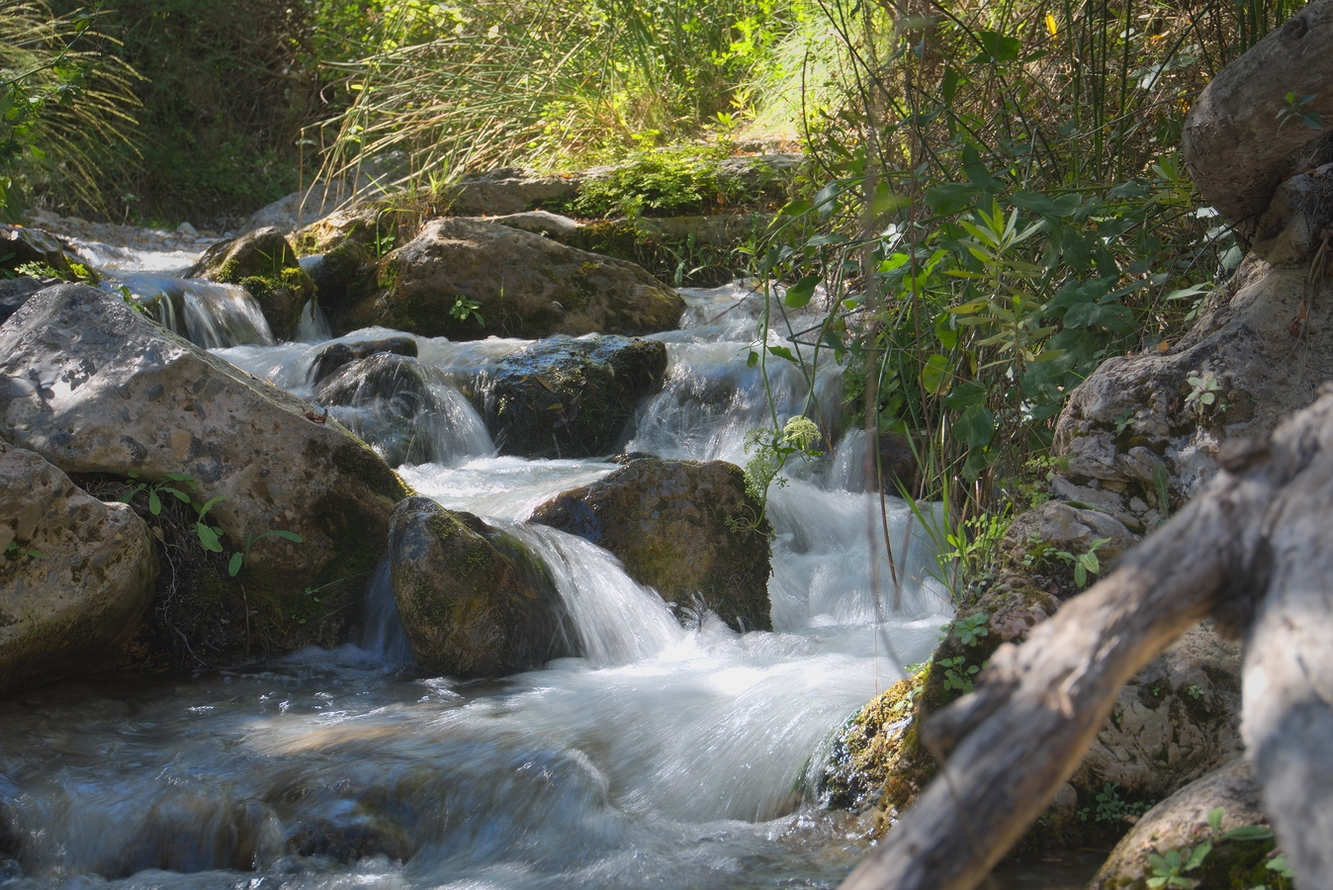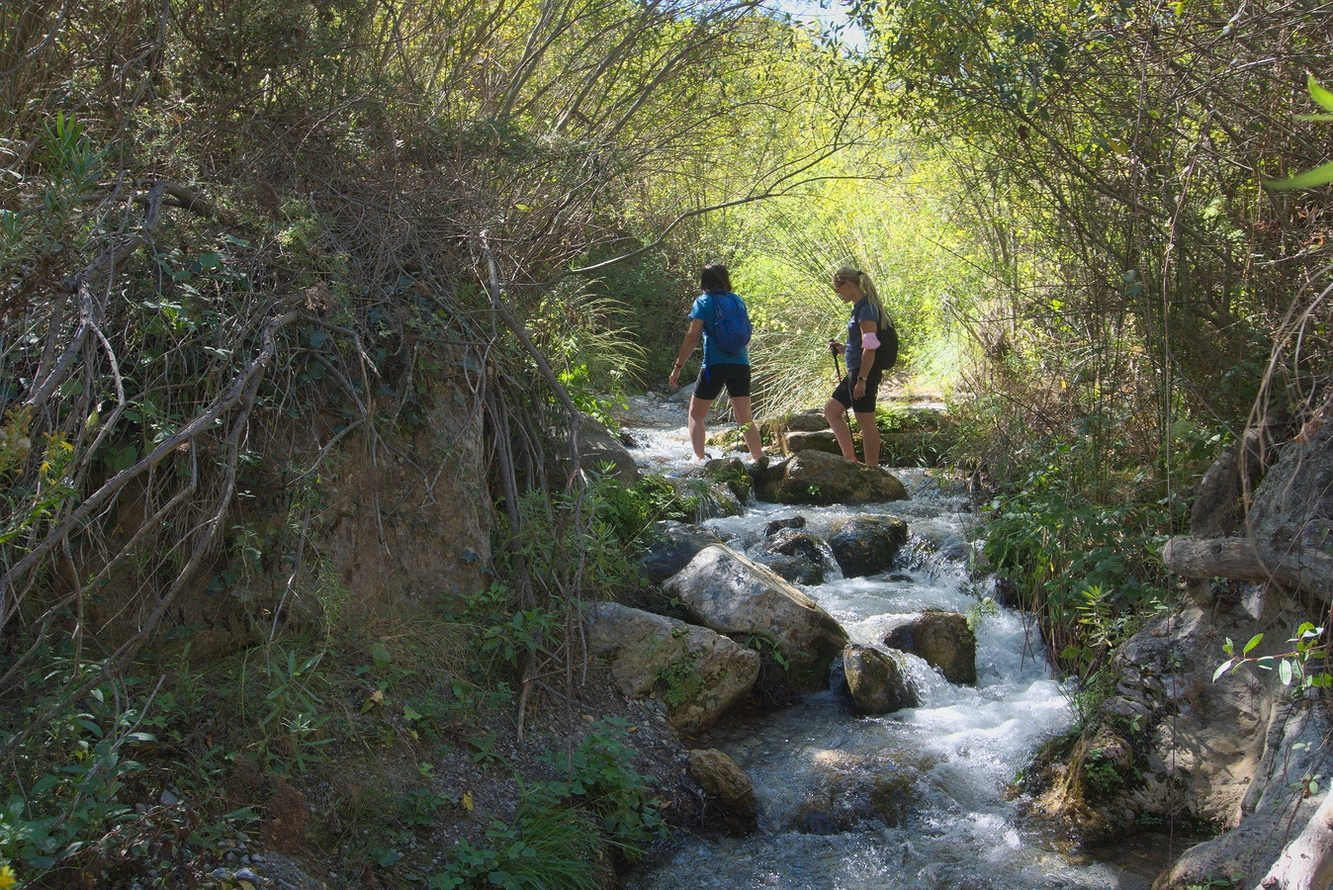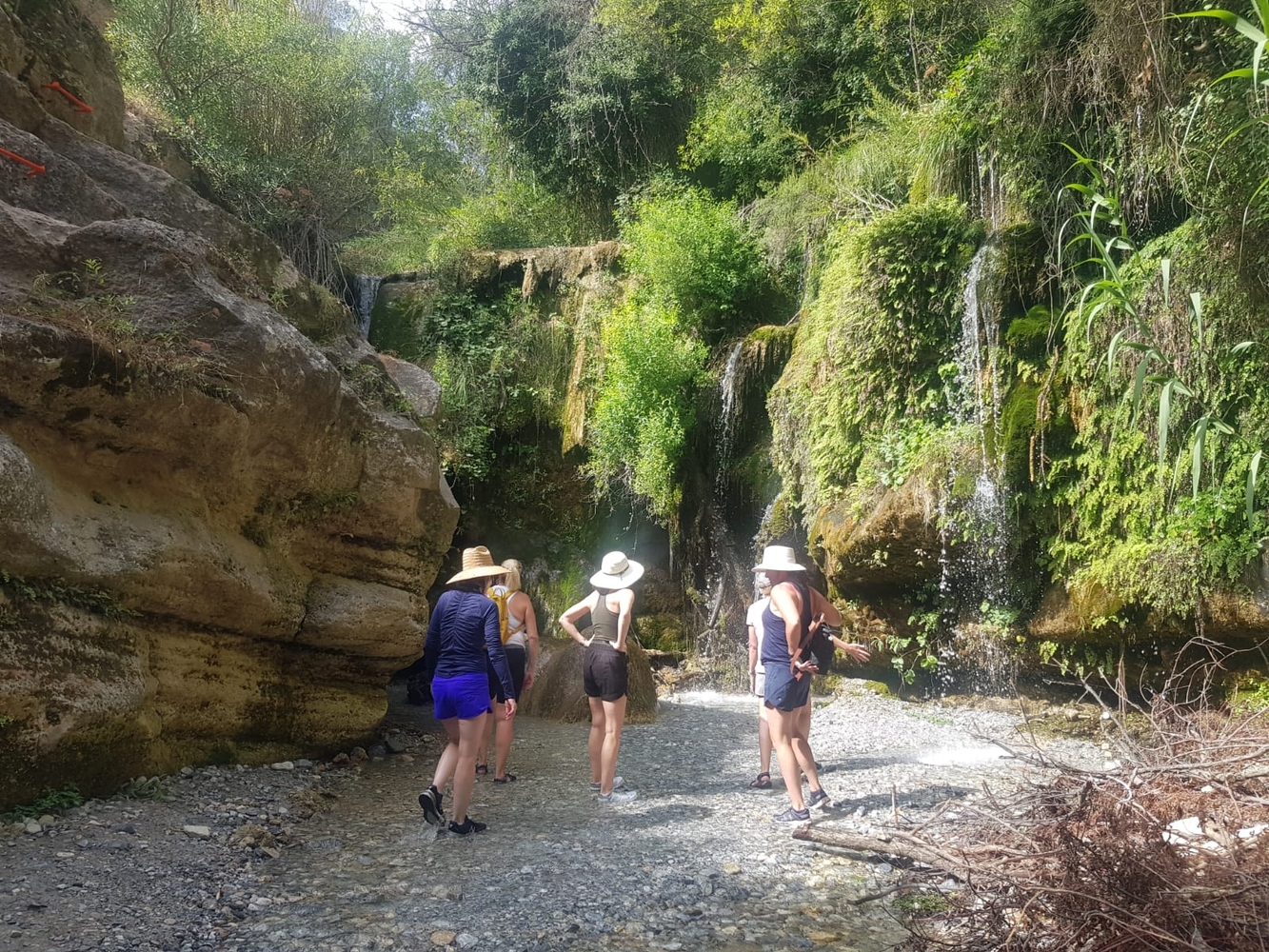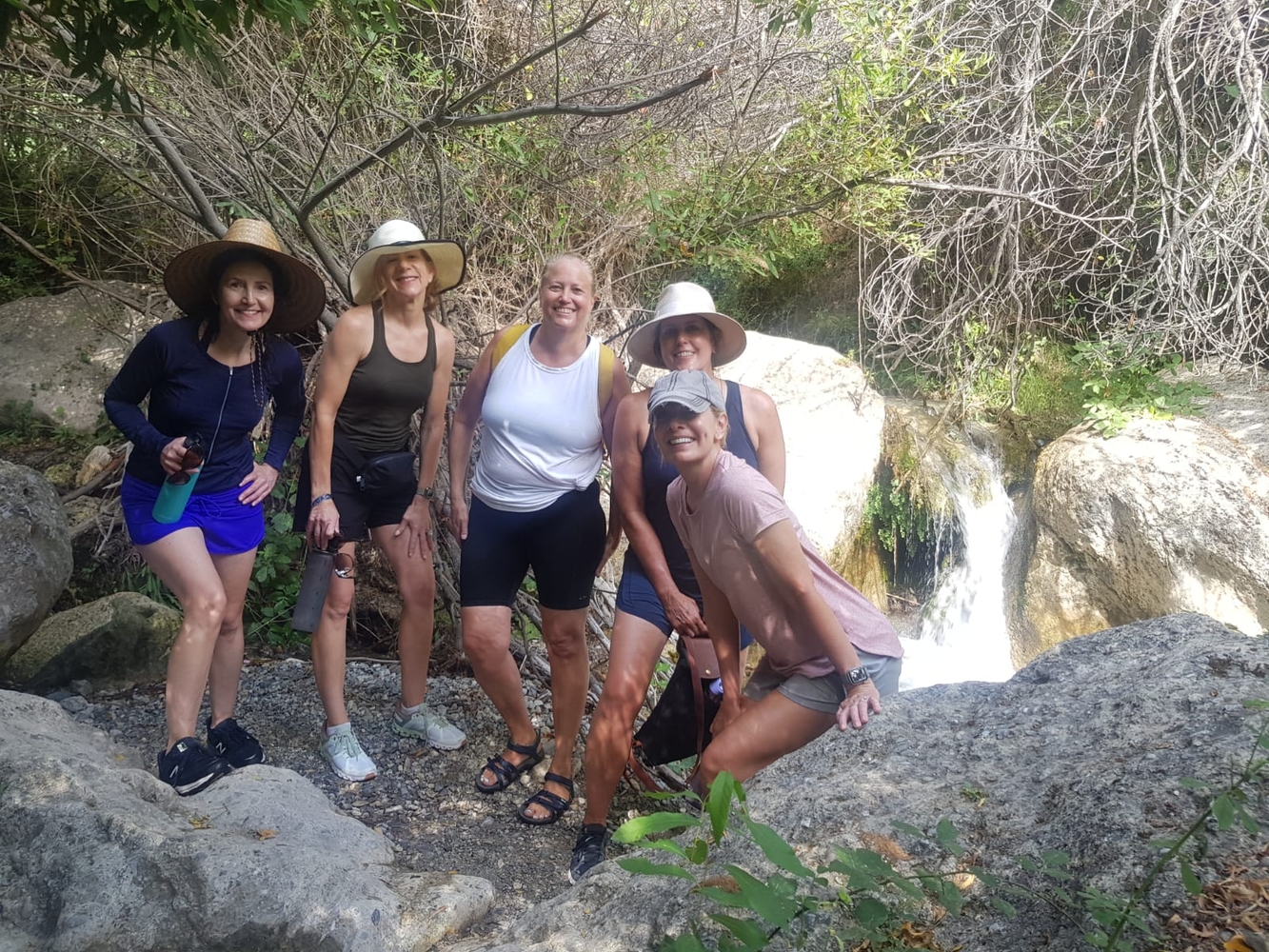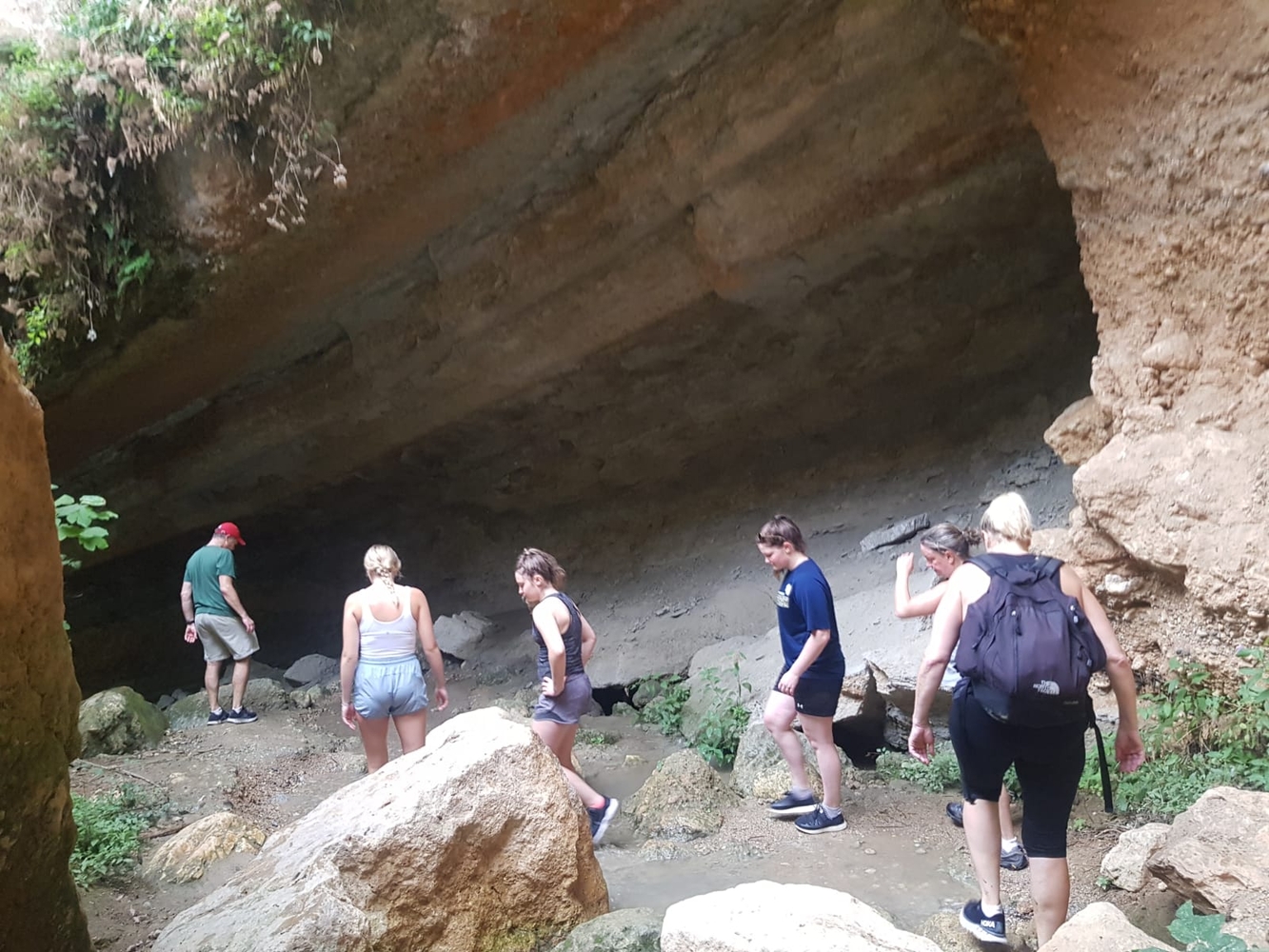 It was brilliant, I didn't expect to find water that cold in August! Cath Prior
Fantastic! Loved it! Kath Powis
Fab walk and lunch many thanks x Ann Hunter
Many thanks for a great morning. Sean James
Brilliant walk. Kate Dakin
We took our dogs for an exploratory trip up the Rio Santos to see how they found it.
Half Day River Walks
Rio Santos, Albuñuelas
This circular walk is 6km and will take about 3 hours. It has an ascent of 150 metres.
This is our favourite summer walk and comes highly recommended. We discovered this is 2020 and have since returned many times to enjoy the cool waters of the river.
The route starts and ends at the town of Albuñuelas where we park the cars. Then its down to the river valley where we start enter the water. The path winds it's way in and out of the river, avoiding difficult sections. There are a couple of boulders to scale but these are easy.
It feels like you are exploring undiscovered sections of the Amazon! Always above your head is a green canopy of foliage and plants and insects rarely seen outside these environments are spotted. The half way stage arrives at a huge waterfall which provides for an entertaining shower!
Some rails built into the rock provide a small challenge which is quikly overcome. Then it's back into the river and the narrowing gorge. At it's narrowest point the locals build a small dam, behind which lies a waist deep lake. This needs to be forded for us to continue our journey. We normally stop here for a swim and break.
The route continues upsteam until the river peters out and becomes a dry valley. We head back to town on a dirt road to complete the adventure!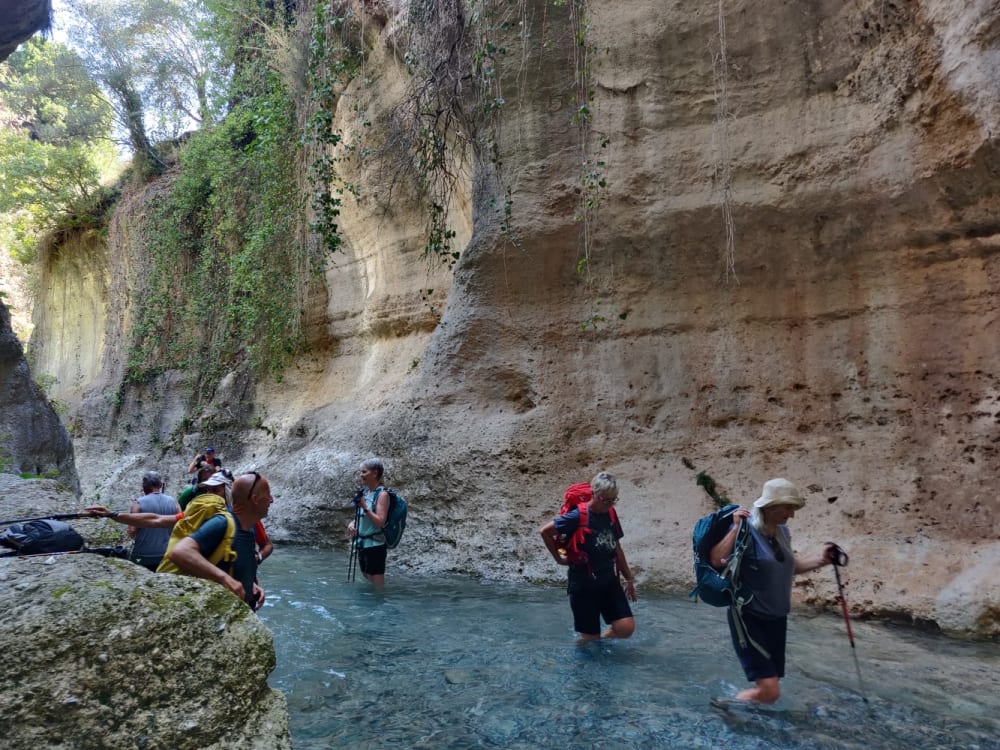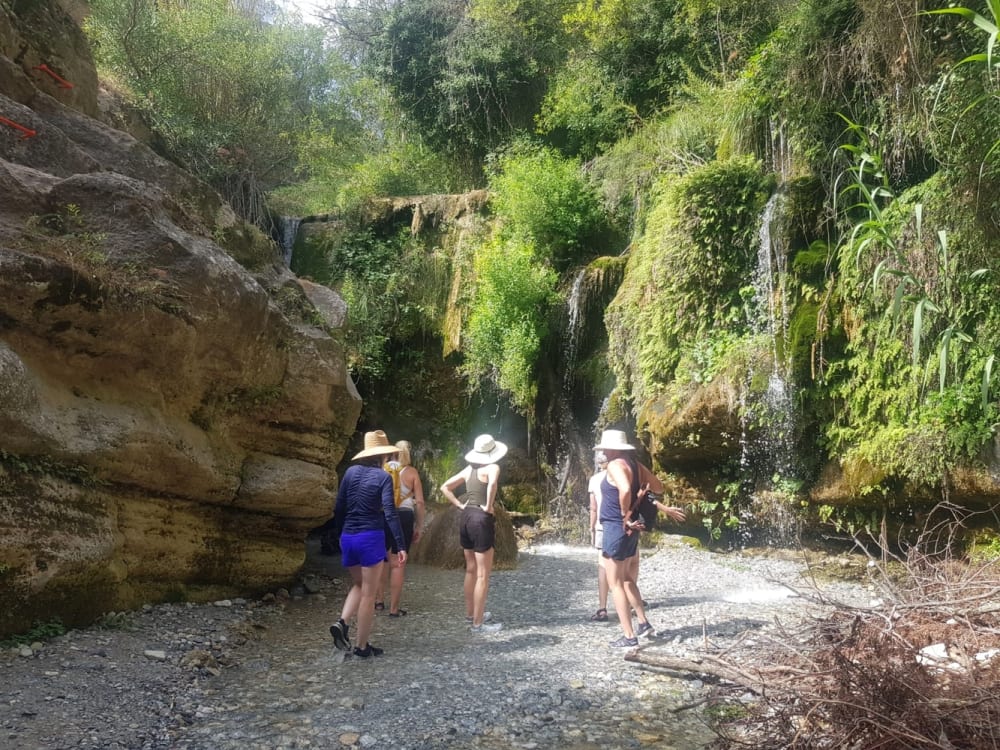 Barranco de la Luna
This circular walk is 5km and will take about 3 hours. It has an ascent of 120 metres.
In some parts of the route, the Barranco de la Luna reminds one of "the Grand Canyon of Colorado" because of its reddish hue.
Circular route that begins at the Saleres cemetery, where we leave the vehicles. The river trail begins by going down a hidden path. Surprisingly, we enter a gorge with almost closed walls and of great height.
In most of the route we walk immersed in the water. It is an exceptionally beautiful water hiking route, with water all the way up to above the knees. Small pools of water are easy to overcome. When leaving the ravine to the left in a descending direction there is a rocky area where we can rest and have a picnic. The color of the walls, encrusted with fossils, the vegetation, the soft light, the freshness, this route is truly a delight for all the senses.
An easy route and suitable for everyone.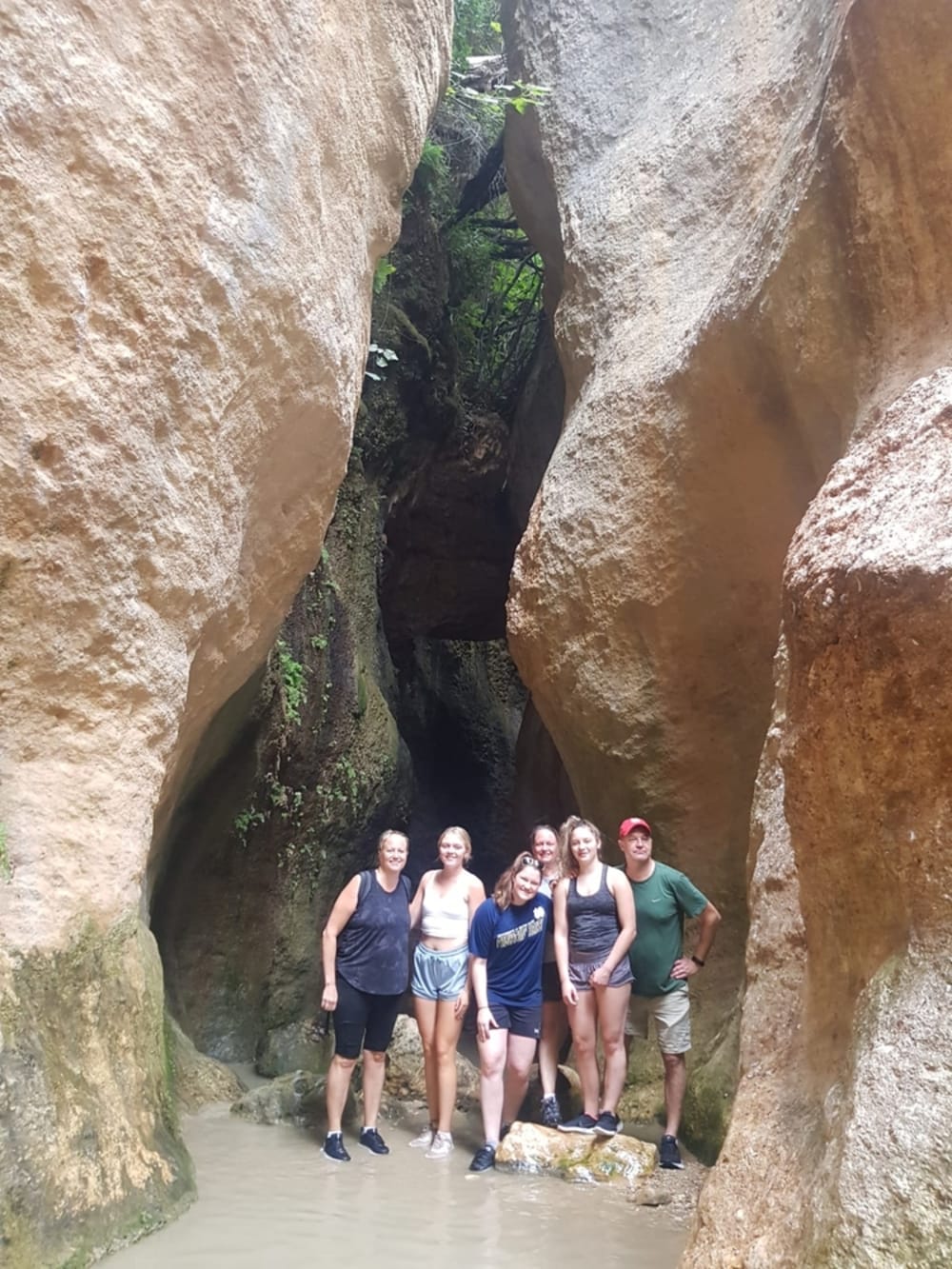 Dates & Prices
Prices For Each Half Day Walk
Group size (per booking)
1 person - cost €50
2 persons - cost €40 each person
Prices For Full Day (2 walks)
Group size (per booking)
1 person - cost €100
2 persons - cost €70 each person
Advisable to bring spare shoes for the return trip to the town
Definition of "Group" - if you are booking a trip for 2 persons the 2 person rate applies, 3 persons - 3 person rate etc (not dependent on eventual total group size!).
Price includes:
Guiding
We have a limited number of walking poles for the use of guests if required
Larger groups - discounts apply. Enquire via email or contact form
Transport (effective for all bookings after 1st July 2022)
The guiding price above does not include transport. Due to rising energy and fuel prices we do not want to be constantly changing guiding prices to reflect transport costs. We want to be honest and open about our price structure.
Clients have two options:
NO COST OPTION - Pick up/drop off our guide in Lanjaron or a venue to be agreed. Use your own transport to and from the start/end of activity.
COST OF FUEL OPTION - Our guide will drive you to/from start/end of activity in one our own vehicles. Applicable costs are:
Capileira, White Villages, Taha del Pitres €15
Hoya del Portillo €20
Sierra Nevada ski area €25
Granada area, Cumbres Verdes €15
Peñon de la Mata €20
Lecrin Valley €10
Jerez de Marquesado, Eastern Sierra Nevada €35
N.B For destinations not listed above we can easily work out a fuel cost
You may also be interested in?