The Traverse of the Patagonian Icecap
Objective is a traverse of the icecap surrounding the Fitzroy and Cerro Torre ranges taking in as much of the icecap as we can. We get onto the icecap at Paso Marconi via Rio Electrico valley, visit the magnificent and dramatic Circo de los Altares and return via Paso del Viento and the Rio Tunel valley to El Chalten.
Min 5 people required for trip to go ahead! Get booking to avoid disapointment, only limited spaces available
Dates - Mid-November for 2 weeks (3 weeks optional)
Is this for you?
These expeditions are run on demand from October to April each year. Allow 8 days in total. Due to the difficult nature of the expedition we try to keep the group small but need a minimum of 5 and a maximum of 8 clients.
These are extremely demanding trips BUT..... with the right mental attitude you can be assured the experience of a lifetime!
Participants do not need great technical experience but should be able to use crampons and ice axe efficiently. Also basic crevasse rescue techniques are an advantage (our winter skills courses would be ideal). You should also be comfortable with "camp life" and making your own meals. A certain level of discomfort should be expected.
A good mountain spirit and collaboration of all expedition members is essential for a successful and enjoyable experience. The weight of group items has to be shared between members . Besides the weather (expect cold temperatures, snowfall and high speed winds), you should be prepared to carry up to 20/25 kgs on your backpack and be able to walk on very uncomfortable ground i.e. glacier moraines, screes, glacial ice and snow. It is also expected that you help setting up/breaking camp and cooking. Extra porters are available if required.
Our guides are fully experienced in the area so expedition members will have to accept all decisions regarding weather, safety, member's lack of ability and itinerary modifications of any degree.
Itinerary - Southern Patagonian Icecap Traverse
Day 0 - Group meeting in El Chalten Group meeting and gear check. The guides and assistants will be introduced; they will give an itinerary review and a general briefing of the expedition. Also, you will have the opportunity to clear all remaining questions and doubts.
Day 1 - El Chalten to Lago Electrico Bus transfer to Rio Electrico. Here we start walking for 2 hours to reach the Piedra del Fraile base camp. The trail is mostly flat and protected by forest. Another 3 hour trek alongside the moraines bordering Lago Electrico. We ford the Rio Pollone and later arrive at "La Playita" (Camp I) on the western side of the lake. Great views of Mt FitzRoy NW face! ESTIMATED TIME: 6 hs. APROX. ELEVATION GAIN: 150m.
Day 2 - Ascent to Paso Marconi Without doubt this is the hardest day. We pass over loose moraine and polished glacier rocks to access the lower Marconi glacier. The lower glacier is easy but spectacular. At half height we reach a steep corner alongside huge seracs. This difficulty is soon passed and we are then onto the upper slopes leading to Paso Marconi.
We set up Camp II on Paso Marconi. Now it's time to relax and enjoy the magnificent views of some of the surrounding mountains such as Gorra Blanca, PierGiorgio, and Volcano Lautaro. A vast white landscape and snowcapped mountains will be all around us. If weather conditions are too bad the guide might choose to spend the night at Refugio Gorra Blanca on the northern side of the pass.
ESTIMATED TIME: up to 10 hours depending on glacier and weather conditions. APROX. ELEVATION GAIN: 900m.
Day 3 - Paso Marconi to Circo de los Altares From here we begin to go south towards a glacial cirque called "Circo de los Altares" where we set up Camp III. If the climb to Marconi Pass is the hardest day, today will be highlight of the expedition! We normally put on snow shoes and walk on a relatively flat glacier enjoying an incredible view of the immense mountains of the Icecap to finally reach one of the most spectacular places on earth. Circo de los Altares is a wonderful array of hanging glaciers and granite towers surrounding our camp on the western side of Cerro Torre. ESTIMATED TIME: 6 hours. ELEVATION GAIN: 50m.
Day 4 - Circo de los Altares to Refugio Paso del Viento Today we continue south and reach the upper section of the Viedma glacier. Here we exit the Icefields across lateral moraines of massive glaciers coming down from the Adela Range. We will pass by the "Laguna de los Esquies" bivouac to reach the Ferrari bivouac (1100m) where we set up Camp IV. In case of bad weather condition we continue to Refugio Paso del Viento, a mountain refuge. ESTIMATED TIME: 7 hours. ELEVATION GAIN: 200m.
Day 5 - Cross Paso del Viento to Laguna Toro An hour climb sees us crossing the well named Paso el Viento (the windy pass, 1500m) overlooking the gigantic Viedma Glacier. Here we leave behind the Icecap and the Mariano Moreno Range on the west. We descend steeply towards the Rio Tunel valley crossing the lower section of the Tunel Glacier. An hour before Camp V we have to wade the Rio Tunel. If the river is too high and fast flowing we have to go across a Tyrolean traverse. Our last camp is located in a beech forest on the eastern side of Laguna Toro (650m). ESTIMATED: 7 hours. ELEVATION GAIN: 400m. Drop: 850m.
Day 6 - Laguna Toro to El Chalten From Camp V at Laguna Toro we go down valley and later hike up and over the Pliegue Tumbado through burnt forests and marshy areas. Then down through a lush beech forest arriving at the park ranger station where the expedition comes to its end. After 80 kilometers of intense trekking we return to the comforts of El Chalten. ESTIMATED TIME: 6 hours. ELEVATION GAIN: 350m. Drop: 550m.
Day 7 and 8 These days are reserved in case of delay due to bad weather or rest days.
For those going on Expeditions to Patagonia, Polar or Greater Ranges we run a short 2 day "Expedition Preparation Course" which can be "bolted on" to our existing Winter Skills Mountaineering or Alpine Introduction Courses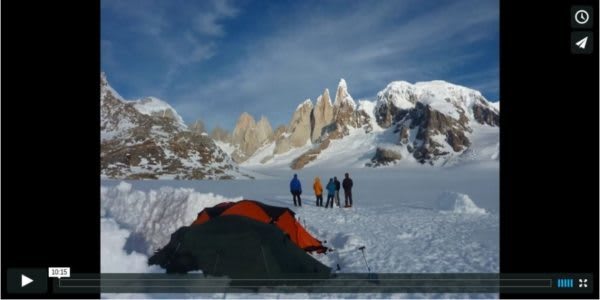 Interactive map
Click map to open interactive map in separate window
Got this far? Some further reading for you!
Short video by our team taken in November 2014