What is Fastpacking?
Carrying a minimal, lightweight pack, so that you can move quickly over varied terrain
Fastpacking is distance trail running and ultralight backpacking rolled into one epic outdoor adventure. You're moving fast maybe jogging the downhill or level sections, covering long distances and carrying just enough essentials for a multiday journey. Moving swiftly with a light kit lets you escape the crowds, reach deeper into the backcountry and stay out longer than if you were just trail running.
One of the biggest draws is being able to cover more ground and see more in a shorter time than you otherwise would be able to if you're just backpacking or trail running. With light overnight gear on your back, you run, set up camp, sleep, wake up, run and do it all over again. It's about pushing your comfort zone, challenging yourself mentally and physically and truly immersing yourself in wild surroundings. There's something incredibly freeing and empowering in relying on your own feet to cover all that distance in a shorter amount of time.
Ultralight Backpacking
We have much experience in ultralightweight backpacking techniques as we have been steadily reducing backpack weight downwards for a number of years. We have adapted our sleep, shelter and clothing systems to suit the Sierra Nevada. Our typical ultralightweight base weight will now be around 5kg.
Base weight = Total pack weight, excluding consumable (food, water and fuel).
We can advise clients accordingly and suggest ways to lighten their loads if necessary.
A typical (sub 5kg) Base Weight - example of heaviest items
Shelter (Tent - Crux Raid X1 2 persons) 1.5kg (lighter if bivvy bag or tarp used)
Sleeping Bag (PHD Designs) 0.75kg
Backpack (Atom Pack 40L) 0.63kg
Sleeping Pad (Sea to Summit) 0.30kg
Cooking (Alcohol stove system) - Stove, Pot, Lighter, Fuel Bottle, Windshield 0.27kg
First Aid Kit 0.27kg
Down Jacket (PHD Designs Minimus) 0.15kg
Rain Jacket (OMM Halo) 0.11kg
What Is Fastpacking?
Fastpacking is covering long-distances on a trail by jogging, running or power hiking, with a light backpack on, usually over the course of more than one day.
More simply, fastpacking is "hiking the ups, jogging the flats and running the downs," wrote fastpacker and writer Clint Cherepa.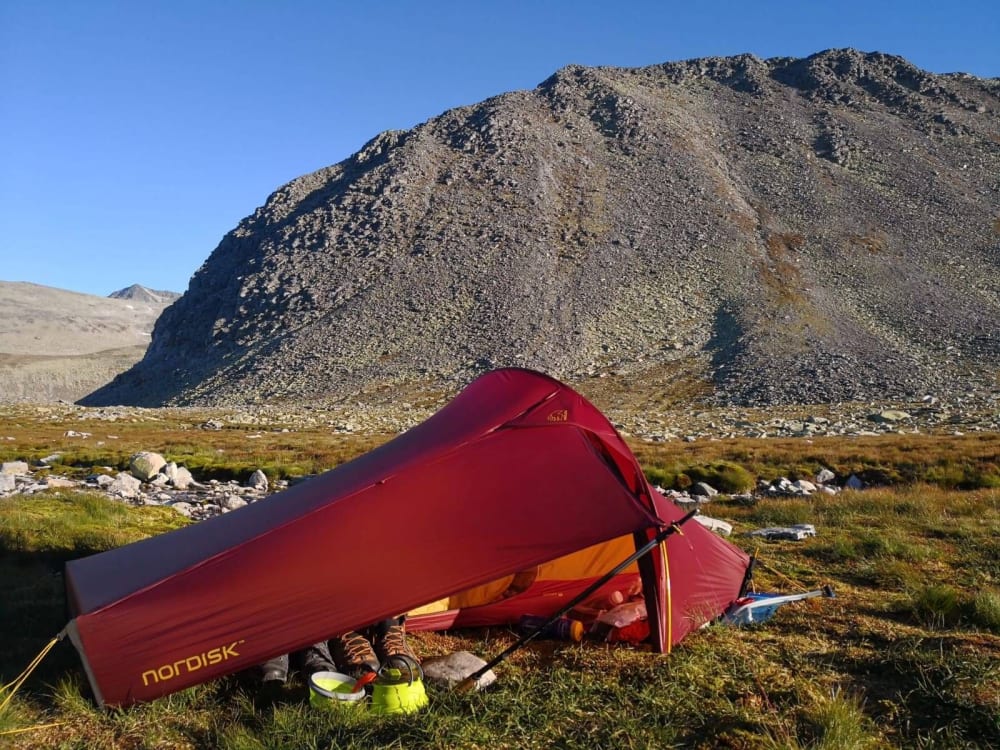 Our guide Chris uses a Nordisk sub-1kg tent on his Fastpack adventures
Fastpacking Challenges, Sierra Nevada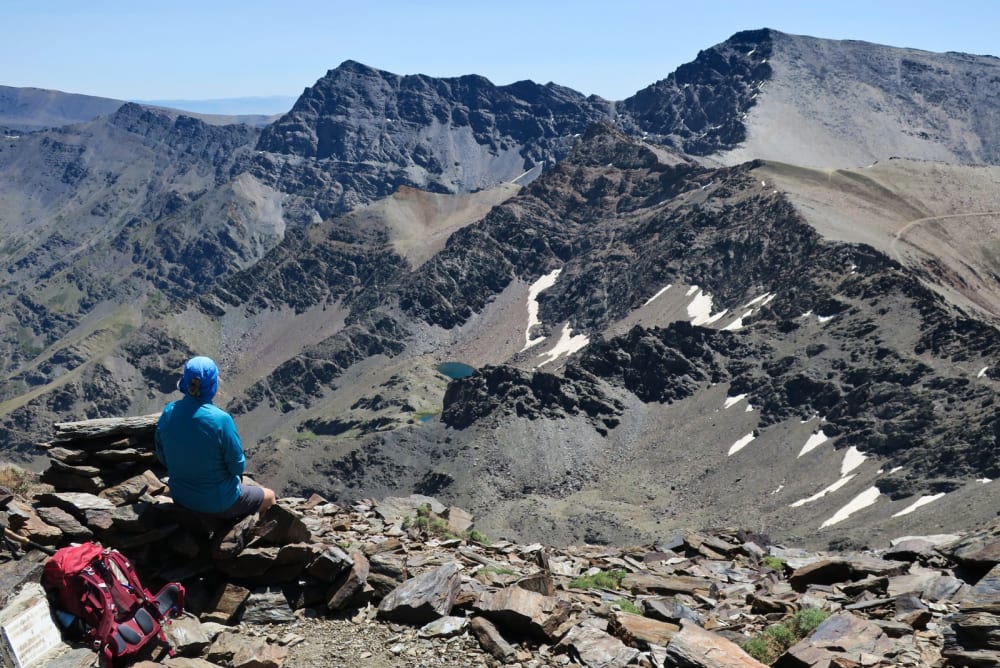 The Sierra Nevada Integral in 3 days!
Highlights
3 Days
75 kilometres
4,205 metres of ascent
5,000 metres of descent
Details
The Sierra Nevada contains the highest peaks in Western Europe outside the Alps. This is the ultimate "big one" for all fastpackers in the Sierra Nevada. Other companies just offer the normal trekkers options. We prefer to up the ante! Our aim is to cover the whole of the ridge in a 3 day challenge!
This multi day route takes mountain trekkers an average of 5 days to complete. The challenge for you is to "Fastpack" it under 3 days, with 2 overnight camps by mountain lakes. It covers over 20, 3000m+ peaks of the Sierra Nevada over mostly rugged and tough mountain terrain, over the roof of Spain!
Starting from Trevelez in the south and following the valley of the Rio Trevelez puts us onto the main ridgeline. This is then followed over all the main 3000m+ summits of the range to the Cerro de Caballo, just before the long drop down to finish in the spa town of Lanjaron.
We would be looking to make the first camp either at Laguna de Juntillas, Laguna de Vacares or the Laguna de Calderetas. Second camp would probably be at Laguna Rio Seco, Lagunillas or Laguna de Lanjaron.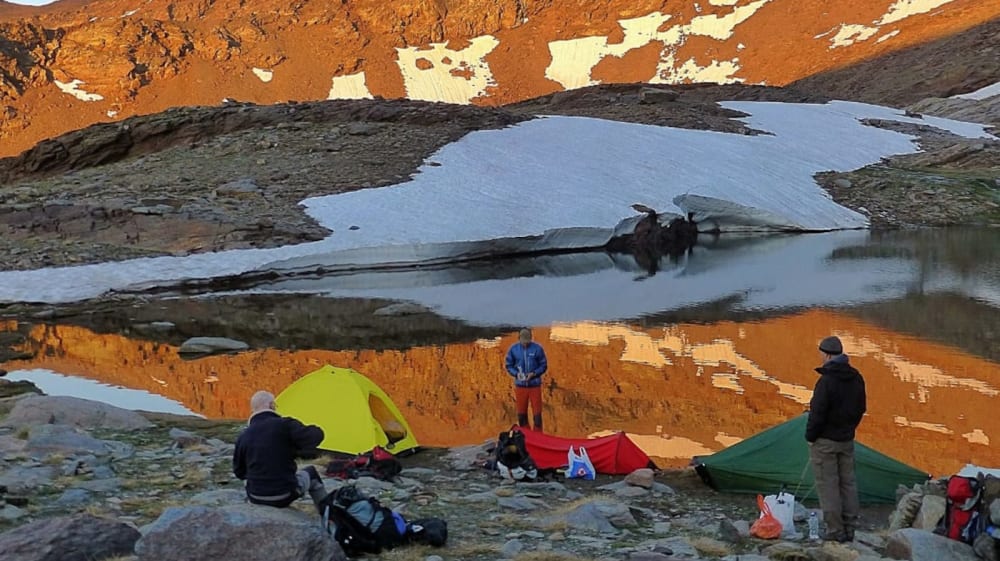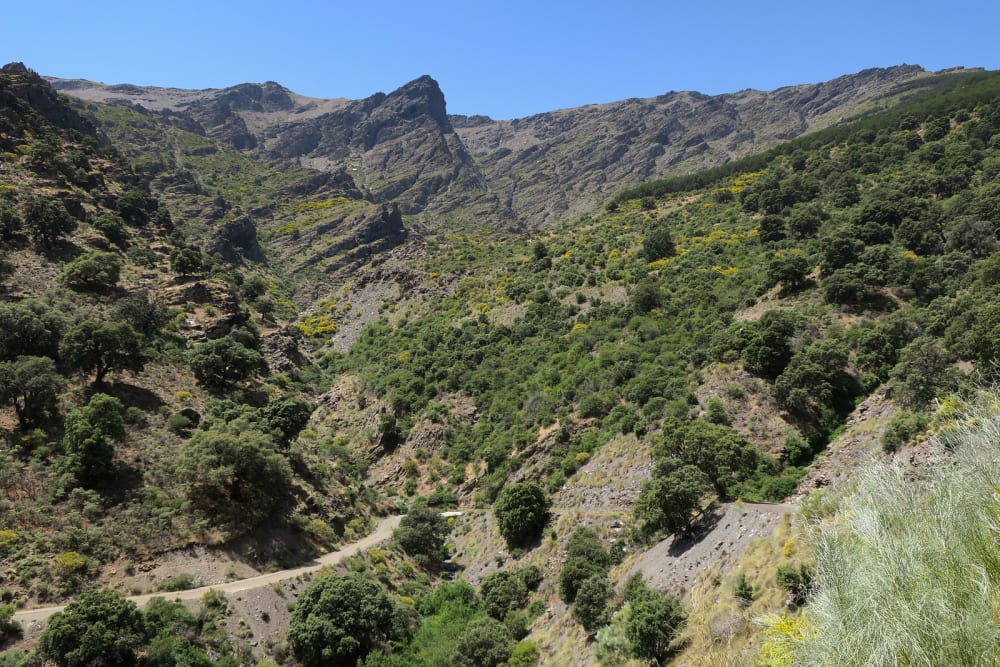 The Sulayr GR240 in 1 week!
Highlights
6 Days
270 kilometres
10,531 metres of ascent and descent
Details
Sulayr, the "Mountains of the Sun", as the Arabs used to call the Sierra Nevada, is now given its name to a great 300km footpath that encircles the range. It is divided into 19 sections that covers tens of kilometers of old traditional paths, animal tracks and cattle routes.
We shall make use of unguarded refuges as well as delightful camping spots by lakes and streams. There will be a resupply of food and provisions half way through the trip.
Trekkers will take between 15 and 19 days to complete this circular route. Your challenge will be to complete it in a week. Are you up for it?
The 19 sections, difficulty and distances involved are:
Centro de visitantes "Dornajo" - Casa forestal "La Cortijuela" (DIFFICULT 15km)
Casa forestal "La Cortijuela" - Rinconada de Nigüelas (DIFFICULT 19km)
Rinconada de Nigüelas- Tello (MEDIUM 15km)
Tello-Puente Palo (MEDIUM 9km)
Puente Palo - Capileira (DIFFICULT 11km)
Capileira-Trevélez (DIFFICULT 17km)
Trevélez-Lastonar (ARDUOUS 25km)
Lastonar-Fuente del Espino (DIFFICULT 16km)
Fuente del Espino - Barranco Riachuelo (ARDUOUS 21km)
Barranco Riachuelo - El Cerecillo (DIFFICULT 15km)
El Cerecillo - La Polarda (ARDUOUS 21km)
La Polarda - La Roza (DIFFICULT 17km)
La Roza - Piedra Negra (DIFFICULT 10km)
Piedra Negra - El Toril (ARDUOUS 19km)
El Toril - Las Chorreras (MEDIUM 10km)
Las Chorreras - Postero Alto (ARDUOUS 21km)
Postero Alto - Peña Partida (DIFFICULT 16km)
Peña Partida-La Hortichuela (ARDUOUS 15km)
La Hortichuela-Centro de Visitantes "El Dornajo" (MEDIUM 7km)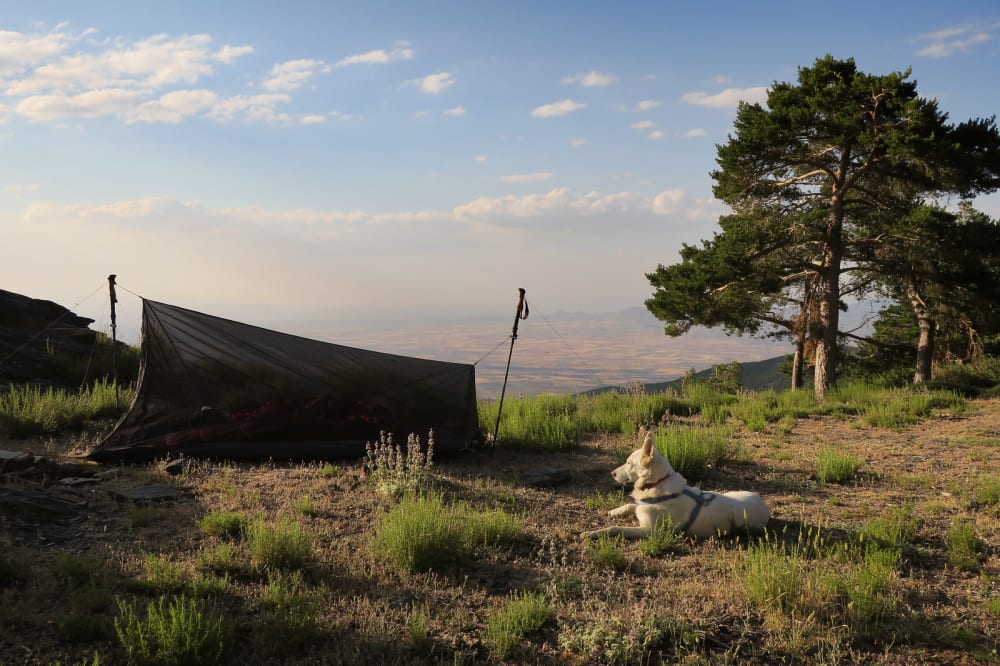 Dates & Prices
Prices
ie "Los Tres Miles" and "Los Tres Picos" treks
Group size (per booking):
(prices are per person per day)
1 person - cost €145
2 persons - cost €95
3 persons - cost €85
4 persons - cost €75
Definition of "Group" - if you are booking a trip for 2 persons the 2 person rate applies, 3 persons - 3 person rate etc (not dependent on eventual total group size!).
Price includes:
Guiding
Backup vehicles
We have a limited number of walking poles for the use of guests if required
Gear hire in winter conditions ie ice axe, crampons, helmet. Also stove if required.
Larger groups - discounts apply. Enquire via email or contact form
Transport (effective for all bookings after 1st July 2022)
The guiding price above does not include transport. Due to rising energy and fuel prices we do not want to be constantly changing guiding prices to reflect transport costs. We want to be honest and open about our price structure.
Clients have two options:
NO COST OPTION - Pick up/drop off our guide in Lanjaron or a venue to be agreed. Use your own transport to and from the start/end of activity.
COST OF FUEL OPTION - Our guide will drive you to/from start/end of activity in one our own vehicles. Applicable costs are:
Capileira, White Villages, Taha del Pitres €15
Hoya del Portillo €20
Sierra Nevada ski area €25
Granada area, Cumbres Verdes €15
Peñon de la Mata €20
Lecrin Valley €10
Jerez de Marquesado, Eastern Sierra Nevada €35
N.B For destinations not listed above we can easily work out a fuel cost
You may also be interested in?