A Wild, Dramatic Walking Holiday in the Picos de Europa
This is one of Europe's most sought after and top treks. Superb hiking each day though a variety of types of terrain. From the spectacular Barranco de Cares through to the high mountain pastures, valley and trails between refuges. There is no scrambling, just trekking and this is undoubtedly a superb mountain destination. A perfect way to enjoy the steep peaks, alpine meadows and stunning scenery of this region of Spain
5 nights Hotel and 1 night Guarded Mountain Refuge with full meal service. Carry just a day pack!
Departures: On demand between June and end October each year.
FIXED DATE: Week commencing 22nd September 2024. We have spare places!
Itinerary:
Day 1 - Travel to Arenas de Cabrales (Hotel)
Day 2 - Cars to Poncebos (15min). Barranco de Cares. Arenas de Cabrales (Hotel)
Day 3 - Walk above Sortes around Monte Camba. Travel to Potes (Hotel)
Day 4 - Climb Torre Horcados Rojo from Fuente De. Potes (Hotel)
Day 5 - To Refugio Collado Jermoso (Guarded Mountain Refuge)
Day 6 - Back to Fuente De and back to Potes (Hotel)
Day 7 - Travel back to airport
When?
Prices
€920 per person (min 4 people) including guiding, 5 nights hotel bed and breakfast and overnight (breakfast and evening meal) in mountain refuge. €125 single person supplement.
Not included in the prices
Transfers from and to the airport to the starting point and starting point at Arenas de Cabrales. We can arrange on your behalf.
Evening meals and beverages
Any enforced circumstance due to unexpected incidents (weather etc) that require higher expense
Further Information
We have several departure dates each month but can also adapt the trips to your own availability if necessary. Please do not hesitate to consult us if the dates do not fit in with you and we will try to figure something out
One month before the start of the trek you will receive further information about the meeting of your guide
It is important to walk in comfort so a lightweight backpack is essential. 8kg max! Recommended that you carry only the essential material and clothing
It is not necessary to take a sleeping bag, just a silk or cotton sheet bag for the refuges
This the 3rd trip with Spanish Highs and again they never failed to take us to even more highs.
Day 1 was the beautiful Poncebos-Cares Gorge-Cain-Cares Gorge-Poncebos. (6 hours 10 mins, 26.9km/16.72 miles). We all thoroughly recommend this walk and it did feel like the 16miles. Fantastic!
Day 2 - Colloa Pandebano-Terenosa -Bulnes-Puente del Zardo-Poncebos. (7 hours, 20.42km/12.69 miles, 1079m/3541 feet ascent) into the highs we climbed with stunning scenery.
Day 3 Fuenta De El Cable-Cdo De La Canalana-Pena Vieja-Cdo De La Canalana-Fuenta. 4 hours 46mins, 11.3km, a Swiss Alps experience, steady climbing and the descent into the valley with a well earned beer at the finish.
Day 4 - Fuenta De El Cable-Cdna De Las Nieves-Po De La Panierna-Jermosa Refuge-overnight in refuge. mb with epic views and challenges. (3 hours 32 mins) ohh what a climb to summit a great climb with ledges Loose shingle to make it more interesting !! Don't look down 🤣 This was my favourite climb with epic views and challenges but the sunset at refuge was well worth it .
Day 5 - Jermosa Refuge-Ode De Liordes-Fuenta De. (3 hours, 8.78km down down down ... watch your footing but you will not be disappointed. Hitting the lush green pastures at finish was so good.
A big thanks to Richard and of course the main man Felipe .. we climbed to the high and came back on a high .. until next year guys
Jimi
Holiday Itinerary
DAY 1 - The Garganta de Cares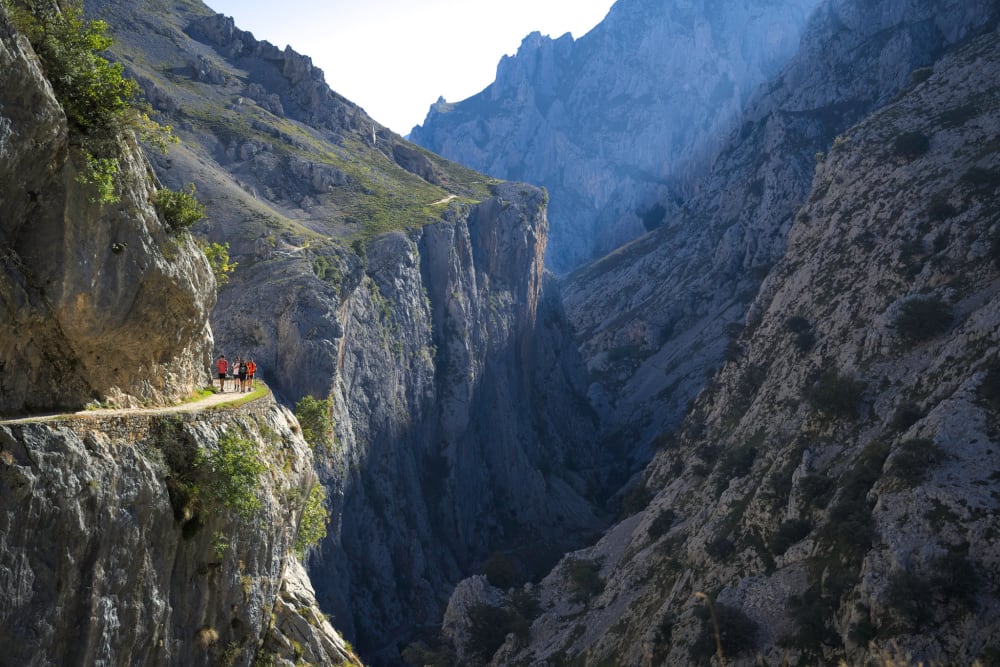 What the clients say ...
"This is an out and back route from Poncebos (26km), unless transport can be arranged at Caín de Valdeon (where there is a nice bar!). As it is "out and back" it gives the opportunity for a shorter day, which is nice if you just wish to sit and enjoy the gorge"
"The gorge is utterly spectacular and dramatic. An early start will reward when the light isn't so harsh."
View Full Screen Imagesopens in a new window
DAY 2 - Around Monte Camba, Sotres to Tielve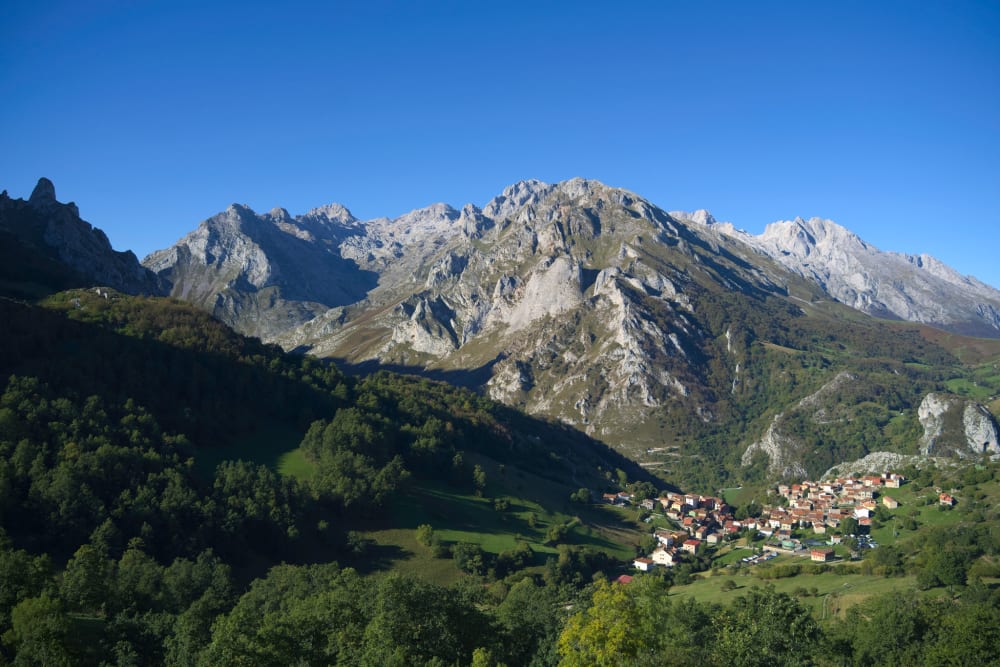 What the clients say ...
"We did this hike as the holiday weekend crowds had closed the road to the Urriellu area. This was an impromptu alternative. Glad we did it as it gave us a glimpse of pretty alpine meadows and sleepy hamlets with distant views to the dramatic Naranja de Bulnes and other peaks. Too hot to complete the circular from Tielve so we sat in a bar instead and had some cold drinks."
View Full Screen Imagesopens in a new window
DAY 3 - Cabaña Verónica and Torre de Horcados Rojos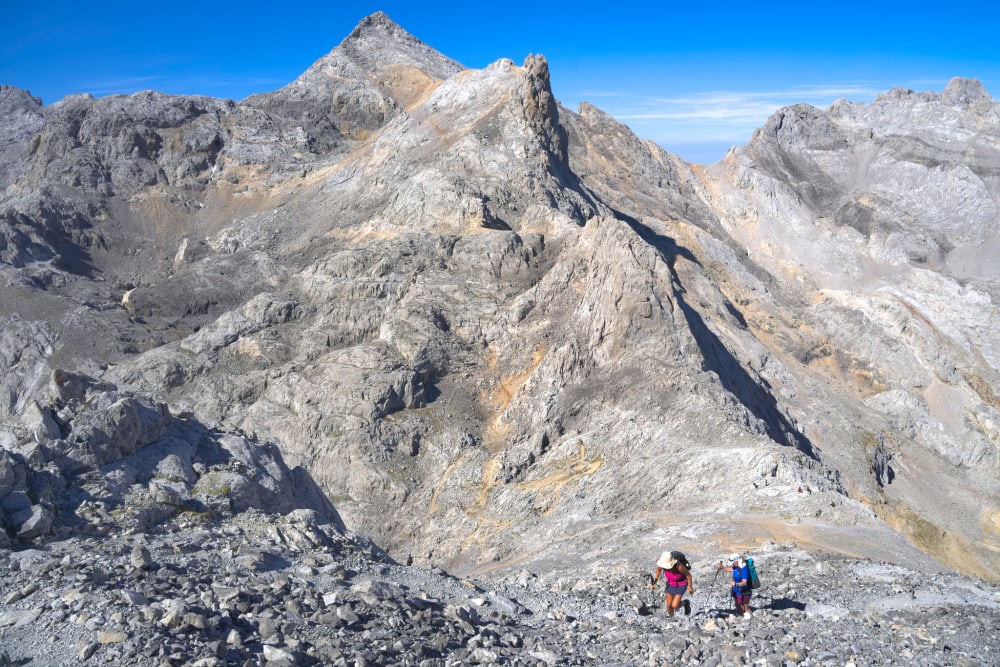 What the clients say ...
"We used the cable car from Fuente Dé for access to the high mountains. A spectacular hike to the remarkable Refugio Cabaña Verónica, perched precariously on a rocky ridge. Then a loose scramble up from a col to the fine summit off the Torre de Horcados Rojos (2503m), seemingly overlooking the world!"
Challenging Circular walk
View Full Screen Imagesopens in a new window
DAY 4 - To the Refugio Collado Jermoso (2067m)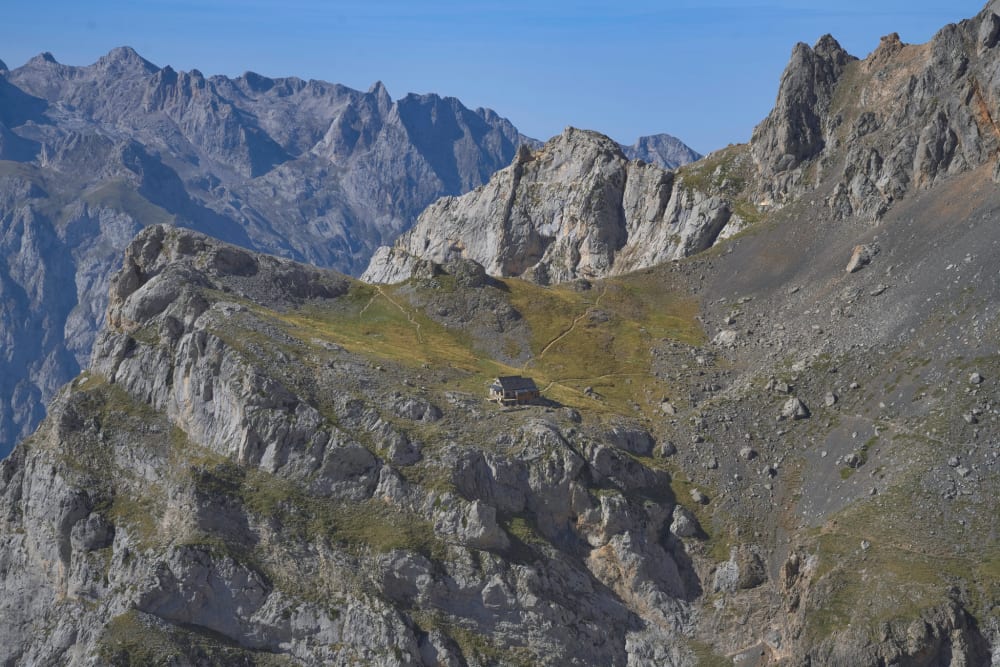 What the clients say ...
"From the top of the Fuente Dé cable car we had to hike 8km with 1000m of ascent over the mountains to the west, crossing the Colladina de las Nieves and the small passes at Las Colladinas. This is a very spectacular walk although care would be needed in mist as the trail is quite rocky. Arrival at the beautifully situated refuge is always a joy to behold."
"At the Refugio Collado Jermoso conditions were almost perfect for enjoying the beautiful sunset and stunning early morning cloud inversions. This is a beautiful mountain refuge if you ever get the opportunity to stay here."
View Full Screen Imagesopens in a new window
DAY 5 - Refugio Collado Jermoso to Fuente Dé via the Vega de Liordes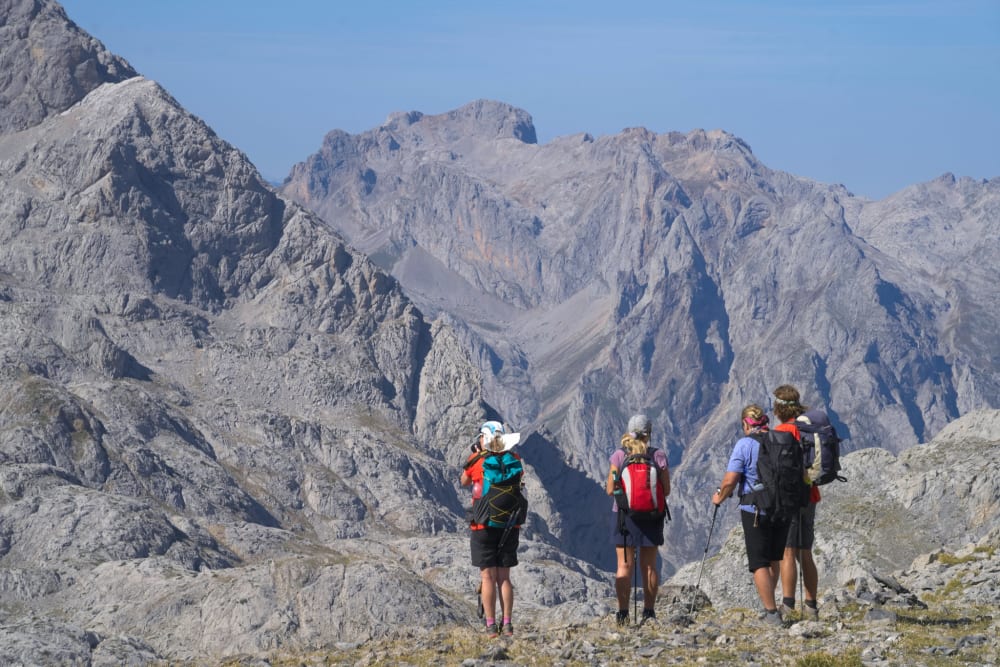 What the clients say ...
"A spectacular morning departure from the refuge with cloud inversion until this all cleared at the Las Colladinas. Then it was a rough descent to the green, lush valley of the Vega de Liordes. Beautiful views of the surrounding mountain summits. We past some ancient mines before descending the steep zig-zags back to Fuente Dé. How on earth did they make that incredible path?"
View Full Screen Imagesopens in a new window
Interactive map (opens new window)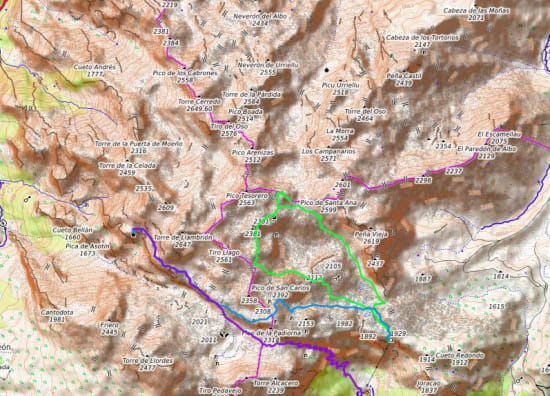 You may also be interested in?
Guided Trekking Tours in the Sierra Nevada, Spain
Sierra Nevada trekking holidays and tours inc Mulhacen, Veleta, ridge traverse, Siete Lagunas and high peaks. Day or multi day treks from Lanjaron, Capileira or Granada
Day walks in the Cumbres Verdes mountains near Granada
Various guided day mountain walks of all grades visiting the beautiful and varied Cumbres Verdes range just south of Granada
Guided Scrambling Sierra Nevada, Spain. Day scrambles or multi day
Our Scrambles in the Sierra Nevada and Andalucia offer some great mountain scrambling experiences in wild surroundings and dramatic situations
Guided Snowshoeing Tours Sierra Nevada, Spain
Guided Snowshoeing day or multi-day tours in the wonderful Sierra Nevada mountains by professional mountain guides? Snowshoes supplied. Try it, you will love it!
Day Walking Tours to mountain lakes of the high Sierra Nevada, Spain
Escape the heat! Join us for day and multi-day hiking trips to visit the beautiful, quiet summer mountain lakes of the Sierra Nevada