Wild, Dramatic Trek in the Picos de Europa
The trip starts in Asturias at Puente Poncebos, between the central and western Massif crossing the Cares Valley. We ascend through Cordiñales enjoying beautiful situations such as the Jermoso Col, Puertos de Avila and Vega de Urriello.
Then we glimpse the famous Naranjo de Bulnes mountain. We finish the tour in the picturesque village of Bulnes.
Perhaps the most classic and famous trekking in northern Spain
Alpine landscape with spectacular views
Wide network of mountain huts
When?
Prices
€690 per person (4 people) including guiding and 4 nights half-board accommodation in mountain huts (breakfast and evening meal)
Not included in the prices
Transfers from and to the airport to the starting point (Please ask if required)
First night accommodation before trekking
Beverages not included in the half-board menu
Any enforced circumstance due to unexpected incidents (weather etc) that require higher expense
Further Trek Information
We have several departure dates each month but can also adapt the trips to your own availability if necessary. Please do not hesitate to consult us if the dates do not fit in with you and we will try to figure something out
One week before the start of the trek you will receive further information about the meeting of your guide, his name and phone number
It is important to walk in comfort so a lightweight backpack is essential. 8kg max! Recommended that you carry only the essential material and clothing
It is not necessary to take a sleeping bag, just a silk or cotton sheet bag for the refuges
Trek Option
A very similar tour covering much of the same ground can be done in day trips and staying instead in clean and comfortable hotels in the lovely towns of Arenas de Cabrales and Potes. 1 night is necessarily spent at the Refugio Jeromoso.
See Trip Advisor report below for rough itinerary and details.
This the 3rd trip with Spanish Highs and again they never failed to take us to even more highs.
Day 1 was the beautiful Poncebos-Cares Gorge-Cain-Cares Gorge-Poncebos. (6 hours 10 mins, 26.9km/16.72 miles). We all thoroughly recommend this walk and it did feel like the 16miles. Fantastic!
Day 2 - Colloa Pandebano-Terenosa -Bulnes-Puente del Zardo-Poncebos. (7 hours, 20.42km/12.69 miles, 1079m/3541 feet ascent) into the highs we climbed with stunning scenery.
Day 3 Fuenta De El Cable-Cdo De La Canalana-Pena Vieja-Cdo De La Canalana-Fuenta. 4 hours 46mins, 11.3km, a Swiss Alps experience, steady climbing and the descent into the valley with a well earned beer at the finish.
Day 4 - Fuenta De El Cable-Cdna De Las Nieves-Po De La Panierna-Jermosa Refuge-overnight in refuge. mb with epic views and challenges. (3 hours 32 mins) ohh what a climb to summit a great climb with ledges Loose shingle to make it more interesting !! Don't look down 🤣 This was my favourite climb with epic views and challenges but the sunset at refuge was well worth it .
Day 5 - Jermosa Refuge-Ode De Liordes-Fuenta De. (3 hours, 8.78km down down down ... watch your footing but you will not be disappointed. Hitting the lush green pastures at finish was so good.
A big thanks to Richard and of course the main man Felipe .. we climbed to the high and came back on a high .. until next year guys
Jimi
Trek Itinerary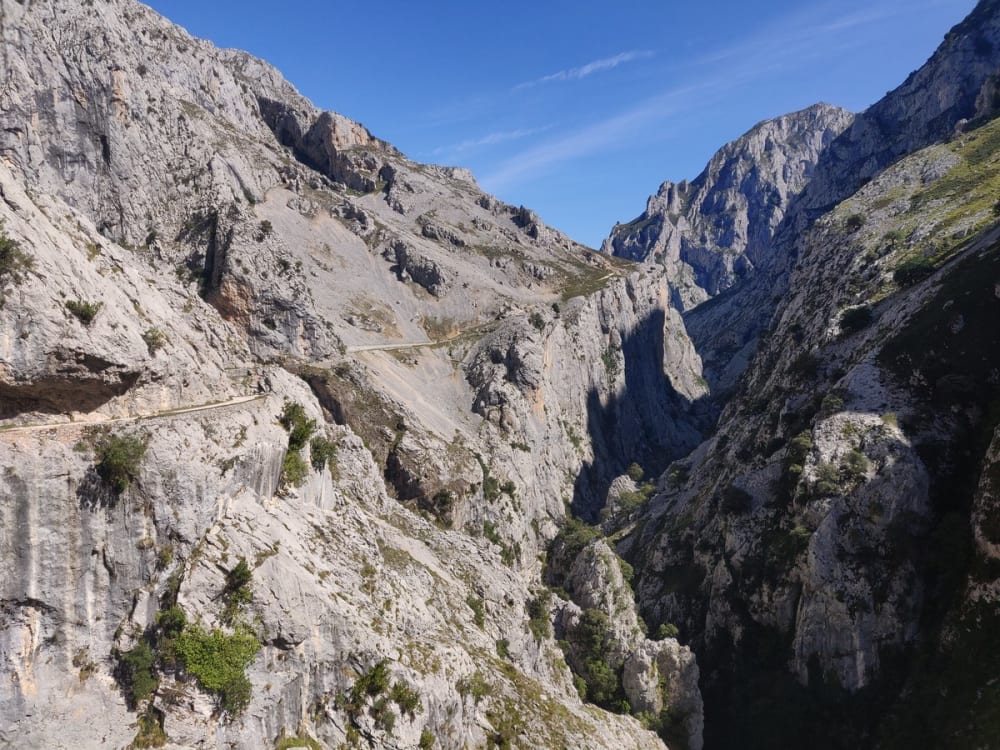 DAY 1 Puente Poncebos - Cares route - Caín - Cordiñanes
Start of the trekking. There is nothing like starting our trip in one of the most famous gorges in the Picos de Europa, the Cares 460m. This gorge has huge limestone walls eroded by the force of the river. Today we ascend to Cordinales at 860m
Interactive Map & Route Data
Cares route
Moderate Linear walk
Interactive map below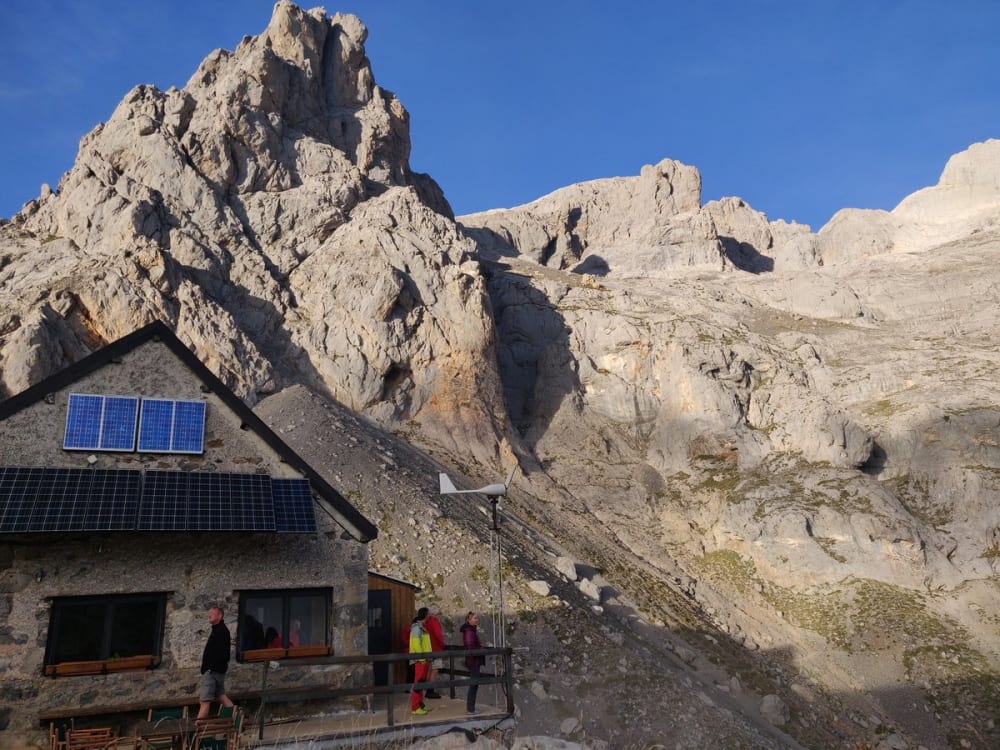 DAY 2 Cordiñanes - Refugio Jermoso Col
We will ascend through Canal de Asotín to reach the Refugio Jermoso Col 2067m. Spending the night in this special place is something that we will always recommend.
The Friero Tower (2.440 m) accompanies us in our ascent and the amazing views will more than compensate for the effort involved.
Interactive Map & Route Data
Refugio Jermoso
Challenging Linear walk
Interactive map below
DAY 3 Refugio Jermoso Col (2067m) - Hotel Refugio de Aliva (1666m)
Today we will move towards Colladinas, Llagu Cimero, south of Madejuno Tiro Llagu and passing through Vega Liordes.
We will flank the top of Fuente Dé to reach the southern Wall of Peña Olvidada and Peña Vieja.
Interactive Map & Route Data
Refugio Alvila
Moderate Linear walk
Interactive map below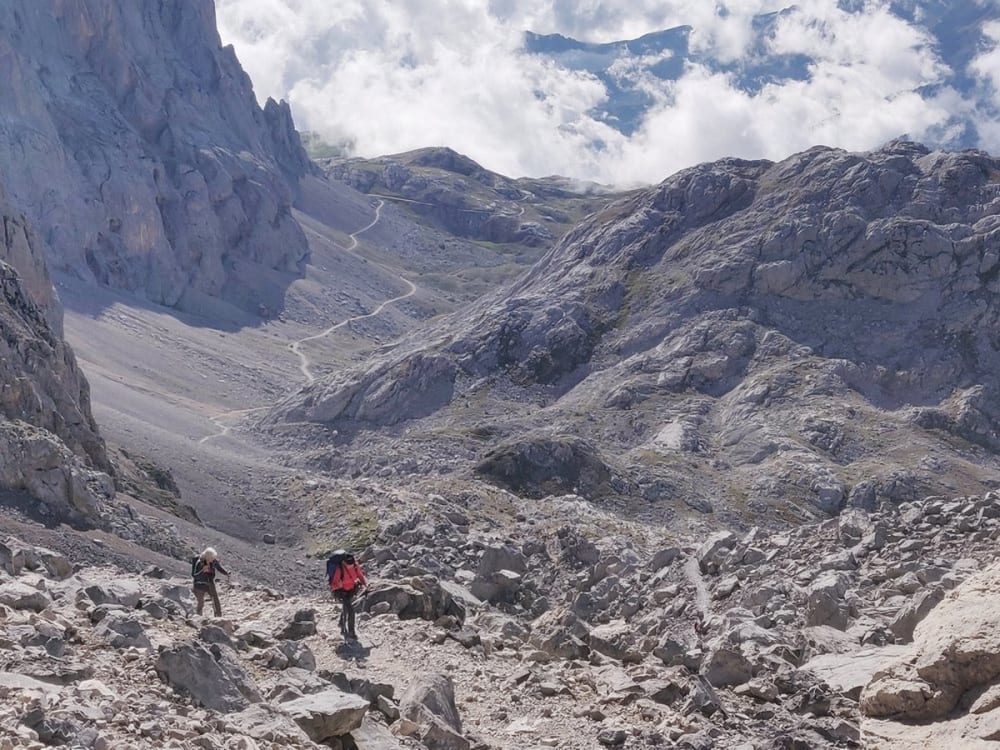 DAY 4 Hotel Refugio de Aliva (1666m) - Refugio Vega de Urriellu (1960m)
Leaving a landscape of green pastures we ascend towards Horcados Rojos to contemplate the rocky landscape, a desert of rocks, chasm and sumps which will guide us to Vega Urriellu.
From this point we should see the west and north face of the Naranjo de Bulnes, and enjoy the good atmosphere of hikers and climbers that flock to this emblematic place. If there is snow in Horcajos Rojos we could decide to pass through a more accessible col.
Interactive Map & Route Data
Vega de Urriellu
Challenging Linear walk
Interactive map below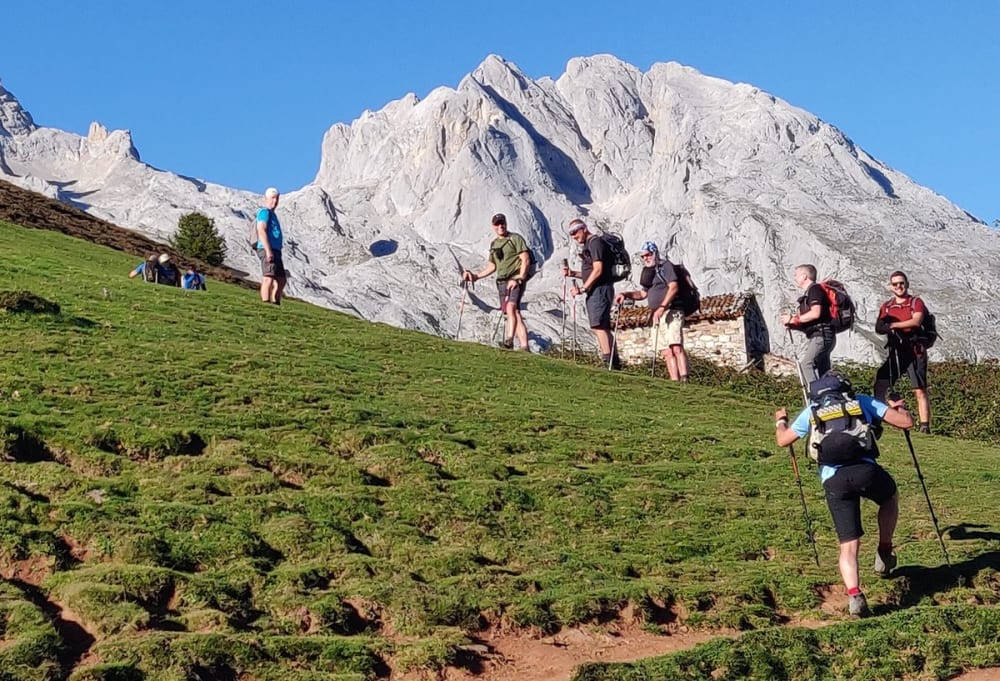 DAY 5 Refugio Vega de Urriellu (1960m) - Bulnes (647m) - Puente Poncebos
We will finish the route descending towards the village of Bulnes, which can only be reached by foot of by a rack railway from Puente Poncebos. This is where the trek will end.
N.B The last day will finish between 16:00-17:00 so you have time to make the return trip.
Interactive Map & Route Data
Puente Poncebos
Challenging Linear walk
Interactive map below
Interactive map (opens new window)
You may also be interested in?