La Palma - a mini Continent and dream destination for hiking holidays
La Palma is still to many one of the more unknown Canary Islands and situated in the most Northwestern corner of the archipelago.The surface of this pear shaped island, is about one third of Tenerife, but La Palmas altitude compared to its surface is spectacular with the top of Roque de Los Muchachos at 2426 metres. The North to South mountain ridge (Cumbre) divides La Palma in a more humid East side and a dryer West side. Reason for this are the Northeast trade winds. All these geological and meteorological aspects make La Palma into an island of incredible diversities.
La Palma in a geological sense, is the second youngest island of the Canaries, with an age of less than two million years. This means that the island is still under construction. The last three volcanic eruptions took place in 1949 - 1971 and the last one lies still freshly in our memories...2021.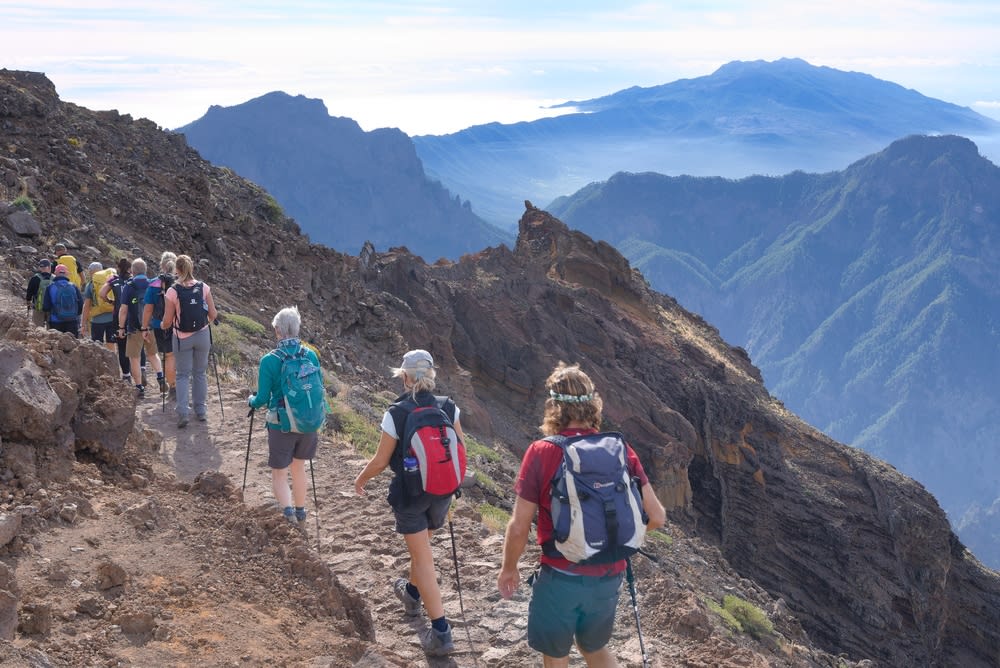 Around the rim of the Caldera de Taburiente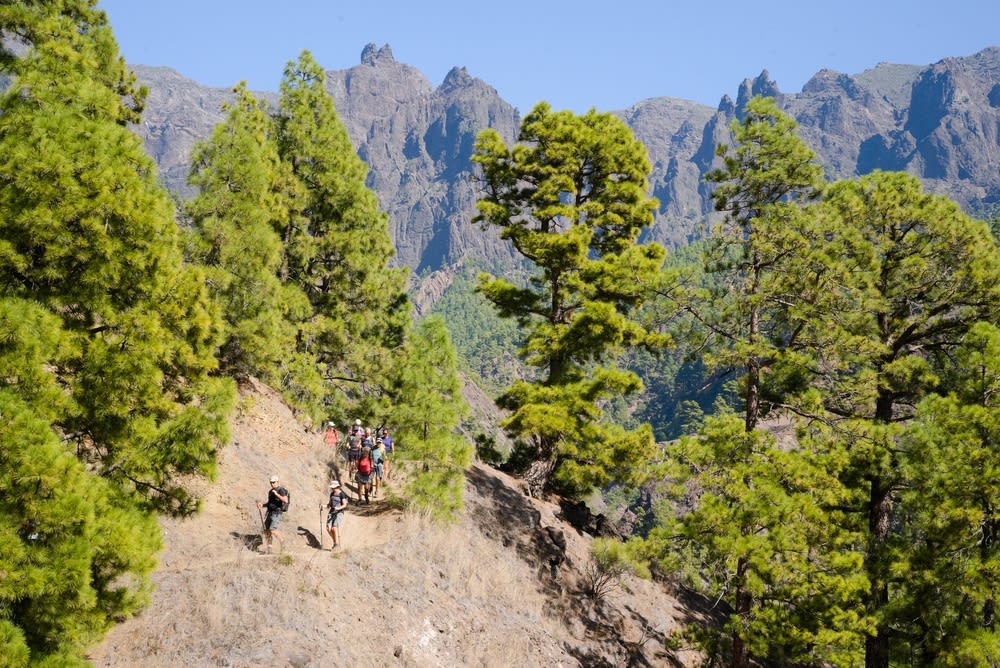 Forests of the Ruta Angustias
This might mean to some a too adventurous destination... But lets stick to the facts. None of La Palmas eruptions have ever been a threat to its people, nor to tourism and let us not forget that volcanology gave La Palma its very existence and beauty.
Walking La Palma makes you want to stand still, to look around and take it in. Mountainous, deep canyons, rugged coastlines, green forests, black beaches and the blue ocean around it. National Park Caldera de Taburiente, situated in one of worlds largest erosion craters, Nature Parks and many places of scientific interest, as well as protected marine areas along its coasts and a official protected Night Sky Reserve above, show how acknowledged its beauty is and the necessity of protecting it.
The five walks we offer will be lead by La Palma experienced guides, with great knowledge about and love for the Island. They will show you every corner of the island and each of its five different vegetation levels. Volcanic areas and old lava flows in the South, subtropical rainforest in the Northeast and subalpine near to La Palmas most important observatory of the Northern hemisphere.
We offer guided walking holidays here in November and January. In our opinion these are optimum times to visit with plenty of winter sunshine and mild temperatures giving ideal hiking conditions.
We hope we've tickled your curiosity and imagination and that you will join us on an unforgettable walking experience.
The range of walks were expertly and supportively led by Jill and Pete, who worked tirelessly to ensure we each had the opportunity to experience and fully enjoy the range of delights the island has to offer. The hotel was fantastic! We enjoyed going to sleep listening to the sea, and waking to the view of the sun rising behind Mount Teide. The staff of the hotel and our bus driver were really friendly and helpful. The food was delicious, plentiful and varied. We will definitely be going back again.
Kath PowisMore Reviews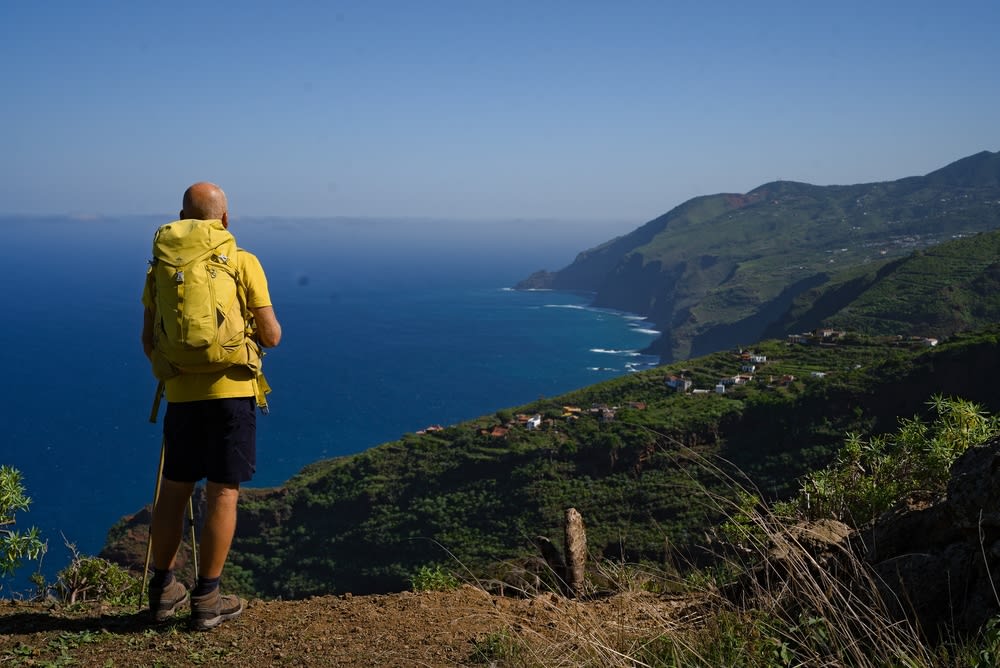 Coastal scenery near El Tablado
Ascending Volcan de la Deseada
The hotel was perfect as a base for exploring. as well as relaxing after each day. The guides knowledge, skill, and enthusiasm for island was infectious, with all the hikes offering different experiences and perspectives. There was such attention to detail; from the fantastic bus driver, to places to have breaks for lunch. For a winter hike, in glorious sunshine, dramatic landscapes, you would be challenged to find a better place to go than La Palma, with Peter and Jill as your guides
Stewart ThomsonMore Reviews
Gallery - La Palma
View Full Screen Imagesopens in a new window
Your Accommodation
Hotel Las Olas is situated in the holiday village/urbanisation of Los Cancajos, just south of capital Santa Cruz and just north of the airport. A very good hotel, with friendly management. There are supermarkets near the hotel for people to buy their food and drinks for during the walks.
There is a great choice of food for both the buffet breakfasts and evening meals. Our clients really rate this hotel and it is just 5 minutes drive from the airport. The rooms are very clean and really well furnished. There is a large swimming pool for use of guests.
Really enjoyed our hiking in la Palma, so varied and interesting. Highlight for us was the Ruta de los Volcanes, followed by the walk around the Caldera de Taburiente. Amazing to walk across lava fields. Las Olas Hotel is perfect, couldn't fault it. Pete and Jill were the perfect guides, knowlegeable and interesting. Thanks to all involved, we shall return
Kiersten Rowland, SpainMore Reviews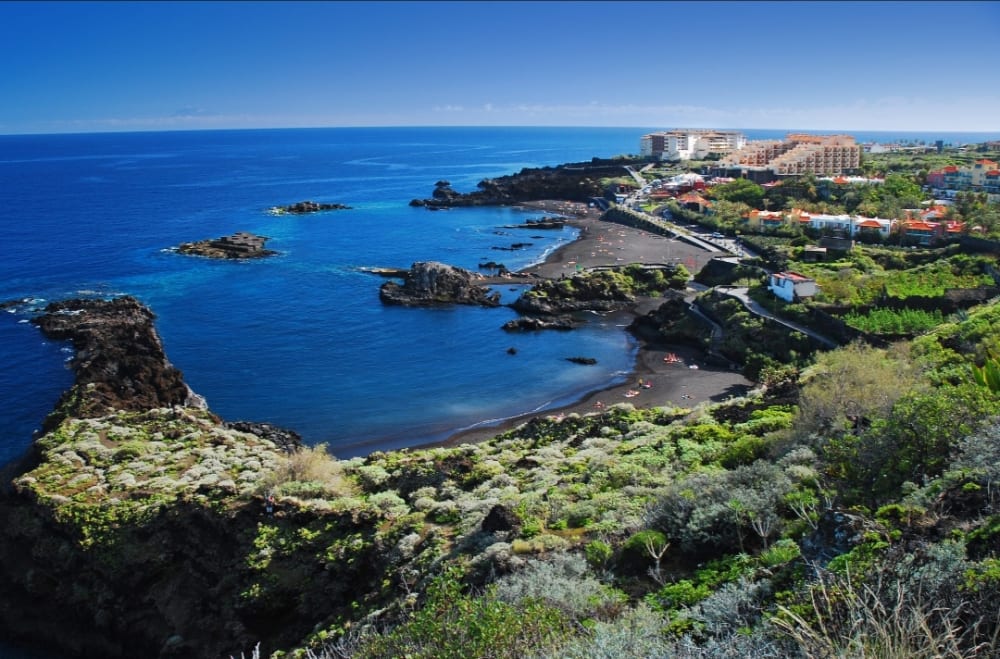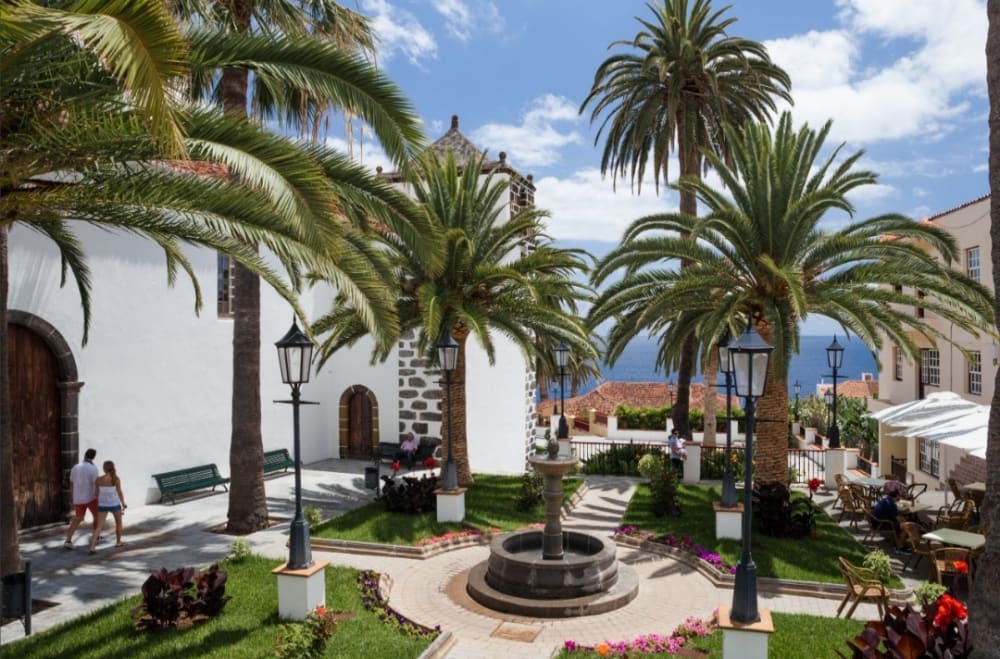 Your Guides
Jill Pinkerton and Peter van der Mussele have guided groups on most of the Canary Islands including Gran Canaria, Tenerife, La Gomera, Lanzarote and on Isla Bonita (La Palma). They have an excellent knowledge and understanding of the archipelago.
Jill Pinkerton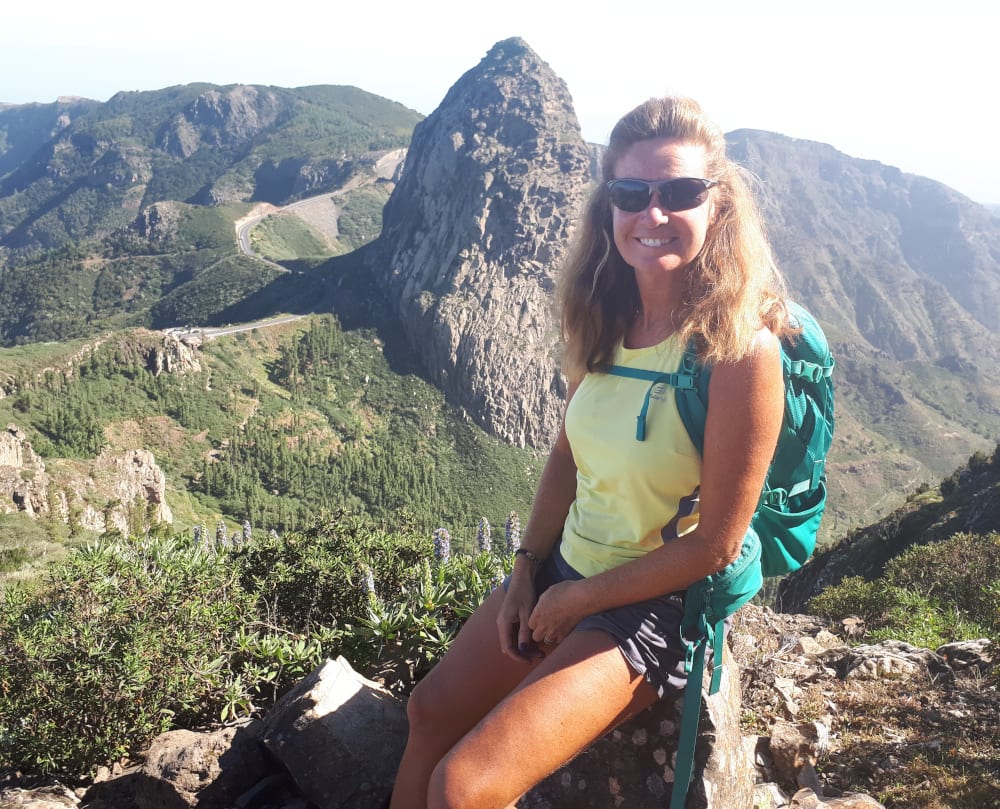 From a very early age Jill discovered her love of the great outdoors and being in the mountains which led her to pursue a very active career in a variety of outdoor education and personal development leadership roles.
She is a qualified Mountain Leader and has been leading guided walks, treks and expeditions for over 30 years. Jill has guided groups in the UK, across Europe and in Nepal. Her love of the sun and good life led her to emigrate to mainland Spain during the recent pandemic where she lives with Pete and their 58 olive trees.
Jill immediately fell in love with La Palma on her first visit and lived there for 16 months.
Peter van der Mussele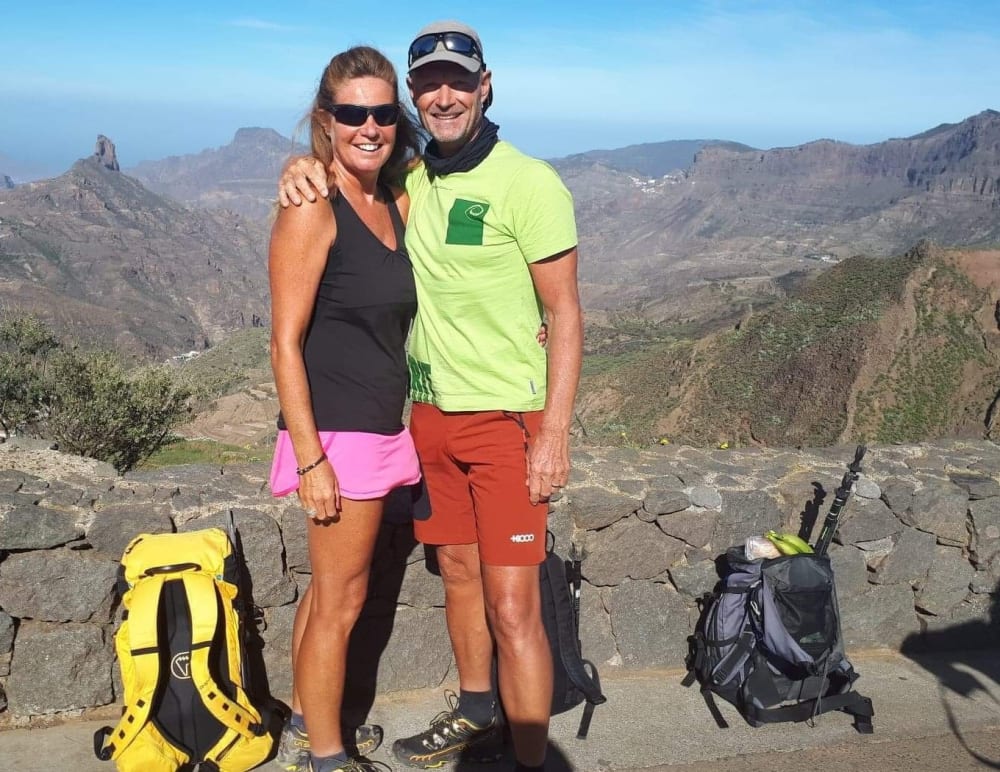 Pete is Dutch, and however flat Holland may be, his whole life he has had his connection with the outdoors and the mountains. Apart from having had mountain training in Scotland and Norway, he followed several courses with the Dutch Mountaineering club.
Pete has lived for sixteen years on the Canary Island of La Palma, where he worked guiding hiking groups in four different languages. At the moment he lives on the mainland of Spain together with his wife Jill and their cat.
Often it's the details that make an experience memorable, and every detail was carefully considered and managed on the La Palma walking week. Jill and Pete clearly devoted themselves to choreographing a memorable experience; from finding the best hotel for our needs-the location, the facilities, and the food were all top notch. The bus driver who got us safely to our start each day while navigating scenic, and at times challenging routes, was another pleasant piece of a carefully crafted adventure. The walks were chosen with care in order to take in each of the varied environments on the island, each building on the other until we had a complete understanding of the history and rich geological makeup of La Palma. The walking routes were challenging but manageable, and always with dramatic views. Pete and Jill were skilled at sharing information about the island from ancient history to more current events and even a few legends
Laura Collins, PortugalMore Reviews
Itinerary - Walking on La Palma
Day 1
Arrival at the international airport of Santa Cruz de La Palma. From here your transfer will bring you, during a five minute drive, to your hotel, where you'll be welcomed by your guides Jill and Pete. They will show you the hotel and take you to your room. Later that day, before dinner, there will be a briefing.
Walk 1 - Rim of the Caldera de Taburiente
RIM OF THE CALDERA DE TABURIENTE
To get to the starting point of this spectacular walk you'll be taken up by private bus from sea level and through all five different vegetation levels, to the highest peak of the island (Roque de Los Muchachos). From here we first walk over a viewing point and later along the highest rim of the Island.
After visiting the superb viewing platform of the Espigon del Roque (2382m), we shall cover the peaks of Roque de los Muchachos (2426m), Pico de la Cruz (2351m), Piedra Llana (2314m) and Pico de la Nieve (2232m) before dropping down to a meeting point with the bus. This whole rim of the Caldera gives relatively easy walking on good, but sometimes rough paths with always spectacular views on the right hand side down into the crater.
This is a superb first day walk which will help orientate you to the island. It will give us a birdsview over La Palma all the way over to the neighbouring islands of Tenerife, La Gomera and El Hierro. The National Park of Caldera de Taburiente and it's huge crater will be at our feet.
Top of the Island
Moderate Linear walk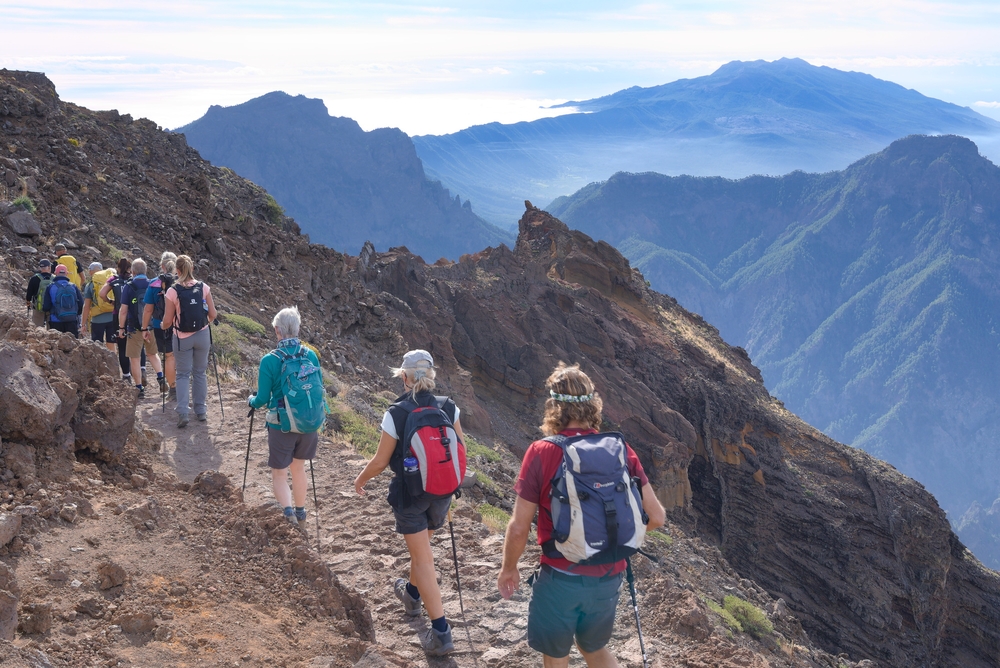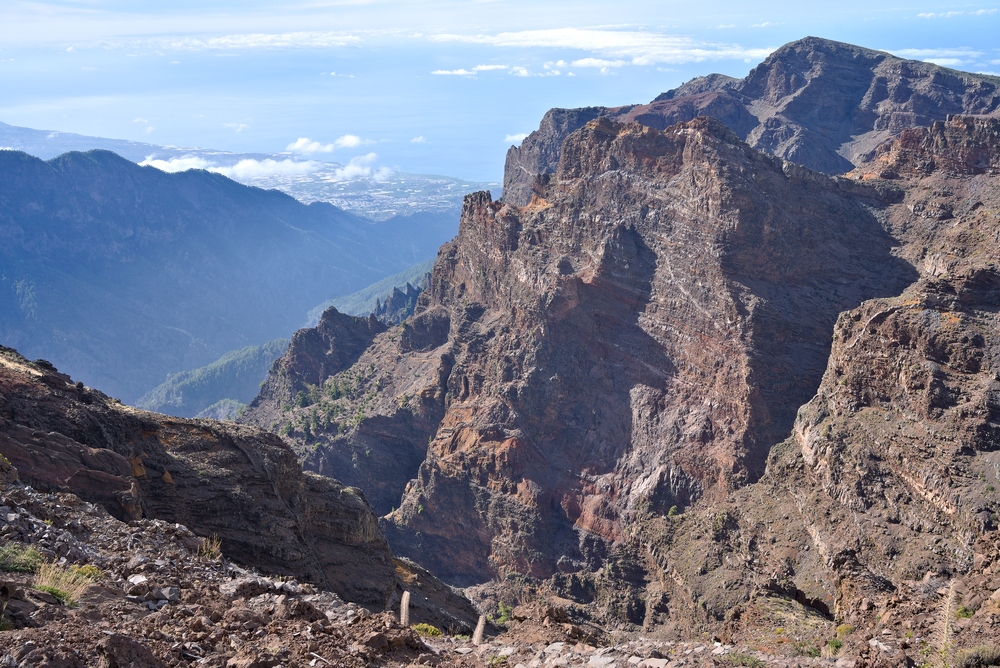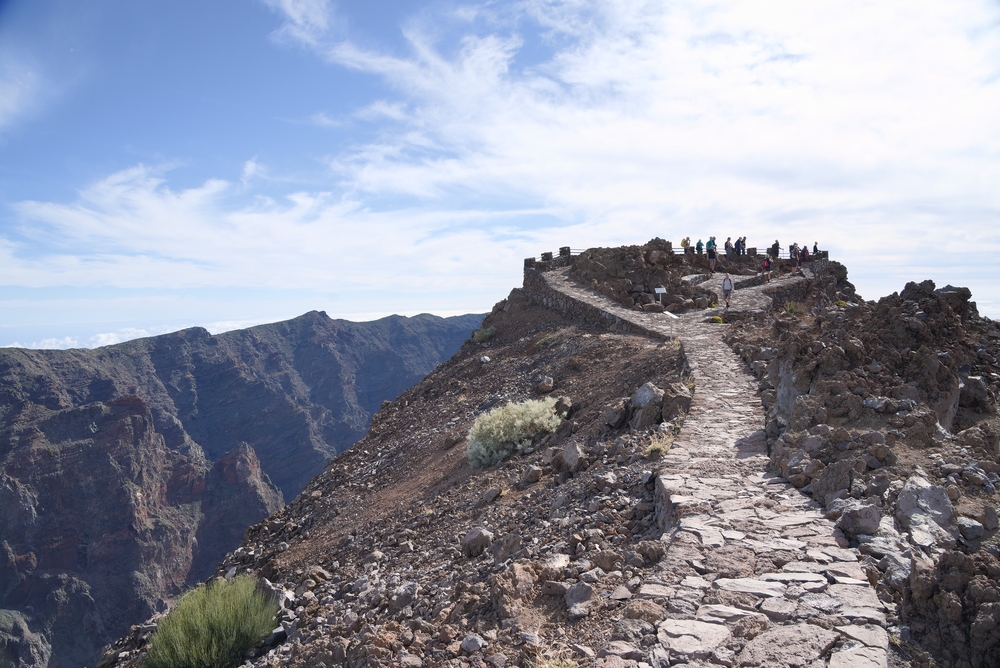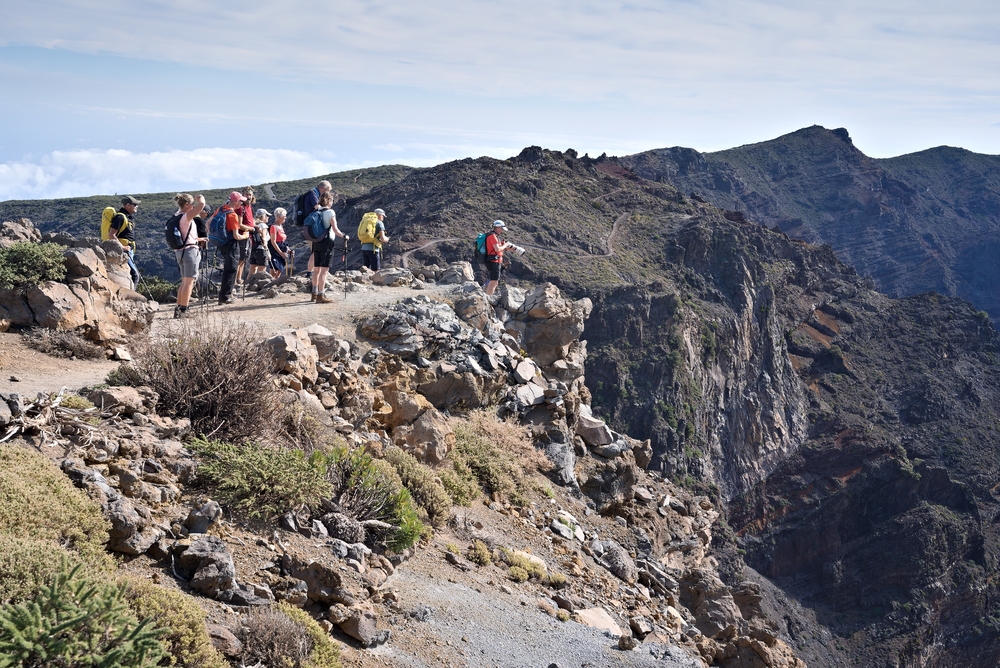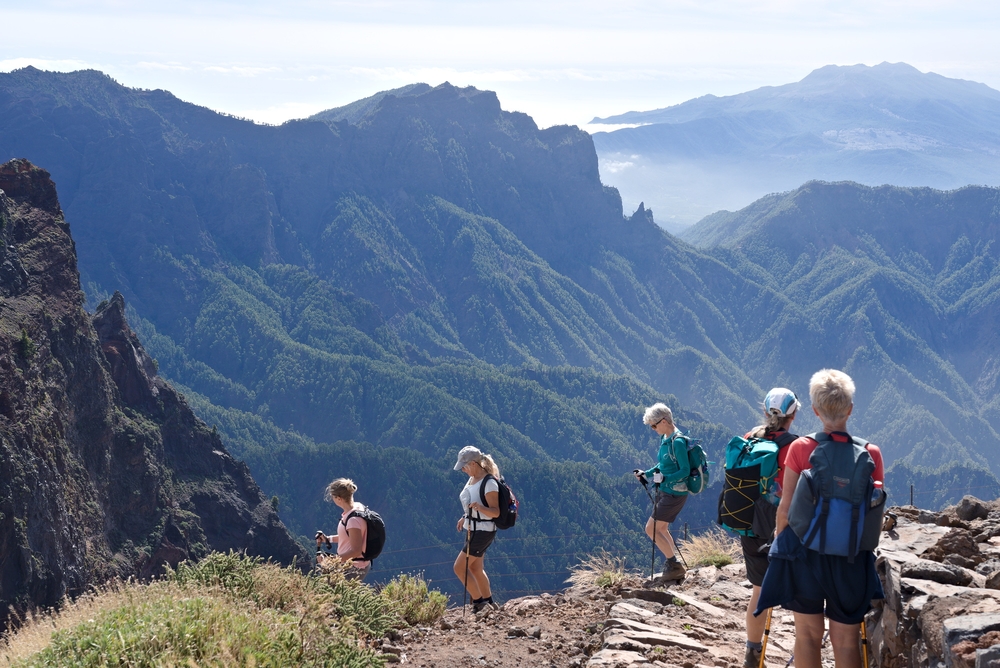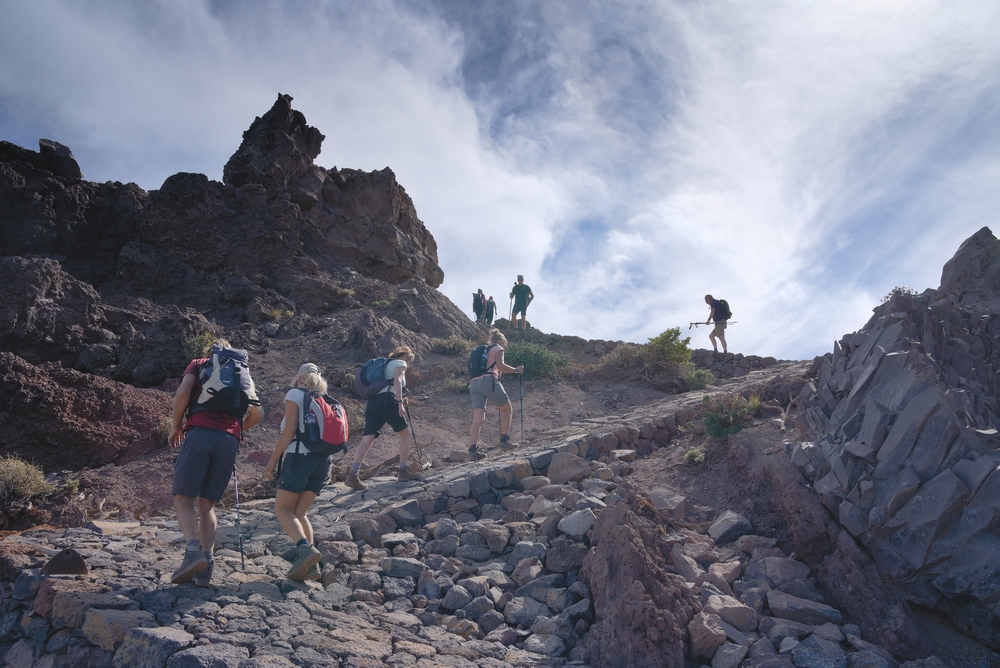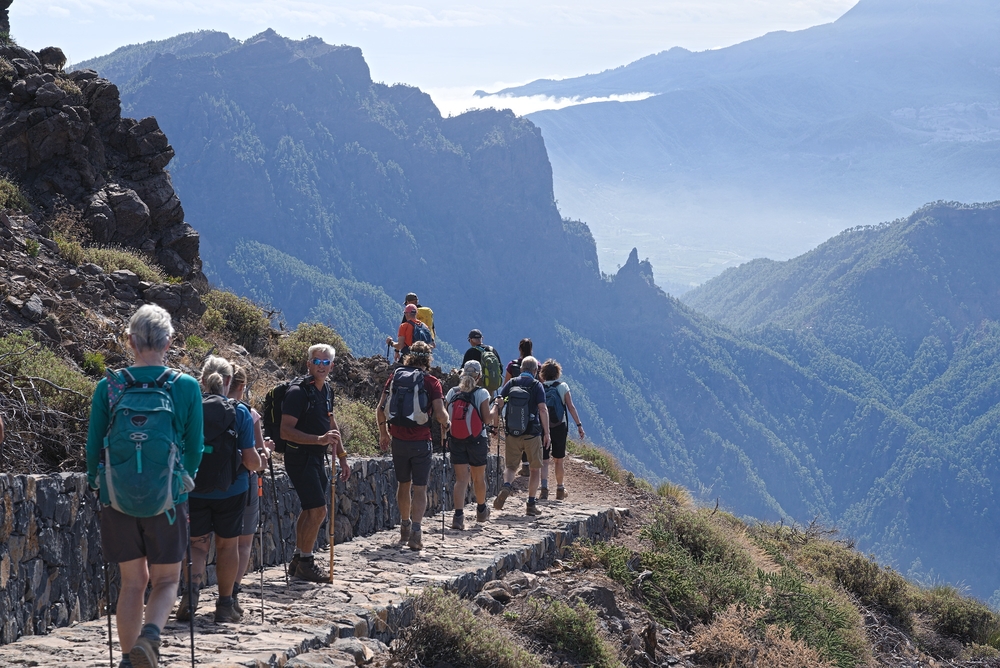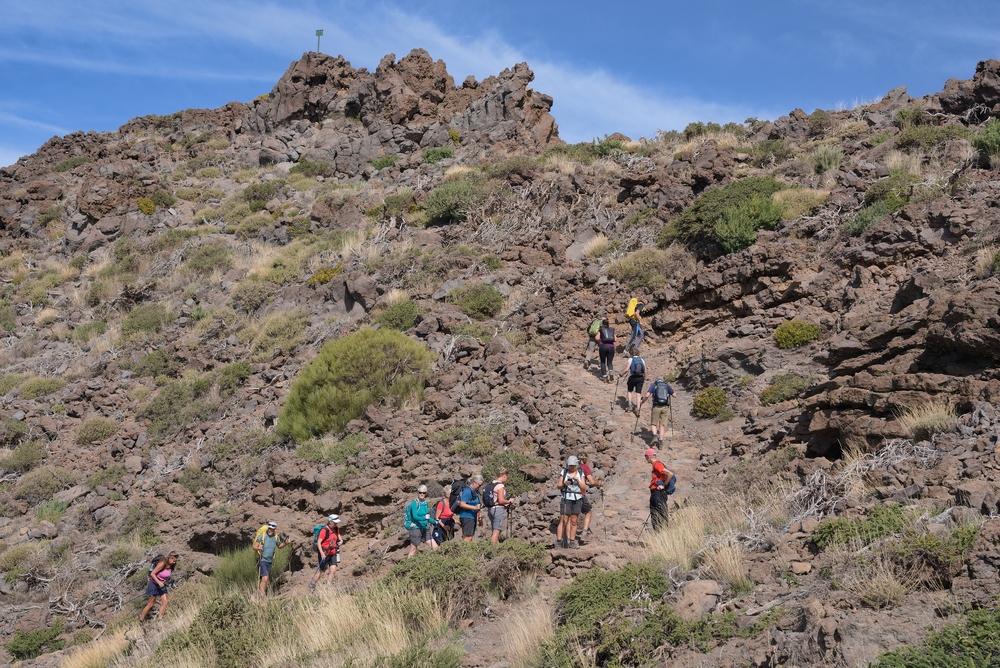 Walk 2 - Ruta de los Volcanes
RUTA DE LOS VOLCANES
In our opinion this walk this is a highlight of the island. It visits lots of extinct volcanoes along the central rim of Cumbre Vieja. Just an incredible days hiking in spectacular scenery that is just so unusual and outside of most peoples experience. A "must-do" walk!
We start at the visitor center at "Area Recreativa El Pilar". From here we skirt Pico Birigoya and rise slowly through the trees until we reach the huge crater at Hoya Negro and Pico Nambroque, which exploded in 1949.
Then its onto view the huge lava fields of Maltorada before climbing to the crater and peak of Volcan de la Deseada (1945m). From there a gentle descent past Volcan Cabrito brings us to the crater of Volcan Martin (1529m). We descend through sandy lava fields on good tracks to our waiting transport at the Refugio Fuente de los Roques.
Ruta de los Volcanes
Challenging Linear walk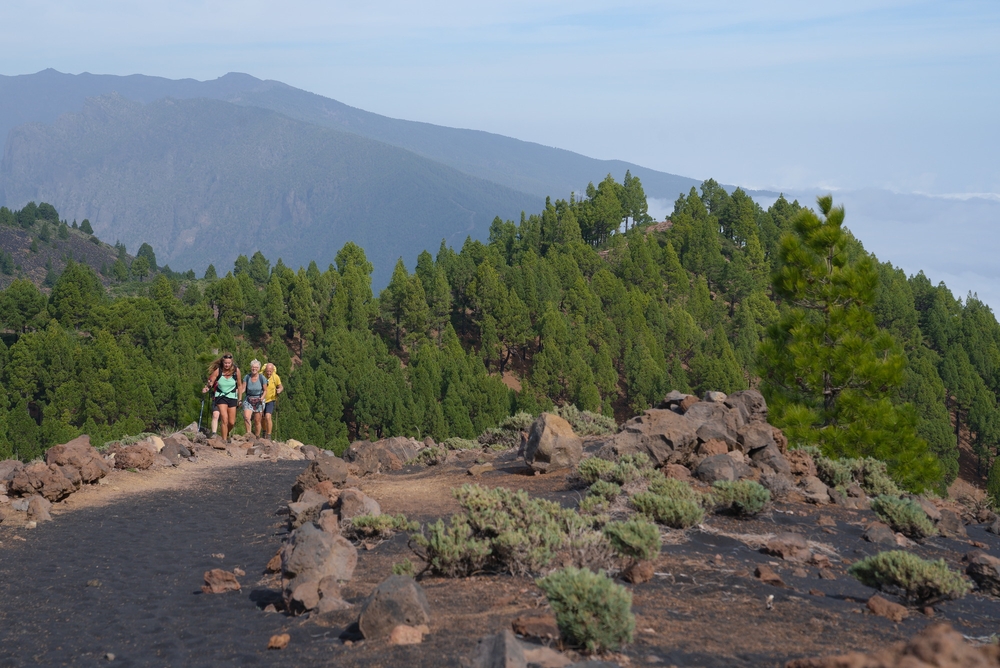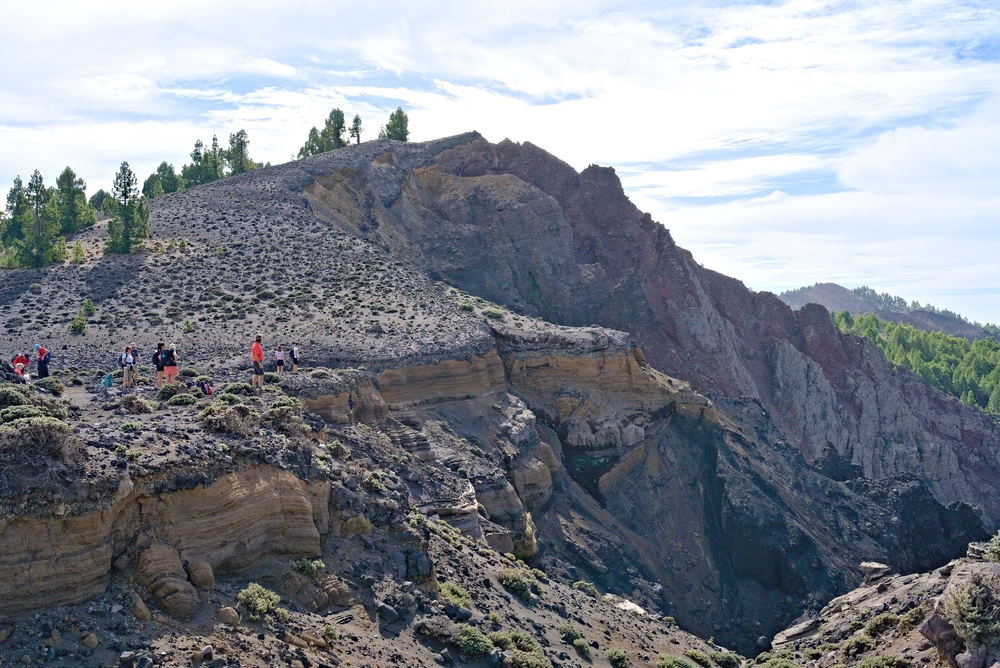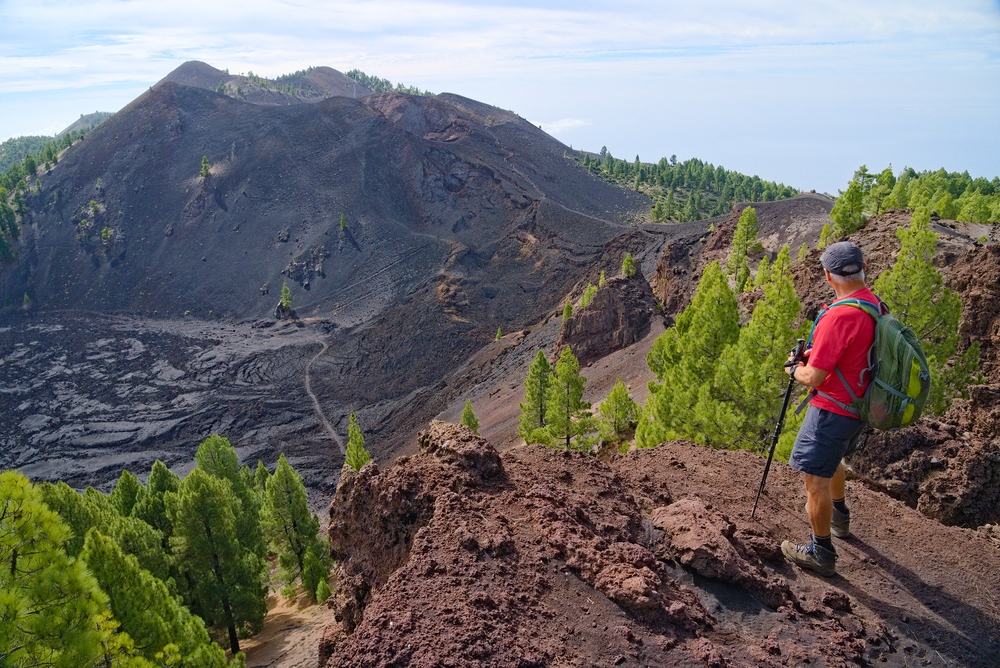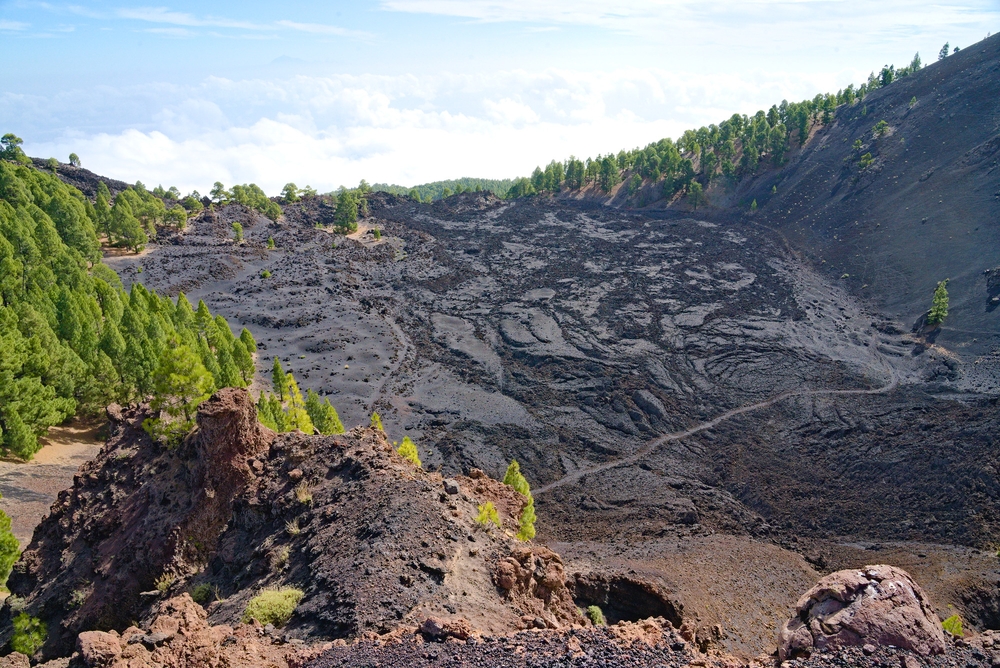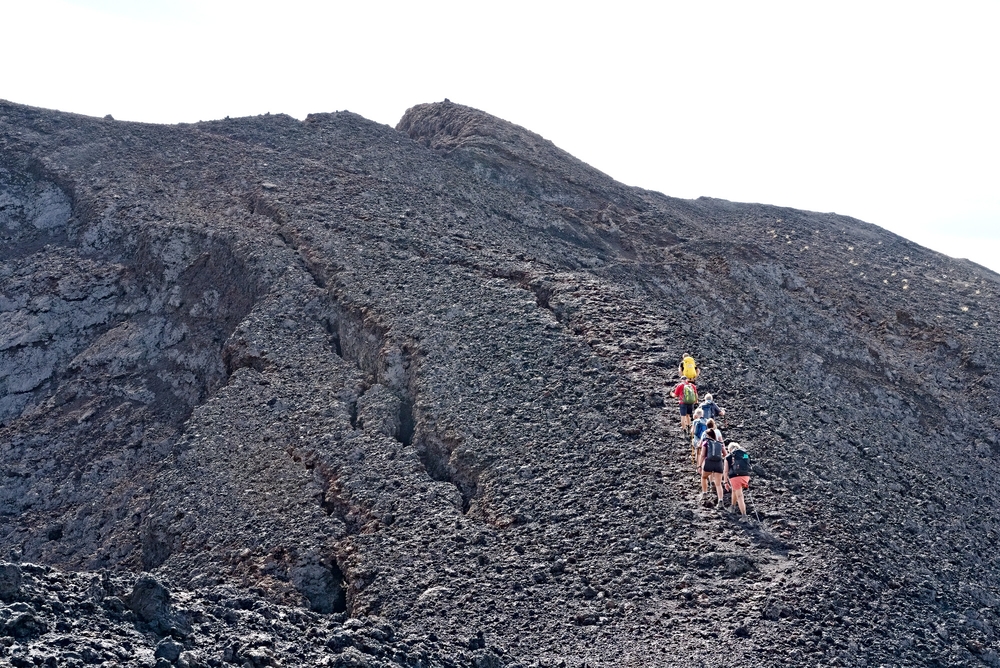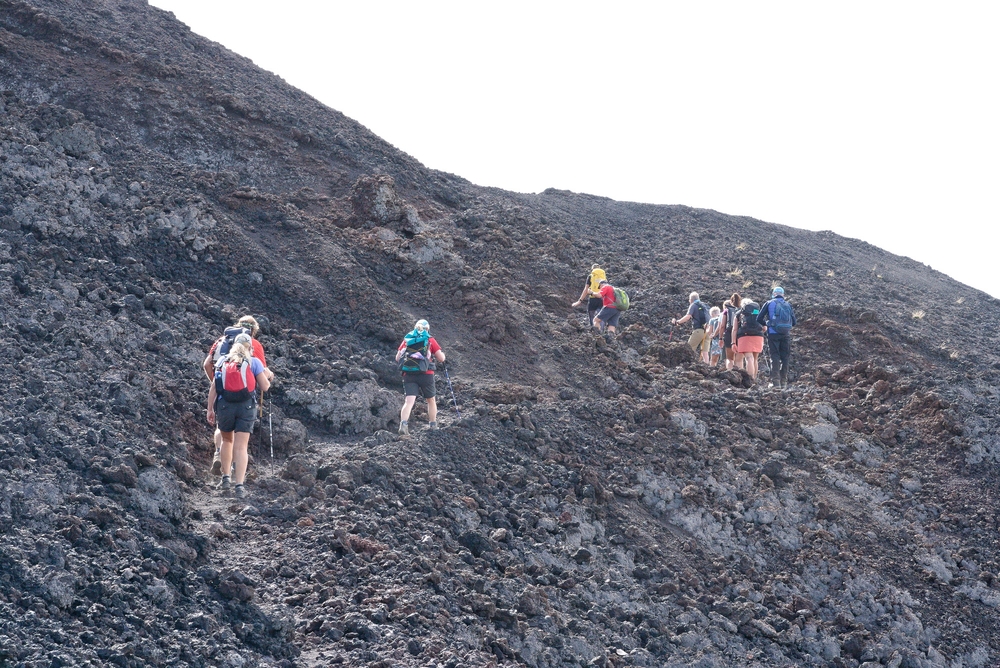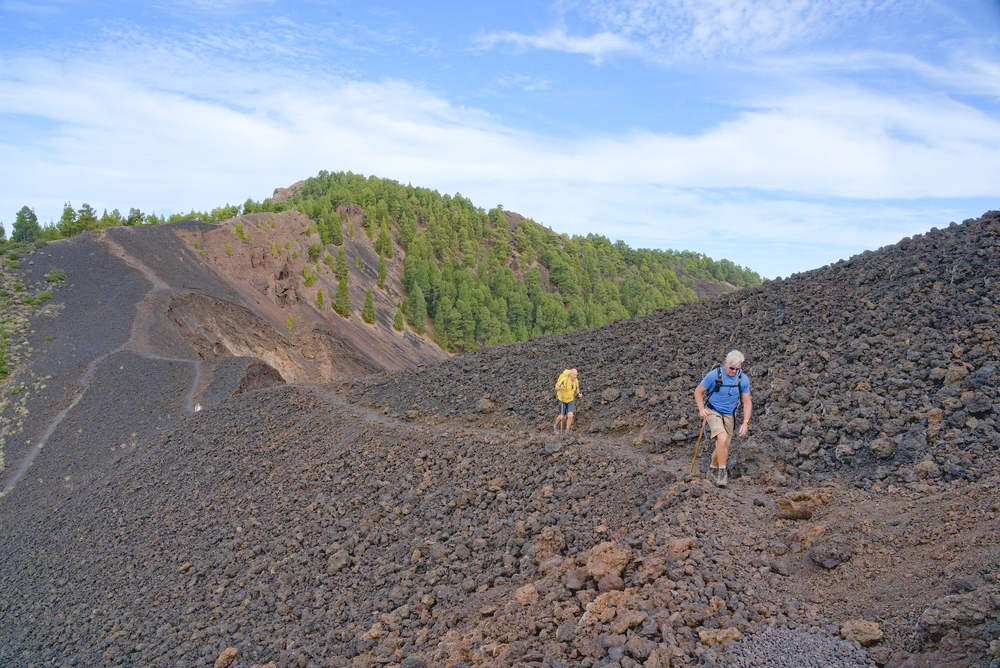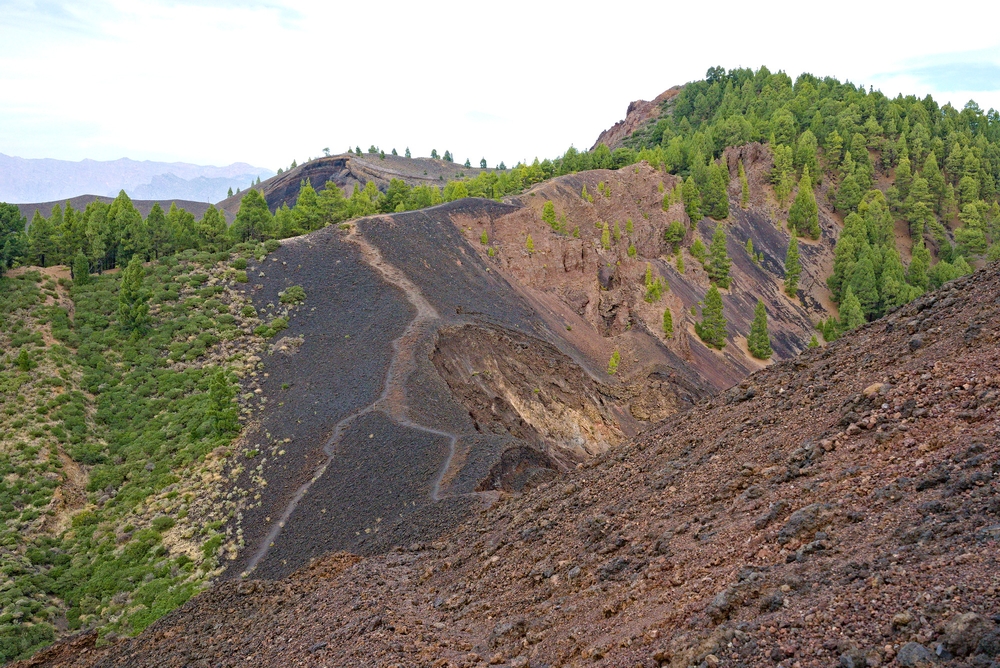 Walk 3 - Caldera Taburiente & Ruta Angustias
CALDERA TABURIENTE AND RUTA ANGUSTIAS
Another spectacular transfer takes us to a magnificent viewpoint right into the huge erosion crater of the National Park. The steep windy road zig zags continuously up the gorge to arrive at the Mirador de los Brecitos (1030m).
We leave the bus here and walk down into the very heart of the crater on superb paths surrounded by steep walls. Around and above us rise the peaks along the rim of the Caldera de Taburiente that we visited on our first hike. Truly dramatic scenery!
We arrive at the "Playa de Taburiente" where we can take a lunch break and admire the scenery. Then its down through steep forest tracks to join the river at the Barranco de Angustias. Once down we have the option to visit the "waterfall of colours" and then we follow the valley downstream through the gorge of Angustias to the finish.
Caldera de Taburiente
Moderate Linear walk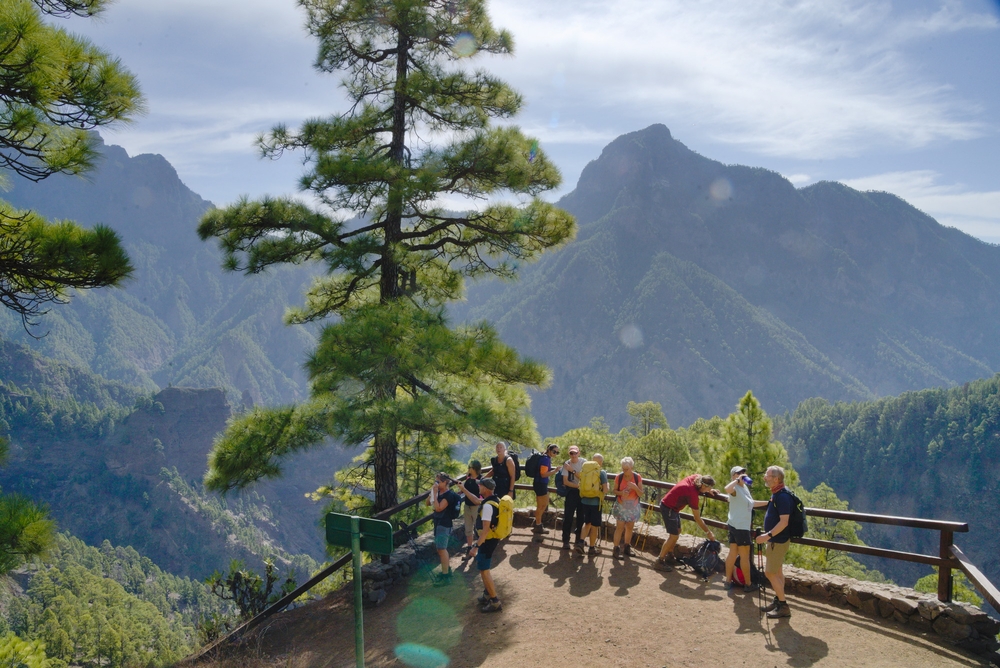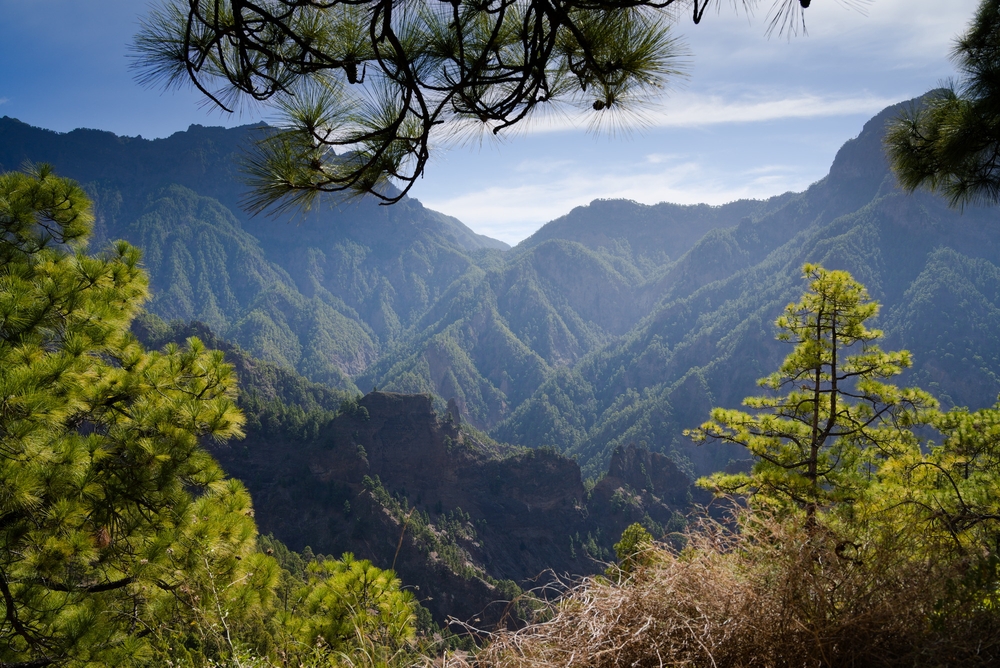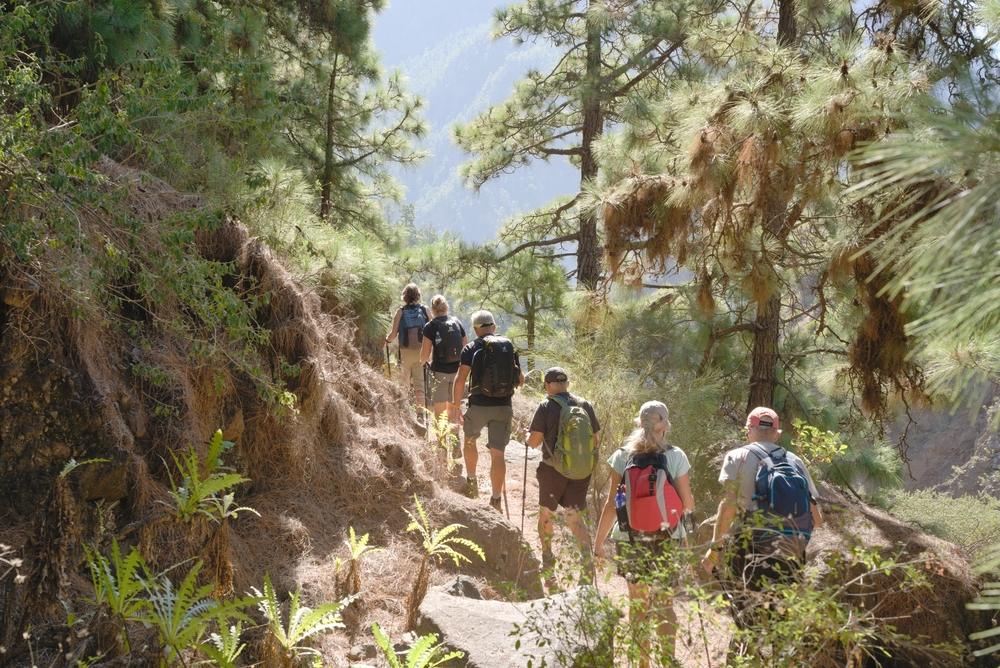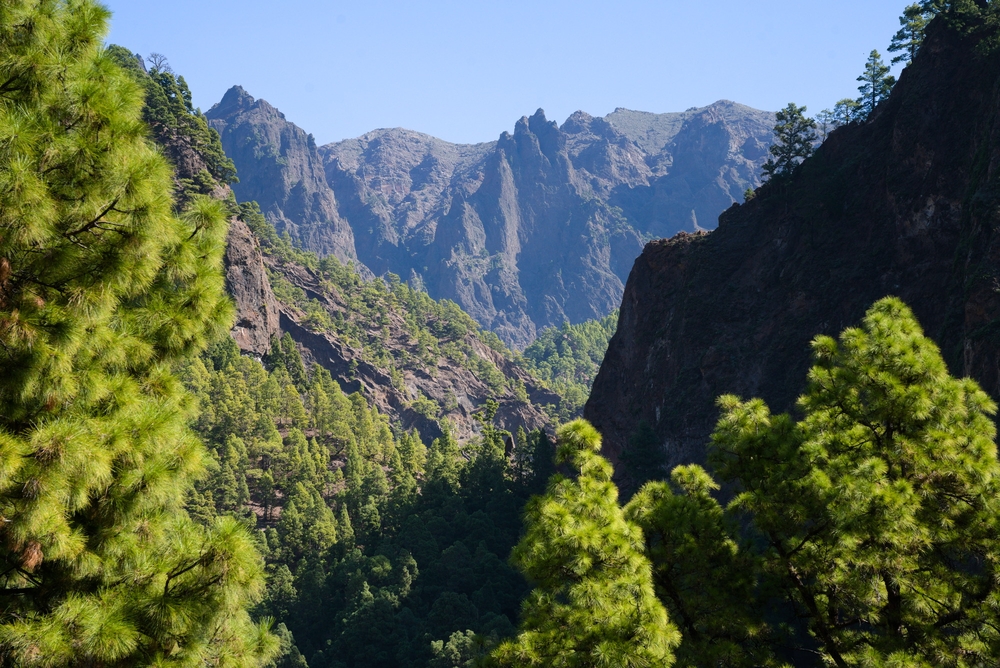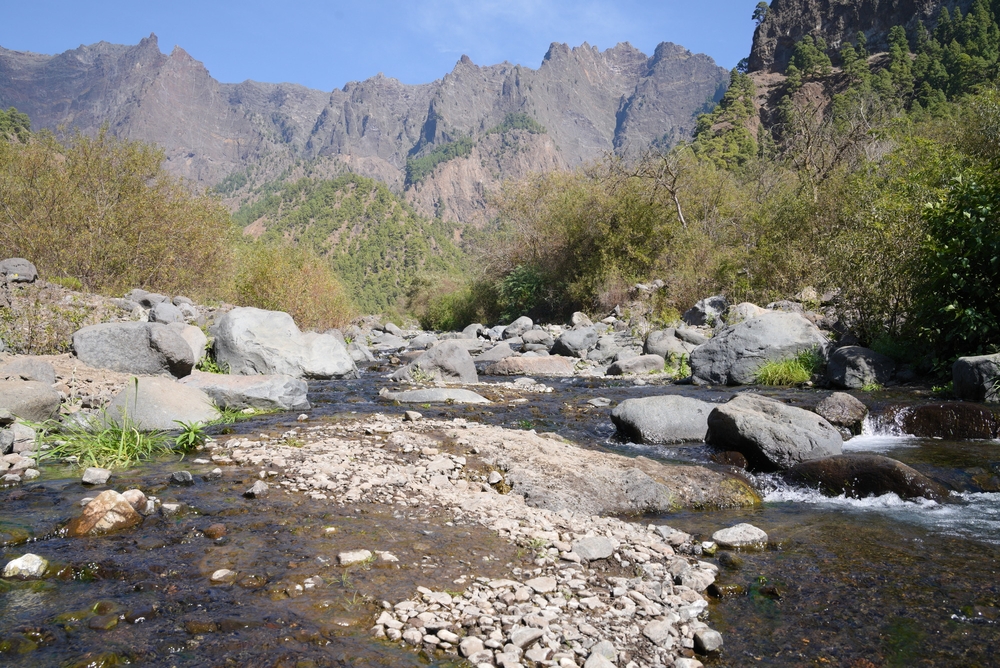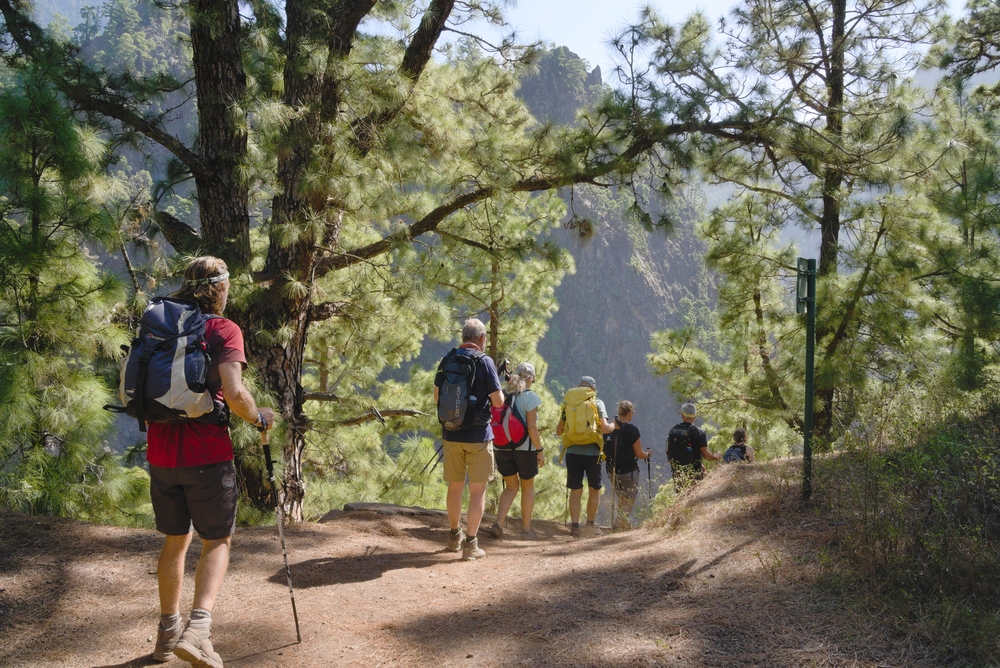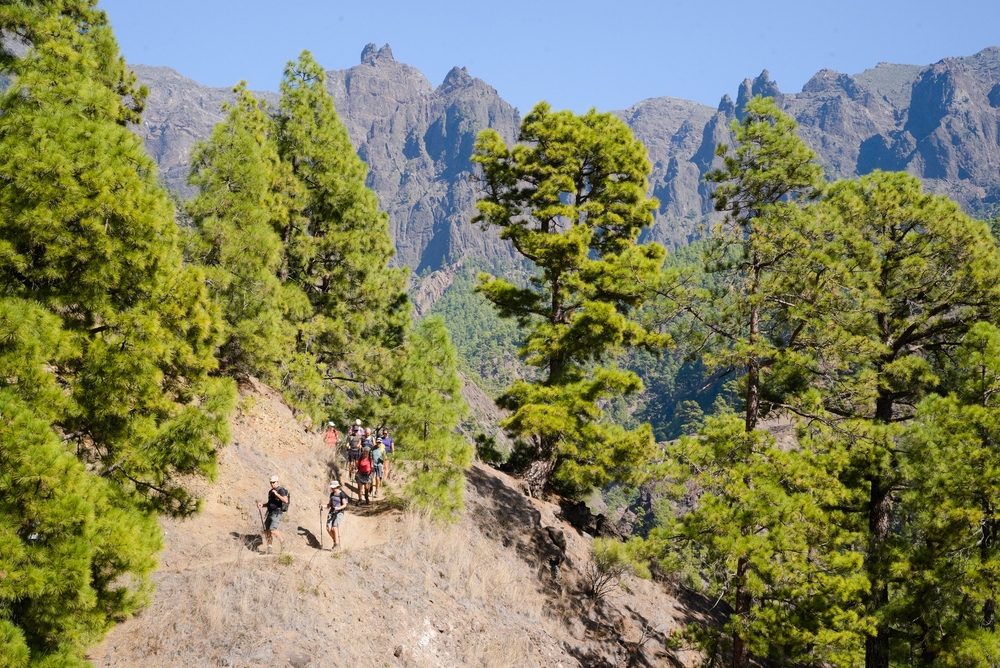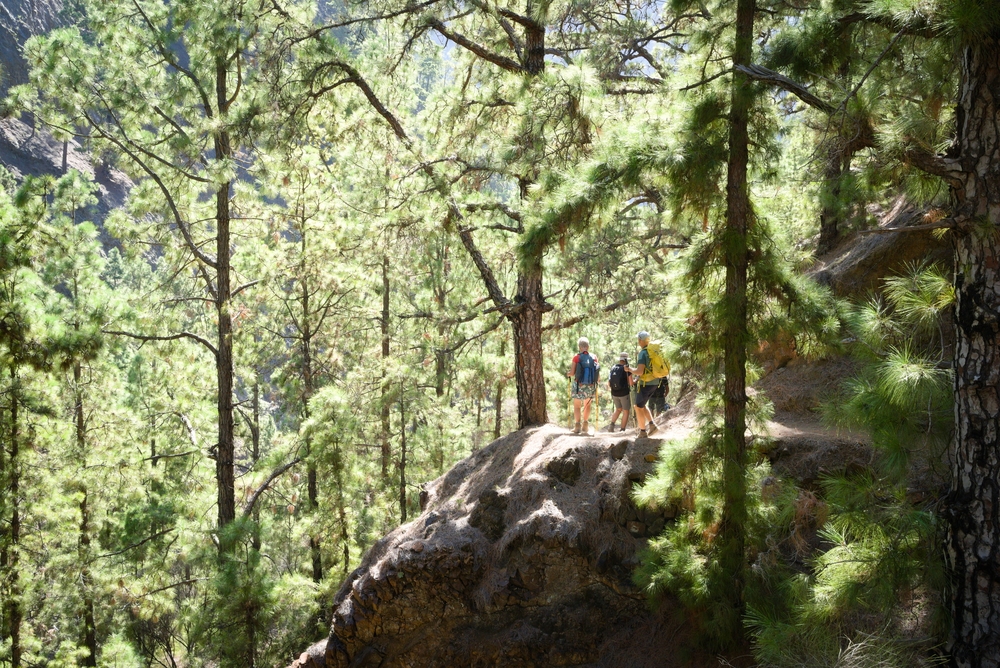 Day 5
Optional. Either a day off, or an extra walk for those who want to be booked on arrival on La Palma with your guides.
Walk 4 - The Wild North and El Tablado Coast
THE WILD NORTH, El TABLADO, COAST
Another diverse walk today. A beautiful transfer will show us a big part of the north eastern part of the island. The walk starts in one of Europes last big laurel forests at the "Centro de Visitantes La Zarza". We drop down into the rain forests of the Barranco Magdelena where impressive trees and huge ferns accompany us. All of a sudden the view opens up as we rise up out of the Barranco and we are allowed a view over the rugged northern coast of La Palma with its numerous deep canyons.
We drop down to the east of the hamlet of Don Pedro to the Mirador de la Calzada. This is a superb viewpoint over the coast. From here we can see the route ahead. A very steep, rocky but well graded path leads down in a series of zig zags to the valley bottom just above the sea. What follows is a tough ascent but we take it slow and it is on a good path. This brings us to the tiny hamlet of El Tablado, where time seems to have stopped 60 years ago. Maybe we can convince the small bar to open for us? Our bus picks us up just above the village.
The Wild North
Moderate Linear walk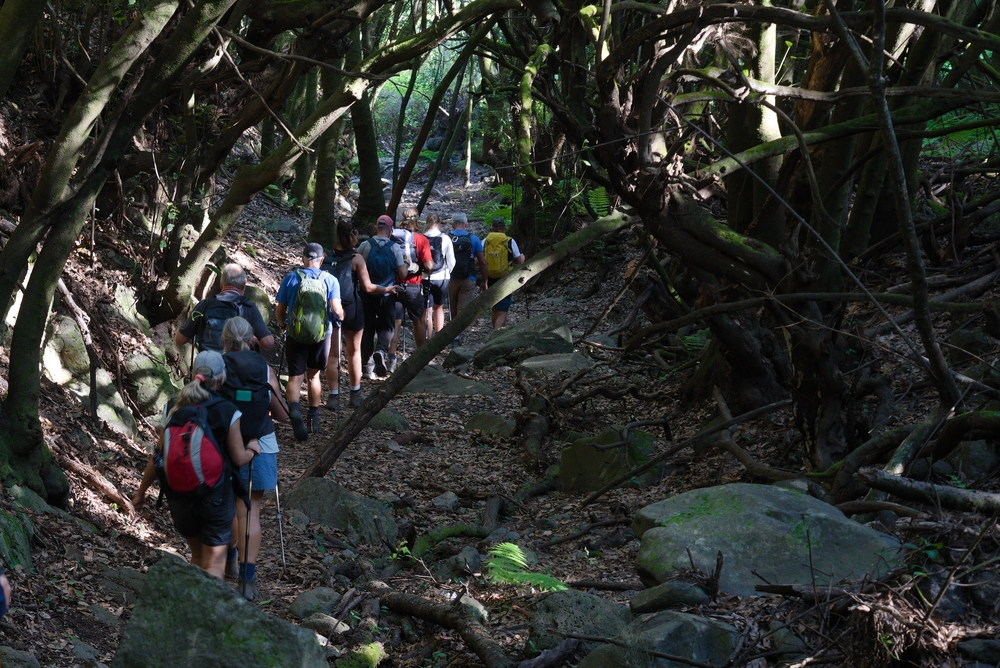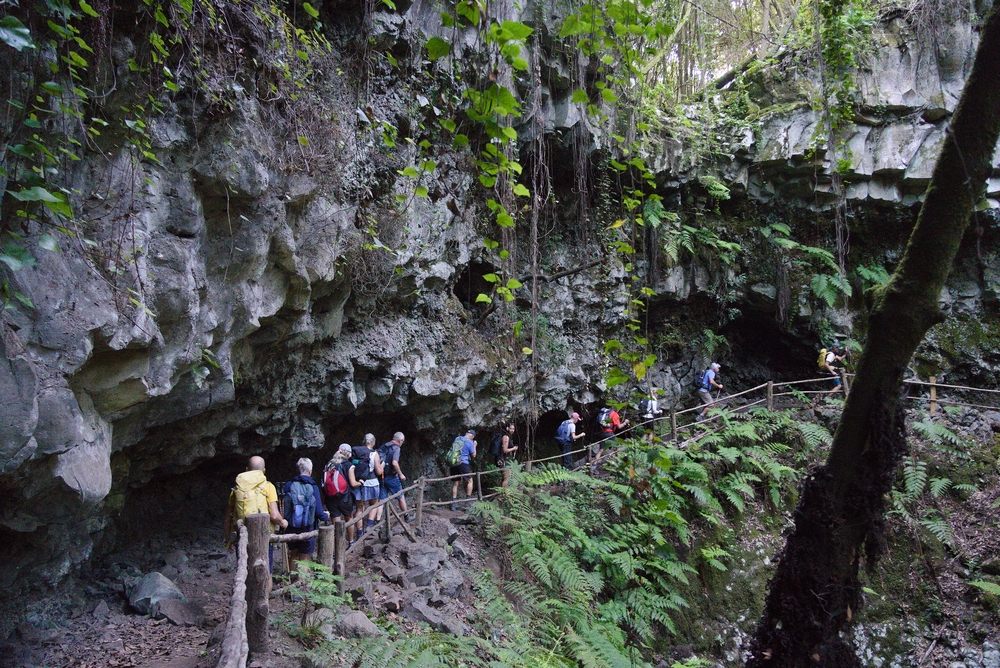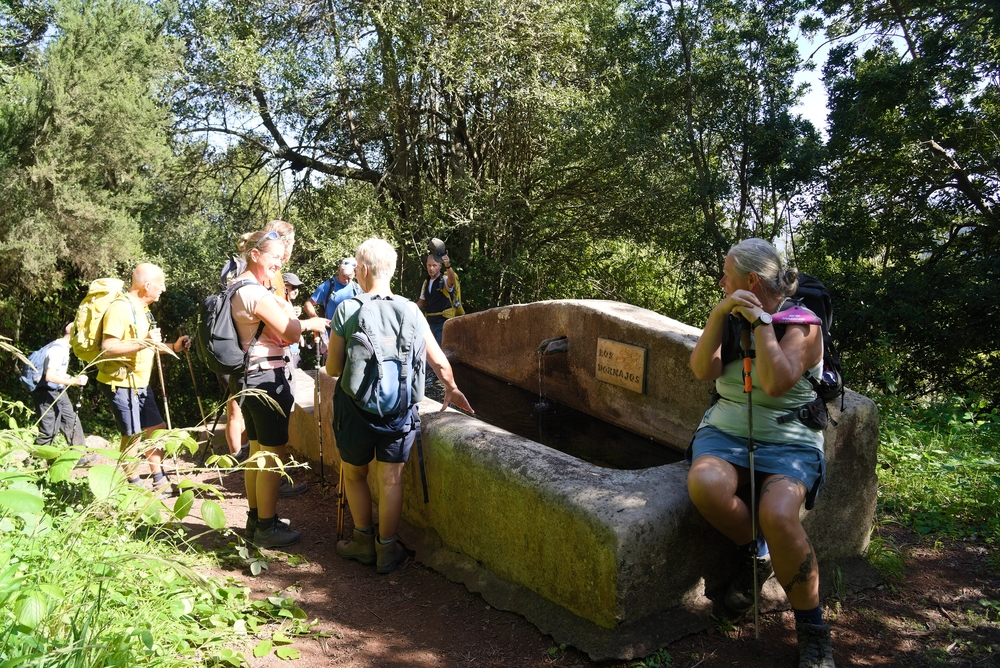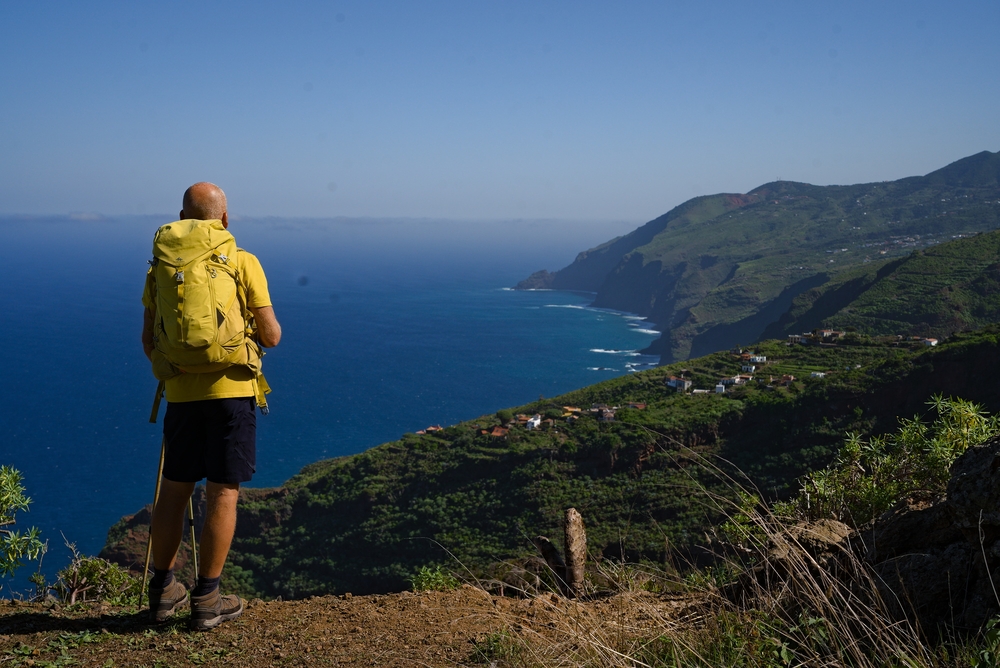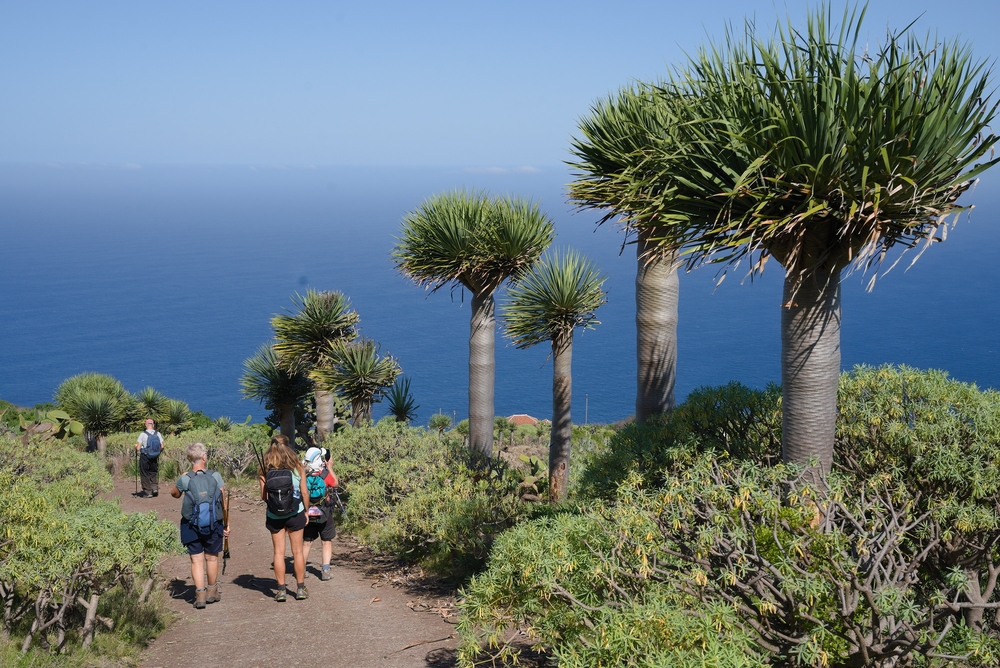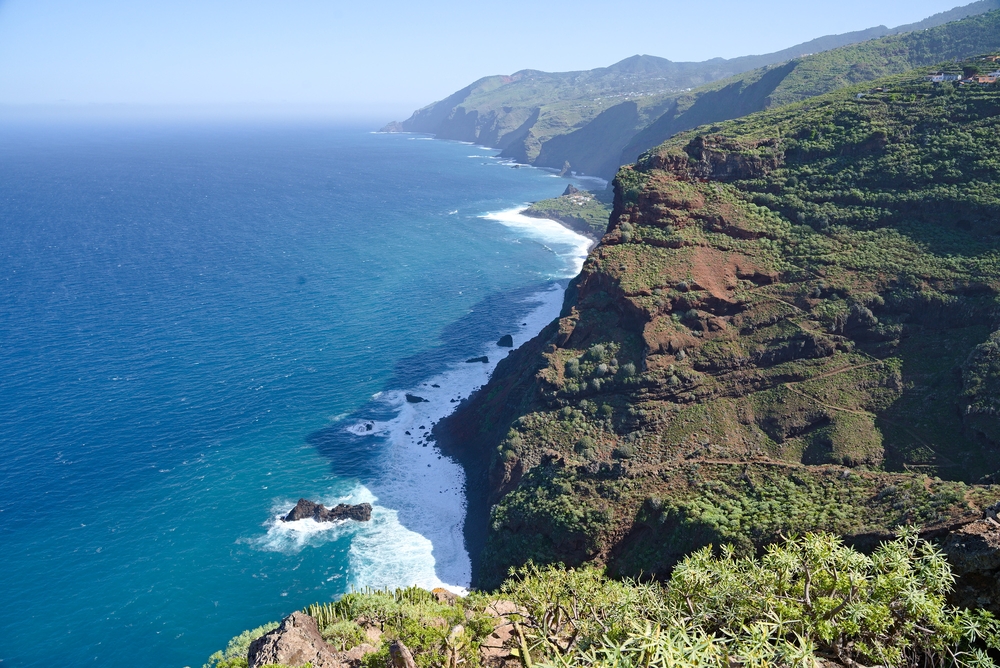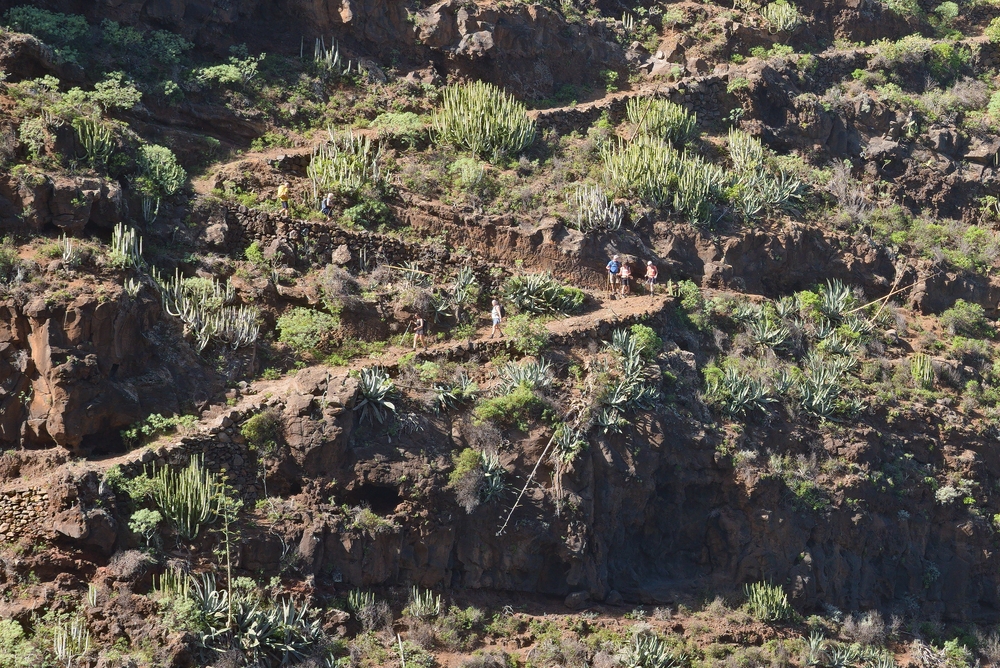 Walk 5 - The Southern Volcanoes
THE SOUTHERN VOLCANOES
A short transfer leads to the south west of the island. We start at the Mirador de Charca where we follow the long distance GR130 track through pine forests and alongside vineyards. With constant wonderful views towards the coast we arrive near the village of Fuencaliente, home of the largest winery of the island.
The excitement builds as we start to descend into volcanic territory, walking towards the coast. The good path descends gradually all the way down to the lighthouse. On our the way down we are able to have a look at the crater of the Teneguia volcano (exploded in 1971) and walk its through incredible lava fields that stretch down to the lighthouse. Here, nature is only now starting to get a grip back into the landscape. An experience not to be missed.
The Volcanic South
Moderate Linear walk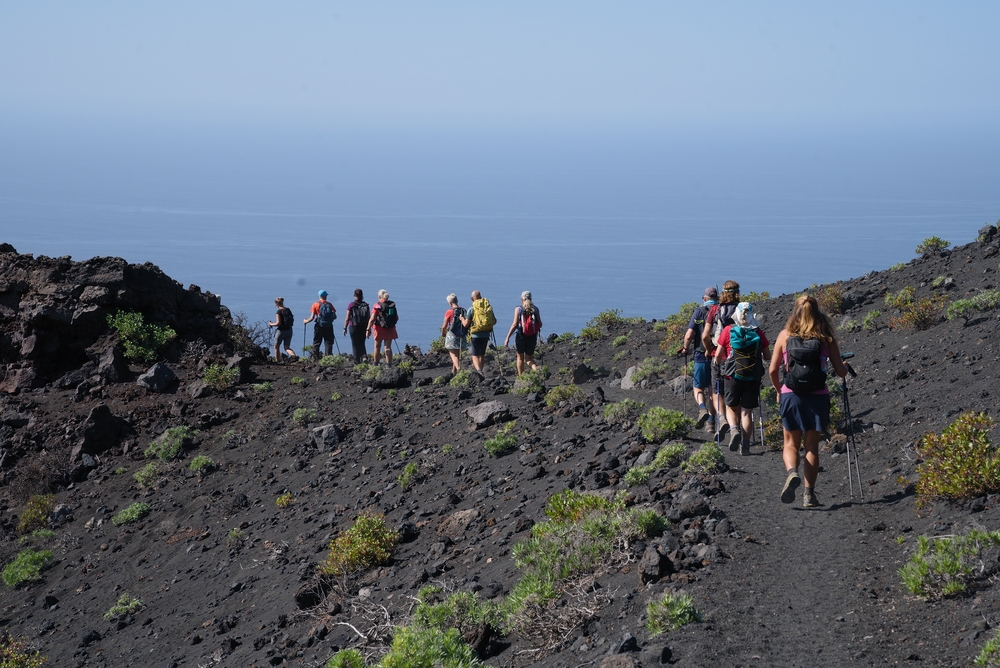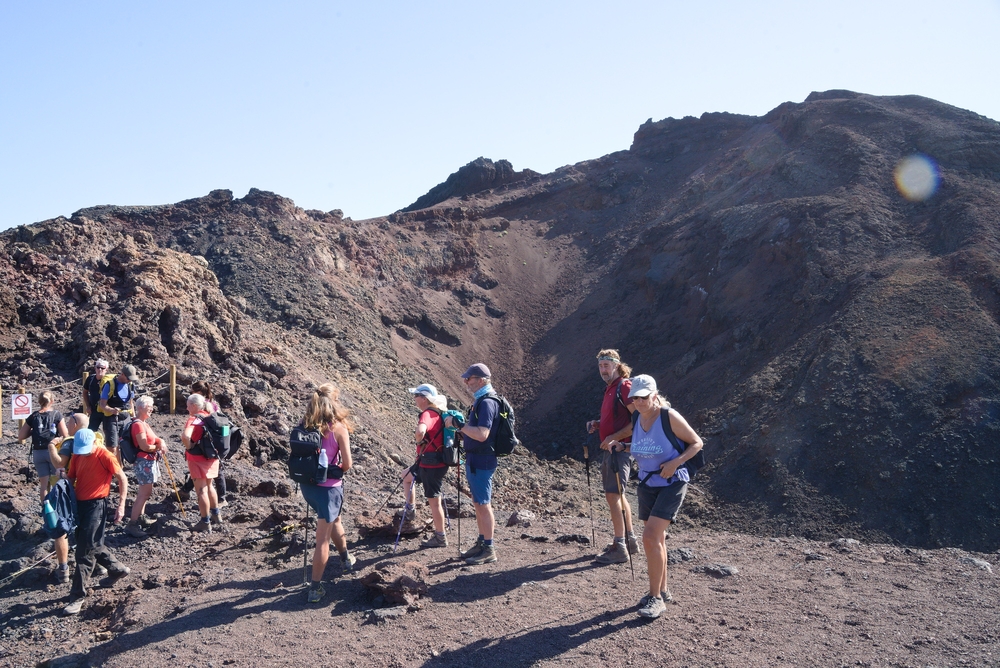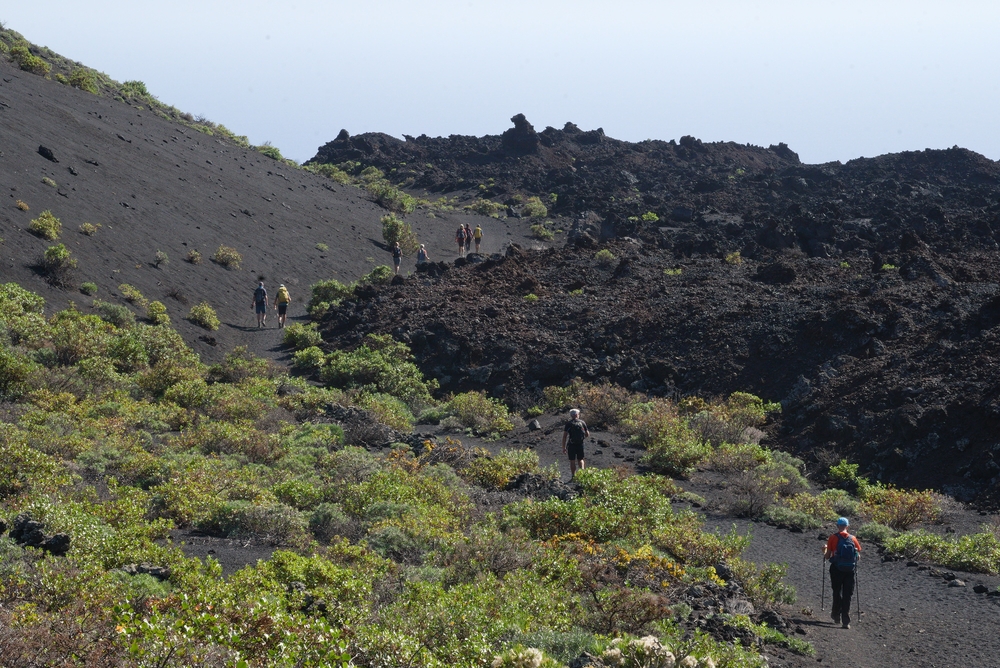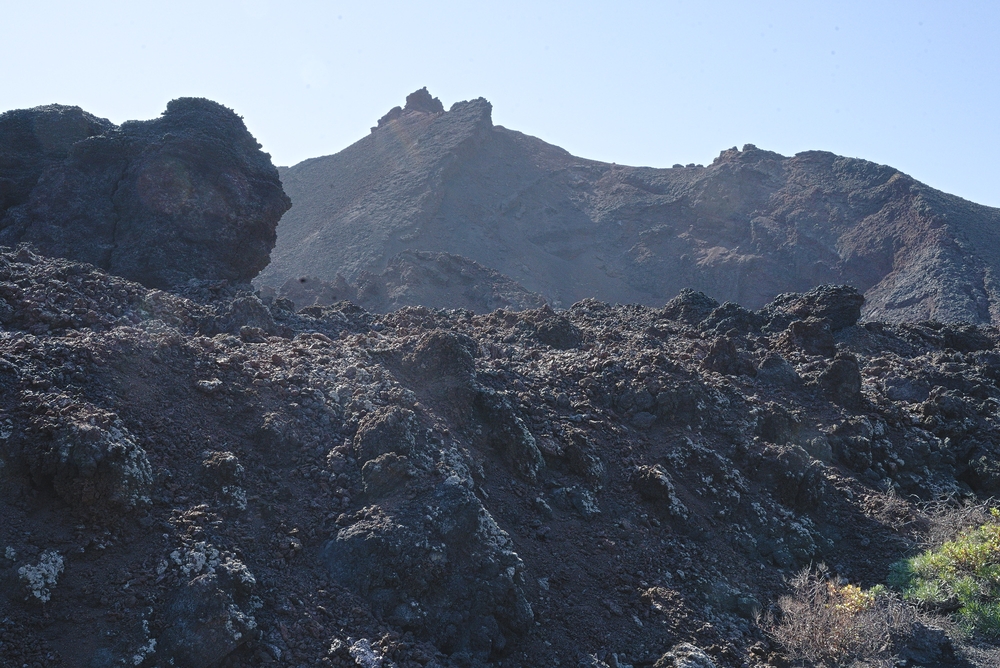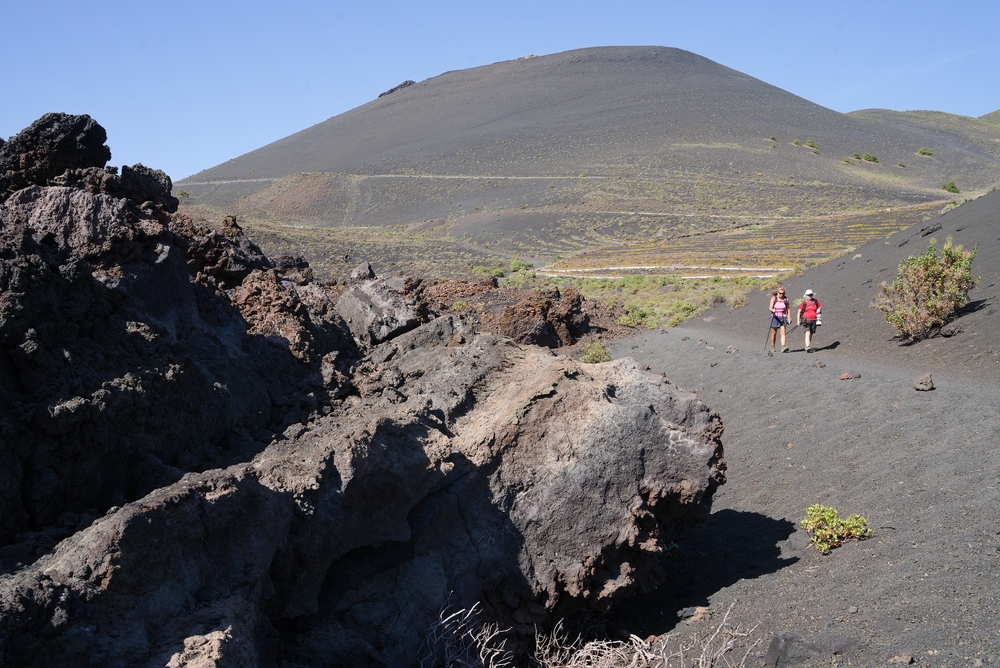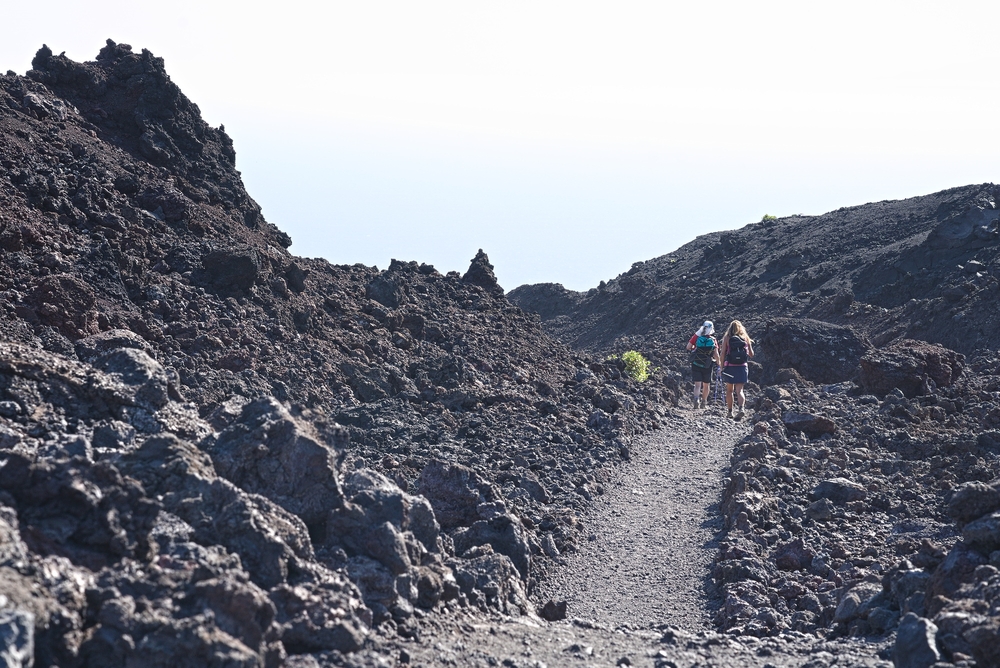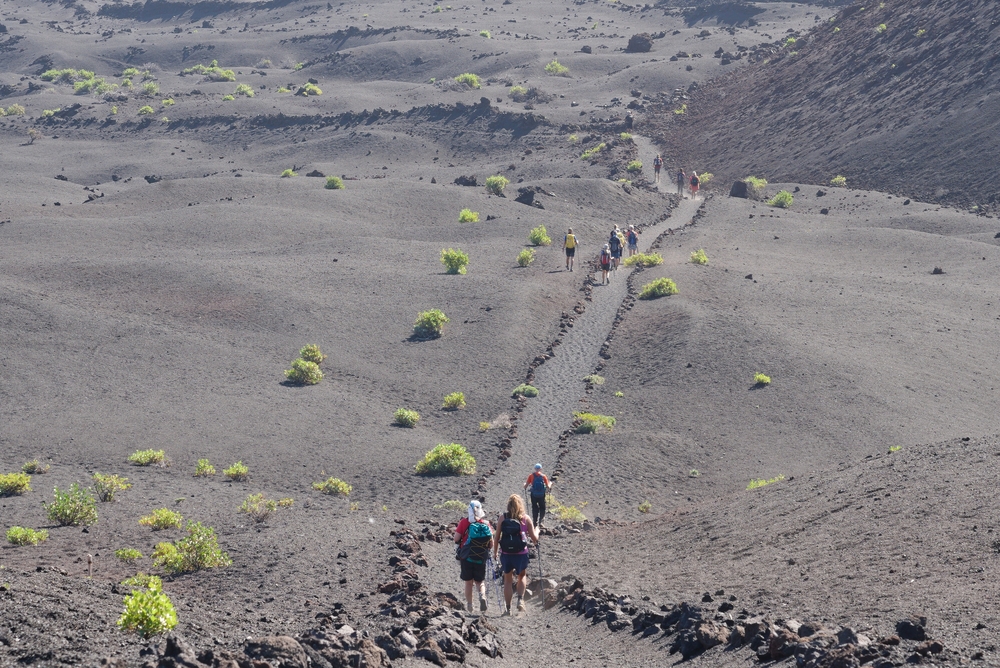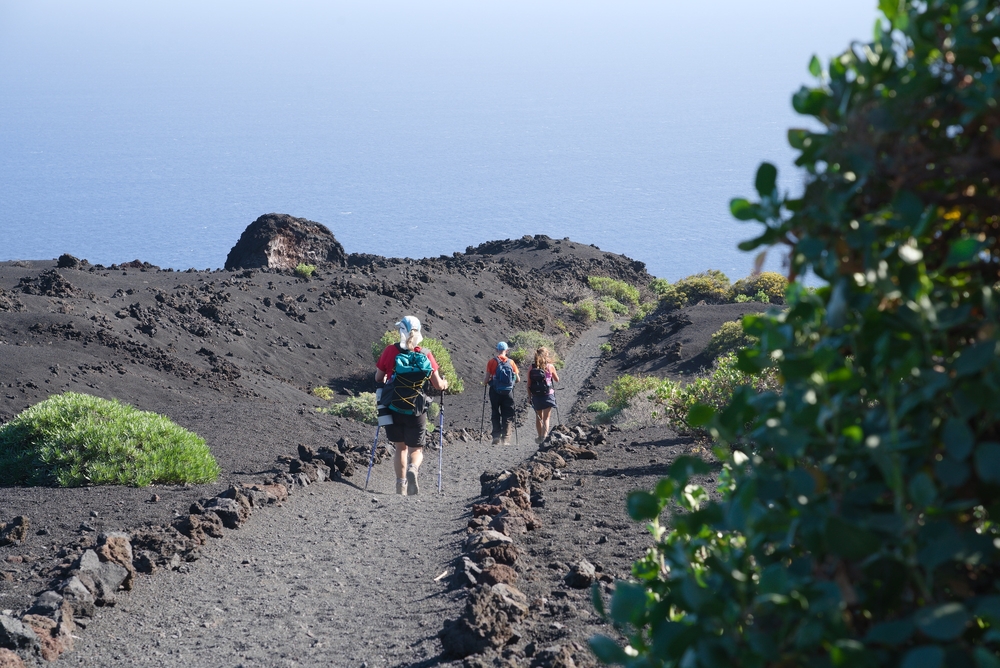 Day 8 - Departure day
After having said goodbye and hopefully having made some new friends, you'll be taken back to the airport. In your luggage maybe a bottle of Palma wine and a chunk of Palma goats cheese, maybe not. But what we are sure of you'll take is the memory of a exceptional walking experience.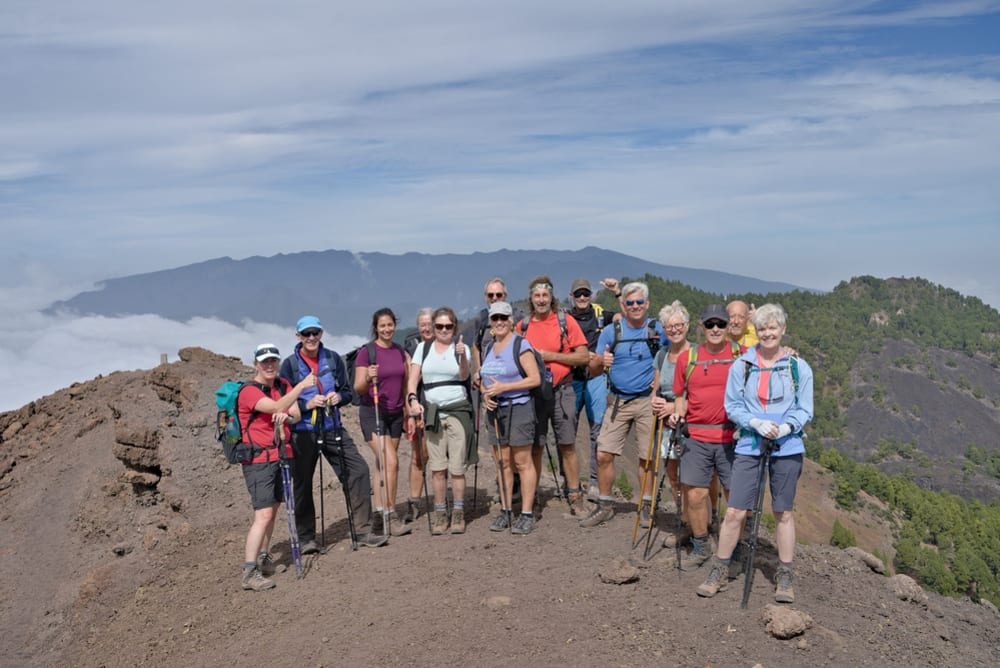 Dates & Prices
Tour Dates 2023
Groups of over 4 persons
Choose your dates and we shall check with our guiding availability
Singles and Couples
Various dates throughout the year between October and May inclusive. Please enquire via our Contact Form
Languages spoken
We can offer this holiday in four languages:
English, Dutch, German and Spanish.
Prices
€1250
Included:
7 nights half board accommodation in Hotel Las Olas, Los Cancajos
Airport transfers
All transport to and from the walks
5 Guided Walks
Services of local, english speaking local guides
Optional:
Single room supplement €25 per night
Want an extra days walking? Day hike available (at modest additional cost)
N.B Minimum group size 4 persons
Flights: UK flights to La Palma via TUI flying direct every Thursday from Manchester and London Gatwick. Flight prices around €200 return.