Mountain Weather for mountaineers, walkers and skiers
Being mountain guides we are also weather "freaks"! It is vitally important for us to know what is happening or going to happen in the high Sierras. We have collected together below the best and most comprehensive resources available to get the best and most complete picture of the inbound weather.
Windy.com Mulhacen Forecast
Weather Resources
Useful Weather Links
https://sierranevada.es/es/invierno/la-estaci%C3%B3n/en-directo/webcams/
Weather in the Sierra Nevada
Many misjudgments of the weather are due to the changing of the seasons and the related mountain risks that brings. Traditionally, the autumn and spring are the most unpredictable, as it may be t-shirt and shorts weather on the Costa Tropical, yet people could well be fighting blizzard conditions at 3000m. A fine day on the coast can lead unprepared and ill-equipped people into the mountains.
Strangely enough, the winter is more predictable. Most mountain goers seem to recognise that there is severe weather potential and at a bare minimum it will be very cold and windy.
Summer generally offers fine weather for high level walking and trekking, travelling light save for clothing required for the odd afternoon thunderstorm or cooling breezes.
One of the major benefits the Sierra Nevada brings is the stability of it's climate. Big high pressure systems sit over the area for months at a time in the case of summer and for long periods during the winter months. Winter is the most unsettled and wettest period though and when bad weather does comes in expect it to be generally heavy, violent and short-lived.
There are huge temperature differences between the various seasons. At 3000m in January and February the air temperature without whttps://sierranevada.es/es/invierno/la-estaci%C3%B3n/en-directo/webcams/ind chill can frequently dip below -10ºC. In July and August a normal daytime temperature at 3000m would be 15-20ºC.
January and February have many cold, clear and sunny days but there always exists the possibility of short heavy snowfalls. Temperatures will be at their lowest in the mountains and so these months tend to provide extensive icing together with short daylight hours.
March and April provide longer days and slightly warmer temperatures. History shows a week of prolonged bad weather during March or April. This late season snowfall has the advantage of extending the snow and snowshoeing season well into May.
May can provide great snow walking opportunities but the snow pack softens markedly after midday. The snows are retreating fast up the mountain now and some routes to 3000m peaks are likely to be clear of snow. There is still some risk of heavy rain showers, lessening towards the end of the month.
June until end of October provide generally stable mountain conditions. Sunny and warm. Especially suited to those looking for hot summer walking under clear blue skies. Walkers can travel lightweight with water being the heaviest and arguably the most necessary item in the rucksack. During these months the heat can give rise to violent but short afternoon storms.
The first major snowfalls can arrive between the end of October and the end of November and further falls in December will generally consolidate the snow pack for the remainder of the winter. This period provides very changeable weather and ground conditions.
The above extracted from "Walking and Trekking in the Sierra Nevada" by Richard Hartley (Cicerone Press)
Snow accumulations over the Sierra Nevada since 1961
Click to expand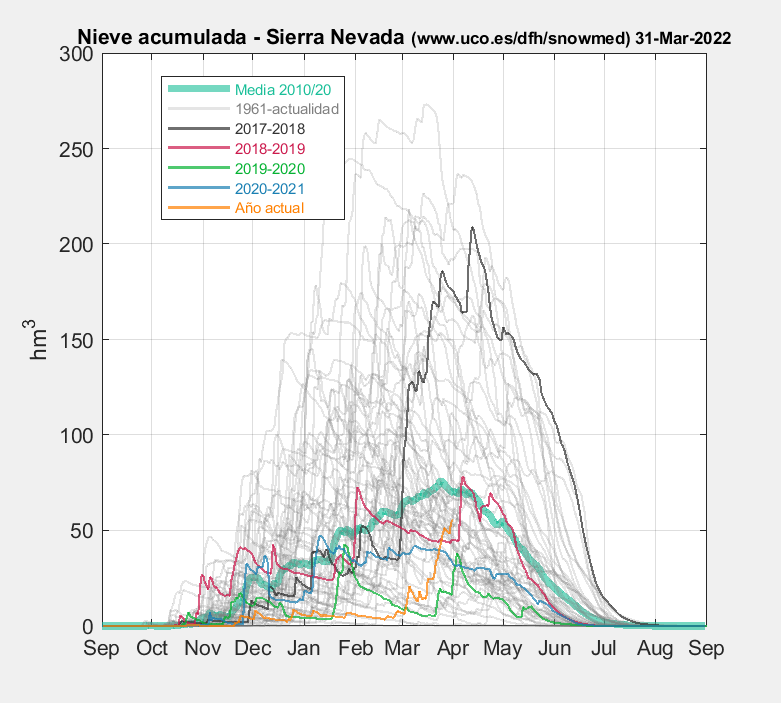 Weather Averages at 3300m between 2007-2018
Effects of windchill when in the mountains
Windchill is a factor we take into account when we visit the high Sierra Nevada. We ignore it at our peril. A 32km hour wind at 0 degrees centigrade gives an effective -12.5 degree "feel" to the temperature. The chart below will help in ascertaining the dangers.
Most likely from December to February each year, we can get -10 degree temperatures at 3300m on Mulhacen with winds of 30km per hour. This gives a dangerous effective temperature of -20 degrees! Within minutes exposed areas of the body can become iced.
A windchill chart is shown below that shows the cooling effects of wind given relative air temperatures. It is self explanatory. Yellow shading signifies danger of icing in 1 minute.
Important to wear plenty of layers at these times of the year (a good windproof and waterproof outer layer especially) and to cover up exposed parts of the body.