Published 15 November 2017 by Cicerone Press
Signed copies are available for clients of Spanish Highs or for the self guided arriving in Lanjarón. Email richard @ spanishhighs.com in advance to secure a signed copy.
The guidebook covers the most popular and interesting walks and multi-day treks in Spain's Sierra Nevada mountain range. Mainland Spain's highest summit Mulhacén is included in the 38 routes along with the white villages of Trevélez, Lanjarón and Capileira and high mountain ridge traverses, scrambles and the Spanish Three Peaks challenge.
The walks have been selectively chosen to showcase the Sierra Nevada's dramatic scenery, breathe taking barren rocky peaks, badlands, lush green valleys and tranquil lakes. From the more leisurely routes of the Cumbres Verde area to the Sierra Nevada's highest ascent of Mulhacén, we are confident there are routes to suit a range of abilities.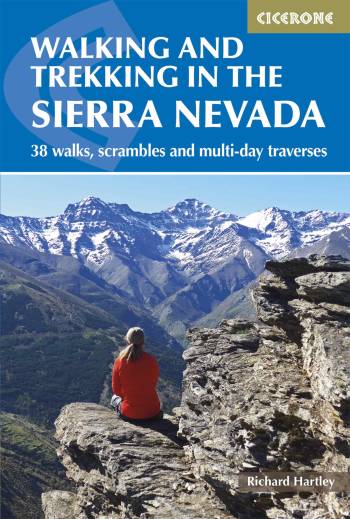 Features
year round half to full day walks & multi-day treks
33 routes including mainland Spain's highest summit
includes 8 gentler walks in the lower hills of the Cumbres Verdes near Granada
includes white villages of Trevélez, Lanjarón and Capileira
showcases the Sierra Nevada's most dramatic scenery
includes 'Los Tres Picos', 'Los Tres Miles' Integral & overview of Sulayr GR240
advice on transport, local bases, safety, tick-list of 3000m peaks & Spanish-English glossary
Amazon Reviews
I have climbed some of the mountains in Sierras Tejeda Almujara and Alhama, but the high Sierra Nevada is a step up and this book is now my essential planning guide for a group of 15 of us taking to the mountains in a few weeks time. The overall layout of the book is perhaps the best thing about it. It makes it possible to plan for different abilities and levels of fitness. Great job Richard Hartley.
Reviewed in the United Kingdom on 16 September 2019More Reviews
We have visited this area many times in the last 17 years and finally we now have this brilliant reference book to give us even more reason to return to a fantastic walking and camping venue in Spain. Many thanks Richard Hartley: a job well done!
Reviewed in the United Kingdom on 21 February 2018More Reviews
A useful addition to my library of Spanish Walking books. As one would expect of Cicerone this gives good illustrated coverage of the main routes as well as some lesser known routes. Recommended.
Reviewed in the United Kingdom on 2 February 2020More Reviews