Experience mountain Sunrises and Sunsets!
Unique and Spectacular! Available July, August and September. Escape the heat with 2 nights sleeping out on the summits of two of the highest and best mountains in Spain. "An unbelievable and unforgettable experience".
Basic Itinerary
Day 1 - meet in Lanjaron midday. Gear check. Transport to Capileira. Afternoon bus to Mirador de Trevelez (2675m). Ascend Mulhacen (3482m). Sleep on summit
Day 2 - descend east ridge of Mulhacen to Siete Lagunas. Explore lakes and ascend valley. Climb Alcazaba (3371m) via "el Colaero". Sleep on summit
Day 3 - descend to the SW and back to Siete Lagunas. Eatern traverse of Mulhacen back to Mirador de Trevelez. Bus back to Capileira and transport to Lanjaron
Never-to-be-forgotten mountain moments
Sleeping on Mulhacen's snow-covered mountain summit isn't everyone's idea of a good night out but its been on my "to do" list for quite a while, This was a great experience that provided two, never-to-be-forgotten mountain moments. Why don't you get up there yourself, you know you want to!
Wild camping on mountain summits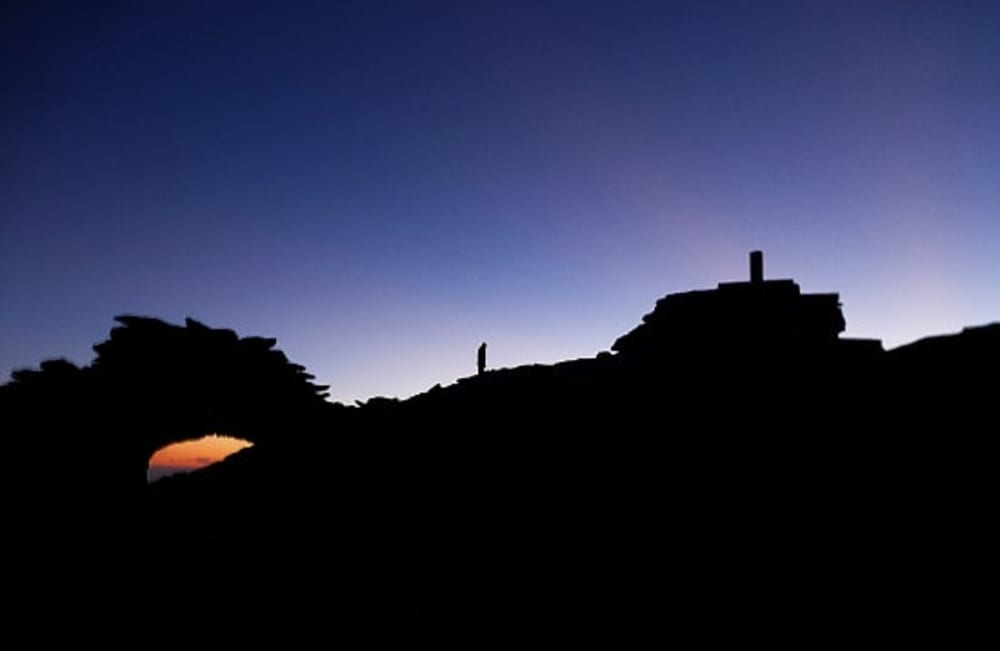 Suitability. Is this for you?
When? July, August, September
The basic itinerary is suitable for anybody used to high mountain walking. Although the ground may be steep and loose in places we generally keep to well marked tracks. Overnight temperatures in the summer may drop to 10 degrees C (maybe slightly lower mid September onwards).
The harder optional extensions will take you over rougher ground, some of it very exposed, so it better suited to those used to dealing with such terrain.
Tents are not suitable as the summit areas are very rocky and uneven. A better option is a bivouac bag, mat and 3 season sleeping bag. The aim is to travel as lightweight as we can. Our guides will take stove and gas and advise re water. We can supply freeze dried or dehydrated food if required (at extra cost).
Equipment Required
In addition to a normal day pack the main extra items you will require are
Sleeping mat
Bivouac bag
Sleeping bag (3 season)
Plate and utensils
Torch
Warm insulated jacket
Full list of Suggested Equipment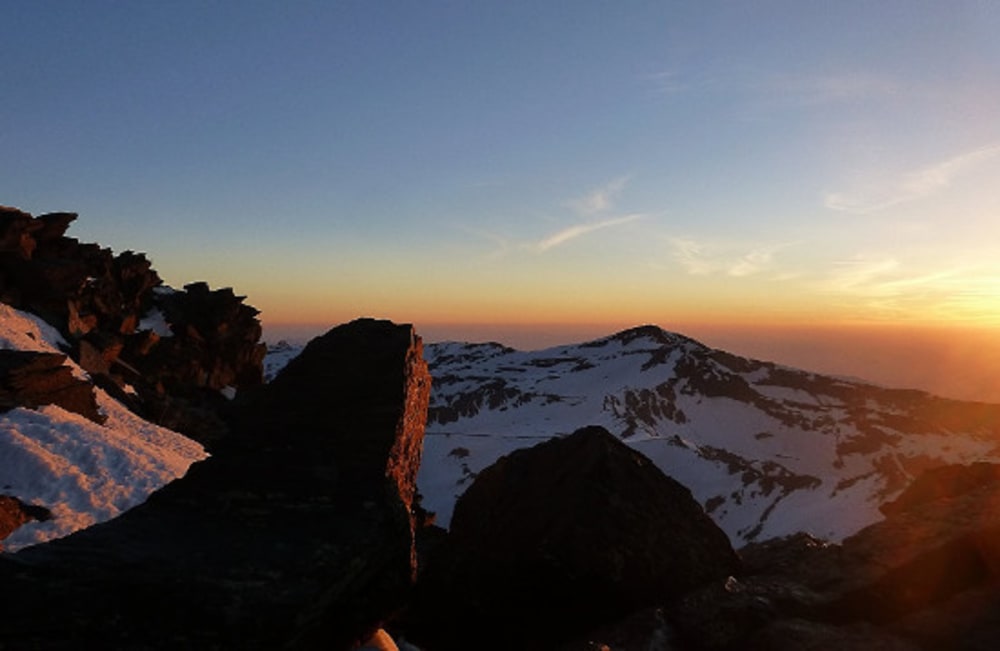 Costs
Group size (per booking):
3 days trekking (2 nights sleeping out on the mountain).
1 person - cost €130 per day
2 persons - cost €85 per day
3 persons - cost €75 per day
4 persons - cost €65 per day
Over 4 persons - Group discounts apply. Enquire via email or contact form
Price includes:
Guiding
Local transport to and from Lanjaron/Capileira
Bus transfers to/from Mirador de Trevelez
Cooking stove and gas
Harder Optional Extensions (at same cost)
Gran Vasar de Mulhacen - gain Alcazaba via crossing Mulhacen N face and climbing Puntal de Siete Lagunas. A tougher option but not technically difficult. Only simple scrambling
Gran Vasar de Alcazaba and Espolon de Alcazaba - only for experienced scramblers (used to grade 3S+) with a head for heights!
Paso de las Zetas - a simple scrambling alternative to the summit of Alcazaba via the ridge line from the north. Tougher trekking.
Puntal de la Caldera - scrambling (Grade 1-2) to the summit of this 3283m peak before ascending Mulhacen.
Dates & Prices
Prices
Group size (per booking):
(prices are per person per day)
1 person - cost €130
2 persons - cost €85
3 persons - cost €75
4 persons - cost €65
Definition of "Group" - if you are booking a trip for 2 persons the 2 person rate applies, 3 persons - 3 person rate etc (not dependent on eventual total group size!).
Price includes:
Guiding
Backup vehicles
We have a limited number of walking poles for the use of guests if required
Gear hire in winter conditions ie ice axe, crampons, helmet
Price excludes (if used): summer bus (€15/person), night in Refugio Poqueira, food (buy at refuge or self-cook in refuge kitchen). NOTE It is the norm throughout Spain that clients also pay for the guides bus fares and/or refuge fees.
Larger groups - discounts apply. Enquire via email or contact form
Transport (effective for all bookings after 1st July 2022)
The guiding price above does not include transport. Due to rising energy and fuel prices we do not want to be constantly changing guiding prices to reflect transport costs. We want to be honest and open about our price structure.
Clients have two options:
NO COST OPTION - Pick up/drop off our guide in Lanjaron or a venue to be agreed. Use your own transport to and from the start/end of activity.
COST OF FUEL OPTION - Our guide will drive you to/from start/end of activity in one our own vehicles. Applicable costs are:
Capileira, White Villages, Taha del Pitres €15
Hoya del Portillo €20
Sierra Nevada ski area €25
Granada area, Cumbres Verdes €15
Peñon de la Mata €20
Lecrin Valley €10
Jerez de Marquesado, Eastern Sierra Nevada €35
N.B For destinations not listed above we can easily work out a fuel cost