Classic trekking in the high Atlas mountains of Morocco. The high point is Jbel Toubkal at 4167 m, which is visible from the city of Marrakech. Jbel Toubkal lies in the Toubkal national park, which was created in 1942. We have a fully guided option, or self guided accommodation available in Imil at the foot of the mountain.
Day 1: Arrive Marrakech y transfer to Riad Jnane, Imlil (Dinner)
Day 2: Trek - Marrakech – Imlil – Refugio Mouflon, Toubkal (Breakfast, Lunch, Dinner)
Day 3: Trek - Refugio Toubkal - Toubkal - Riad Zayane, Marrakech (Breakfast, Lunch)
Day 4: Return to airport for flight home (Breakfast)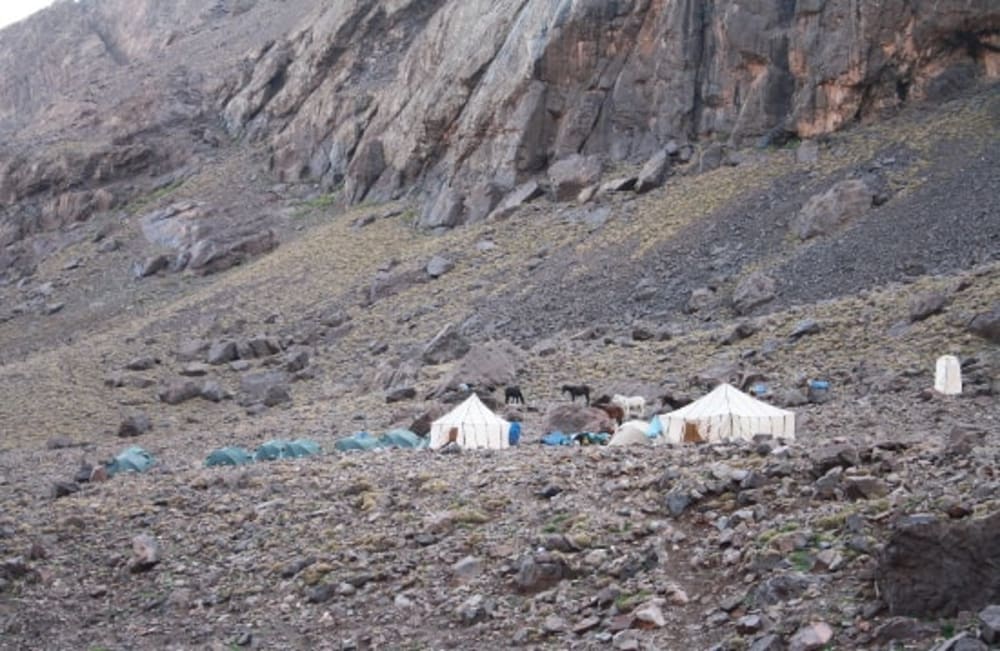 The First Day - Marrakech to Imlil and trek to Toubkal Refuge
After an early breakfast at the hotel in Marrakech, our driver will pick you up and take to to the heart of Moroccos High Atlas mountains. The trip starts from Imlil (1740m), the big berber village situated at 65km on the south of Marrakech, here you will meet the team who will accompany you during this amazing trip. The driver will drop you off in the village, the multeers will deal with your luggage, food & all other equipment that we usually offer for our clients.
You start the walk with an experienced mountain guide through the berber villages following a mule track which will take you to the mountain refuge where you will have you picnic lunch prepared in advance by our cook. After lunch and a short break you continue toward the refuge (3200m) where our staff will be waiting for you with a tasty mint tea & a smile!
A hot shower is available to clean your body and be ready for the next day.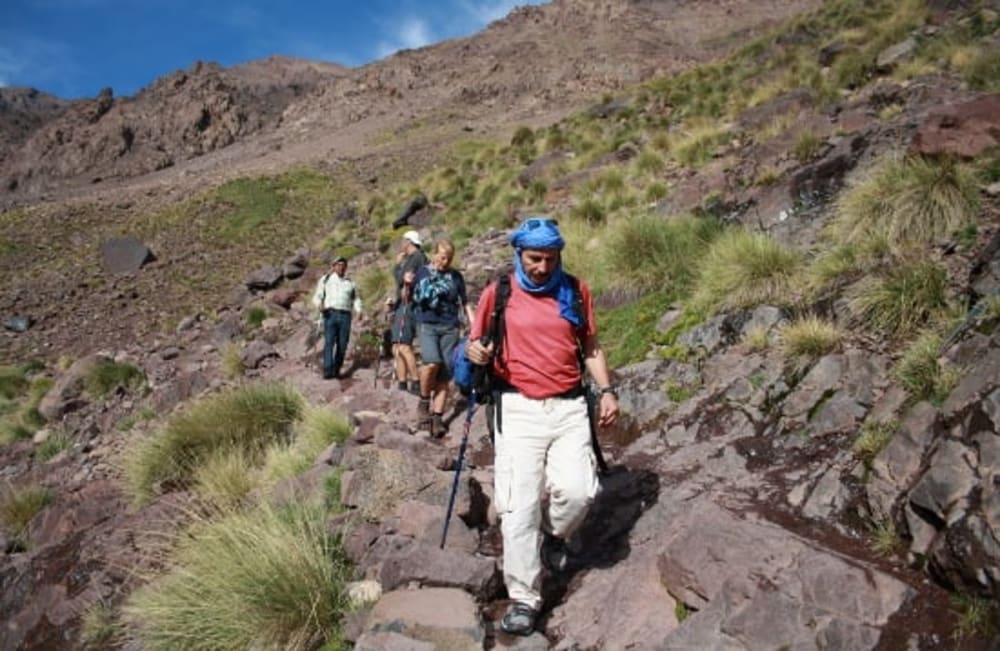 The Second Day
Wake up early to avoid the sunny way, breakfast around 5.00am and start the ascent at 5.30am. Each one of you may need to pack his own pack-lunch. Step by step we slowly work our way up the mountain until you get to the point above the hut where you have a short break with nuts, water & oranges etc.. After 3h/4h walking up the hill, you will be able to see all the high atlas mountains, its valleys & Berber villages. A break of 45min on the summit will allow you to take pictures & enjoy the views before starting to go back down to the refuge. A diverse lunch will be ready for you there.
After lunch you walk down hill towards Imlil by the same route but you have an option to stay on the hut 2nd night depending to your flight time. Pick up from Imlil and return to your riad in Marrakech or the airport.
How Much and What's Included?
Prices are
2 persons in the group - €358 per person
4 persons in the group - €306 per person
6 persons in the group - €293 per person
8 persons in the group - €284 per person
10-12 persons in the group - €269 per person
Includes:
Transfers airport – hotel – airport
Transfers Marrakech – Imlil
1 night accommodation in Marrakech with breakfast
1 night accommodation in Mouflon Hut, Toubkal
1 night accommodation in Riad Jnane Imlil (FB)
Mules during the trekking
All meals during the trek
Local Mountain guide
Prices for extra night in Rian Jnane Imlil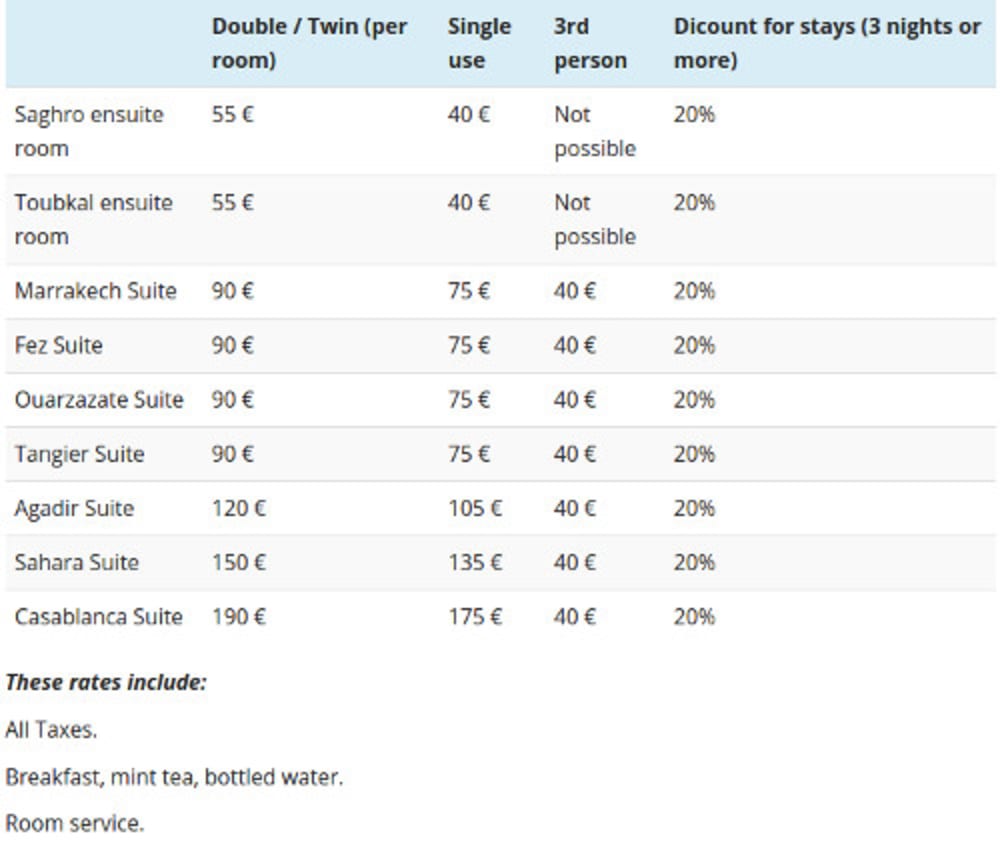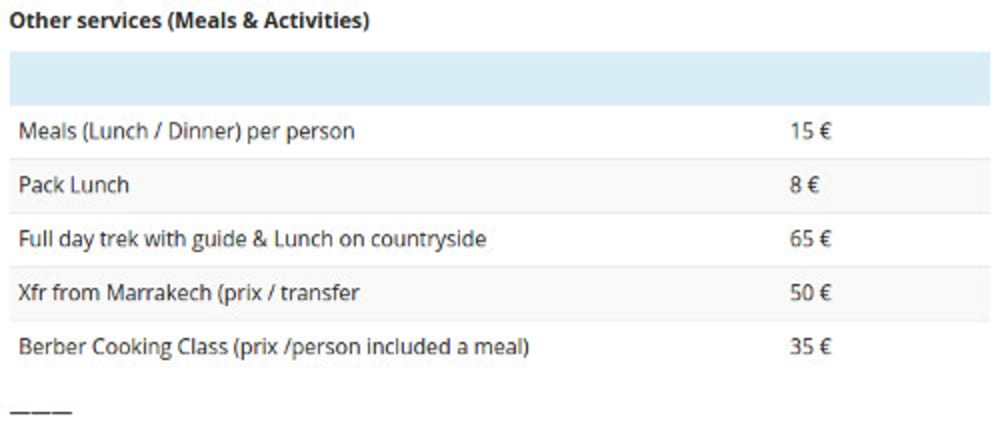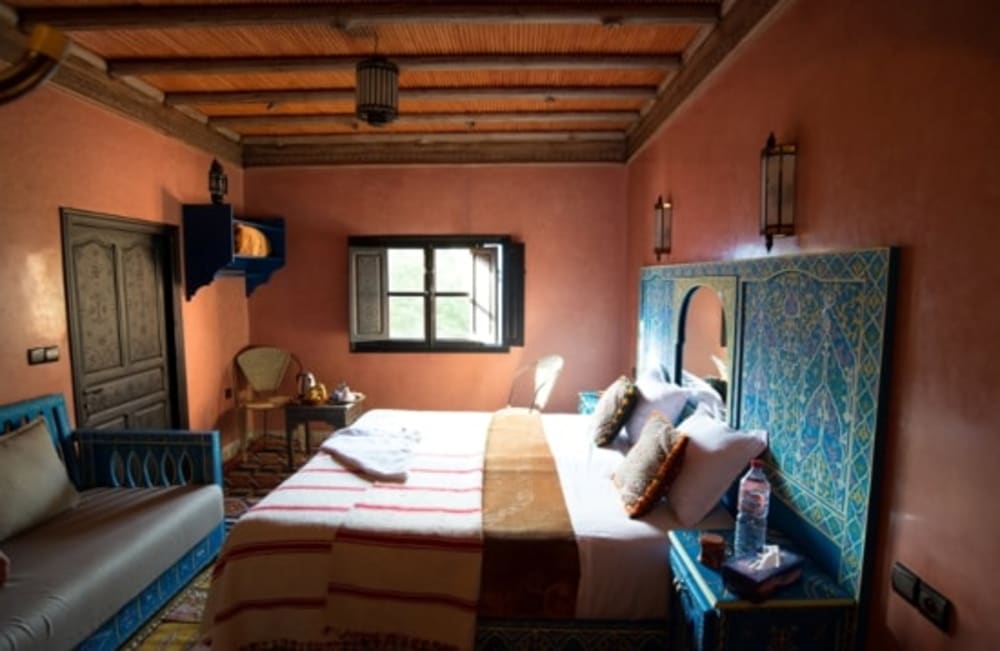 Self Guided/Riad Accommodation in Imil?
Riad Jnane Imlil is an authentic, family-run guesthouse located in the village of Imlil in the foothills of the Mount Toubkal High Atlas Mountains. It is only 67km south of Marrakech & the airport. They offer 9 rooms, all with private bathrooms, including 4 suites with balconies and 3 deluxe suites with sitting areas. All rooms and common areas are in a Berber design style with Tadelakt plaster walls, decorative tile, and furniture and architectural details hand-crafted and painted by local craftsmen. There are 3 comfortable salons & 2 panoramic roof terraces with stunning views of the Berber villages & Atlas Mountains, including a postcard perfect view of Toubkal summit, the highest peak in North Africa (4167m).
Double room from €55 a night. Main meals from €15. Full rates below. To reserve accommodation at Riad Jnane Imlil or for more information please use our Contact Form
The guesthouse has been designed to provide a high level of comfort, tranquility, and nature discovery while at the same time providing modern conveniences, such as wifi internet and in-room heating and air conditioning. Their helpful staff will be at your disposal and will do their best to cater to your needs in your "home away from home" in the Atlas Mountains.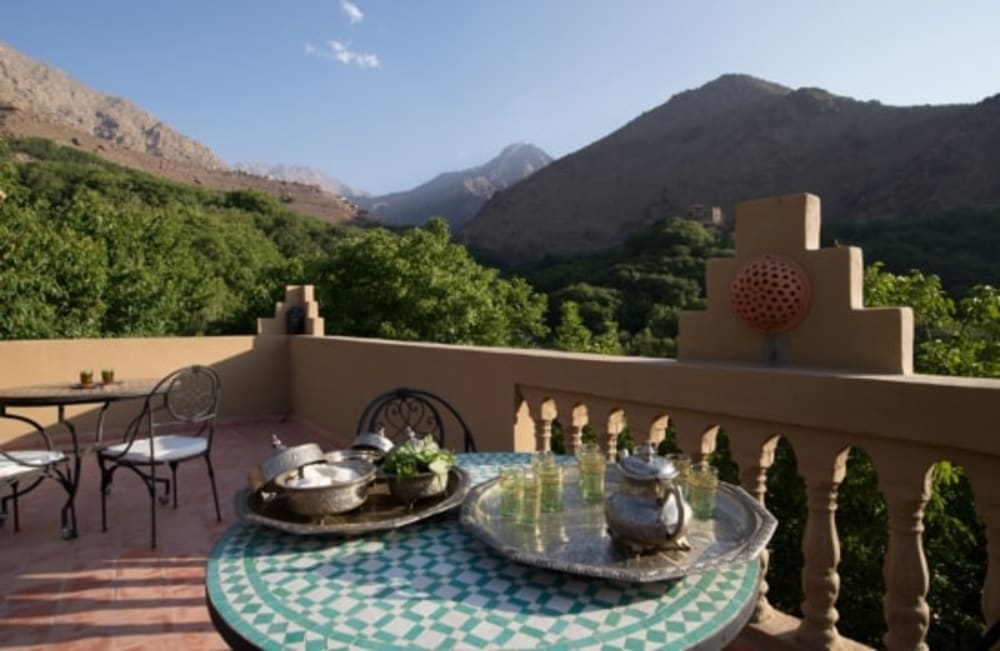 Explore the complex flavors and diversity of traditional Moroccan food, influenced by the cuisine of the High Atlas tribes. No buffets here! All food is made to order using fresh, local ingredients. The chef is professionally trained with over 17 years experience creating traditional, international and fusion cuisine and can gladly provide meals meeting special dietary requests and preferences.
Meals can be served in one of 3 cozy interior salons or on one of 2 panoramic roof terraces overlooking the valley, Toubkal Mountain and guesthouse gardens. The dining experience provides a unique atmosphere that will be a highlight of your trip to the Atlas Mountains.