Describes a superb 2 or 3 day quiet and unknown trek up the eastern side of Mulhacen mountain from Trevelez village in the Alpujarras
Background and Summary
We were a group of 3. Myself (Richard Hartley of Spanish Highs with two often returning clients, Laurie and Dexter. They are both experienced mountaineers but, like myself, are getting on in years. Laurie the eldest is nearing 70 but bad health has meant his recent mountain trips have had to be curtailed somewhat. We might be "old foggies" but we still always have ambitious plans. This 3 day trip was planned to have a base camp at Siete Lagunas followed by ascents of Alcazaba and Mulhacén.
Like all good plans though things don't always turn out the way you expect. Laurie struggled on Day 1 so we had to think "out of the box"! The result was an amazing trek into some little known and secret corners of the Sierra Nevada that not many humans have ever visited.
Day 1 - Trevélez to bivouac at La Campiñuela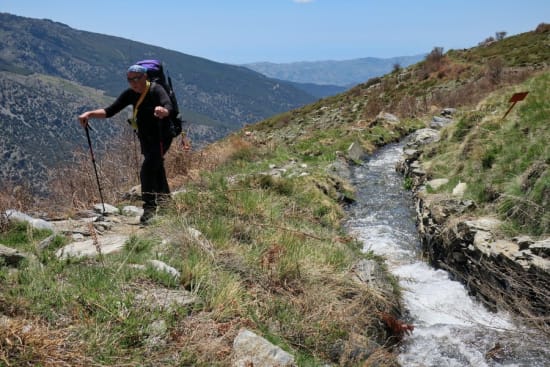 Ascending alongside the Acequia Gorda
I have done this route many times but it was immediately apparent that all was not well with Laurie. He was suffering from the after effects of a cold, moving very slow and it was clear that we would probably not reach Siete Lagunas that day. We moved up through the agricultural fields above Trevélez and then reached the Acequia Gorda, a delightful irrigation channel adorned with wild flowers. The bridge crossing it provided a welcome break from the hot sun. Continuing more steeply up through the craggy Prado Largo and upper forest we crossed the Acequia Mingo to reach the small refuge at La Campiñuela 2400m.
It has taken us 5 hours to ascend the 900m to this point, more than double what it should have taken. La Campiñuela is in a splendid situation with plenty of running water. With Laurie being tired we decided to spend the night there.
Spring is in the air! Cabra Monteses at La Campiñuela refuge
Sometimes life in the outdoors springs these surprises at you, these changes in plan. The unexpected. It is important not only to recognise the factors involved, but also to be able to re-adjust objectives as necessary. Rising directly above the refuge to the SW rose a long ridge, it's upper reaches covered in snow. I admit that I had no idea about this feature, having failed to notice it on previous visits. But it looked "interesting" and had to lead up to the southern plateau of Mulhacén at about 3000m. We decided next day we would "give it a go"!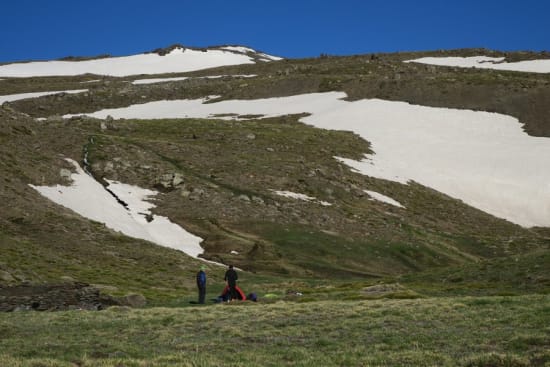 The ridge of Tajos de Peñón Negro seen from La Campiñuela
We spent a very pleasant evening cooking, rehydrating and amusing ourselves watching the Spanish Ibex males rutting in the evening spring sunshine. Of course, we also chatted about our previous expeditions, mountain adventures and suchlike, with some predictable far feched tales of "derring do"!
Day 2 - Ridge of Tajos de Peñón Negro to camp on the Mulhacén plateau at 3250m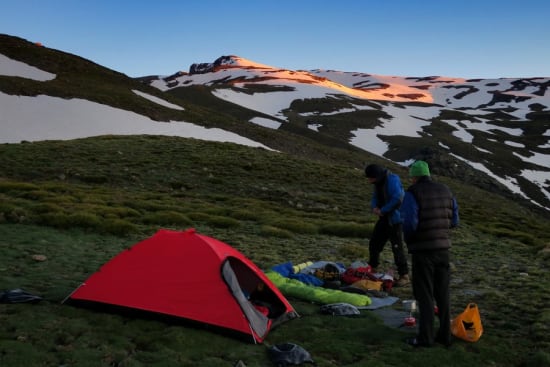 Sunrise over Alcazaba. Camp near La Campiñuela
Awakening to a cold but fine day we had an early start on our rise up to the Mulhacén plateau, a total of 900m of ascent. The sunrise on the crags of Alcazaba looked especially spectacular.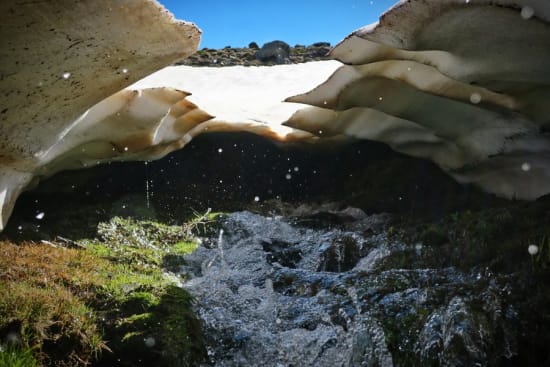 Spectacular tunnels under the snow near La Campiñuela
The initial easy slopes were followed on some cattle/animal tracks that followed the course of streams coming down from the heights above. Some gave magnificent insights into life beneath the winter snows and tunnels had collapsed.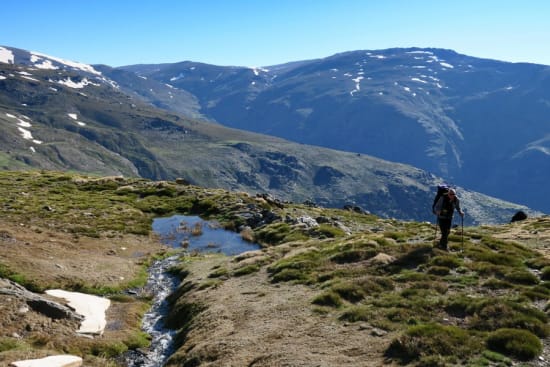 Start of climb up Tajos de Peñón Negro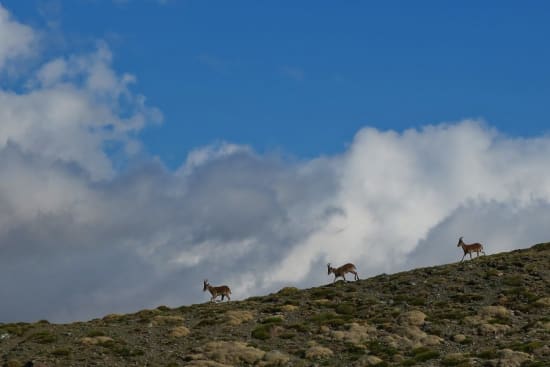 Cabra Monteses, Tajos de Peñón Negro
Large herds of Cabra Monteses (Spanish Ibex) live on these slopes mostly undisturbed and unaware of the passage of hundreds of trekkers heading towards Siete Lagunas on the path below.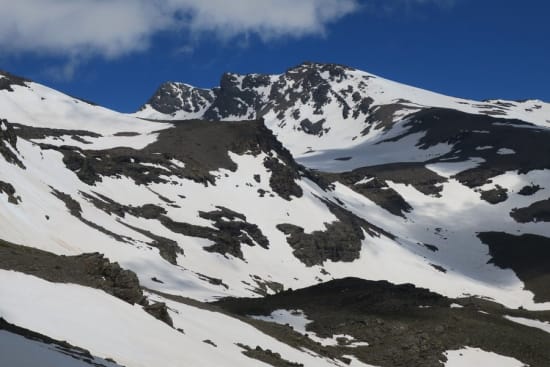 View across into Sieta Lagunas and Alcazaba
As we reached the ridge proper we turned west and headed up a pathless broad ridge that gave superb vistas towards Alcazaba and Sierte Lagunas. Higher up patches of snow started to be met.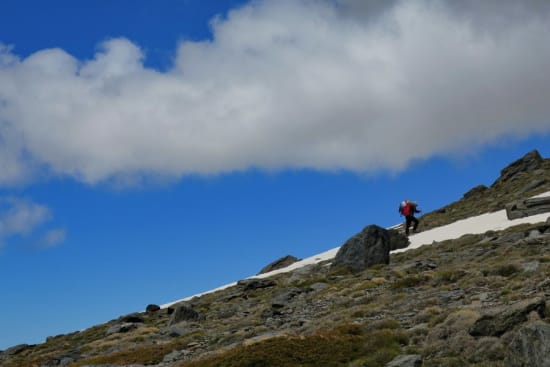 Ridge of Tajos de Peñón Negro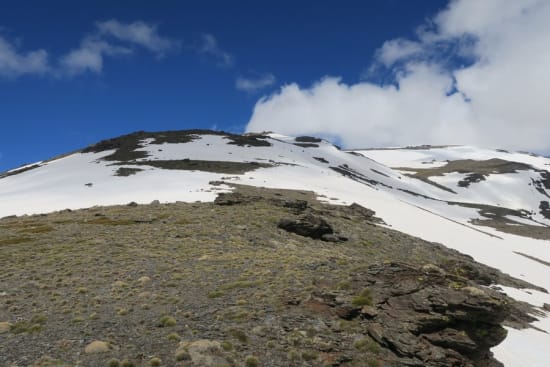 The upper snowfields of the Tajos de Peñón Negro ridge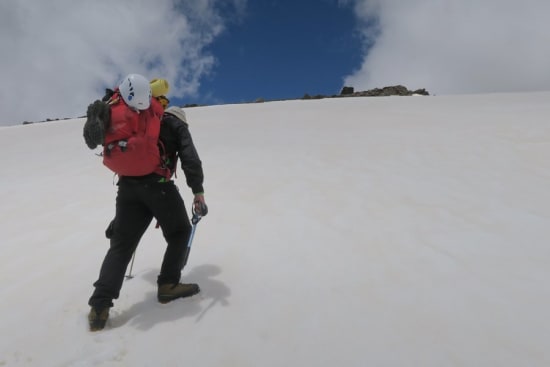 Final snow slopes to the Mulhacén plateau
A couple of steeper final snow slopes topped out onto the summit of Tajos de Peñón Negro. Were we the first Brits ever to have set foot here? It certainly felt like it.
Another 100m west and we arrived at the eastern end of the Mulhacén plateau at the point where the path (eastern traverse of Mulhacén) from Siete Lagunas joins from the right.
As time was passing by quickly now we sauntered up the easy ground to a large prominent set of rocks set at the base of a snow slope SE of Mulhacén II. It looked a good place to stay the night.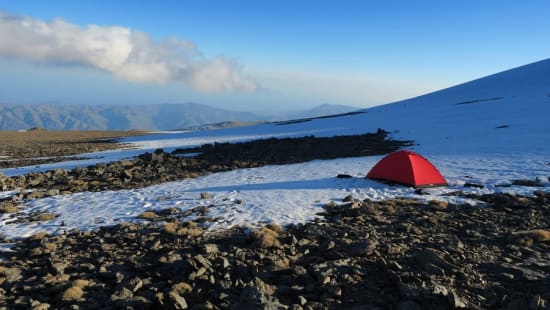 Camp at 3250m, south of Mulhacén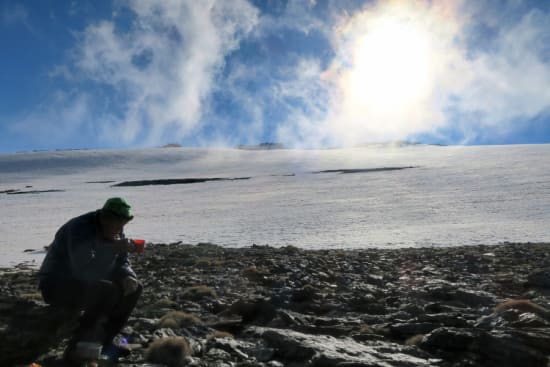 Superb setting for late afternoon coffee and evening meal
As soon as the sun went down behind Mulhacén II the temperatures plummeted. We hurried to our bivouacs, in my case a lightweight Crux Raid tent. During the night temperatures dropped to -5ºC and I remember wishing I'd brought a heavier weight sleeping bag!
Day 3 - Mulhacén summit, Alto de Chorrillo and Trevélez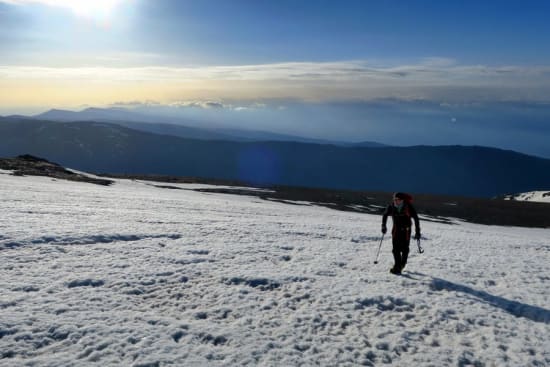 Glorious morning snows!
As soon as the morning sun hit the tent I was up, eager to be off. Laurie had decided he would save his energy for the long descent so it was down to Dexter and myself. Above us the easy snows leading up to Mulhacén II seemed like an alpine glacier. Indeed we had perfect neve for our ascent and the cramponing was a delight. Within 30 mins we had arrived on the summit. Then it was along the easy, snowless and well trodden trail to the main summit, Mulhacén. At 3482m , the highest summit in mainland Spain and the highest in western europe outside of the Alps.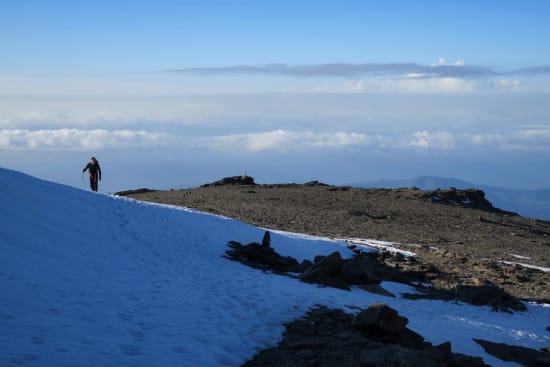 South summit of Mulhacén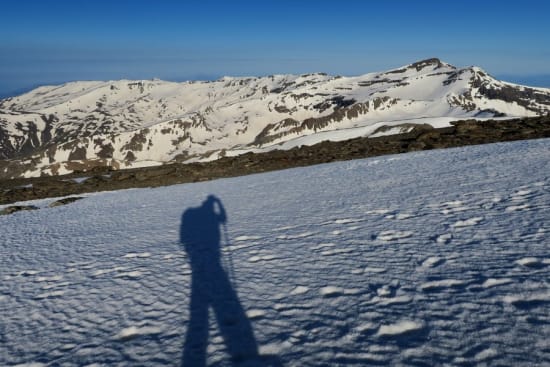 Looking towards Veleta and the main ridge eastwards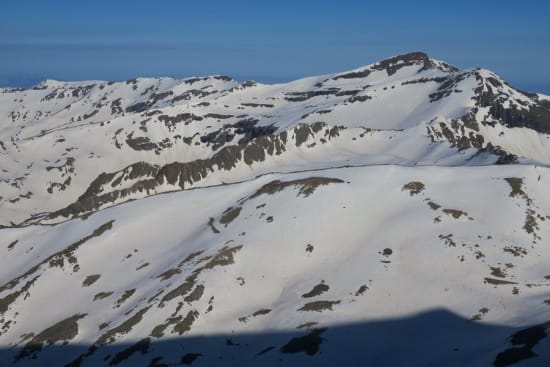 Avalanche debris and the spring snows eastwards to Veleta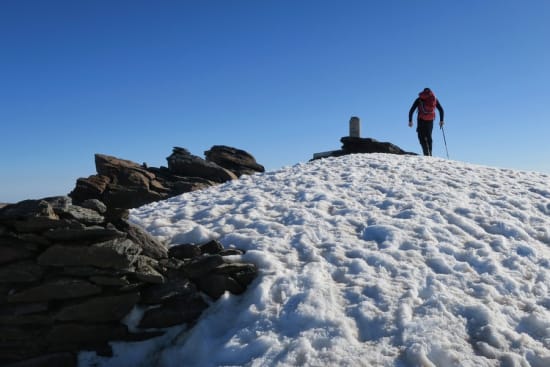 Approaching the summit of Mulhacén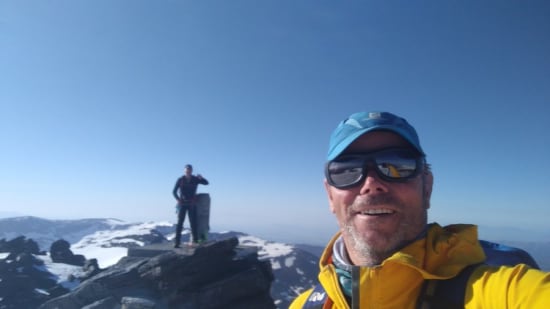 Dexter and Richard on the summit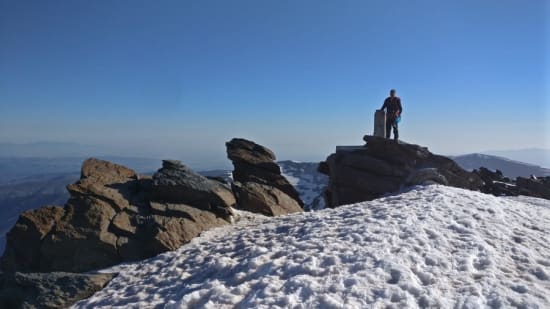 Dexter for a brief moment the highest person in Western Europe outside the Alps
The snows were still very good and we were safe descending without crampons. So made the return to the campsite in good time. Here we breakfasted, rehydrated and set off to rejoin the normal route.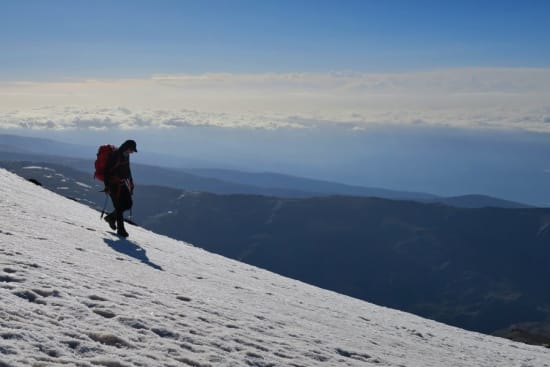 Lovely snow descent east of the summit towards the campsite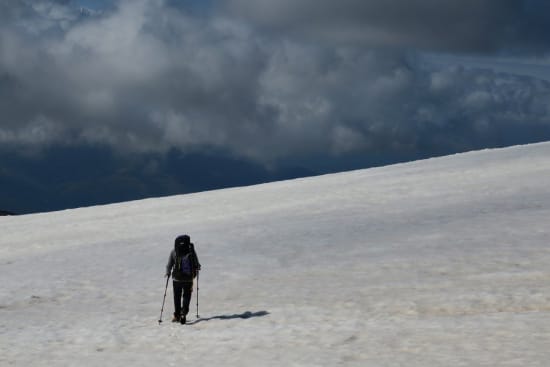 Laurie descending to join the normal south ridge route
Of course as we dropped lower we started to meet the first humans we had seen for 2 days. It was a long walk out back to civilisation and a few well deserved beers but we felt priviledged to have had a superb 3 day trek in some spectacular and unknown surroundings.
"Another jigsaw in the mind-map that is the Sierra Nevada had been put in place. There are many pieces yet to fill!"
Interactive map (opens in new window)