The NE Sulayr path - the plan
Our plan was to spend 6 days in total trekking the long distance Sulayr GR240 from las Rozas near Abrucena in the east, heading west to the Refugio Postero Alto near Jerez de Marquesado. Then we would "nip" over the Puerto de Trevelez and finish up in the village of Trevelez in the Alpujarras
Summary of what happened
A few days before we set off temperatures rocketed. For example, they went from 27C in Lanjaron to a very hot 33C+. In general we would be travelling between 1700m and 2100m altitude each day so thought (erroneously) that the trek would still be "on". The reality struck us during the afternoon of Day 1 as we sweated and laboured our way along the trails, searching out for any shaded spot. Also thinking about our poor dog, Rita, we abandoned the plan lunchtime on Day 3 when we arrived at the Puerta de la Ragua. Sat in the shaded cool of the forest we decided to return and finish the rest of the trek in the autumn.
BUT! Don't let this supposed "failure" put you off as we did have a superb time nevertheless. We never met anybody in 2.5 days of trails and we were taken to some delightful camping locations, encompased in nature. The path is a wonderful mix of forest track and hiking trails. We shall return.
Resources
Interactive Map & Route Data
Sulayr NE Section 2.5 days
Challenging Linear walk
Interactive map below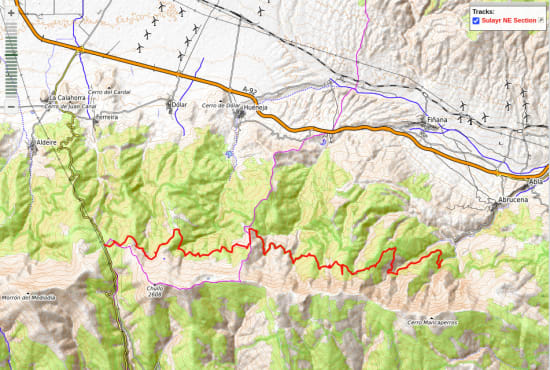 Sulayr NE Section 2.5 days
N.B Thanks to Rita and Kiersten for being such good travelling companions. Also thanks to matt Dowse for his help in transportation to/from the trek.
Water
Under normal circumstances between October and June you will find sufficient water in the numerous streams crossing the trail. We were just "out of season". As such, some streams were dry and we had to carry more water than we desired just to make sure we had enough. During the trekking season this shouldnt be a problem.
Weight
We carried about 10kg backpacks + water. 5kg base weight + 5kg food for 6 days + dog food for 6 days. Towards the end of the day our packs with water (for the night and morning) weighed nearly 15kg. Too much for us lightweight backpacking enthusiasts!
N.B If we did this route again in the trekking season with food for 2 nights, we would try to aim for a maximum weight of 8kg, plus 2 litres water.
---
Day 1 las Rozas to Refugio Vivac Piedra Negra
Distance: 11.7km
Ascent: 850m
Descent: 58m
We were dropped off at las Rozas at 11am 24th June 2020. The heat of the day was by then in full swing as we heading up the long forest track starting the route. Our dog, Rita, started running between tree shadows, always a sign she is too hot. Fortunately this initial section has great views to the Cerro Buitre and the sharp good looking peak of Peña Horadada.
We found brief respite in the Barranco de Peña Horadada, where cool waters were flowing. Sat amongst the flowers with insects buzzing we were tempted to stay. A little further on we left the forest track and climbed on a well marked trail through a gloriously shaded pine forest.
Emerging onto a wide forest break we descended to the Barranco de la Campana where we filled up with water as there would be no water at our overnight destination, Refugio Vivac Piedra Negra. Loaded up with an extra 5 litres of water the climb out of the barranco and up into the forest towards the refuge was tough and our progress got slower and slower as the heat took its toll.
We were glad to arrive at the refuge, which is in a superb condition. It is located in a forest break just 500m south of the main Sulayr path. It is clean and tidy. Having said that, after carrying our camping gear we were eager to use it. We set up in the forest a few metres from the refuge.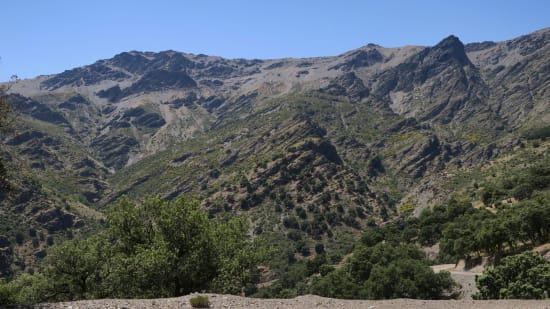 Day 1 - Cerro Buitre and Peña Hordadada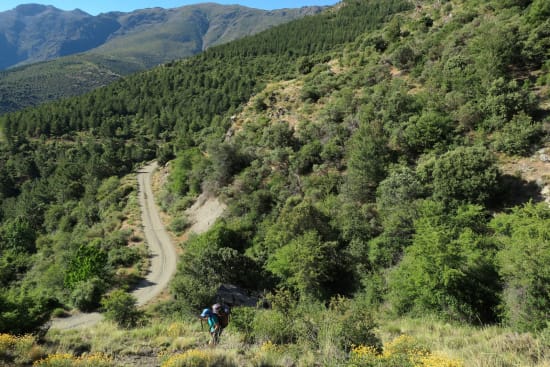 Day 1 - we leave the forest trail and head steeply up into the forest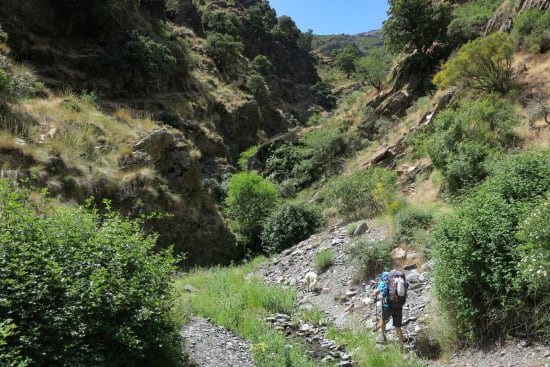 Day 1 - water in the Peña Horadada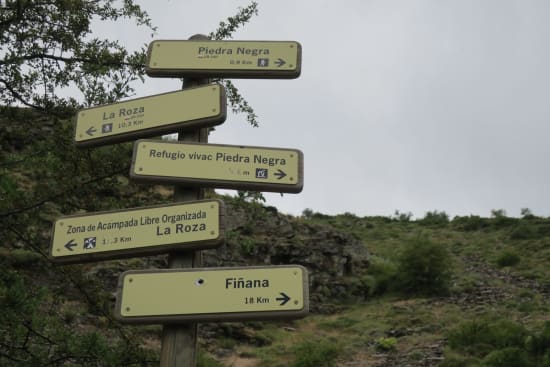 Day 1 - confusing signpost with some important details missing!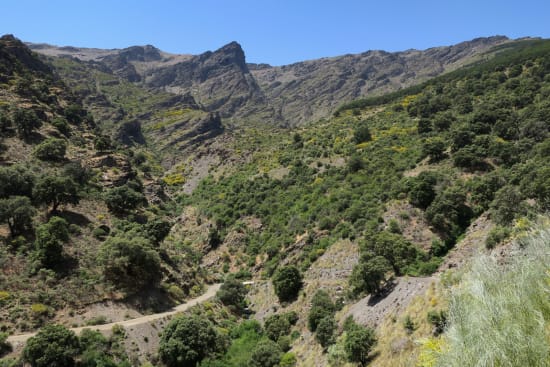 Day 1 - the fine peak of Peña Horadada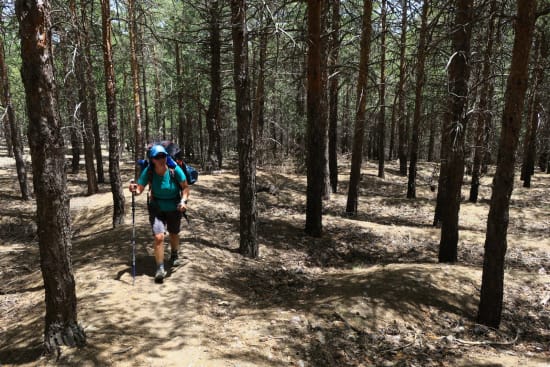 Day 1 - some great and easy to follow forest trails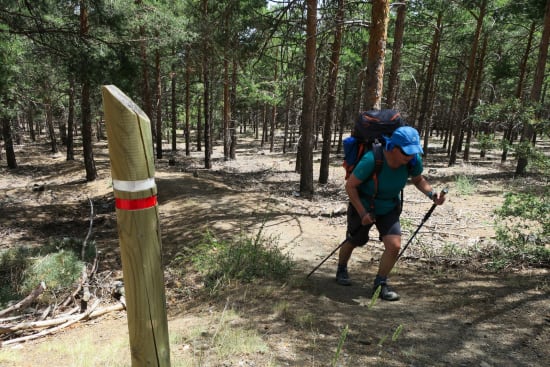 Day 1 - route well marked throughout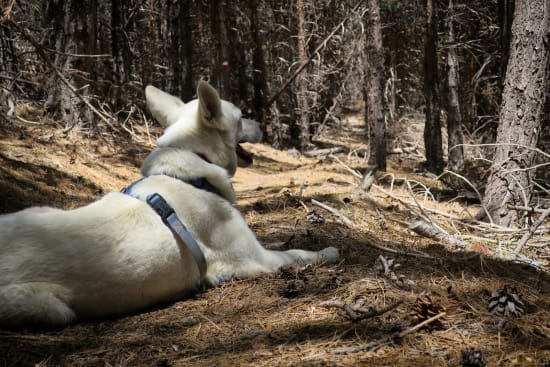 Day 1 - resting in the cooler forest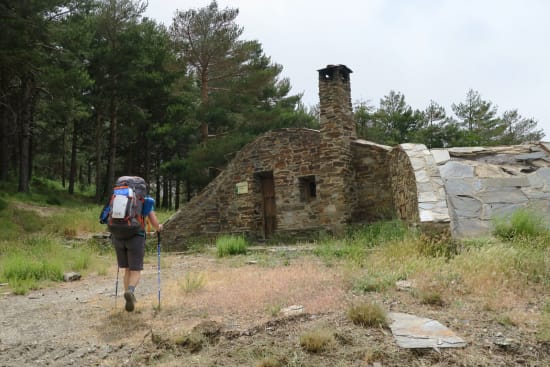 Day 1 - arrival at the Refugio Vivac Piedra Negra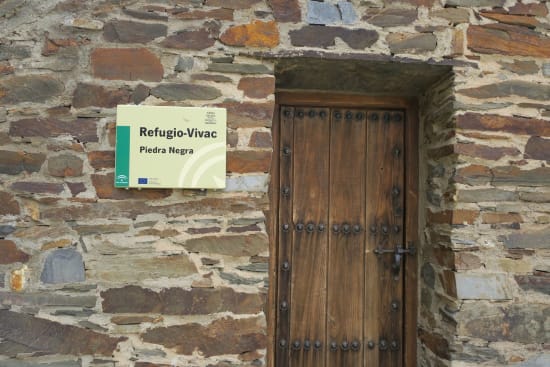 Day 1 - entrance to Refugio Vivac Piedra Negra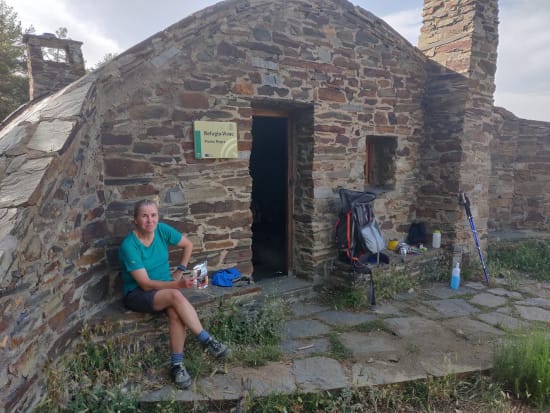 Day 1 - mealtime at Refugio Vivac Piedra Negra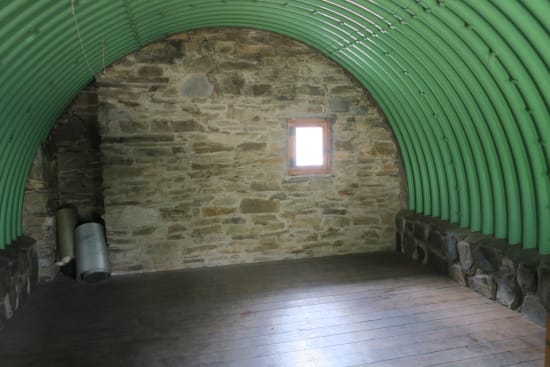 Day 1 - inside the Piedra Negra - clean and tidy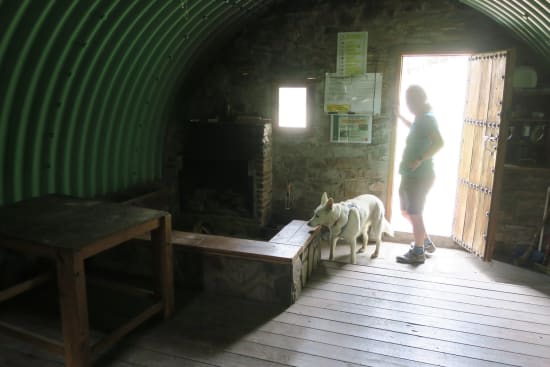 Day 1 - even seating, table and fireplace!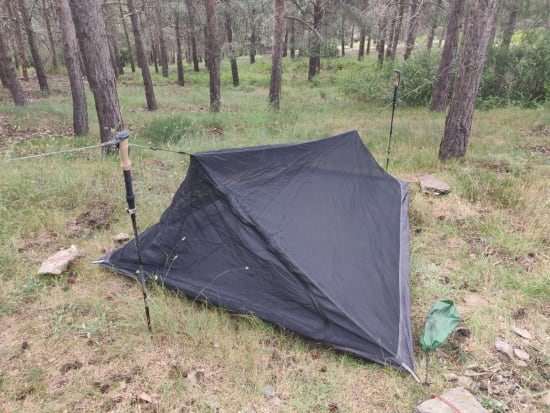 Day 1 - bug tent pitched in the trees behind the refuge
Day 2 Refugio Vivac Piedra Negra to Refugio Vivac el Toril
Distance: 19.3km
Ascent: 619m
Descent: 528m
A long day this! We left the refuge at 7am after getting up at first light, intent on doing as much as possible in the cooler morning air. Making rapid progress we crossed streams of Fuente de Lubeire Baja and Alta and climbed through the forest over the Loma de Rosal to arrive at a forest track.
The Fuente de Rosa provided a welcome stop for water refreshments before we rejoined the road contouring the headwaters of the Barranco de Nacimiento. By 10am we had covered over 10km. Good going. By 11am the pace had slowed as we hauled our loads up to the firebreak at Meseta del Rey.
With hindsight we probably should have diverted south here to the Refugio Vivac el Doctor and cut the day short. In the event, we didn't, we continued relentlessly on.
The next stretch was tough as we crossed the numerous barrancos at the head of the Dolar valley. Not knowing if there was water closer to our end point meant we carried much too much weight (5kg extra between us), in the hottest part of the day, which was usually uphill. Sods law eh?
The heat was stiffling. We stopped whenever we could to cool off but the pace was slow as we took longer and longer breaks. Emerging onto the shoulder of El Duende we knew the refuge was close. I got a bit of heatstroke here so we took a long break to cool off recharge the batteries.
I think it was here that Kiersten and I decided to call the trip off at the Puerta de la Ragua. The walking had been great in the mornings but absolute hell in the afternoons. Why not wait for cooler temperatures?
Eventually we found the well situated Refugio Vivac el Toril. We were happy to camp outside as the inside of the refuge had been left a mess by previous users. I guess the proximity to the Puerta de la Ragua (4.5km distant) means that the refuge is too accessible and attracts the wrong types? We saw nobody though apart from a few cows and eagles.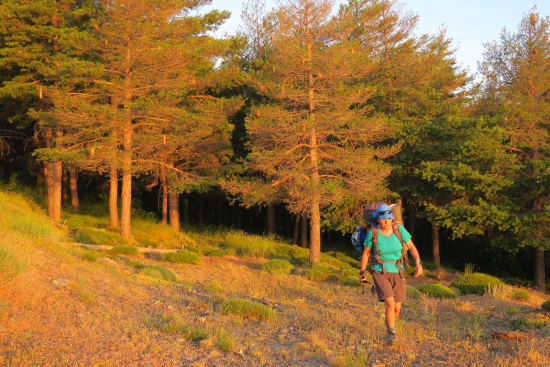 Day 2 - early start from Piedra Negra to catch the cool of the day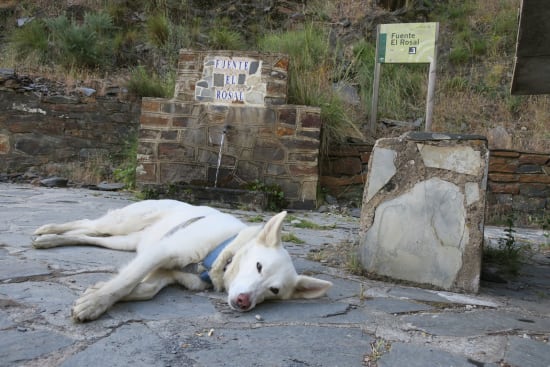 Day 2 - the welcome spring at Fuente el Rosa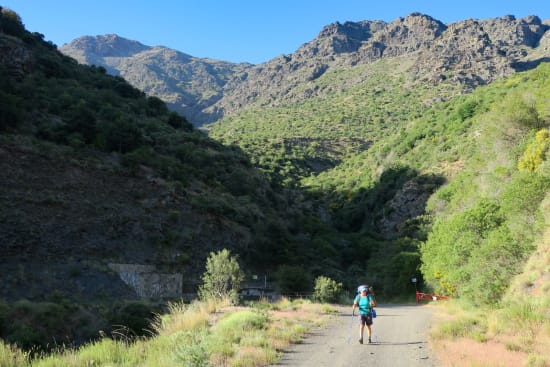 Day 2 - The peaks of La Cumbre and Cerro Almirez behind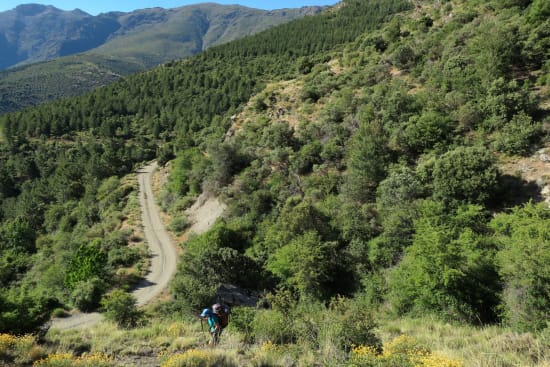 Day 2 - climbing up towards the pine forests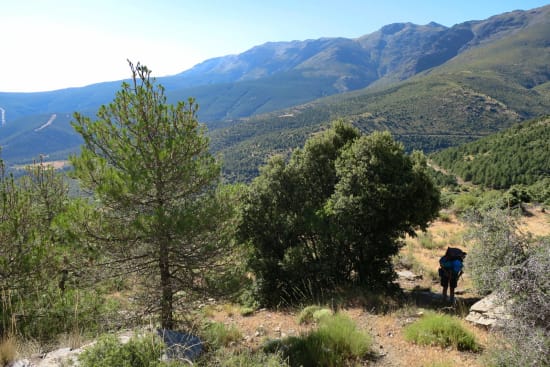 Day 2 - Quick stop by a shaded tree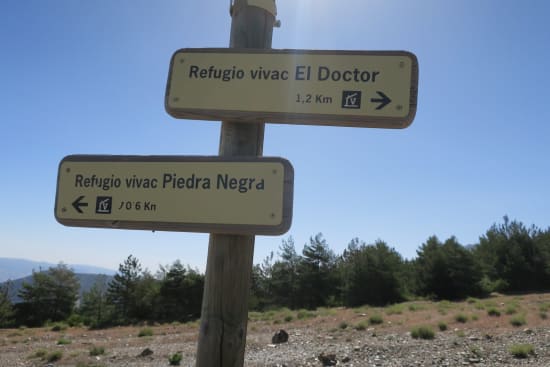 Day 2 - A stop at El Doctor might have been wise?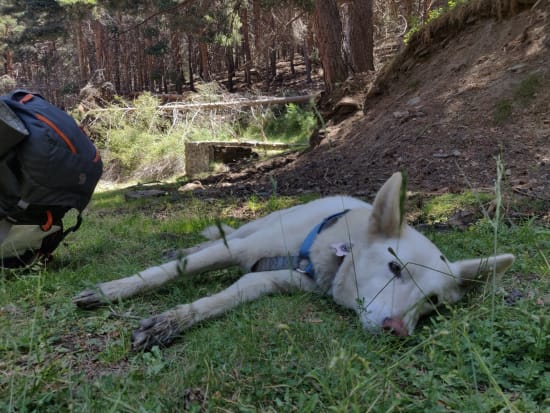 Day 2 - tired Rita at Barrancillos de Dolar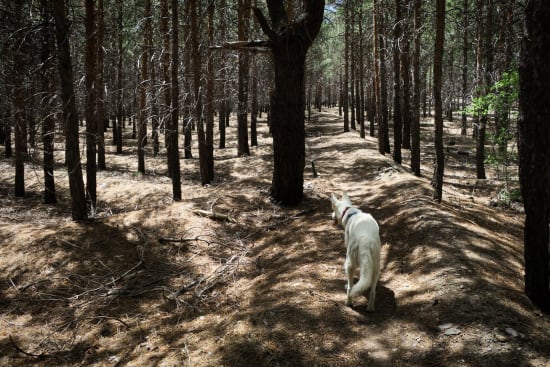 Day 2 - up through the endless pines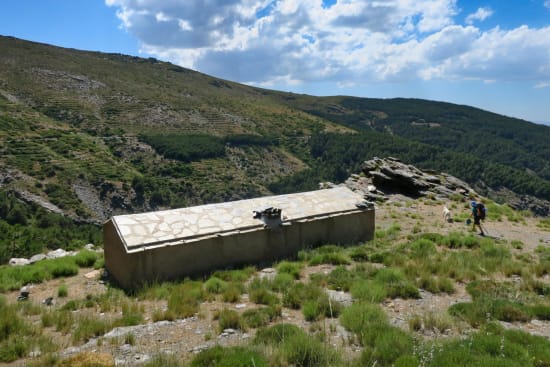 Day 2 - arrival at the Refugio Vivac el Toril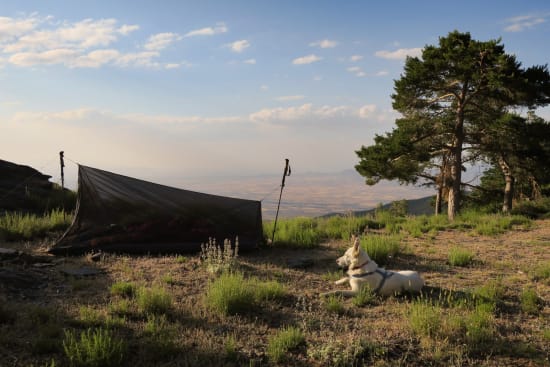 Day 2 - bug tent all set up and ready for the night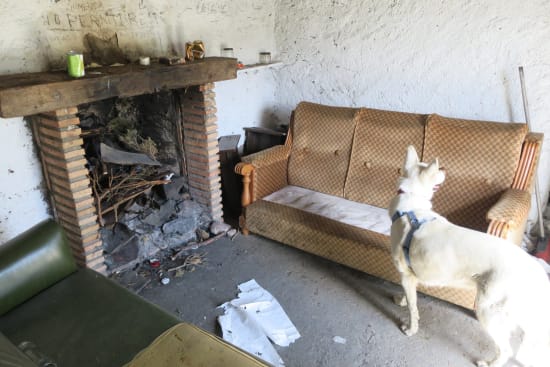 Day 2 - The untidy inside of the Refugio Vivac el Toril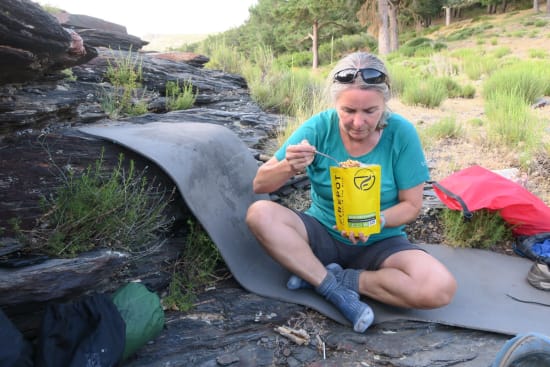 Day 2 - Kiersten tucking into her evening meal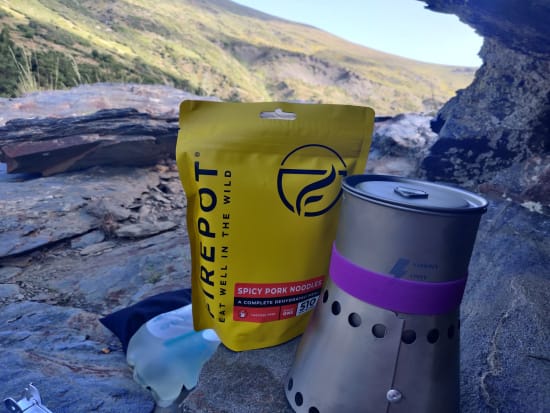 Day 2 - testing out the Firepot dehydrated meals. Verdict = Excellent!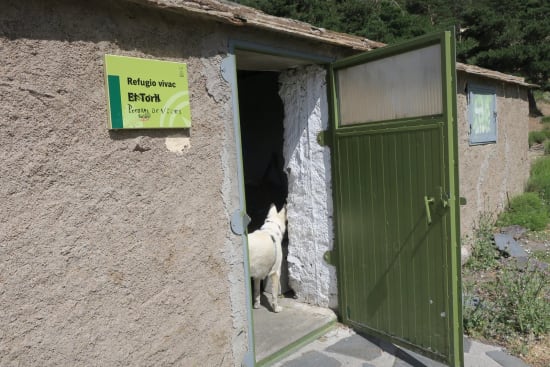 Day 2 - entrance to Refugio Vivac el Toril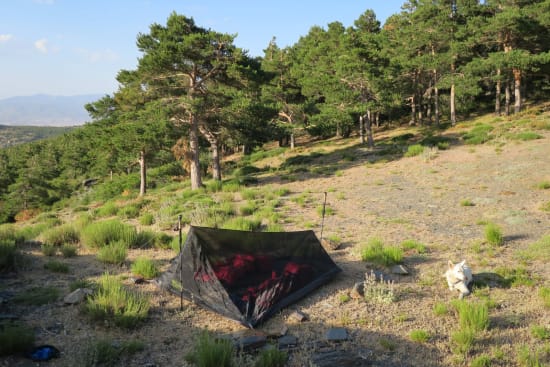 Day 2 - bug tent at Refugio Vivac el Toril
Day 3 Refugio Vivac el Toril to Puerta de la Ragua
Distance: 4.4km
Ascent: 78m
Descent: 171m
Knowing we had a short walk, we had a lie in and left at 8am. We filled up with water from a barranco along the way although with hindsight, there is a fuente at the Puerta de la Ragua.
It was a beautiful walk with sharp shadows and early morning light. The main peaks of the Sierra Nevada started to appear to our front as we enjoyed the cool morning air.
All too soon, it was down through the forest to arrive at the Puerta de la Ragua. A few cars were there, quickly joined by the noise of motorcycle engines revving as groups arrived at this popular spot. This was all a bit of a shock to the senses and a world away from the brief encounter with the Sulayr GR240 that we had experienced. We took ourselves away to some isolated park bench to sit and await our lift home.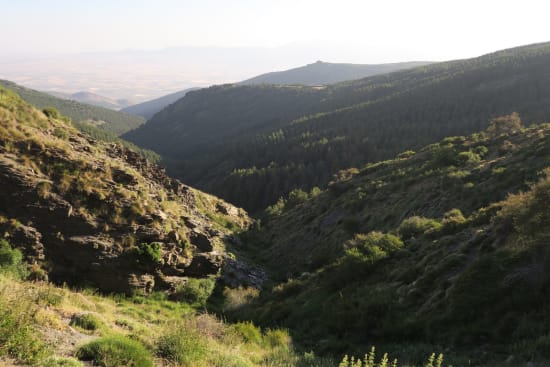 Day 3 - the spectacular valley of Arroyo de los Castaños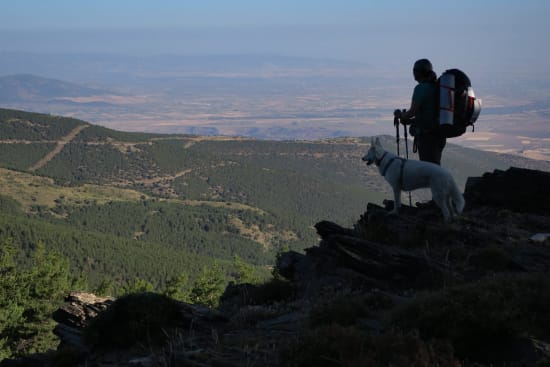 Day 3 - nearing Puerta de la Ragua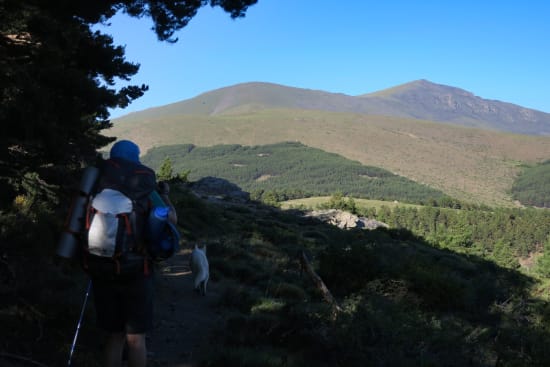 Day 3 - first view of the Sierra Nevada west of Puerta de la Ragua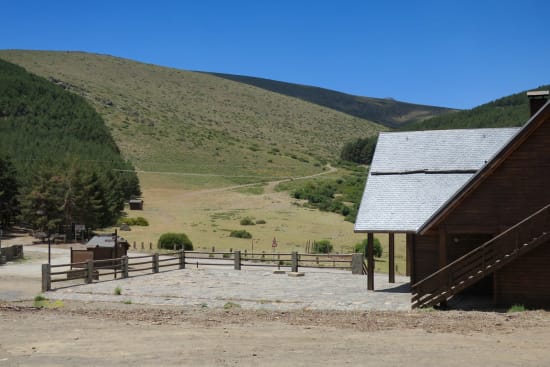 Day 3 - the Puerta de la Ragua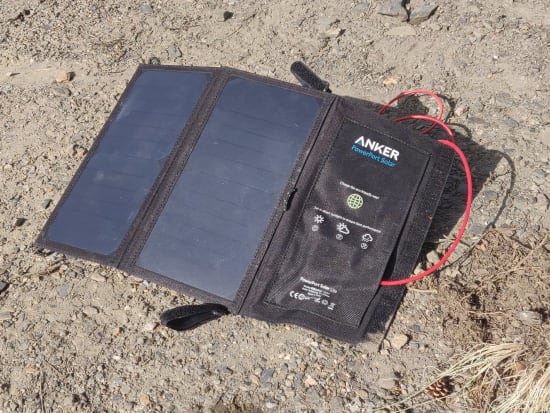 Day 3 - I can recommend these solar chargers. Efficient and light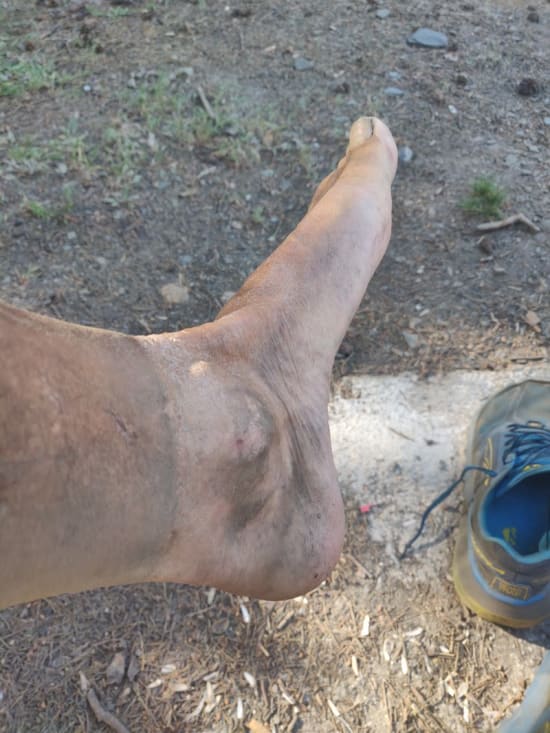 Day 3 - Feet after 3 hot and dusty trail days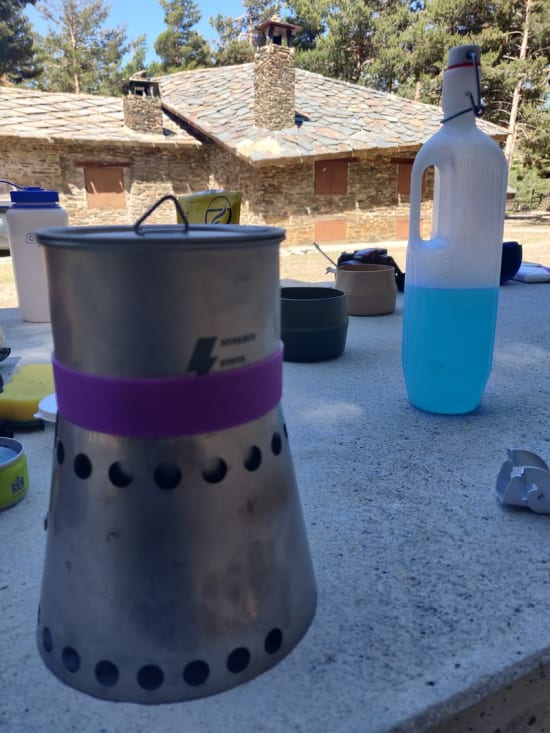 Day 3 - Time for a cuppa!
By Richard Hartley, Spanish Highs