The Sierra Nevada are an unforgettable destination to explore, but it can be a bit of a headache to work out how to get here. In the article below we will explore the different options available to you whether you are interested in travelling by air, rail or road. We will also provide you with some top tips to help you save money and time when you start organising your trip to the magical Sierra Nevada.
Book airport parking in advance
If you are planning to drive to your departure airport, don't make the mistake of leaving booking airport parking to the last minute. By booking in advance, you can easily save up to 60% compared to booking on the day! This is a huge saving and one that is often overlooked by many holidaymakers when making their holiday plans.
An easy way to find the best airport parking prices is to use a comparison website, such as Parkhero for UK travellers. This website allows you to quickly find and compare the available services at your chosen airport and make your booking in under 5 minutes. Whether you are looking for parking at Manchester Airport, Heathrow Airport parking prices or parking at any other airport in the UK, Parkhero is a great place to find the best deals available.
Choose the right airport
The Sierra Nevada mountains are located to the south east of Granada, giving you a few airports to consider if you choose to fly there. Granada Airport is the most convenient option, followed by Malaga. You can also choose to fly to a larger airport, such Madrid or Barcelona, and take a connecting flight down to Granada. Below we will explore the options further and how to get from the airport to the mountains.
Granada Airport
Granada is a small airport offering a limited number of flights, many of them seasonal, but it is the closest airport to the Sierra Nevada. The airport is served by British Airways from London City, Easyjet from Gatwick, Manchester, Berlin, Milan and Naples and Vueling from Paris, Bilbao, Mallorca and Tenerife.
If you want a short transfer from the airport to your mountain accommodation, then this is the airport for you. You can take a private transfer or taxi to the mountains which takes around 30 to 40 minutes depending on traffic. This will cost between 60 and 100 euros. You can also take a bus from Granada Bus Station in the city which takes around an hour. There are shuttle buses from the airport to the station and you can find more information about bus options below.
Hiring a car is also a good option as it gives you the flexibility to travel at your own pace and visit other destinations along the way. You find a range of international and local car hire companies available at the airport, but always make sure to book in advance for the best prices.
Malaga Airport
Malaga is the next nearest airport to the Sierra Nevada at around 180 km away. Unlike Granada, it is a large international airport with a broad flight network and frequent flights from major destinations. Airlines serving the airport include British Airways, American Airlines, Easyjet, Eurowings, Iberia, Ryanair and many more.
To get from Malaga Airport to the Sierra Nevada it is easiest to hire a car. The alternatives are to take an expensive taxi or private transfer all the way or take a bus or train to Granada and onwards transport from there. There are regular bus services available from Malaga central bus and train station to Granada which you can reach by train from the airport.
Madrid or Barcelona Airports
If neither Granada or Malaga are suitable for you, you can also choose to fly to Madrid or Barcelona and take an internal flight, a bus or a train to Grenada. It is a great option if you want to explore more of the country.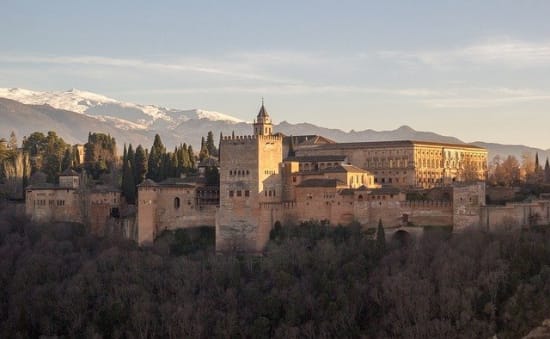 The Alhambra Palace
Take the train
If you prefer a slower paced journey or want to reduce your carbon footprint, then taking the train to the Sierra Nevada could be a great option. Granada is well-connected by rail with rapid AVE lines from Madrid taking around 3 hours and Barcelona taking around 6.5 hours. There are also direct services to Cordoba, Malaga and Sevilla.
From Granada you can take a private transfer, bus or hire a car to reach the Sierra Nevada.
Take a coach
If you are more budget conscious, then travelling through Spain by coach is a fantastic choice. Coach trips are by far the cheapest option and the coach company ALSA provides a convenient network across the country. These buses are comfortable and efficient and even give you the option of an overnight journey on some routes. Ideal if you want to save on a night at a hotel!
From Granada you can reach the Sierra Nevada by bus with regular services from Granada Bus Station. The Autocares Tocina bus company runs a regular service to the Sierra Nevada 3 times a day during the ski season at 08:00, 10:00 and 17:00 from Monday to Friday. On weekends and public holidays there is an extra bus at 15:00. In the summer the bus runs once a day at 09:00 every day. The journey takes around an hour and costs 5 euros one-way and 9 euros return. Tickets can be purchased online (autocarestocina.es) or at the bus station.
Make sure to check that the bus route will take you where you want to be. If not, you will need to take a taxi or hire a car.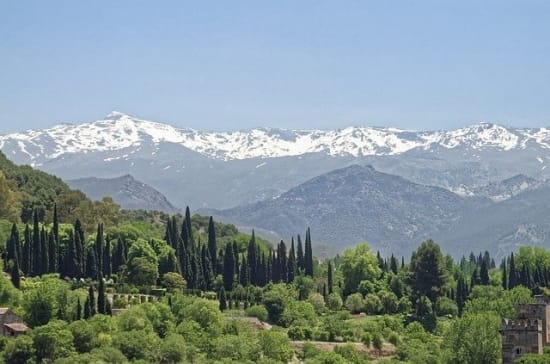 The Mountains of the Sierra Nevada above Granada
Drive to the mountains
If you choose to hire a car at the airport or elsewhere in Spain, you can quite easily drive in the Sierra Nevada, even in the winter (you may need snow chains).
From the E-902/A-44 motorway, you can take the Ronda Sur/Sierra Nevada/Alhambra at exit 132. You will then need to take the A-395, one of the highest roads in Europe. This road winds into the Sierra Nevada and during the seasons in the winter and summer can become quite congested especially at the beginning and end of the day. If it is not too busy you should be able to make it into the mountains in 30 to 40 minutes from Granada.
We hope our tips will help you plan your trip with us in the gorgeous Sierra Nevada. If you would like further help and information, make sure to check out our blog.
Where to Stay
There is a huge choice of options within easy reach of the Sierra Nevada mountains. Granada, Guejar Sierra, Lecrin Valley or the Alpujarras are good choices. There you will find Hotels, Guest Houses, Hostels and loads of Holiday Rental Properties for every budget and taste.