In summary then, if you are looking for a good all round trekking and scrambling boot but if like me, you don't want a Goretex lining, then the Scarpa Marmolada is well worth considering.
Update from Ian 28 May 2020
I have had two pairs, both of which were re-soled twice and I finally wore them out earlier this year. I was disappointed to find that Scarpa had discontinued them but a month or so ago I came across their replacement, the Marmolada Trek HD. The comments in my original review apply equally to these and although they have yet to see rough terrain and snow, I have no doubt they will perform just as well as their predecessor. In my opinion they are the ideal three season boot for anyone who doesn't get on with Gortex.
Are they are use here in the Sierra Nevada? Here's what his review says. First of all, what does Scarpa say:
The Marmolada has been designed as a boot that excels in the UK for general mountain walking, scrambling, long distance and trekking. Traction is provided by the Vibram Mulaz S sole which coupled with the Scarpa Pro (4.5mm) midsole provides great stability, support load carrying and constant grip on nearly all terrains.  The sole has a rocker that rolls nicely while walking but there's just the right level of flex/stiffness to support the foot whilst scrambling but not too stiff for short walks.  The upper is built around the new BQ last, which is quite broad across the forefoot but with low volume, and is made from a combination of light yet extremely tough Schoeller L-Tech and high quality suede which is protected by a full rubber rand whilst comfort and additional support is enhanced by the inclusion of SOCK-FIT XT and to-the-toe lacing.
The new, highly breathable and waterproof Outdry lining is laminated to the inside of the boot meaning that we can use, the updated, Cocona 37.5 fabric as close to the skin as possible and all the way through the boot.  This new process dramatically improves breathability, membrane durability, and waterproof properties and, if boots do get wet, then it dries very quickly.
So, do Scarpa's claims stack up?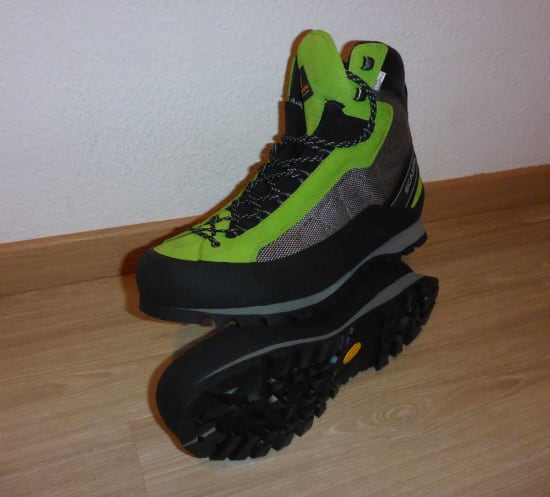 Scarpa Marmolada Trek boot
The Marmoladas were comfortable to wear straight out of the box and I have used them almost daily in the Dolomites for the last four weeks on walks between nine and twenty kilometres in length. They have behaved impeccably on loose rock, smooth limestone, mud and grass. The stiff sole provides a solid and positive platform and the high rubber rand gives good protection to the sides of the foot. They have been excellent on scrambles and via ferratas and would be perfect for the likes of the Cuillin ridge on Skye.
The Out Dry lining really does work. My feet always get hot and sweaty but the Marmoladas cope well. Although my feet are still hot at the end of the day, they are much drier than they used to be in my leather Meindl Borneos.
The Marmolada is not a winter boot but where I have had to cross or ascend on soft snow, I have been able to kick steps with no problems at all and my feet stayed completely dry. They are B1 rated and will therefore accept a C1 crampon for winter hill walking. Scarpa also say that they are re-soleable, great news if you do as much walking as I do.
The Marmoladas are much lighter than my old Meindl Borneos, 1440g compared to 1672g/pair, size 46. Perhaps the best feature of the Marmolada however is the down-to-toe lacing system. It allows infinite adjustment of the boot to deal with ascent and descent.
As well as having walked extensively in the hills of Britain over the years, I have spent several years in the mountains of Andalucia and I can confidently say that the Scarpa Marmolada would be an excellent boot for spring to autumn use in the Sierra Nevada.
In summary then, if you are looking for a good all round trekking and scrambling boot but if like me, you don't want a Goretex lining, then the Scarpa Marmolada is well worth considering.
Ian Tupman July 2016
PS. I have been so impressed that I have ordered a second pair to alternate with but I should add that I have received no inducement or payment from Scarpa or any retailer for this review.